I think I am like most home cooks. Some days I have all kinds of time and patience for cooking. And some days I really, really just don't. But alas, we still have to eat. The people behind Riso Bello rice get it, and I love that! They offer fine rice options for all kinds of days, from their 15 minute Pronto risotto to their fine restaurant quality arborio and carnaroli risotto rice.
Disclosure: This post is sponsored by Riso Bello. As always, all opinions are my own. Thanks for supporting brands that support Seasons and Suppers.
Riso Bello rice has been available in Canada for 15 years, but is just now available nationwide. They offer some of the world's finest risotto rice and is the choice of star chefs and home cooks alike. Riso Bello offers two varieties of risotto rice (Arborio and Carnaroli) and four flavours of Risotto Pronto – Vegetable, Asparagus, Cheese and Mushroom – delicious and easy risottos that are ready in just 12 minutes!
Risotto is great comfort food, especially now that the weather has turned cooler. We enjoy it as a side dish or as a main. The thing I love most about risotto, is that it's so adaptable and customizable. That's especially true when you have a choice or products, like Riso Bello's Pronto rice. Enjoy it as a delicious side dish or spice it up fresh ingredients such as shrimp, chicken, cheese and vegetables.
For those days when we have more time and energy, Riso Bello offers both Arborio and Carnaroli risotto rice, for risotto cooked from scratch. This is the brand used my most restaurants, so you know you will love them in your kitchen, too! You can create any recipe you'd like, as it makes a perfect starting point for your most creative dishes.
One Recipe: Two Ways
I thought it might be fun to do "One Recipe: Two Ways" – one from scratch using Riso Bello's Carnaroli Rice and the same basic recipe, done quickly using Riso Bello's Pronto rice. I thought it would be a a great way to show how there are great risotto solutions for all kinds of days!
I have been wanting to make an apple risotto for some time. I've always thought it would be delicious and since it's Fall and apples are perfectly in season (and since I had the opportunity to cook with some exceptional risotto rice), this Apple, Mushroom and Sage Risotto was born.
For my "from scratch" version, I started with Carnaroli rice. I could have just as easily used the Arborio, but I had to start with one, so that's what I did. The risotto is flavoured with dry, hard apple cider (instead of wine) and complemented with pan sauteed shiitake mushrooms and fresh sage. One top, If you don't have access to hard apple cider, you can use a nice, fruity white wine or even apple cider. I added some sliced of freshly roasted turkey breast, since the flavours of apple and sage were just begging for poultry, I thought! To top it off, a bit of crisp bacon, for the salty element to complement the sweet apples.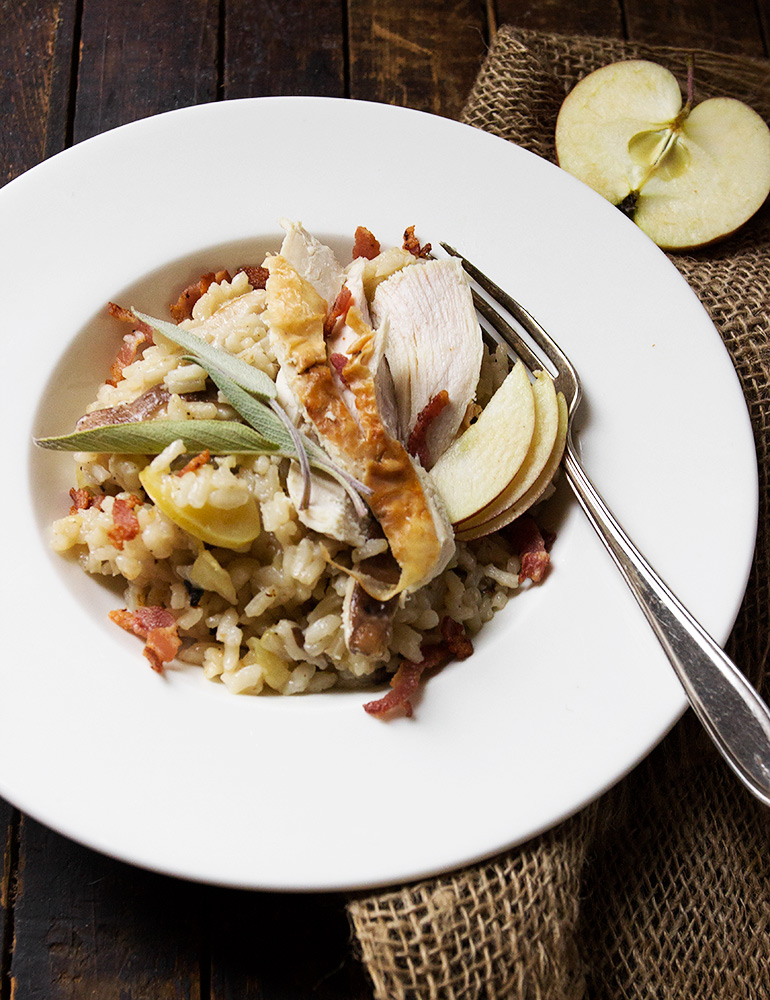 For my quick version, I started with Riso Bello's Pronto Risotto in their Mushroom flavour. Just before it was finished cooking, I stirred in fresh apples and sage. It was topped with some turkey as well, but for busy days, that could just as easily be left-over chicken, it could be left-over Thanksgiving turkey from your freezer, or even chicken from a supermarket rotisserie chicken. This version was garnished with some fresh Parmesan shavings.
Riso Bello "Cook Like Nonna" Contest
Riso Bello would love to encourage Canadians to get creative with their own risotto dishes at home too, and to discover for yourselves that risotto doesn't have to be such a time and labour-intensive dish (thanks to their Risotto Pronto!). They are giving Canadians a chance to win a trip for two to Italy, complete with a cooking class! I think anyone who loves food would agree that is pretty much everyone's dream trip :)
To participate, simply post a photo of you using a Riso Bello product to social media (Instagram or Facebook) using the hashtag #CookLikeNonna and follow Riso Bello on the platform you choose. Full details about the contest can be found on the Riso Bello website!
Apple, Mushroom and Sage Risotto
Delicious apple and mushroom risotto, flavoured with sage and topped with roast turkey slices and bacon.
Author: Jennifer
Recipe type: Main Course
Serves: 4
Yummly
Ingredients
Scratch Version:(see bottom of instructions for Pronto/Quick version)
4 slices bacon, diced
2 Tbsp. butter
1 shallot, halved and sliced
1 1/2 cups shiitake mushrooms, stem removed and top sliced
1 cup Riso Bello carnaroli (or arborio) rice (I used carnaroli here)
1/2 cup hard, dry apple cider* (can use apple cider)
4 cups chicken broth, warmed
1/2 large cooking apple, cored and thinly sliced
1 fresh sage leaf, minced (plus sprigs for garnish)
Salt and pepper, to taste
Roast chicken or turkey, for topping (I used roast turkey breast here)
Instructions
Place chicken broth in saucepan and heat over medium heat until warmed. Reduce heat to low to keep warm until needed.
In a large skillet, cook diced bacon over medium heat until crisp. Remove to a paper towel and set aside. Remove bacon fat from skillet and wipe clean with a paper towel.
Return skillet to stovetop. Melt butter over medium heat. Add mushrooms and shallot and cook, stirring, until shallots are softened and mushrooms are tender. Add rice and cook, stirring, for about a minute. Increase heat to medium-high. Add cider and cook, stirring, until cider mostly evaporates, about 2 minutes. Add 1 ladle of warmed chicken broth and cook, stirring regularly, until broth has mostly been absorbed. Repeat with another ladle of stock and cook until absorbed.
Add apple slices, along with another ladle of broth. Continue cooking, adding additional ladles of broth once the previous on is absorbed. As you near the end of the broth, begin taste testing the rice for done-ness. You are tender but not soft. Remove skillet from heat. Stir in sage and taste. Add salt and pepper, as needed.
To serve. Spoon in to serving bowl. Top with sliced of roast turkey or chicken. Sprinkle bacon pieces over-top. Garnish with fresh sage sprigs.
*I used this brand of dry apple cider.
Quick Version Ingredients:

1 box Riso Bello Pronto Risotto, Mushroom (Funghi Porcini)

2 cups chicken broth (can use water)

1/2 apple, cored and thinly sliced

Pinch fresh chopped sage leaves or dried sage

Roast chicken, rotisserie chicken or turkey, sliced, for topping (left-over is perfect!)

Shaved Parmesan, for garnish
Quick Version Instructions: Prepare risotto in large saucepan as directed, except replace the 2 cups water with chicken broth. As you near the end of cooking, stir in prepared apple slices and cook until ready. Remove from heat and stir in sage. Spoon in to serving bowls. Top with chicken or turkey slices, top with shaved Parmesan and garnish with fresh sage, if desired.