These delicious Brown Butter and Dried Cherry Hot Cross Buns are a traditional Easter treat with an untraditional flavour update. Great eaten out of hand with butter, or slice and toast.
Every year for the past few years, I have been trying a new hot cross bun flavour (last year it was Dried Blueberry and Lemon Hot Cross Buns). I use the same base recipe, pretty much, just the flavours are different.
This year, I thought it might be fun to try adding brown butter and to go with it, dried cherries. Since brown butter has such a lovely nutty flavour, it went perfectly with the cherries. I also decided to bake them up in my long loaf pan in a row. (I usually bake them in a 9x5 loaf pan in two rows of 3). These ones came out quite tall and narrow, but are actually quite perfect for slicing in half and fitting in the toaster to toast (minus the icing of course, as that would be messy :)
This is a small-batch recipe, making only 6 buns. You can easily double the recipe if you'd like more. These also freeze well, so you can make ahead and enjoy at Easter.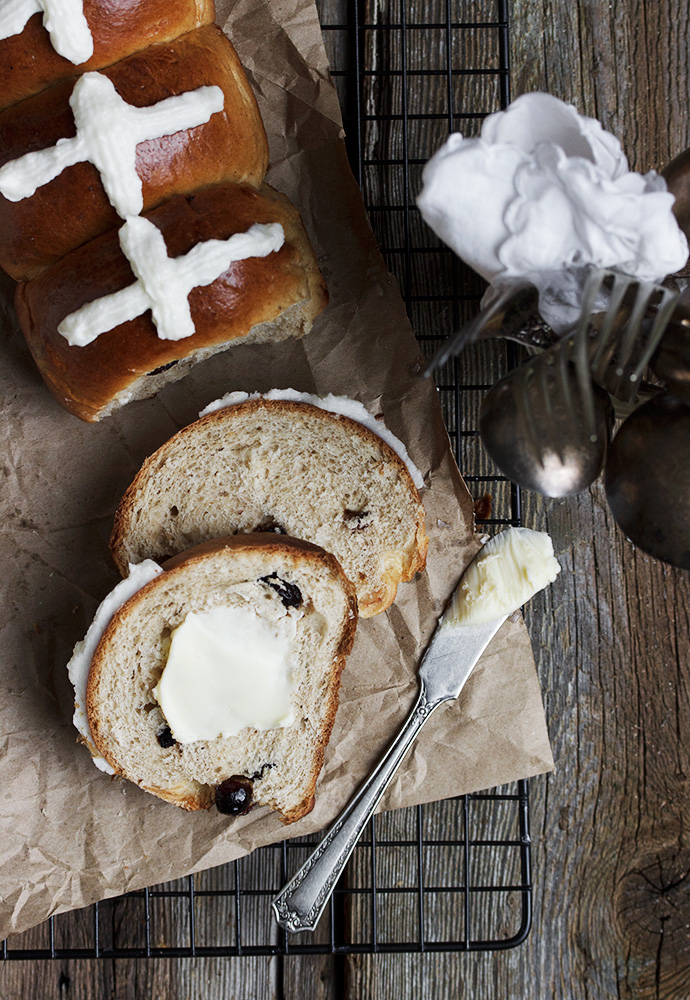 Cook's Notes
You can use 2% milk, in place of the whole milk, if you don't have any.
I love the icing on hot cross buns, so I always ice mine. They are perfect for eating out of hand with butter, but if you decide you want to toast them (and they are lovely that way, too), simply remove (and eat! :) the icing before toasting.
Any exposed dried fruit has a tendency to burn and become bitter during baking. When you form your balls, be sure to push any fruit that is poking out through the dough down in to the dough, to avoid that.
If dried cherries are hard to find, you can substitute dried cranberries or blueberries, instead.
Brown Butter and Dried Cherry Hot Cross Buns
Delicious brown butter flavoured hot cross buns with dried cherries. You could also substitute dried cranberries, if you like. These freeze well, so can easily be made ahead. If you have a scale, I suggest using the weight measurements.
Ingredients
1/2

cup

whole milk

2 1/4

tsp

active dry or instant yeast

2

Tbsp

warm water

1

egg

2

Tbsp

white sugar

2

cups

all-purpose flour

,

more as needed

1/2

tsp

fine salt

,

use 1/4 tsp. if using salted butter

1

tsp

ground cinnamon

1/2

tsp

ground nutmeg

1/4

cup

unsalted butter

,

browned, *See instructions for how to brown, browned

1/2

cup

dried cherries
For the icing:
1

cup

icing/confectioners sugar

3

Tbsp

butter

,

at room temperature

2-3

Tbsp

milk
Instructions
Brown butter: In a small saucepan, heat butter over medium heat and allow to boil until you start to smell a nutty fragrance and mixture starts to change to a golden brown colour. Swirl pan regularly as it heats so you can see the colour change underneath the bubbles and watch closely, as it can easily burn. You are getting close when you have lots of very tiny bubbles. Once butter has browned, remove from heat and immediately pour into a small bowl. Allow to stand/cool until lukewarm or room temperature before adding to dough. You will notice a pool of dark brown sediment at the bottom after it has sat for a bit. That is the milk solids that brown more quickly. They can often taste bitter, so either remove with a spoon before adding butter to dough or pour butter carefully in to dough bowl, without allowing the dark sediment in to the dough. (You can hold it back with a spoon as you pour).

Heat your milk: In a small saucepan or in the microwave until steaming with small bubbles around the edges. Set aside to cool to lukewarm.

Add your yeast to 2 Tbsp. warm water (about 110° F.). Stir, then set aside to proof.

Once milk has cooled to lukewarm, add egg and stir until well combined. (*Be sure your milk has cooled sufficiently, otherwise the egg will cook in the hot milk). Add the yeast mixture. Set aside.

In a large bowl or the bowl of your stand mixer fitted with the paddle attachment, add the sugar, flour, salt, cinnamon, nutmeg and cooled brown butter to bowl. Still using the paddle attachment, work the butter in to the flour to combine.

Switch to kneading hook with stand mixer. Add milk/egg/yeast mixture to bowl. Knead until dough is smooth and elastic, adding a bit more flour if necessary. Add dried cherries and knead until incorporated. Remove dough to a greased bowl and cover with plastic wrap. Allow to rise until doubled, 60-90 minutes.

Remove dough to a floured surface and divide in to 6 equal portions. Form each portion in to a ball and place in a greased or parchment lined 9×5-inch loaf pan (3 rows of 3 buns or alternately, if you have a long loaf pan, 6 buns in a row). Cover with a tea towel and allow to rise until almost doubled and puffy – 30-45 minutes.

Preheat oven to 375° F.

When buns have risen, combine 1 egg yolk with 1 tsp. water in a small bowl. Brush tops and sides of buns well. Place in preheated oven for about 25 minutes or until they sound hollow when tapped or 195° F. when tested with a thermometer (*check buns at 20 minutes and loosely cover with tin foil if tops are browned enough).

For the icing: Add icing sugar, milk and softened butter to a bowl and stir to combine. Add more icing sugar (or milk) as needed to make an icing of piping consistency.
Nutrition
Calories:
433
kcal
Carbohydrates:
64
g
Protein:
7
g
Fat:
16
g
Saturated Fat:
9
g
Cholesterol:
97
mg
Sodium:
271
mg
Potassium:
88
mg
Fiber:
2
g
Sugar:
30
g
Vitamin A:
890
IU
Calcium:
60
mg
Iron:
2.3
mg
Nutritional information provided for general guidance only and should not be relied upon to make personal health decisions.
Never miss a new recipe!
SIGN UP for email updates!