I have to confess, it took all my willpower not to use goat cheese in this salad. I love goat cheese and I use it so often in salads, I fear I'm missing out on exploring other flavour combinations. I mean, there are other good cheeses! Having said that, it goes without saying that goat cheese would be excellent in this salad, so do feel free to use it in place of the Pecorino, if you like.
Pear, pancetta, pecorino and pecans, combined with arugula and radicchio and is topped off with a Poppy Seed dressing.
As for today and this salad, it was the sharp and salty Pecorino Romano in my fridge that was calling my name. When paired with the sweet pears and salad dressing, the peppery arugula and slightly bitter radicchio, the nutty pecans and the crunchy pancetta, it makes for such a satisfying bite. In fact, the flavours in this salad are greater than the sum of their parts. Each forkful is different.
We enjoyed this salad for lunch, but I couldn't help but think how perfect it would be beside a thick and juicy grilled steak. I don't know why, because I'm not a frequent grilled-piece-of-red-meat eater. It was just something about the flavours that I just know it would make for the most awesome plate. I'm going to try it soon. I'll report back :)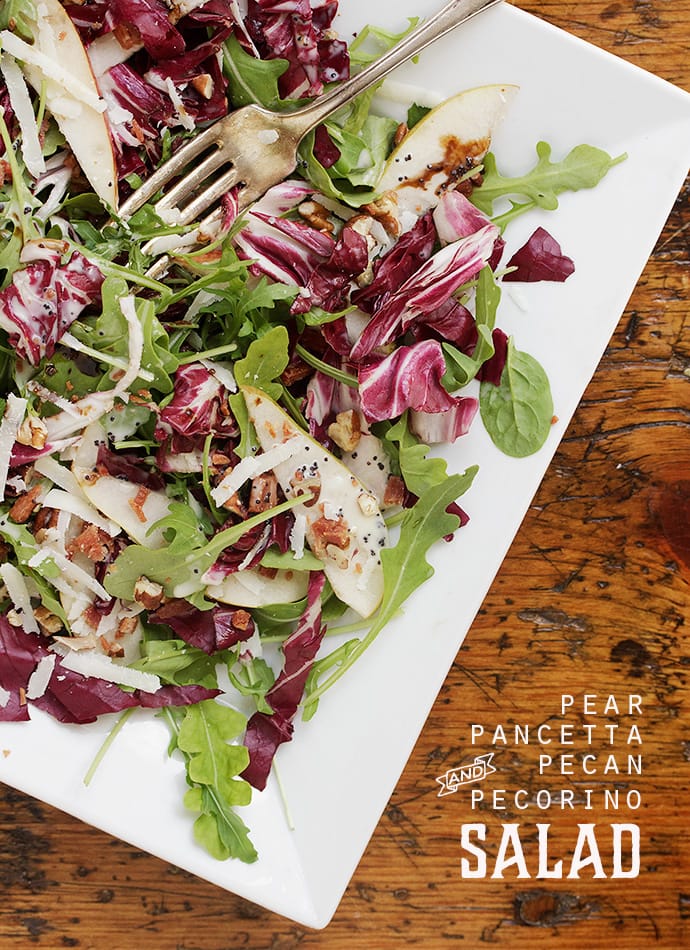 Pear, Pancetta, Pecan and Pecorino Salad
Author:
Prep time:
Cook time:
Total time:
This salad is perfect for lunch or dinner, or as a side dish. Feel free to substitute bacon for the pancetta and/or goat cheese for the Pecorino, if you prefer.
Ingredients
[b]Creamy Poppy Seed Dressing:[/b]
1 Tbsp. granulated sugar
1 1/2 Tbsp. white vinegar
2 Tbsp. mayonnaise
1 tsp. Dijon mustard
1 Tbsp. vegetable or canola oil
1 tsp. poppy seeds
[br]
[b]Salad:[/b]
2 cups baby arugula
1 cup chopped Radicchio
1/3 cup pecans, chopped and toasted (*see below)
1/4 cup diced pancetta, cooked (or sub bacon)
1/4 cup Pecorino Romano, shaved (or sub crumbled goat cheese)
1/2 pear, cored and thinly sliced
Balsamic glaze (or reduced balsamic vinegar), for drizzling
Instructions
Prepare salad dressing by combining all ingredients in a jar and shaking vigorously until well blended. Refrigerate until needed. (Note: dressing will taste a little sweet, but once on the salad, it will be perfectly balanced with the other ingredients).
*To toast pecans: Chop pecans and sprinkle on to a microwavable plate. Microwave on high for about 1 minute, or until fragrant. Set aside.
Cook diced pancetta until the fat is rendered off and it is lightly browned. Remove from pan and allow to cool. If desired, you can chop it in to smaller pieces.
Combine arugula and chopped radicchio on a plate. Arrange pear sliced on top.Sprinkle with toasted pecans, cooked pancetta and shaved Pecorino Romano. Drizzle with poppy seed dressing and then add a small drizzle of balsamic glaze.