These Southwest Chicken Wraps with Black Bean feature flavourful chicken pieces, wrapped in greens and flavoured with Miscela Black Bean – your secret ingredient!
Disclosure: This post is sponsored by the new Miscela line of products from Derlea foods. As always, all opinions are my own. Thanks for supporting brands that support Seasons and Suppers.
I am so pleased to be introducing an exciting new product to my Canadian readers! This new line of products is called Miscela which is Italian for mixture. Pronounced the traditional Italian way, Miscela sounds like 'Mishk-ella'. Think of Miscela as a new, all-purpose secret ingredient that will help to easily and deliciously elevate your every day meals, make snacks extraordinary and that are perfect for entertaining.
Miscela is an eclectic blend of vegetables, herbs and spices that can be stirred into, topped, or even cooked with so many of your dishes, both hot or cold. These wonderful mixtures were developed by Canadian market leader Derlea Brand Foods, to spark Canadian's kitchen creativity and comes in 6 delectable flavour blends. You'll find Black Bean, Corn, Sun Dried Tomato, Artichoke, Olive and Sweet pepper at Metro stores in Ontario for an SRP of $3.99-$5.99. Look for them with the refrigerated salsas and dips etc. Made from all-natural, fresh ingredients, Miscela products are also gluten-free, vegetarian and low in both sodium and fat.
Miscela is incredibly versatile and can be enjoyed hot or cold, as a food pairing or topping, condiment, dip, and sauce replacement – even used as a "secret ingredient" in a favourite recipe. Best of all, Miscela works well whether it's enjoyed on its own, or paired up with protein, seafood, dairy, carbohydrates, grains or vegetables.
I'm going to be creating a couple of dishes with Miscela, starting with these delicious and easy Southwest Chicken Wraps using Miscela Black Bean. The Black Bean blend is a flavourful mix of black beans, corn, peas, carrots and a unique blend of spices that create a bold, tangy and spicy mixture – perfect with the southwest flavours of the chicken.
You can learn more about these exciting new flavour blends on the Miscela website.
Cook's Notes for Southwest Chicken Wraps with Black Bean
I like to crisp up my tortilla before filling, but that's totally optional. It does stay nice and crisp even if your preparing for a lunch and is a lot neater to eat, I think.
The Southwest chicken rub is delicious and it's well worth rubbing and cooking up a bunch of chicken breasts, slicing and refrigerating or freezing for easy wraps or tacos anytime!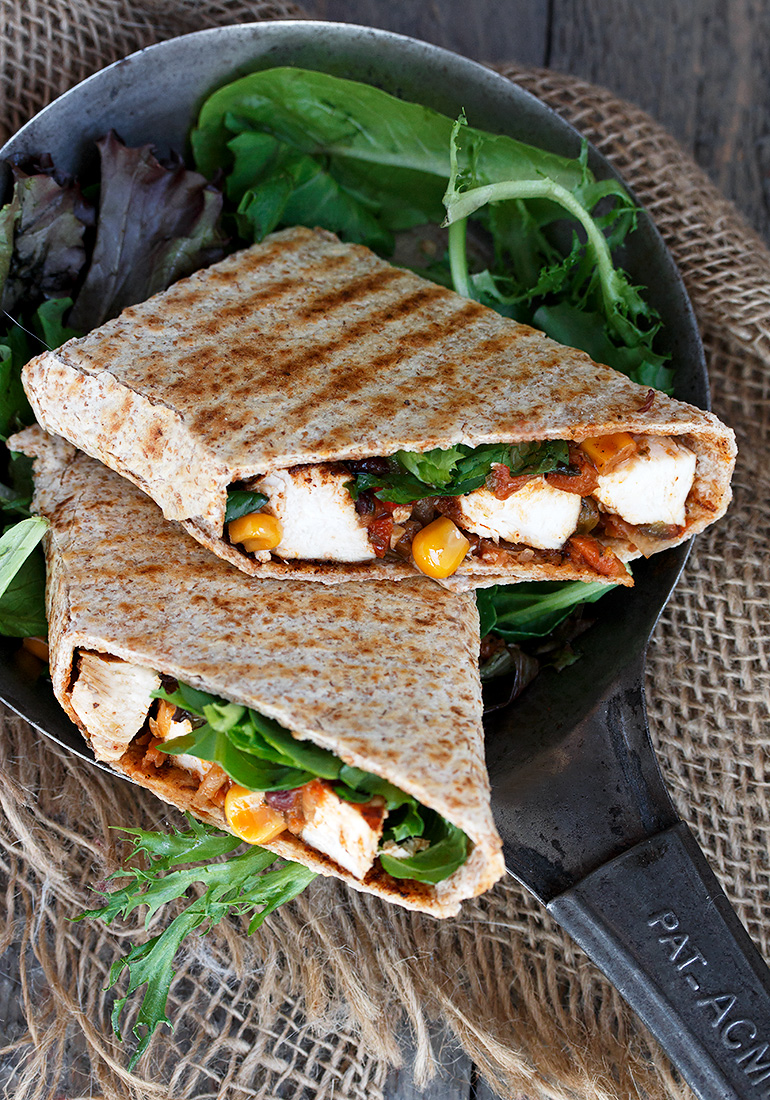 Southwest Chicken Wraps with Black Bean
Delicious and easy wraps, filled with spicy chicken strips, lettuce and a Miscela Black Bean.
Print
Ingredients
Southwest Rub:
1 Tbsp chili powder
1 tsp chipotle chili powder
1 tsp smoked paprika
1 tsp cumin
1/2 tsp ground coriander
1/2 tsp garlic powder
1/2 tsp onion powder
1/2 tsp oregano
1/4 tsp salt
1/8 tsp Freshly ground pepper
Pinch or two of cayenne if you'd like a bit of heat
2 Tbsp olive oil
4 boneless chicken breasts
To prepare:
8 large whole wheat tortillas
Spring Mix or Mixed Greens
Miscela Black Bean
Instructions
Combine all the spices for the Southwest Rub in a small bowl. Stir together, then add olive oil and stir in to a paste. Rub paste on the boneless chicken breasts. Place on a plate, cover with plastic wrap and refrigerate, allowing them to marinate for 30 minutes-2 hours.

Heat a non-stick skillet over medium heat on the stove-top (or add a splash of oil to a regular skillet). Cook chicken breast, turning every few minutes, until cooked through and well browned on the outside. At this point you can allow to cool slightly then cover and refrigerate to use from the fridge later or use immediately.

To serve, place tortilla in a non-stick skillet or grill pan over medium heat until starting to brown in spots. Remove to a cutting board. Place a heap of lettuce mix in the centre. Top with slices of chicken, then spoon several tablespoons of the Miscela Black Bean over-top. Roll up and enjoy! (Note: Work quickly to fill after heating the tortilla, so it doesn't cool and stiffen up too much and make it hard to roll).