My go-to lemon loaf recipe for years! This delicious Glazed Lemon Pound Cake Loaf is always perfectly moist and lemony!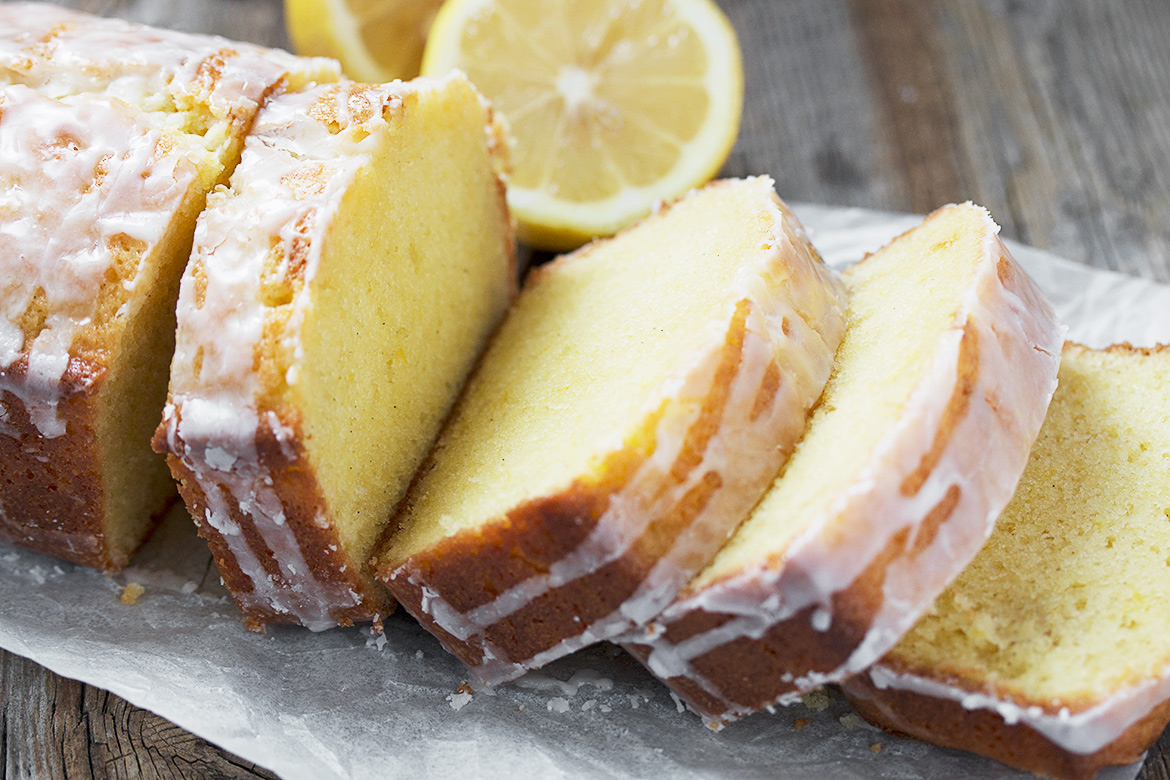 I have been making this same lemon loaf for years. It's my "go to" when only lemon loaf will do. The fact that I've never posted it to this point is simply my belief that maybe the internet didn't really need another lemon loaf recipe. But what the heck. It's good, it's tried and tested (many, many times!) and for anyone who has yet to find their "go to" lemon loaf, it's definitely worthy of consideration.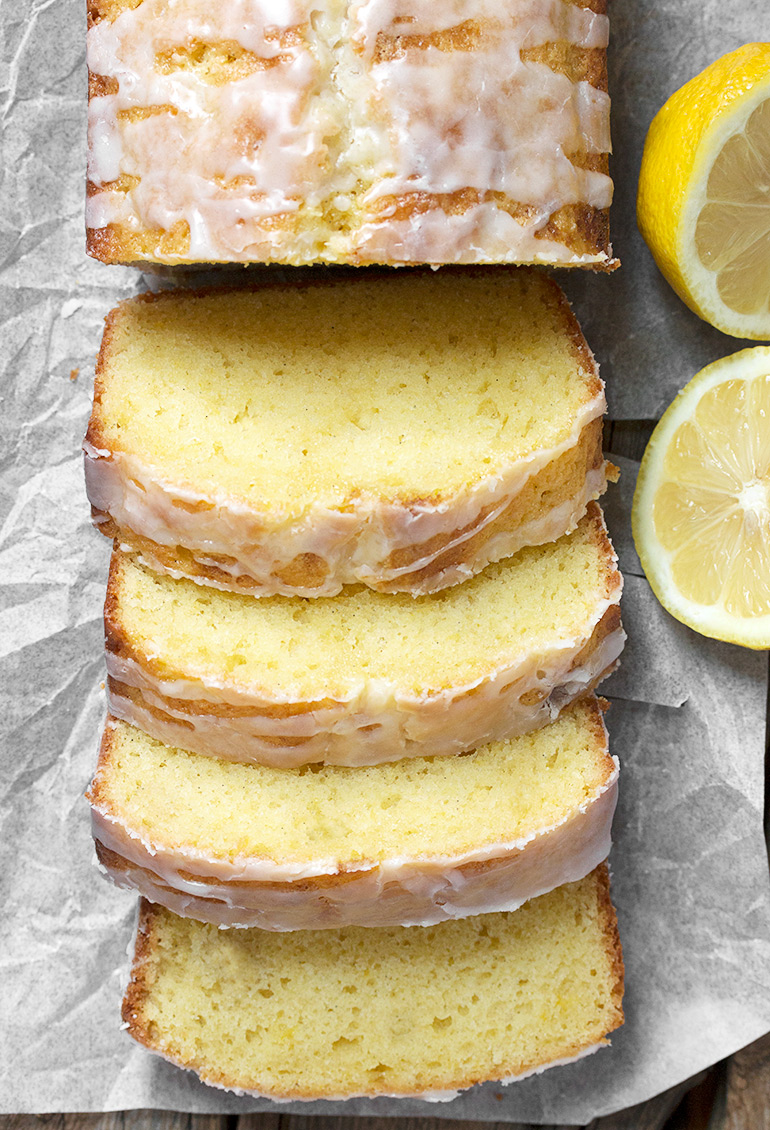 I suppose lemon loaf is somewhat subjective. What makes this loaf a winner for me is the lovely texture (not too light, not too dense), the perfect level of moistness (not too oily, never dry) and just the right amount of lemon. With this one, the hit of lemon actually comes more from the glaze than the cake, though there is obviously some lemon in the cake. But it's in the lemon glaze that the the perfect balance is struck, so definitely don't skip that.
The final point I love about this loaf, is that it needs only 1 large lemon and pretty much typical pantry and fridge items to make it. That means I'm always stocked to make this one, which has come in handy many times when I needed a little something special to share or gift.
Featured Review: I made this lemon pound loaf today and it tastes incredible! I was worried that it wouldn't have much lemon taste because of the small amount of lemon juice that goes into the batter. There was no need to worry though, the lemon taste is the star of this loaf. This recipe is pure perfection! – Krista
Cook's Notes
When it comes to baking loaves like this one, there is really just one secret to success. Follow the instructions :) Take it from someone who has (in the past :) skipped certain instructions like "at room temperature", "whisk together well in a separate bowl" and "add alternately" … yet had what I considered (at the time) to be a reasonably fine result.
It was only when I started following those instructions that I discovered the reason they were there. There's fine and then there's great. I learned I prefer the great, so I am willing to be a bit more organized and patient. It's a small price to pay for great lemon loaf :)
So the moral of that story … be sure to take your eggs, butter and sour cream out of the fridge 30 minutes before you start baking. Be sure to combine the flour, salt, baking soda and baking powder in a separate large bowl and whisk it together well. You will be rewarded!
This lemon loaf freezes beautifully. Freeze it whole in a freezer bag, or slice it first and freeze it. Slicing first means you can grab a slice when you feel the need, instead of trying to cut/thaw a slice from a frozen whole loaf. To thaw a slice, simply set a frozen slice on the counter on a piece of paper towel and it will be ready to enjoy in 20-30 minutes. To thaw a whole loaf, set on the counter inside the sealed freezer bag until thawed.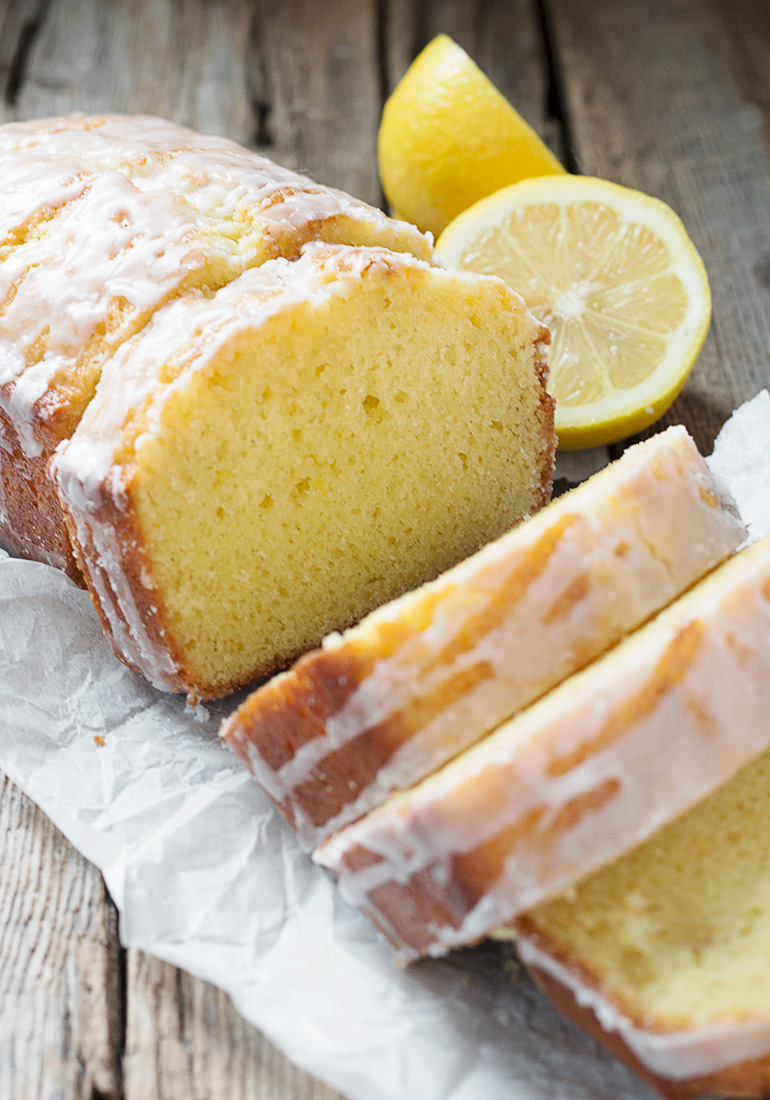 Get the Recipe:
Glazed Lemon Pound Cake Loaf
Perfectly lemony and moist loaf, with a tart sweet lemon glaze. Freezes beautifully!
Ingredients
Loaf:
1/2

cup

(

113

g

)

butter

,

salted, or unsalted, at room temperature

1

cup

(

200

g

)

white sugar

3

large

eggs

,

at room temperature

2

Tbsp

lemon zest

,

from about 1 large lemon

1

Tbsp

lemon juice

2

tsp

vanilla

1 1/2

cups

(

185

g

)

all-purpose flour

1/4

tsp

table salt

1/4

tsp

baking soda

1/4

tsp

baking powder

1/3

cup

(

75

ml

)

sour cream

,

removed from fridge 15 minutes before using
Glaze:
1/2

cup

(

65

g

)

icing/confectioners' sugar

1

Tbsp

lemon juice

,

plus more, as needed
Instructions
Preheat oven to 325 F. (not convection bake). Spray an 8x4-inch loaf pan with baking spray and line with a piece of parchment paper that covers the bottom and long sides, with an inch or so extending past the top of the pan (these will be the "handles" to lift the loaf out of the pan).

In a large bowl with an electric mixer or in the bowl of a stand mixer fitted with a paddle attachment, cream the butter with the sugar at medium speed (about "4 or 5" on a KitchenAid mixer) until light coloured and fluffy. (Don't skimp on this process. It should cream about 3 minutes). Add the eggs one at a time and beat in well after each addition, scraping down the sides of the bowl, as needed. Beat in the lemon zest, lemon juice and vanilla.

In a separate bowl, whisk together well the flour, salt, baking soda and baking powder. With mixer on low, add the flour mixture to the butter mixture alternately with the sour cream, starting with 1/3 of the flour, 1/2 of the sour cream, 1/3 of the flour, last of the sour cream, then finally the last of the flour.

Scrape into prepared 8x4-inch loaf pan and level batter. Bake in preheated oven for 55-60 minutes, or until a tester inserted in the centre comes out clean.

Allow to cool in the pan for 15 minutes, then run a knife along the short ends and use the parchment paper edges to lift and remove from pan. Allow to cool on a cooling rack.

While loaf is still a little warm, prepare the glaze by stirring together all the glaze ingredients in a small bowl, adding enough lemon juice to make a pourable glaze. Place a baking tray under the cooling rack to catch any drips and spoon glaze slowly over top of loaf, allowing it to drip down the sides a bit. Cool completely, then slice and enjoy.
Notes
Be sure to read the "Ingredient and Cook's Notes" (above the recipe card!), where I share more detailed

 

tips, variations and substitution suggestions for this recipe!
Calories:
290
kcal
,
Carbohydrates:
41
g
,
Protein:
4
g
,
Fat:
12
g
,
Saturated Fat:
7
g
,
Cholesterol:
84
mg
,
Sodium:
199
mg
,
Potassium:
64
mg
,
Sugar:
26
g
,
Vitamin A:
410
IU
,
Vitamin C:
2.7
mg
,
Calcium:
29
mg
,
Iron:
1.1
mg
Hi! I'm Jennifer, a home cook schooled by trial and error and almost 40 years of getting dinner on the table! I love to share my favourite recipes, both old and new, together with lots of tips and tricks to hopefully help make your home cooking enjoyable, stress free, rewarding and of course, delicious!