This incredibly light and fluffy multigrain bread is the best of both worlds – light and fluffy bread, perfect for sandwiches or toast, but with the added goodness of whole grains and a crunchy, seedy topping.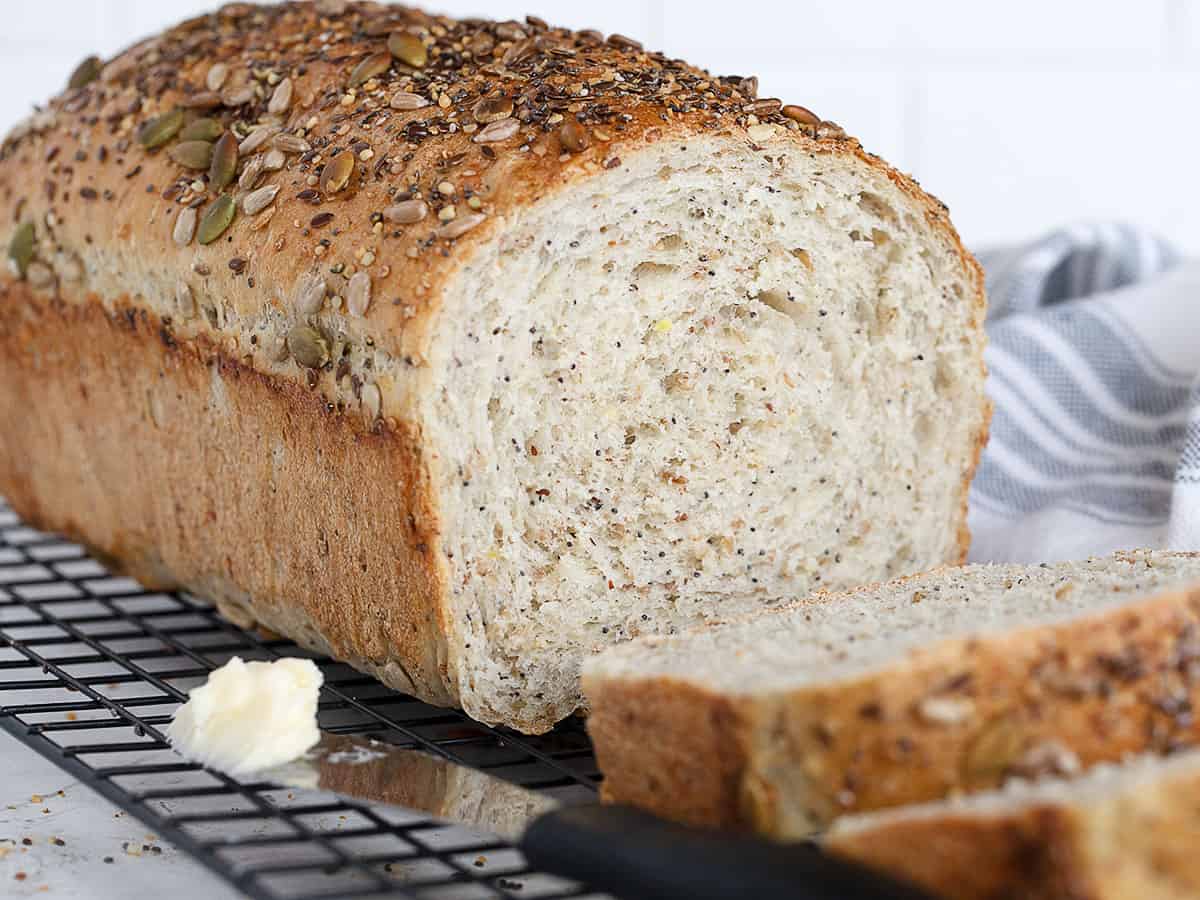 Today I'm sharing my latest daily bread of choice. It's a light and fluffy multigrain bread, filled and topped with lots of grains. It's a "best of both worlds" bread, with a light and fluffy texture, combined with some whole grain goodness. And did I mention the lovely, crispy, toasted seed crust?
You'll love the great flavour and texture of this bread, together with the added goodness of whole grains. It makes great sandwich bread and is lovely toasted, as well. It's also a fast-riser, so you'll be enjoying it in no time!
Key Ingredients
Cereal Mix – This loaf uses multigrain cereal mix, which is a mix that is generally used to make a hot cereal when combined with hot water or milk. This kind of mix is the most efficient way to get a variety of whole grains together. Do note though, that these mixes are 100% whole grains, with no added sweeteners etc, so steer away from the commercial flavoured oatmeal mixes etc.
The most common is a "7-grain" cereal mix. If you are in Canada, Bulk Barn sells both a 7-grain (Hard red wheat, barley, rye, steel cut oats, brown flaxseed, millet, buckwheat) and a 12-grain (Cracked wheat, cracked rye, cracked triticale, oat flakes, millet, cracked oats, barley flakes, sunflower seeds, natural sesame seeds, buckwheat grits, brown flaxseeds, yellow flaxseeds) cereal mix. Either of those will work fine. Bob's Red Mill also has a 7-grain mix.
If you can't find any of those mixes, look for something like a porridge mix. Rogers makes a couple of Porridge mixes – Porridge Oats and Healthy Grains (oat flakes, oat bran, wheat bran and flaxseed) or Porridge Oats and Ancient Grains (Oat, rye, barley, spelt and khorasan flakes, oat bran, millet, flaxseed, quinoa flakes). Quaker makes a mix called Quaker Super Grains Hot Cereal, that is a mix of whole grain oats, flaxseed, and quinoa.
My best advice is to browse the hot cereal/oatmeal section at the grocery store or the natural foods section and see what you can find. If you really can't find something, see below for a homemade multigrain cereal mix.
All Purpose Flour – for the lightest loaf, use all purpose flour. I prefer unbleached all purpose flour. You can also use bread flour, though you may need a little less than specified. If you want to add some whole wheat flour to the loaf, you can replace up to 1 cup of the all purpose flour with whole wheat flour, though your loaf will not be as light as fluffy as the original with this change.
Vegetable Oil – Using oil in yeast breads helps create the soft and light texture. It is also good for anyone wanting a vegan yeast bread. That said, you can certainly replace the oil with an equal amount of melted and cooled butter.
Video Tutorial
Watch as I make this light and fluffy multigrain bread.
How to make your own multigrain cereal mix
If you can't find a pre-mixed multigrain cereal mix, you can mix up your own with a combination of any of the following whole grains:
Rolled oats, quick oats, steel cut oats, quinoa, flaxseed meal, flaxseed, sesame seeds, oat flakes, rye flakes, barley flakes, cracked wheat, wheat bran, oat bran, millet, buckwheat.
Step by step photos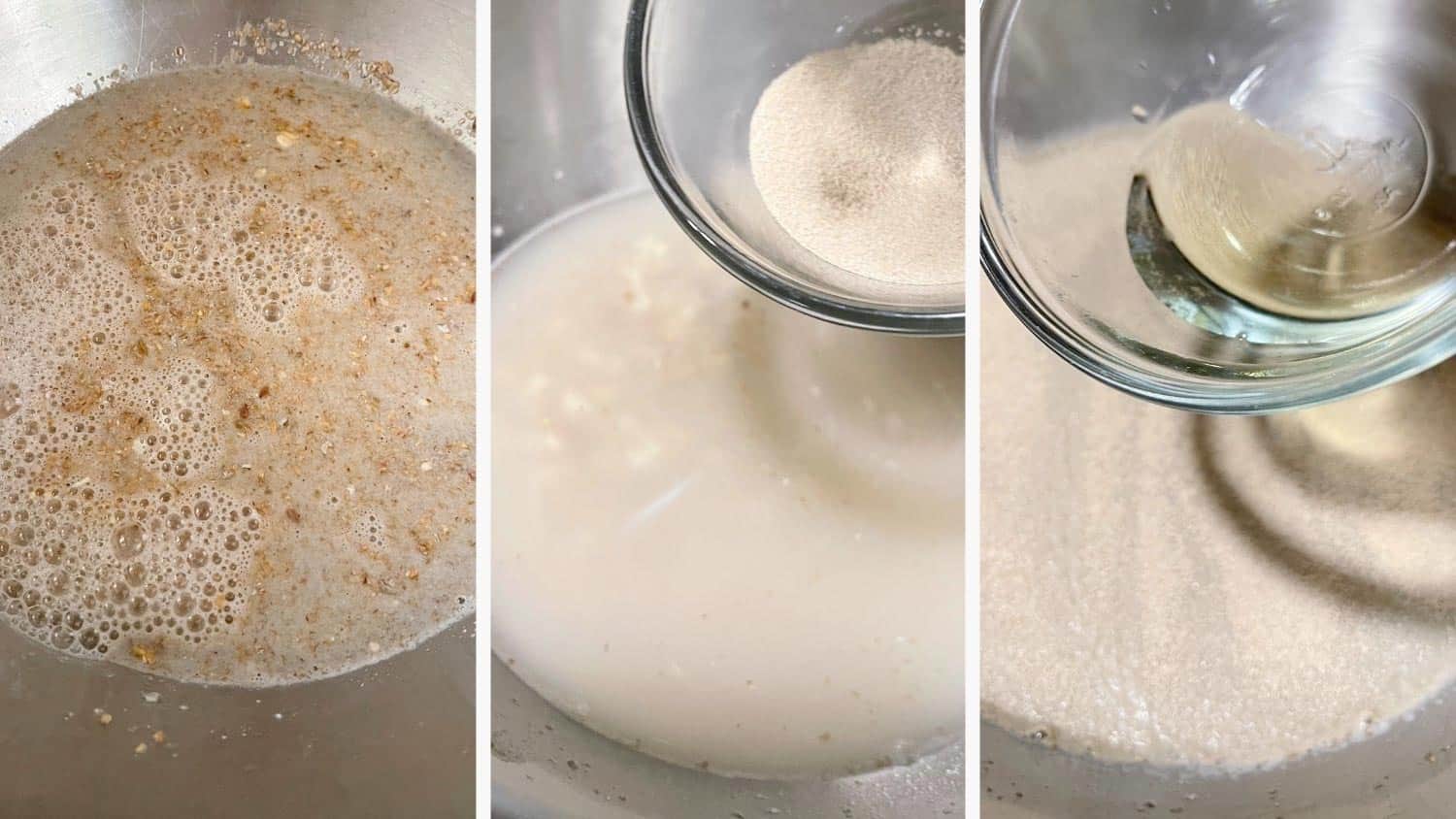 Since this dough can start with any number of multigrain cereal mixes, it may absorb the water differently. You may find you have less water in the bowl than shown here after it sits for 20 minutes. That's ok :)
Be sure your cereal mix has cooled to just lukewarm before adding the yeast or you could kill the yeast before you get started. Test with an instant read thermometer if you have one and make sure it's about 105F. Otherwise, test with your finger. It should be lukewarm and not feel hot at all.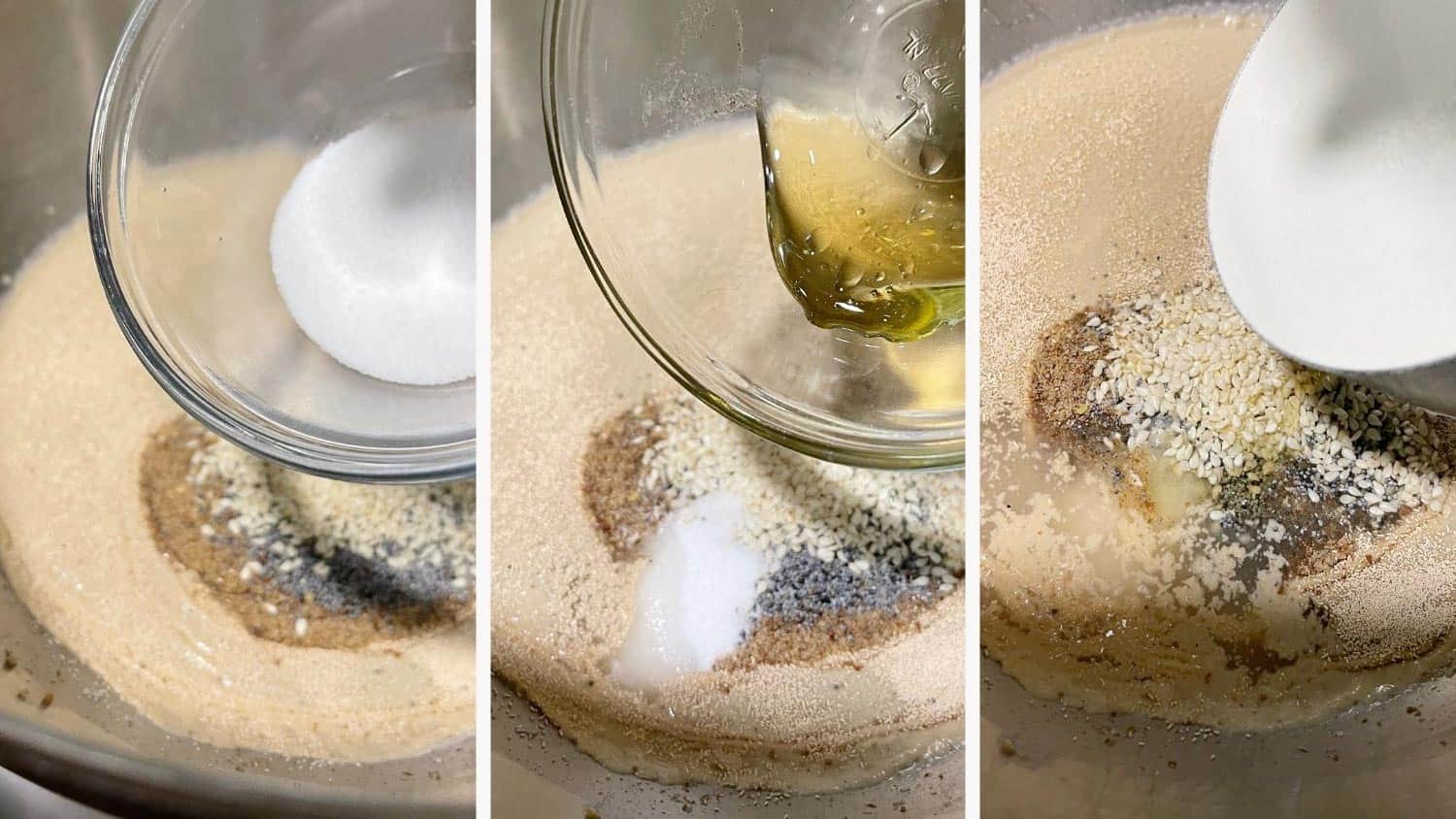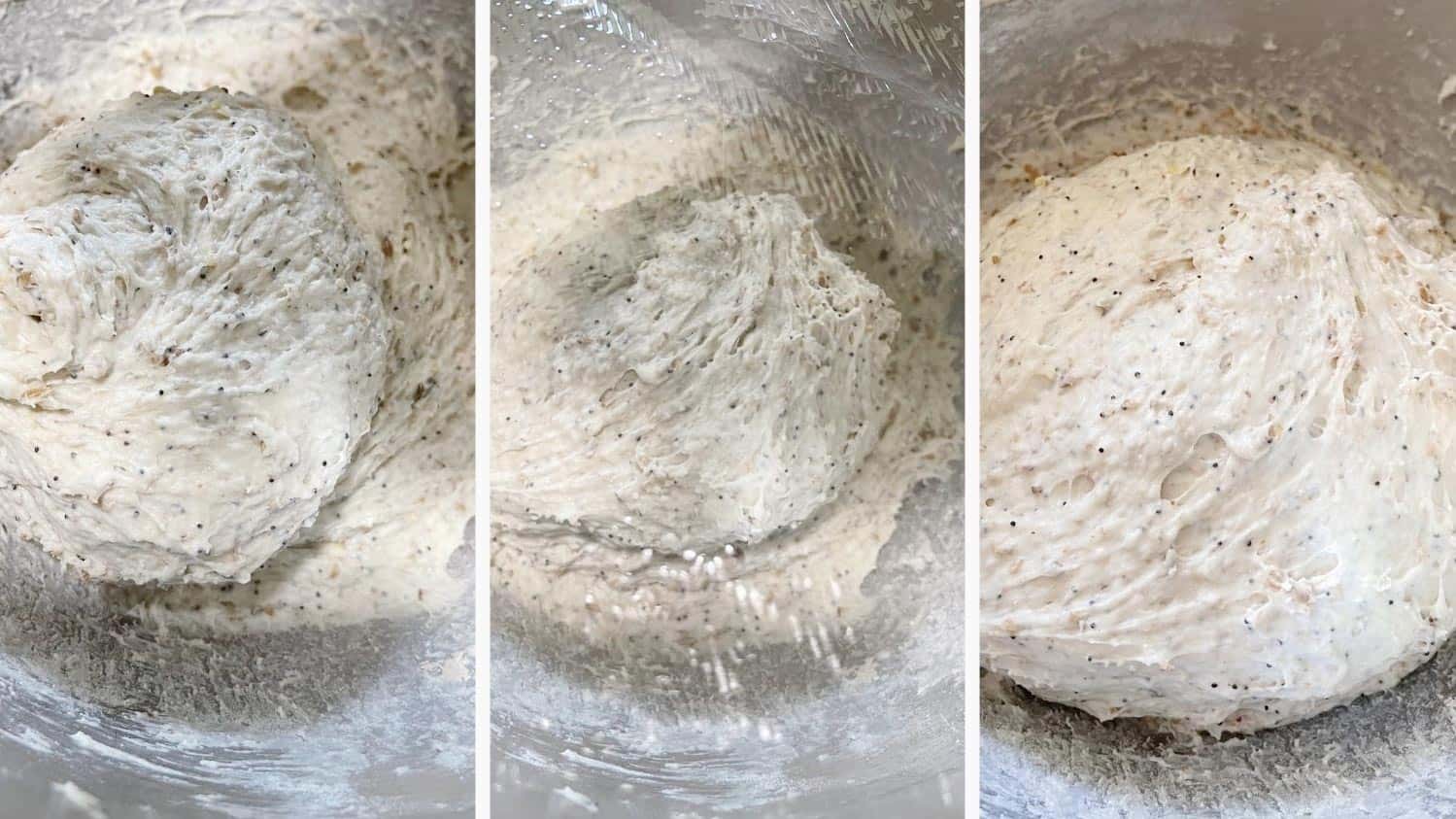 I like to add a couple of tablespoons of small seeds to my bread. Here I've added some poppy and sesame seeds, together with a little flaxseed meal. It's totally optional though.
Thee secret to a light and fluffy loaf is to not add too much flour! In the photo above, you'll see that the dough with the 4 cups of flour added is loose and wet. Yours may be a little less loose, depending on the cereal mix that you used, but it should be very moist at this point. That's what we want. You may be tempted to add more flour, but resist the urge to add it at this stage.
Once we rest the dough for 15-minutes, the grains will continue to absorb the moisture in the dough and be a lot less loose. After that, simply remove to a floured work surface and add a bit more flour, as needed, if the dough is still a little sticky.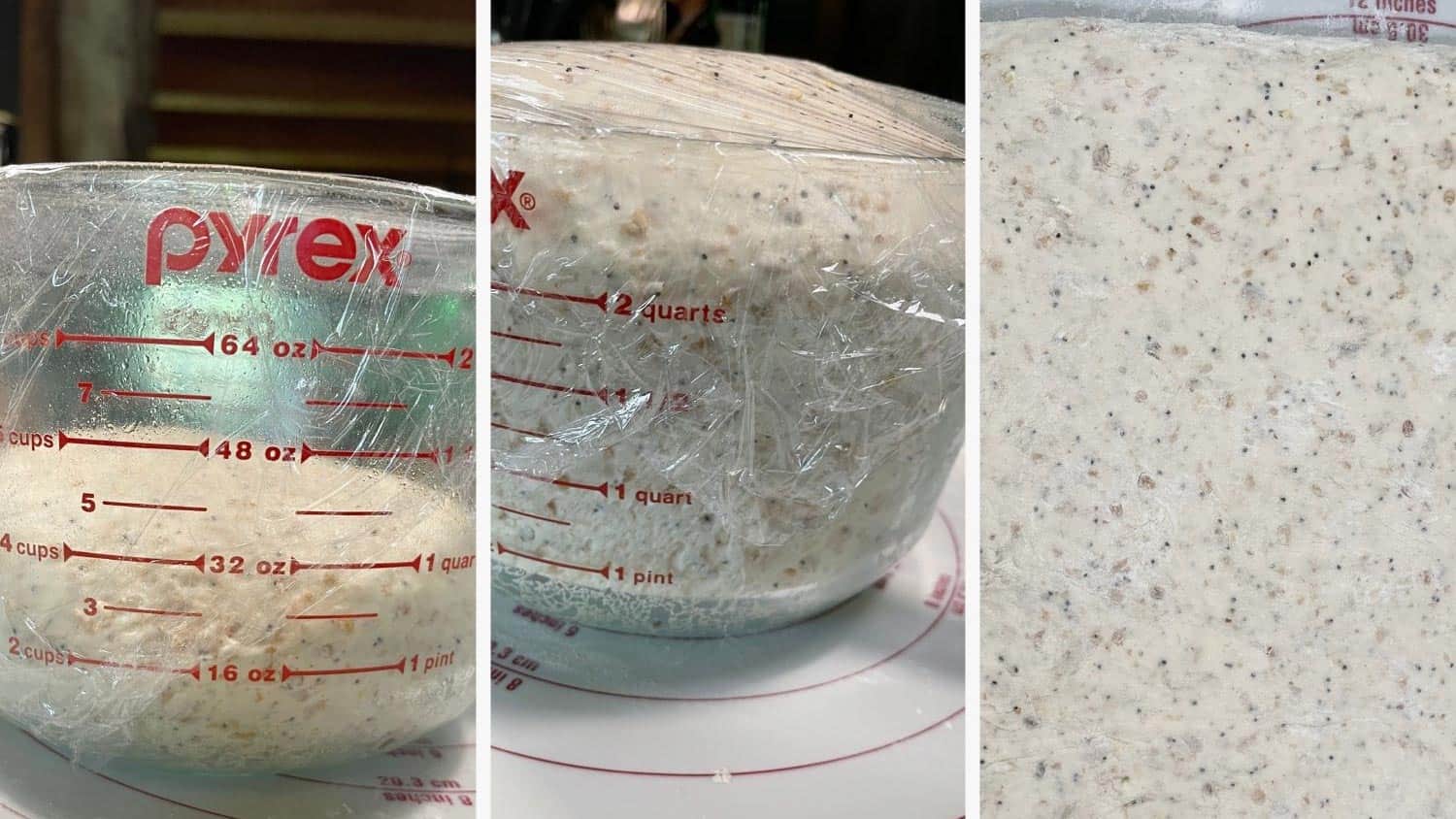 This bread is a FAST RISER! Don't wander far and keep a good eye on it. This 1st rise shown here was only about 40 minutes. Be sure you just allow the dough to rise to doubled and no more.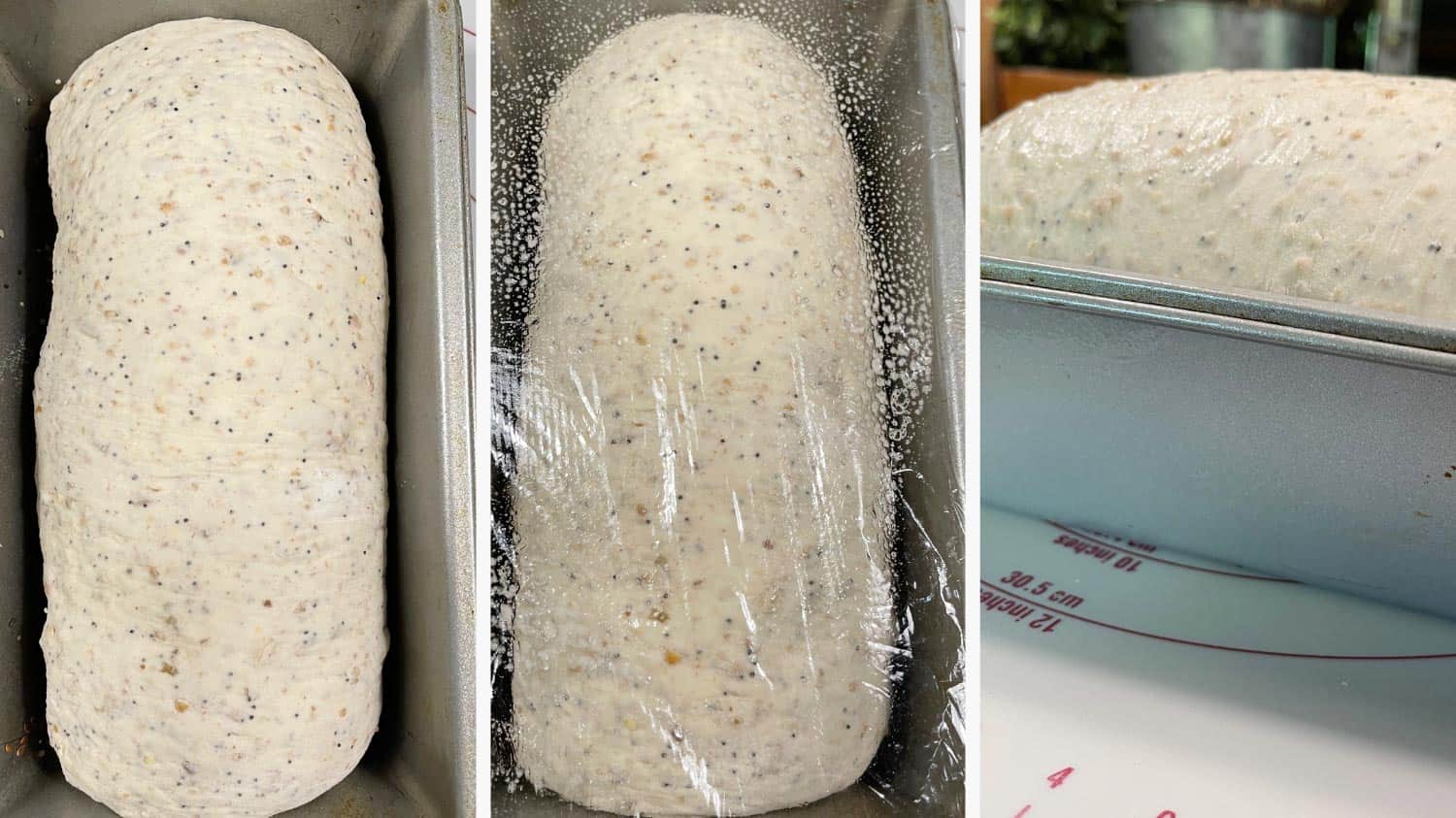 The rise in the pan is just as quick as the 1st rise. You'll find it will be risen and ready for the oven in 25-30 minutes (and maybe less). In a 9×5-inch pan, it should crest the pan by about 1 1/2-inches in the centre.
This bread tends to brown quickly, so be sure to cover the top loosely with a sheet of aluminum foil after about 18-20 minutes of baking, to keep the top from over-browning. Baking the loaf in the lower third of the oven (one rack position down from centre) helps to slow the browning a bit.
The early browning can also make the loaf look done before it is. A large 9×5-inch loaf like this will need a total of 40-45 minutes in the oven to bake through. An instant read thermometer is invaluable here to test the loaf for doneness. Bake until the internal temperature is 195-205F (I aim for about 200F).
Baker's Notes
As noted above, after you have added the 4 cups of flour, your dough may be quite loose and wet. The grains in the bread will hold a lot of moisture, so this isn't a dough that will come together like a normal dough. Loose and wet is ok at this point. Once it rests for 15-minutes, it will become less loose and less wet. If needed, we can add a bit more flour on the bench, as needed. That said, depending on your grain mix, you dough may be less wet and loose and that's ok, too. That just means you'll need little more flour on the bench.
While I love the seed topping on this bread, you can easily skip it if you prefer. Leave it plain or do the egg wash and use some rolled oats on top instead.
This bread will be Vegan, if made with brown sugar (instead of honey) and using water on top instead of the egg wash.
You can make this bread as one large 9×5 loaf, as two shorter, smaller 8×4 loaves. Note that baking time will be less for the 8×4 loaves. Refer to the Recipe Card below for some guidance there.
If you go the big 9×5 loaf route, be warned that it does take time to bake through, but will look quite done before it actually is. I covered mine with foil after about 20 minutes and then baked pretty much a full 45 minutes. If you have an instant read thermometer, you can take out the guesswork. You'll want your loaf to be at least 195F before you take it out. I aim for about 200F.
Be careful with doubling this recipe. While it can be done, the dough is bulky and doubling may put too big a strain on a stand mixer.
Add-ins for your loaf
Additional add-ins are completely optional. They are just suggestions if you want to change up your basic loaf a bit. Feel free to leave out and just enjoy the basic multigrain bread. My favourite add-in is to add a couple of tablespoons of the small seed mix. It adds a little extra flavour and texture to the loaf. Other options are pepitas (pumpkin seeds), sunflower seeds, raisins, nuts, dried cranberries or other dried fruit. Be sure not to exceed the recommended amount, for best results
Storing and Freezing this bread
You can store this bread for several days at room temperature, stored in an airtight container.
This bread will also freeze well, tightly wrapped, for up to 3 months.
Variations: Multigrain Rolls, Buns or Freeform Loaf
If you like, you can use this dough to make multigrain rolls. Simply divide the dough into 8-16 even sized pieces, depending on the size of rolls or buns you want. Form the dough pieces into balls, rise and bake on a baking sheet. The baking time will be greatly reduced. Watch carefully and check often, as they will likely be ready in as little as 15-minutes, depending on the size.
Finally, you can make a free-form loaf from this dough. Simply shape into a boule (round) or oval and bake on a baking sheet or in something like a cast-iron skillet.
Overnight Refrigerator Rise Option
You can prepare the bread through to shaping and placing in the loaf pan, then immediately cover and refrigerate overnight or up to 12 hours. In the morning, simply remove from the fridge and allow to rise on the counter for 1 hour before baking.
Freezing Unbaked Dough
You can also freeze the shaped loaf right after placing it in the loaf pan (before the 2nd rise). I like to freeze in the loaf pan, then once solid, wrap the frozen dough log tightly and store only the dough in the freezer up to 3 months. When ready to bake, remove the frozen dough log, unwrap, place in a greased loaf pan, cover with plastic wrap and thaw at room temperature for 4-5 hours, or until thawed and risen. Bake as usual.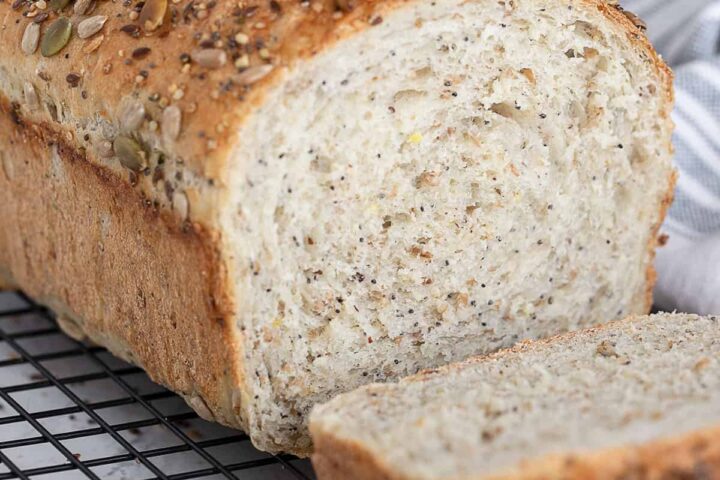 Get the Recipe:

Light and Fluffy Seeded Multigrain Bread
This incredibly light and fluffy multigrain bread is the best of both worlds - light and fluffy bread, perfect for sandwiches or toast, but with the added goodness of whole grains and a crunchy, seedy topping. Makes 1 large loaf or 2 small loaves.
Ingredients
Basic Multigrain Bread Dough:
1/2

cup

(

113

ml

)

multi-grain cereal

,

such as 7, 10 or 12-grain cereal *see Note 1

2

cups

(

454

ml

)

boiling water

2 1/4

tsp

(

7

g

)

active dry or instant yeast

,

(not rapid or quick rise yeast)

4

cups

(

480

g

)

unbleached all-purpose flour

,

*see Note 2

1

Tbsp

(

15

ml

)

vegetable oil

,

or other neutral tasting cooking oil, or melted and cooled butter

1

Tbsp

(

15

g

)

honey

,

or light or dark brown sugar

1 1/2

tsp

(

9

g

)

fine sea salt
OPTIONAL Add-ins *See Note 3 below
1/3

cup

raisins or dried cranberries

1/4

cup

raw pumpkin or sunflower seeds

,

chopped

1/4

cup

nuts (pecans, walnuts etc)

,

chopped

2

Tbsp

mixed small seeds

,

poppy, sesame and/or flax seeds
Egg Wash:
1

large

egg

,

mixed with 1 Tbsp water (or alternately, just water, for a vegan loaf, though seeds may not stick as well).
Topping Seed Mixture:
2

tsp

(

10

ml

)

sesame seeds

2

tsp

(

10

ml

)

flax seeds

2

tsp

(

10

ml

)

poppy seeds

Raw pumpkin and or sunflower seeds

,

optional
Instructions
Place multigrain cereal in a large bowl or the bowl of a stand mixer fitted with a kneading hook. Pour boiling water over, then let stand until mixture cools to between 105°F. and 115°F. for active dry yeast or to about 120F for Instant yeast, about 20 minutes. *Don't rush it. If your mixture is too hot, it may kill your yeast. A thermometer is handy here to make sure of the temperature before adding the yeast.

Sprinkle yeast over cereal mixture. Add 1 cup flour, the oil, honey (or brown sugar) and salt and stir until smooth. Gradually mix in the remaining flour, incorporating and additional add-ins during the mixing. Once all the flour is added, you'll have a moist dough, that may also seem a bit loose. Resist the urge to add more flour at this point. Cover the bowl with plastic wrap and let rest 15 minutes. The grains will absorb more of the moisture during the rest period.

Turn the dough out onto a floured surface. Knead a few minutes, until smooth and elastic, adding more flour, as needed, if it's sticking to your hands or the work surface.

Oil a large bowl or measuring cup. Add the dough to bowl, then flip over the ball of dough so the oiled side is up. Cover bowl with plastic wrap and let rise in warm spot until doubled in size. **Don't wander far. This bread is a quick riser and may double in as little as 35-40 minutes. It may take longer. The important thing is to make sure it rises only until doubled, no matter how long that is.

Prepare the Seed Mixture by stirring together all the seeds in a small bowl. Set aside.

When dough has doubled in size, remove to a work surface and gently deflate dough by pressing down the dough.

Grease one 9x5-inch loaf pan or two 8x4-inch loaf pans. Sprinkle a bit of the seed mixture into the pan (or divide between two pans), if you like. For 8x4-inch loaves, divide the dough into two equal sized pieces. For 9x5-inch loaf, leave as one piece. Roll the dough out into a rectangle about 10 inches wide and 18-inches long. for a 9x5 loaf, or 9x16-inch rectangles each of the two 8x4 loaves. Roll up jelly rolls style, starting with the short side, then pinch seams together. Place rolls seam side down into prepared loaf pan(s).

Cover the loaves with a clean kitchen towel or greased/sprayed plastic wrap and let rise until doubled in size, about 25- 30 minutes.

Preheat oven to 425F. (regular bake/non convection), with rack positioned just below centre (a little lower rack position, one down from centre, will help to keep the top of the bread from browning as quickly).

Before baking, brush top of loaves with the egg wash and sprinkle the top with remaining seed mixture.

Bake in preheated 425F oven for 18-20 minutes, then cover the top loosely with a sheet of aluminum foil to prevent over-browning. Bake a further 20-25 minutes for a 9x5 loaf or 10-15 minutes for 8x4 loaves, or until golden and crusty and have an internal temperature of 195-205F when tested with an instant read thermometer. *Bread will look done, even when it isn't cooked through. The large 9x5 loaf will need the full 40-45 minutes in the oven to be cooked through.

Remove from oven. Run a knife around the edges of the pan and immediately remove to a cooling rack to cool. Allow to cool completely (or almost completely) before slicing, to avoid a gummy bread.

Store bread well wrapped at room temperature for a couple of days, or freeze for longer storage. This bread will freeze well up to 2-3 months or more.
Notes
Refer to the Ingredient Notes above this Recipe Card for some guidance and suggestions for different multigrain cereal blends you can use here, as well as how to make your own multigrain mix.
You can replace up to 1 cup of the unbleached all purpose flour with whole wheat flour, if you like, though the resulting bread will not be as light as it would be with all purpose flour. I don't recommend adding more than 1 cup of whole wheat flour, as it will alter the hydration of the dough significantly.
The Optional add-ins are things you can add in to the dough - one, all or none of them, if you like, to change up the bread a bit. That said, don't exceed about 1/2 cup of total add-ins. 
If you find the bread gets too dark for your liking, even after tenting it with foil for the last part of baking, try baking it at 400F instead and baking it a little longer. 
Be sure to read the Ingredient and Baker's Notes above the Recipe Card for more tips on making this bread. You will also find Step-by-Step photos and a video of making the dough, that you might find helpful.
Calories:
143
kcal
,
Carbohydrates:
29
g
,
Protein:
4
g
,
Sodium:
258
mg
,
Potassium:
52
mg
,
Fiber:
1
g
,
Sugar:
1
g
,
Vitamin A:
35
IU
,
Calcium:
16
mg
,
Iron:
2.1
mg
More bread recipes you might also like …
Honey Whole Wheat Seed Bread
A delicious whole wheat seed bread, sweetened with honey and a variety of seeds for flavour and texture. A great everyday bread!
www.seasonsandsuppers.ca
Oatmeal Molasses Bread
A lovely molasses bread, with added oats and whole wheat flour for extra goodness. Makes great toast and sandwiches!
www.seasonsandsuppers.ca
Hi! I'm Jennifer, a home cook schooled by trial and error and almost 40 years of getting dinner on the table! I love to share my favourite recipes, both old and new, together with lots of tips and tricks to hopefully help make your home cooking enjoyable, stress free, rewarding and of course, delicious!