A quick and easy, one-pan pork tenderloin with mushrooms and a delicious Marsala wine sauce. Cooks up quickly in one pan on the stovetop!
This delicious recipe is one of my favourite ways to enjoy pork tenderloin! The fact that it is quick, easy and delicious is just a big bonus! And while this dish is quick and easy for a weeknight meal, it's also special enough for entertaining, which is always good.
I love to cook with pork tenderloin, as it is lean, cooks quickly and is always tender. The quick and easy mushroom sauce is flavoured with Marsala wine, that has such a delicious and distinct flavour and pairs perfectly with mushrooms.
This delicious pork tenderloin cooks up entirely on the stovetop in a hot skillet and is ready is just 20 minutes!
Ingredient Notes
Marsala Wine: Marsala wine is a worthy addition to your kitchen, if you don't have it already. It keeps a long time on the counter and is great for cooking. The Marsala wine I use the Italian "Sperone Dry Marsala" (bottle pictured below). You'll usually find it with the Fortified Wines. I suggest a Dry Marsala, rather than a sweet one. If you don't have or don't want to use Marsala, a Dry Sherry would probably work fine here.
Mushrooms: You can use whatever type of mushrooms you like. White or Cremini are the most common mushrooms to use in a sauce like this. I like to buy whole mushrooms and slice them myself, as I can make them a little chunkier and I like the little round bits :)
Heavy Cream: This is heavy, 35% butterfat whipping cream. I highly recommend heavy cream here, if you have it. It's only 3 Tablespoons and makes for the best textured sauce, without making it heavy and rich. You could use a lower fat cream, but lower fat cream may split in the acidic wine sauce, leaving small bits of white fat in your sauce. Your sauce will also not be quite as thick. You could stir a teaspoon of cornstarch into a lower-fat cream before adding to the pan, to help with the thickening.
Cook's Notes
I love this dish with pork tenderloin, but I have also made it with beef medallions or thinly sliced chicken breast. I think it would be nice with other cuts of pork as well, such as boneless loin chops or even bone-in pork chops.
As mentioned above, this entire dish should be cooked over a bit more than medium-high heat, depending on your oven and/or the pan you are using. You want that to get a good sear on your meat, to get golden, delicious mushrooms and to reduce your sauce quickly, so don't hesitate to nudge up the heat under your pan if needed.
Top Tip: As this dish cooks quickly over high heat, have all your ingredients prepped, measured and handy near the stove, to add into the pan quickly and easily.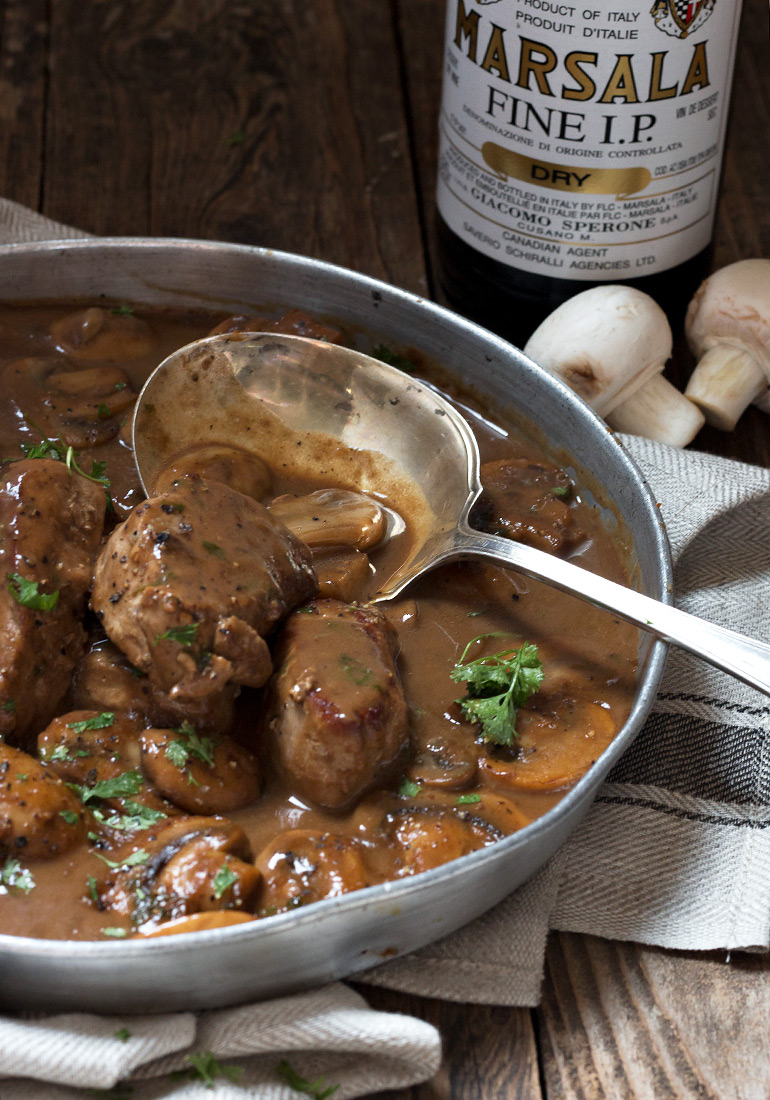 What to Serve with Mushroom Marsala Pork Tenderloin
I enjoy this dish served with rustic mashed potatoes or try a garlic mash. I will set some water to boil for the potatoes while preparing my ingredients. The potatoes then boil as the dish gets cooked on the next burner. Simply drain the potatoes, add some cream and butter and mash. Try some small new potatoes and leave the skin on. Pretty and easy!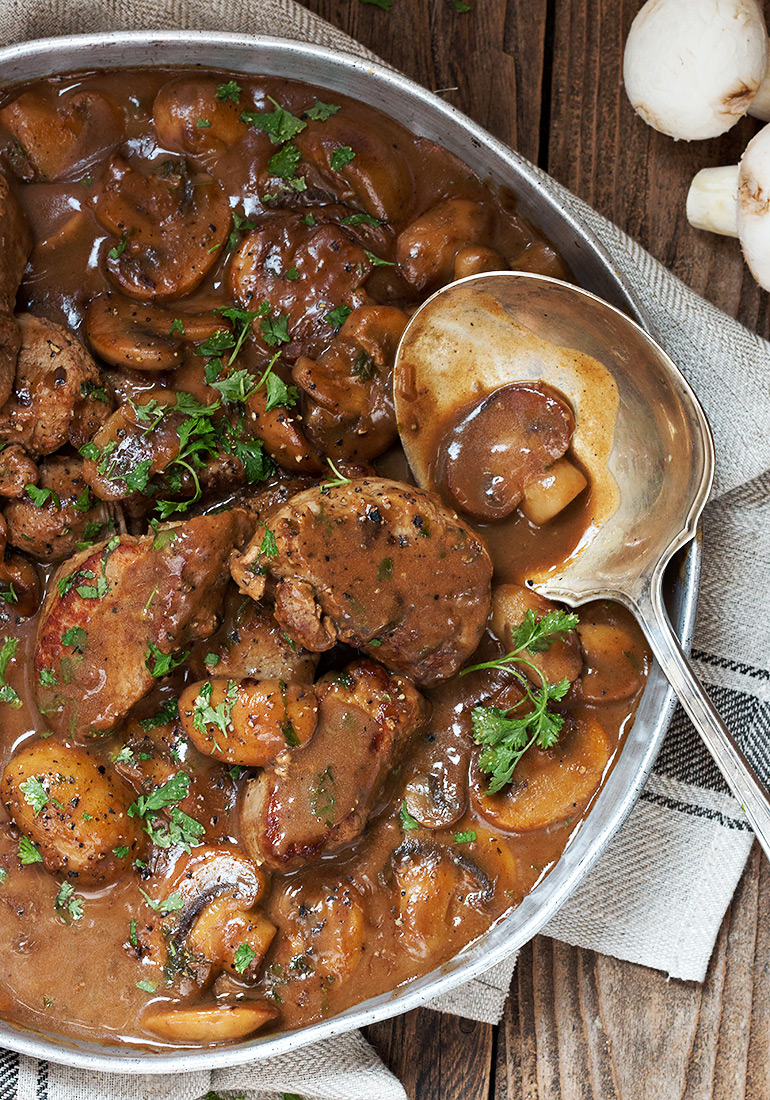 More Easy Pork Tenderloin Recipes You Might Like ...