The perfect Summer refresher, this cold brewed iced tea with fruit is easy to make, pretty and delicious! I keep my fridge stocked with jars of it all Summer long. It's a great grab and go drink and perfect for entertaining.
Iced tea has always been a staple Summer refresher for me, but a while back I discovered the beauty of Cold Brewed Iced Tea and it's my method of choice for iced tea now! One of my favourite ways to enjoy it is to infuse it with fresh Summer fruit as well. It's fruit infused water meets Summer iced tea. It's pretty (and pretty counts :), refreshing and easy to make!
But first, some basics about Cold Brewed Iced Tea in general …
Why Make Cold Brewed Iced Tea?
The basic principle of cold brewed iced tea is the same as that of cold brewed iced coffee. Cold brewing results in a milder, but smoother end product, without any acidity or bitterness.
Cold Brewed Iced Tea is easier. No boiling large pots of water required!
Suffer with cloudy iced tea? Cloudiness in iced tea results from the tannins that are produced when tea comes in to contact with hot water. Since cold brewed iced tea doesn't use hot water, it is never cloudy!
How to Make Basic Cold Brewed Iced Tea
Simply add 1 tea bag for every 6 ounces of room temperature water. Allow to stand 1 hour at room temperature, then refrigerate for 12-24 hours. Discard tea bags, sweeten to taste and enjoy!
As shown here, I love to add fresh fruit to the cold brewing tea, as well. Here are some great fruit combination ideas for your cold brewed iced tea.
Fruit Flavour Ideas for Your Cold Brewed Iced Tea
Berry Mint: Strawberries (halved), blueberries, raspberries, blackberries, sprig of fresh mint
Citrus, Blueberry Basil: Orange slices, lemon slice, lime, slice, blueberries, 1-2 fresh basil leaves
Orange Berry Thyme: Orange slices, strawberries (halved), blueberries, sprig of fresh thyme
Peach Melba: Peach slices, raspberries, 1-2 mint leaves
Cucumber Watermelon: Watermelon pieces, sliced cucumber, basil leaves
How to Sweeten Your Cold Brewed Iced Tea
Regular sugar just doesn't dissolve well in cold liquids, so the classic method for sweetening cold liquids like iced tea is to use a simple syrup. I've included my quick and easy recipe for Simple Syrup in the recipe card below. Another method which is nice (and great for anyone looking for alternatives to white sugar) is to mix equal parts of honey and hot water, and using to sweeten iced tea.
Cook's Notes
I quickly discovered that for cold brewed iced tea I would need to use more tea bags than I would normally use with hot brewing to result in the same strength end result. For 1 1/2 cups of water, you will definitely want to use 2 tea bags. If you love a strong iced tea, you may want to use 3.
I found that the 1 hour room-temperature steeping at the start of the process is important for getting the steeping started well before refrigerating. If you have the time, I recommend it!
It's worth noting here that as cold brewing results in a really smooth result, which you may mistake for weakness in the beginning. You just need to allow yourself to get used to iced tea without those bitter notes.
Experiment with different teas. I've been loving a Lemon Ginseng Green Tea in my cold brewed iced tea lately. Any tea variety that you enjoy drinking hot is a good candidate for cold brewing. Loose leaf teas will also work, you will just have to cold brew it and strain it first, before adding fruit to the mix. Changing up the fruit and herbs is also fun for great flavour combinations.
And yes, you can use frozen fruit in your tea! Simply add it frozen and it will thaw in the fridge as the tea steeps.
Making cold brewed tea in 1/2 pint mason jars makes them great for entertaining. Simply place in to a large ice bucket and your guests can grab a refreshing and pretty jar and drink it right from the jar. No extra glasses required! Jars are of course, also perfect for travelling or for taking to work, as they are nicely sealed and again, their own glass for drinking.
I always have cold brewed tea in my fridge by starting with a stock of 5 or 6 jars, then taking a minute to start a new one brewing after I've emptied one. The new one goes back in the fridge to start brewing. And so it goes. Always one ready to enjoy! Don't worry if your tea steeps longer than 24 hours. It's all good :) I try to remember to sweeten at the time I remove and discard the tea bag, so that I know the jars without the tea bag are ready to drink.


Here's the process of making Cold Brewed Iced Tea with Fruit in video form! As you can see, it's great for entertaining, served on ice!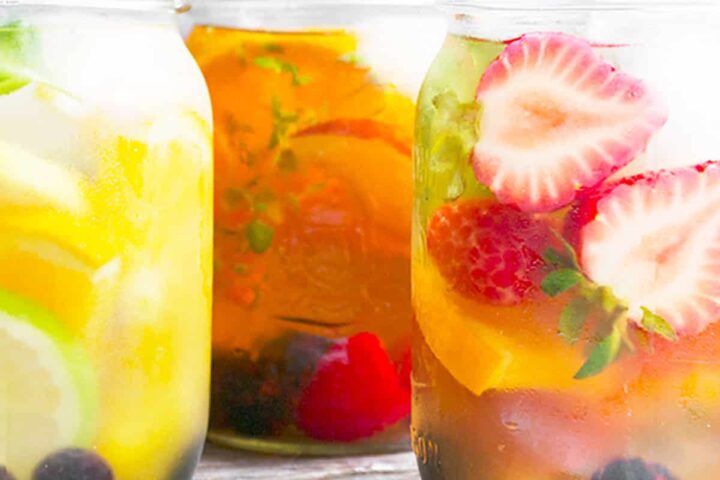 Get the Recipe:

Cold Brewed Iced Tea with Fruit
Delicious and easy, this cold brewed iced tea requires no boiling water. Simply steep the tea in a jar in the fridge with fresh fruit for extra flavour.
Ingredients
Cold Brewed Iced Tea:
1 1/2

cups

water

,

room temperature

2

tea bags
Fruit Additions:
Assorted fresh fruit

Fresh herbs

,

(basil leaves, mint leaves, thyme sprigs, rosemary sprigs)
Simple Syrup for Sweetening:
1

cup

white sugar

1

cup

water
Alternate Honey Sweetening:
1/4

cup

liquid honey

1/4

cup

hot water
Instructions
Add 1 1/2 cups room temperature water to a 2 cup (1/2 pint) mason jar. Add 2 tea bags and submerge in water so they are well moistened. Cover and allow to stand at room temperature for 1 hour. Add fruit and herbs as you like. Cover and refrigerate 12-24 hours.

Meanwhile, prepare simple syrup by combining sugar and water in a medium saucepan. Heat over medium-high heat, stirring until the sugar dissolves. Allow mixture to come to a boil, then boil for 1 minutes. Allow to cool then remove to a jar. Cover and refrigerate up to one month. (If you'd rather use the honey sweetening, combine honey and hot water and stir until honey dissolves completely in to the liquid. Remove to a jar. Cover and refrigerate up to 2 weeks.)

Remove tea bags and sweeten to taste with simple syrup or honey sweetener. (I find 1-2 Tbsp of simple syrup works well with this amount of cold brewed iced tea.) Stir sweetener in and add ice cubes. Enjoy!
Calories:
46
kcal
,
Carbohydrates:
12
g
,
Sodium:
12
mg
,
Sugar:
11
g
Hi! I'm Jennifer, a home cook schooled by trial and error and almost 40 years of getting dinner on the table! I love to share my favourite recipes, both old and new, together with lots of tips and tricks to hopefully help make your home cooking enjoyable, stress free, rewarding and of course, delicious!