Learn how to make iced coffee at home, complete with the cold brew coffee concentrate and final mixture. Fashioned after the Tim Horton's&trade iced coffee.
So I set out to figure out how to make Tim Horton's™ style iced coffee at home. And by gosh, I think I've come pretty darned close! Here's how …
Ingredients and Substitutions
Coffee Grounds – use your favourite ground coffee brand.
Instant Dissolving Sugar – this is a super-fine sugar that will dissolve instantly in cold liquids. (Regular sugar won't dissolve in cold liquids). Look for it in the sugar section at the grocery store or at Bulk Barn. If you can't find it, you'll have to substitute a sugar syrup, which involves heating regular sugar with water and then using the syrup to sweeten the iced coffee.
Recipe Tips
You can play around with the proportions of coffee concentrate and water to taste, as well as the amount of added cream and milk.
You may be surprised by the amount of sugar, but trust me, if you're looking for a clone of Tim Horton's™ Iced Coffee, you'll need that much.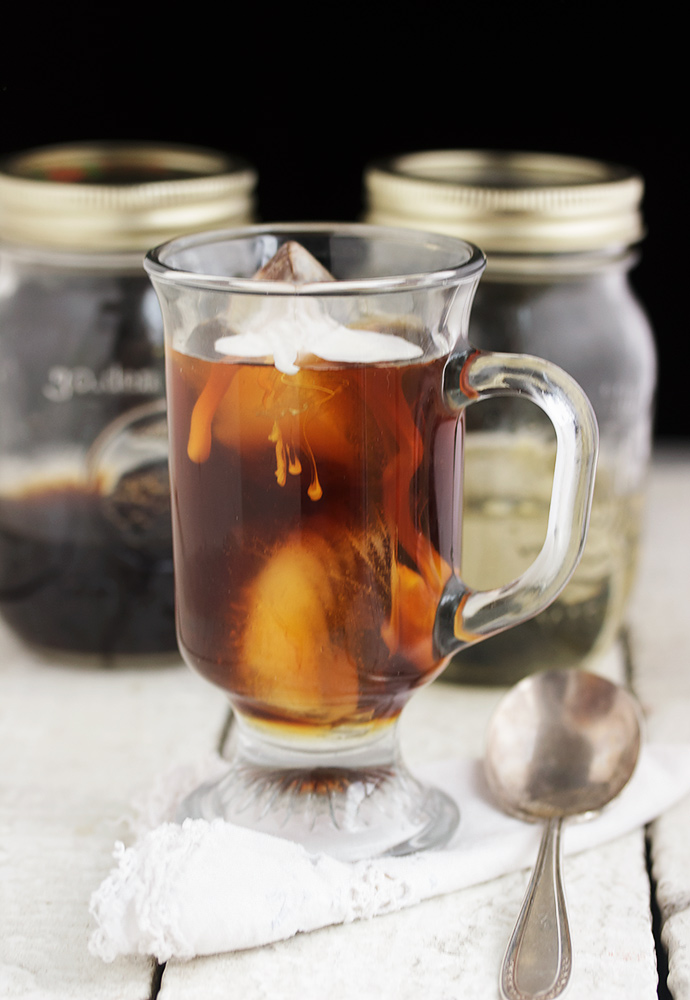 Get the Recipe:
How to Make Iced Coffee at Home
Make iced coffee at home that tastes just like Tim Horton's! Starts with a cold brew coffee base.
Ingredients
For the coffee concentrate:
32

oz

cold water

,

(4 cups)

1

cup

ground coffee

,

(good quality coffee- anything you'd brew up to drink hot)
For the Iced Coffee:
1/2

cup

coffee concentrate

,

(from above)

1/2 - 2/3

cup

cold water

2

teaspoons

instant dissolving sugar

,

*See Note below

1/4

cup

half and half cream

,

10% bf

1/3

cup

milk

3

ice cubes
Instructions
Make the coffee concentrate: Combine cold water and coffee grounds in a container. Stir to moisten all the grounds. Cover with plastic wrap and leave at room temperature to steep for 12-24 hours. Place a coffee filter into a wire strainer and strain, discarding grounds. Transfer coffee concentrate to a glass jar and refrigerate. It will keep for several weeks in the fridge (but it won't last that long ;)

To make an iced coffee: In a large glass, combine coffee concentrate, water, sugar, half and half and milk. Stir well. Add ice cubes and enjoy!

You can play around with the proportions of coffee concentrate to water, to taste. The 1/2 cup of water makes an iced coffee a little stronger but mellows out nicely as the ice melts. If you prefer it a little lighter, add the 2/3 cup of water or more from the start. The same goes for the added cream and milk. You can use as much or as little of both or either as you like, to your taste.

Note: *Instant dissolving sugar is available in the sugar section of most grocery stores or at most Bulk Barns and is a special sugar that is made to dissolve easily in cold liquids.

Note that regular sugar will not dissolve in cold liquids, so can't be substituted as is. All is not lost though. Just make a simple syrup by bringing 1 cup water to a boil and adding 1 cup sugar and stirring until completely dissolved. Remove from heat, let cool and then store in a jar to add to your coffee as needed. (Can double or triple this recipe)
Serving:
1
serving
,
Calories:
144
kcal
,
Carbohydrates:
15
g
,
Protein:
5
g
,
Fat:
8
g
,
Saturated Fat:
5
g
,
Polyunsaturated Fat:
0.4
g
,
Monounsaturated Fat:
2
g
,
Cholesterol:
25
mg
,
Sodium:
70
mg
,
Potassium:
205
mg
,
Sugar:
14
g
,
Vitamin A:
368
IU
,
Vitamin C:
1
mg
,
Calcium:
165
mg
,
Iron:
0.03
mg
Hi! I'm Jennifer, a home cook schooled by trial and error and almost 40 years of getting dinner on the table! I love to share my favourite recipes, both old and new, together with lots of tips and tricks to hopefully help make your home cooking enjoyable, stress free, rewarding and of course, delicious!