This delicious turkey pot pie is a wonderful combination of hearty turkey, sweet apples and a bit of curry spice. All topped with a crispy, golden puff pastry topping. A perfect recipe for your leftover turkey!
Disclosure: This post is sponsored by the Ontario Apple Growers. As always, all opinions are my own.
You could hardly be blamed if you looked at these skillet pies, alongside the apples and immediately imagined a sweet apple pie. While there is certainly nothing wrong with that, these pies use apples in a different way. This savoury main dish features apples together with chunks of turkey, Fall vegetables and a delicious curry-flavoured gravy.
I was inspired to make this dish by a recent trip I made to a beautiful apple orchard near Port Perry, Ontario. The Ontario Apple Growers arranged a tour for a number of Ontario food bloggers at the Nature's Bounty Apple Farm. We spent the day wandering the orchards and learning about the types of apples grown in Ontario, the changing taste of apple consumers (a whopping 89% of people preferring a sweeter apple) and how the apples are grown. It was clearly a good year for apples in Ontario, as the trees were absolutely loaded with beautiful fruit.
Ontario Apple Fact: Did you know there are 200 commercial apple growers in Ontario? Ontario's Apple Orchards grown 16,000 acres of apples and 15 apple varieties. Ontario's apple farmers follow the highest production standards, ensuring there is always an emphasis on quality, freshness and flavour.
Of course, I brought home a bag full of those beautiful apples and when I thought about what to use a few of them for, I immediately thought about combining them with the surplus of post-Thanksgiving cooked turkey A post-holiday turkey curry is a classic British dish, while many also love to use turkey in a pot pie. I thought it might be fun to combine the two!
Ontario Apple Tips: Love a tart apple (like me!)? Look for Northern Spy or Idared Ontario apples for the tartest varieties. Spartan, Empire, Courtland, McIntosh and Crispin are good semi-tart choices. Sweet apple lovers should look for Ontario-grown Ambrosia, Fuji, Gala, Golden Delicious, Red Prince, Honeycrisp, Jonagold and Red Delicious apples.
This Turkey Apple Curry Pot Pie is not only easy, but a delicious all-in-one dinner. It's chock full of wonderful Fall butternut squash, carrots and cauliflower, along with chunks of turkey and a lovely light note of sweet from the apples. The gravy uses mild Indian curry powder - a wonderful blend of turmeric, coriander, cumin (and more), that goes perfectly with the flavours in this dish.
Cook's Notes
No left-over turkey? You can roast up a turkey breast to get some turkey without cooking the whole bird. Chicken would also be lovely in this dish. Make it super easy by using left-over chicken or even a store-bought rotisserie chicken.
You can make these pies in individual servings in small skillets or shallow serving dishes or make it as one large pie in a large skillet or baking dish. A 9-10 inch round dish is about right for one large pie.
The amount of curry powder you use it totally up to you and your taste. I use a curry powder specifically labeled "Mild", so I used 1 1/2 tsp. If your curry powder is not mild, you'll probably want to use less. The best strategy is to start with a bit, taste and add as needed. As they say, you can always put more in, but you can't take it out :)
You can use pretty much any apple in this dish, though I'd recommend a firm, tart or semi-tart apple.
If you are an adventurous eater, try adding some raisins to the pie! Raisins are a common addition to Indian curries and provide a lovely complement to the savoury flavours.


Best Ontario Apples for Baking and Cooking
Wondering what Ontario apples are best for pies? Northern Spy are the gold standard for pies (just remember "Spys for Pies") Spartan, Cortland and McIntosh are also good choices for pies. Look for Golden Delicious or Empire for apple sauce. Red Delicious, Jonagold, Idared, Red Prince and Crispin are all great choices for baking or cooking.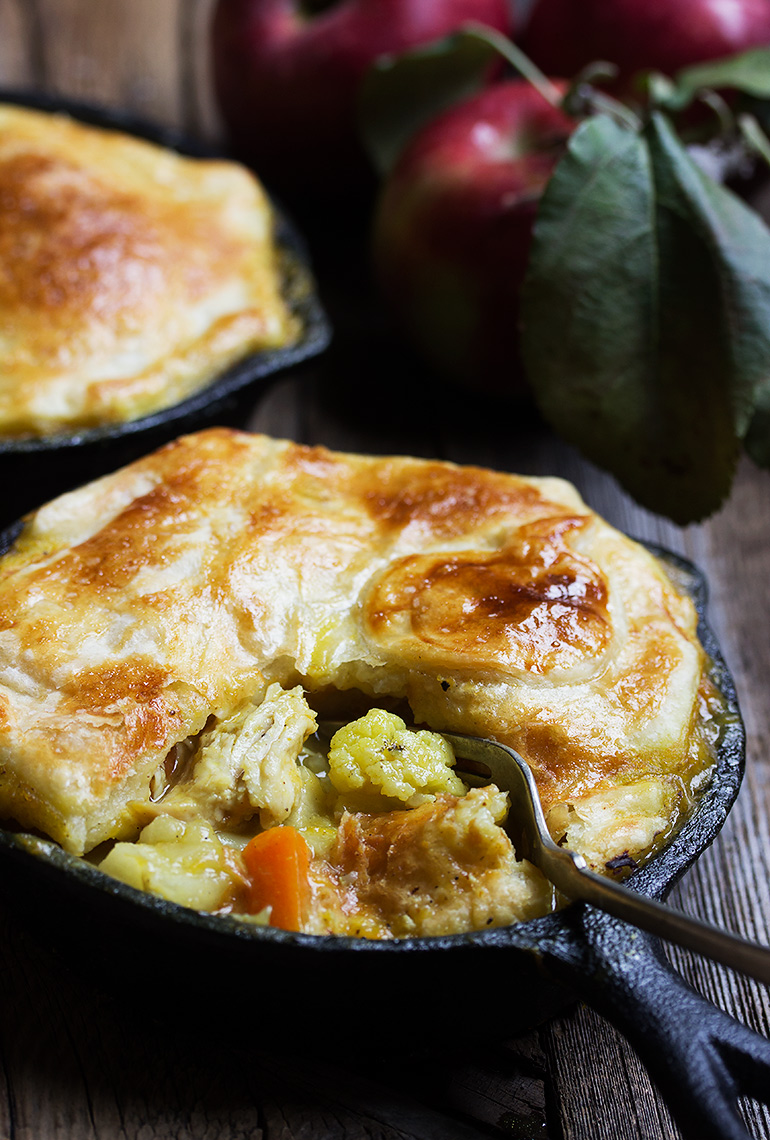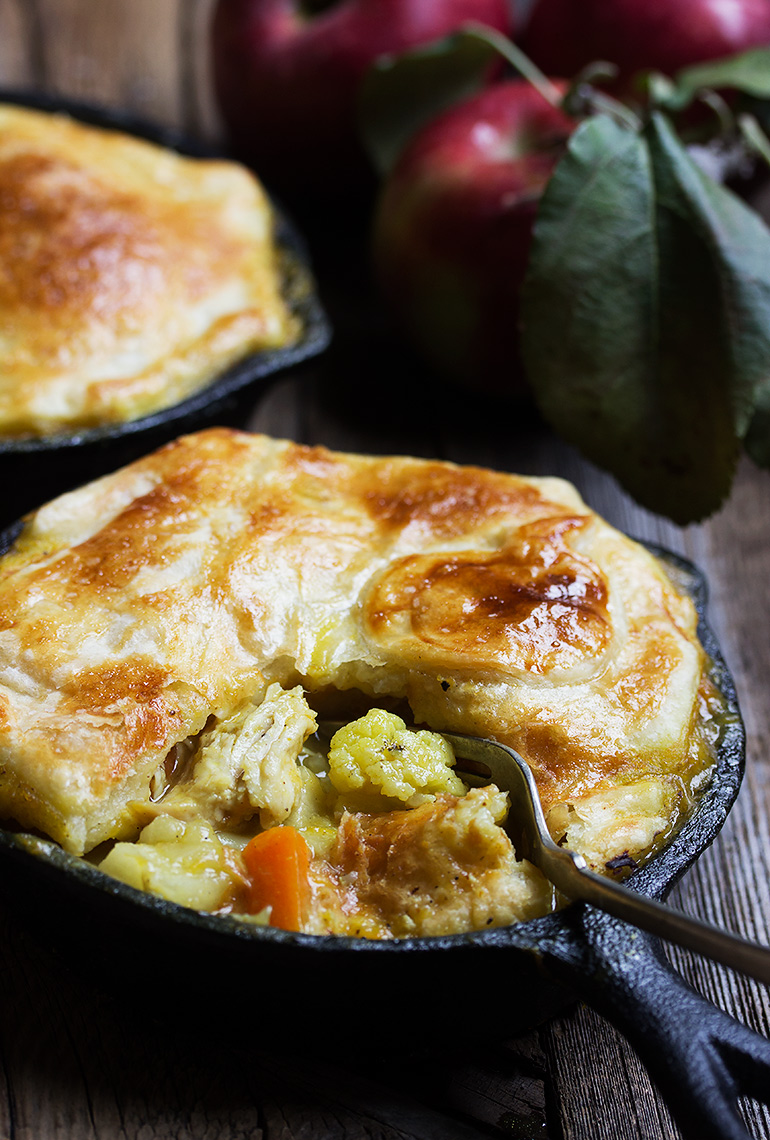 Turkey Apple Curry Pot Pie
Can be made in 4 small skillets or serving dishes or one large dish (or skillet). You could use cooked chicken instead of turkey in this dish, as well.
Ingredients
2

Tbsp

butter

1/2

cup

onion

,

diced

4

cups

fresh vegetables

,

chopped, (I used 1/3 cauliflower, carrot and butternut squash)

3

Tbsp

flour

2

cups

chicken broth

1

cup

apple

,

diced, firm, semi-tart (cored, peeled or unpeeled)

1 3/4-2

cups

turkey

,

cooked, diced

1 1/2

tsp

mild curry powder

,

(less if curry powder is not mild)

Salt and pepper

,

to taste

2

rolls

Puff pastry

,

thawed

1

egg

,

beaten, for egg wash
Instructions
Heat butter a large pot or Dutch oven on the stove-top over medium heat. Add onion and cooking, stirring occasionally, until softened, about 3-4 minutes. Add chopped vegetables and cook, stirring for an addition 3 minutes. Add flour and cook, stirring, for about 45 seconds. Add stock, apples, turkey and curry powder. Bring to a boil, then reduce heat to medium-low and simmer, uncovered, until vegetables are tender, 10-15 minutes. Taste gravy and add salt and pepper. Be sure not to under-salt, as it is necessary to bring out all the flavours in the dish. Add a bit more curry powder, as well, if you feel it needs it. Remove pot from heat and allow to cool a bit while you prepare the pastry.

Preheat oven to 400 Using two 10x10-inch sheets of puff pastry, cut 4 circles the size of your serving dishes (or use just one if you'd like to make this in one large skillet).

Fill skillets with filling, allowing room for the pastry top. Fit a round of puff pastry over-top. Brush top with beaten egg and cut a slit in the middle to allow steam to escape. Place on to a baking sheet (to catch any bubble-overand bake in pre-heated oven until filling is heated through and puff pastry topping is golden, about 15-20 minutes.
Notes
Be sure to read the "Cook's Notes" in the original post, for more tips, options, substitutions and variations for this recipe!
Nutrition
Calories:
792
kcal
|
Carbohydrates:
66
g
|
Protein:
11
g
|
Fat:
53
g
|
Saturated Fat:
15
g
|
Cholesterol:
56
mg
|
Sodium:
802
mg
|
Potassium:
246
mg
|
Fiber:
3
g
|
Sugar:
5
g
|
Vitamin A:
255
IU
|
Vitamin C:
11.1
mg
|
Calcium:
30
mg
|
Iron:
3.8
mg
Nutritional information provided for general guidance only and should not be relied upon to make personal health decisions.
Never miss a new recipe!
SIGN UP for email updates!