Love Morning Rounds™? Well you can make your own at home, too! My Banana Walnut Multigrain Breakfast Rounds are both easy and delicious, as well as endlessly customizable.
Are you familiar with Morning Rounds ™? My daughter is a big fan and after she was talking about them as her "go to" breakfast lately, I sought them out and tried them for myself. And they were great. But I'm a bread baker and with every bite I took, I was analyzing and plotting how I was going to recreate them at home.
I'm super excited to share this one with you. I tested it many (many!) times to get it just right :) I experimented with many different flavour combinations, which you can read more about in the Cook's Notes below. This Banana Walnut one was my favourite.
This Banana Walnut version came about simply due to the fact that I had a bunch of over-ripe bananas at the time I was developing this recipe. That and the fact that banana is such a great flavour with peanut butter and/or nutella and or sliced bananas.
To thoroughly enjoy your homemade breakfast rounds, simply pop them in the toaster long enough to warm them, then load them up with your favourite toppings and enjoy!
Cook's Notes
Once you get the hang of making these, you can start experimenting with different flavours. A couple of things to note …
If you are using fresh fruit, such as mashed banana or shredded apple, you will need to add more flour to your dough, due to the extra moisture in the fruit. Likewise, if you are using dried fruit, you will need to add less flour. For those with the lesser amount of flour, since you will have less dough bulk, you may wish to reduce the number of rounds down to 8, to keep the same size.
You can also play around with adding some fruit juice to the mix. Replace part of the added water with apple or orange juice, to play up those flavours.
I have mentioned before that I bought a couple of smaller baking sheets that will fit side-by-side in my oven, which is the best thing I EVER did! It means I rarely have to do that two oven racks/switch half way through thing. For these Breakfast Rounds, I can bake 5 on each sheet and they bake together, side-by-side on the same oven rack. That means they cook evenly, without fuss. Scroll down for some options if you'd like to pick some up for your kitchen, as well.
I've also mentioned before how much easier it is when you have a kitchen scale. To be sure all my rounds are the same size, I weigh the dough ball and then divide by 10, to get the weight for each round. Then I cut off pieces and weigh them individually. Making sure all the rounds are roughly the same size/weight, means that they will cook evenly, too!
The best way to pick up the ingredients for these Breakfast Rounds is to make a trip to your local bulk ingredient store or section (Bulk Barn is one in Canada). There you can pick up small amounts of the required ingredients, or pick up enough for several batches and keep it all together in one place so it's handy when you want to make another batch.


How to top your Breakfast Rounds: As mentioned above, I loved the banana flavour, as it pairs so well with peanut or other nut butters and/or nutella. Other toppings, such as jam, honey or cinnamon butter are also good. You can also add fruit, such as sliced bananas or apples.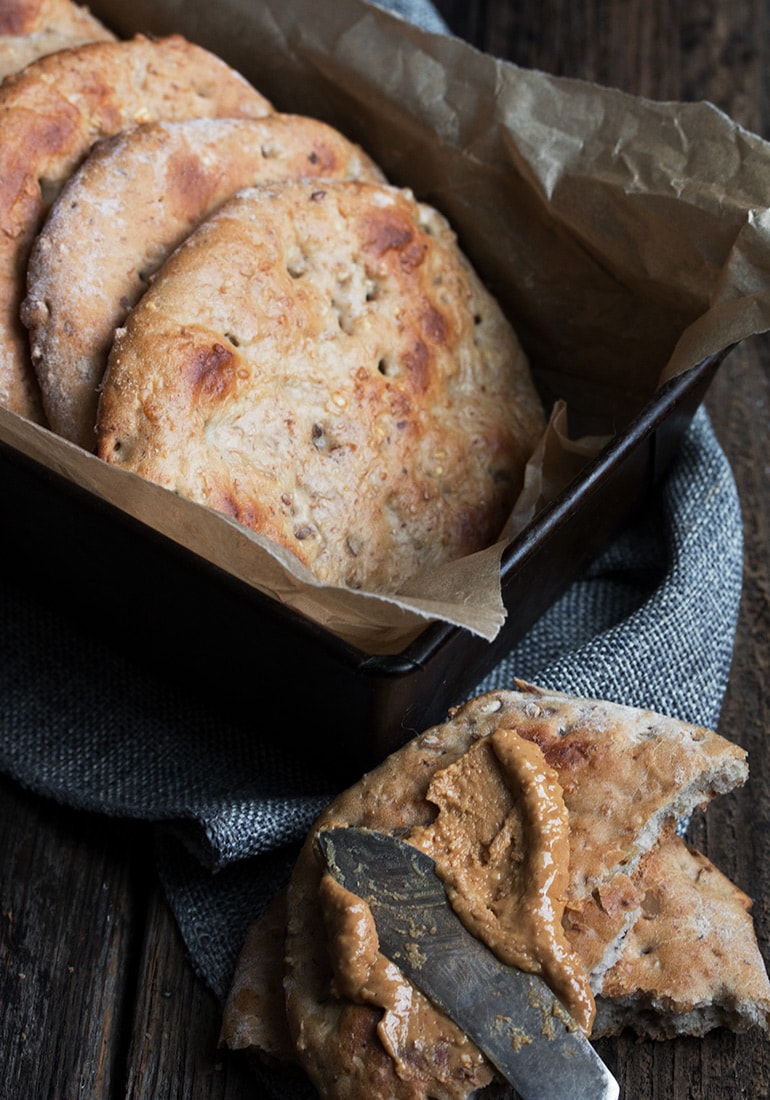 Suggested flavour combinations: Cranberry Orange, Apple Cinnamon, Blueberry Lemon, Date and Walnut, Cinnamon Raisin, Cherry Almond or Banana Chocolate Chip. For the cranberry and cherry, dried fruit is recommended. You could also go with dried blueberries, if you like.
All that said, you can also leave out the flavours altogether and just make a "multigrain" version, that you can top with savory items such as avocado and bacon or sliced eggs, for a great lunch.
You can eat these at room temperature or my preferred method, is to pop them in the toaster to warm them. They don't need long in the toaster, as you're not really toasting as much as warming, so just leave them in as long as needed to warm.
These freeze well, but also keep well in the fridge for up to a week.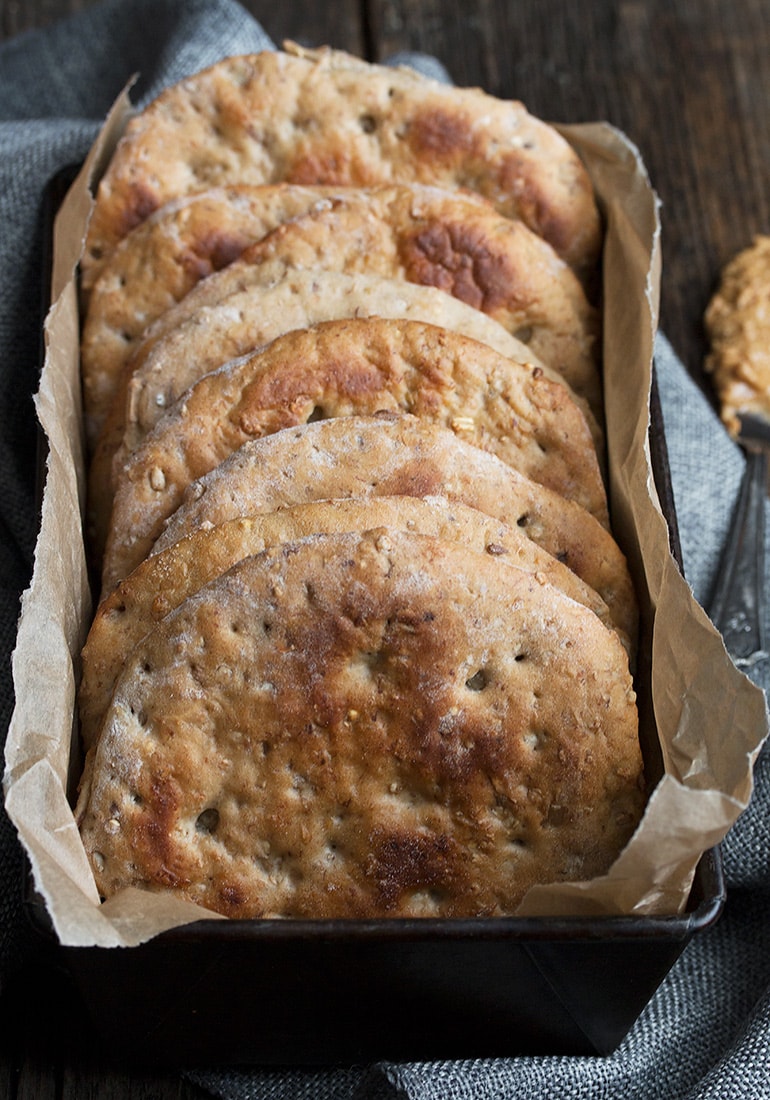 Get the Recipe:
Banana Walnut Multigrain Breakfast Rounds
Love Morning Rounds™? Well you can make your own at home, too! My Banana Walnut Multigrain Breakfast Rounds are both easy and delicious, as well as endlessly customizable.
Ingredients
1/4

cup

(

40

g

)

7-grain cereal

,

or similar *See Note 1 below

2

Tbsp

(

10

g

)

large-flake rolled oats

3/4

cup

(

175

ml

)

boiling water

2

tsp

(

7

g

)

instant or dry active yeast

2

Tbsp

(

15

g

)

whole wheat flour

,

or wheat bran

2

Tbsp

(

20

g

)

brown sugar

,

or honey

1

tsp

(

1

tsp

)

ground flax seed

,

optional

2

tsp

(

8

g

)

sunflower, vegetable or canola oil

,

or olive oil, if you prefer

1/2

tsp

(

1/2

tsp

)

salt

2/3

cup

(

160

g

)

mashed banana

,

from about 1 1/2 medium bananas, over-ripe bananas for best flavour

2

Tbsp

(

13

g

)

finely chopped walnuts

2 1/4

cups

(

290

g

)

unbleached all purpose flour

,

plus more as needed and for dusting
For brushing tops before baking:
Instructions
Add the 7-grain cereal and rolled oats to a large bowl or the bowl of a stand mixer fitted with a kneading hook. Pour boiling water over. Stir, then let stand until water cools to just lukewarm, about 10 minutes.

*Be sure mixture is not too hot when you add the yeast. For instant yeast, you want it no more than 125F. For active dry yeast, it should be more like 110F.

Add yeast, whole wheat flour (or wheat bran) brown sugar (or honey), ground flax seed (if using), oil and salt. Stir to combine. Add mashed banana and walnuts and stir in. Add the flour and stir to combine. *If mixing by hand, remove dough from bowl to a very well floured surface if it gets too hard to stir and begin adding flour through kneading instead.

Continue adding flour a couple of tablespoons at a time, then a tablespoon at a time, mixing between additions, until you have dough that wraps the kneading hook and cleans the bowl a bit, but that is still quite moist and just a bit sticky. If making by hand, remove dough to a greased bowl. If making in a stand mixer, just remove the kneading hook and leave the dough in the mixer. Cover the bowl or stand mixer bowl with plastic wrap and let stand 45 minutes.

Preheat oven to 375F (regular bake/not fan assisted) and have two baking sheets out and ready. Position racks in upper third and bottom third of the oven.

Remove dough to a well floured surface and gently deflate. *At this point, I use my kitchen scale to measure the weight of the entire dough ball in grams. I then divide that amount by 10 (since we will be needing 10 pieces) and I start cutting off and weighing pieces of dough, adjusting so that they are the calculated weight. If you don't have a kitchen scale, start by cutting the dough ball equally in half, then form each half into a bit of a log. Do your best to cut the log into 5 equal pieces. Repeat with the other half of the dough.

*As the dough is very moist, dust surface and top of dough with flour as often as needed to prevent the dough sticking to the surface or the rolling pin.

Working fairly quickly, form each piece of dough into a ball. Working with one ball of dough, roll into a 1/4-inch thick and about 5 1/2 inch diameter circle. Place on prepared baking sheet as you go, until you have rolled all 10 (placing 5 pieces on each baking sheet).

*You want to complete this process fairly quickly, to prevent the dough from rising too much further before they go in the oven. Otherwise, your rounds will end up too thick. For this reason, you will also need to bake them off in one batch (rather than one sheet at a time).

With floured fingertips, make dimples in the top of each dough round by pressing all your fingers down on the dough a couple of times (to deflate the dough a bit). Brush the tops of rounds with water (to keep them soft, rather than getting crispy), then immediately place both baking sheets in the oven.

Bake for 8 minutes, then remove and flip the rounds over. Return the rounds to the oven placing on the opposite racks and baking a further 5-7 minutes, or until golden in spots underneath.

Remove trays from oven and immediately remove rounds to a cooling rack to cool completely.

Once cooled, store in an airtight container in the fridge for up to 1 week or freeze.
Notes
Note 1: If you don't have 7 or 12-grain cereal mix, you can simply use an equal amount of additional large-flake oats. The oats will absorb more liquid, so you will probably need less flour over-all.
Be sure to read the information above this Recipe Card, for ingredient notes and substitution suggestions, baking tips that you might find useful.
Serving:
1
round
,
Calories:
162
kcal
,
Carbohydrates:
30
g
,
Protein:
5
g
,
Fat:
3
g
,
Saturated Fat:
0.3
g
,
Polyunsaturated Fat:
1
g
,
Monounsaturated Fat:
1
g
,
Sodium:
119
mg
,
Potassium:
112
mg
,
Fiber:
3
g
,
Sugar:
4
g
,
Vitamin A:
7
IU
,
Vitamin C:
1
mg
,
Calcium:
13
mg
,
Iron:
2
mg
Hi! I'm Jennifer, a home cook schooled by trial and error and almost 40 years of getting dinner on the table! I love to share my favourite recipes, both old and new, together with lots of tips and tricks to hopefully help make your home cooking enjoyable, stress free, rewarding and of course, delicious!