Easy and delicious grilled vegetables, combined with crumbled feta cheese and tossed in a simple balsamic vinaigrette, for a great Summer side dish or meatless main.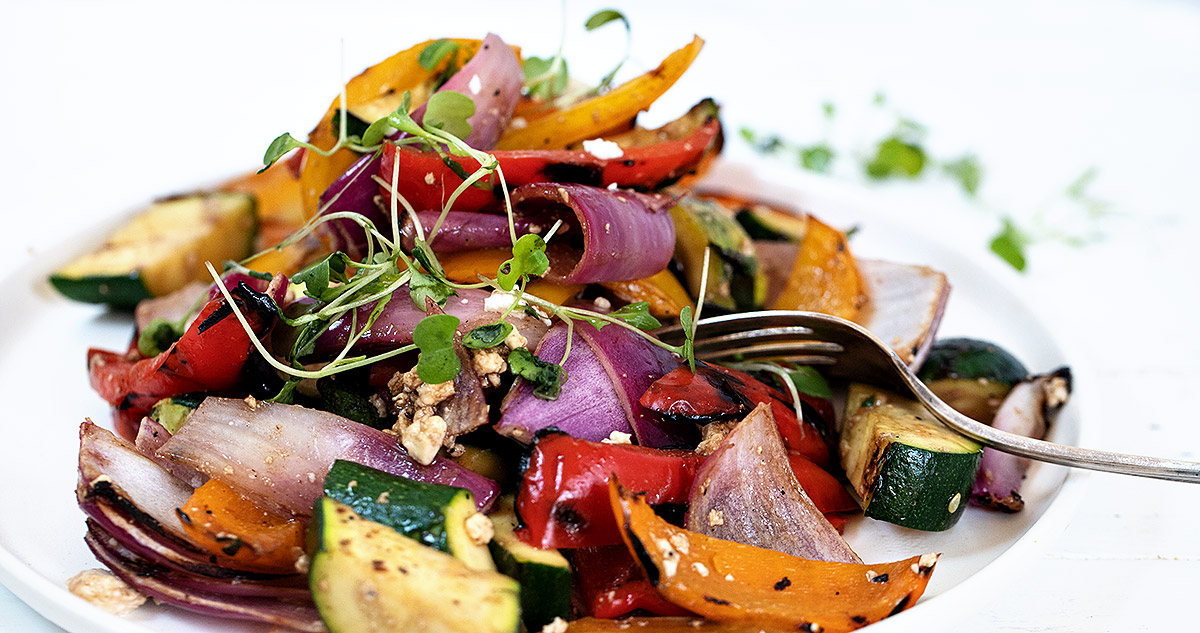 Grilled vegetables are one of the joys of Summer grilling season for me. Grilling takes vegetables to a new level of deliciousness, and turning them into a salad, makes a great side dish or a meal in itself!
I enjoy this salad warm, though it is quite nice at room temperature, as well. And no worries if you are BBQ-less. I've included some alternate cooking methods here, as well as more ways to use your grilled vegetables.
Ingredients and Substitutions
Here are the simple ingredients you will need for this salad …
Zucchini – aka Summer squash. Green or yellow or a combination of both. For best grilling results, go for a smaller, thinner zucchini. They will cook through in the same time as the onion and peppers.
Bell Peppers – red, yellow, orange, or a combination.
Red Onion – not too big, so that it will cook through nicely on the grill, but not so small that it falls through the grill.
For the dressing and salad – balsamic vinegar, olive oil, feta cheese and salt and pepper.
Step-by-Step Photos
Recipe Tips
My combination of zucchini, bell peppers and onion is my favourite. I enjoy the flavour combination and all three cook at roughly the same, fairly quick rate. Obviously, you can add other vegetables into the mix, if you like.
I prefer to dry-grill my vegetables, meaning that I don't toss or brush with oil before grilling. I find this method produces the best results. After grilling is when I like to "dress" my veggies.
You want to grill your vegetables in large pieces and do the chopping after. That way you can control the cooking more easily and nothing falls through the grates of your grill.
When grilling, some of the vegetables may cook more quickly than others, depending on size and location on the grill. Have a clean plate handy next to the grill and remove pieces to the plate as they are done, leaving others on the grill to continue cooking as needed.
I like to add a little green to my salad sometimes. Here I've used some micro arugula sprouts. Baby arugula is also nice to add, as an option. I don't think you'd go wrong with some fresh, chopped herbs from the garden, either.
This salad is also delicious with crumbled goat cheese, in place of the feta, if you'd like to change it up a bit.
Grilled vegetables are so versatile, so make extra to use for other dishes. Un-dressed grilled vegetables will keep in the fridge for several days, so they are perfect for another meal. See below for more ways to use grilled vegetables.
Top Tip
No BBQ? No worries! Simply grill the vegetables in a hot grill pan on the stove-top (be sure to brush with oil before adding veggies) or pre-heat the grill pan in a 425F oven, then add the vegetables to the pan (be sure to brush the pan with oil before adding the veggies, to prevent sticking). Allow to roast in the oven until you have grill marks on one side, then flip and repeat. Alternately, simply toss them onto a baking sheet and roast in that 452F oven for 15-20 minutes then pop under the broiler for a minute or two to add some colour.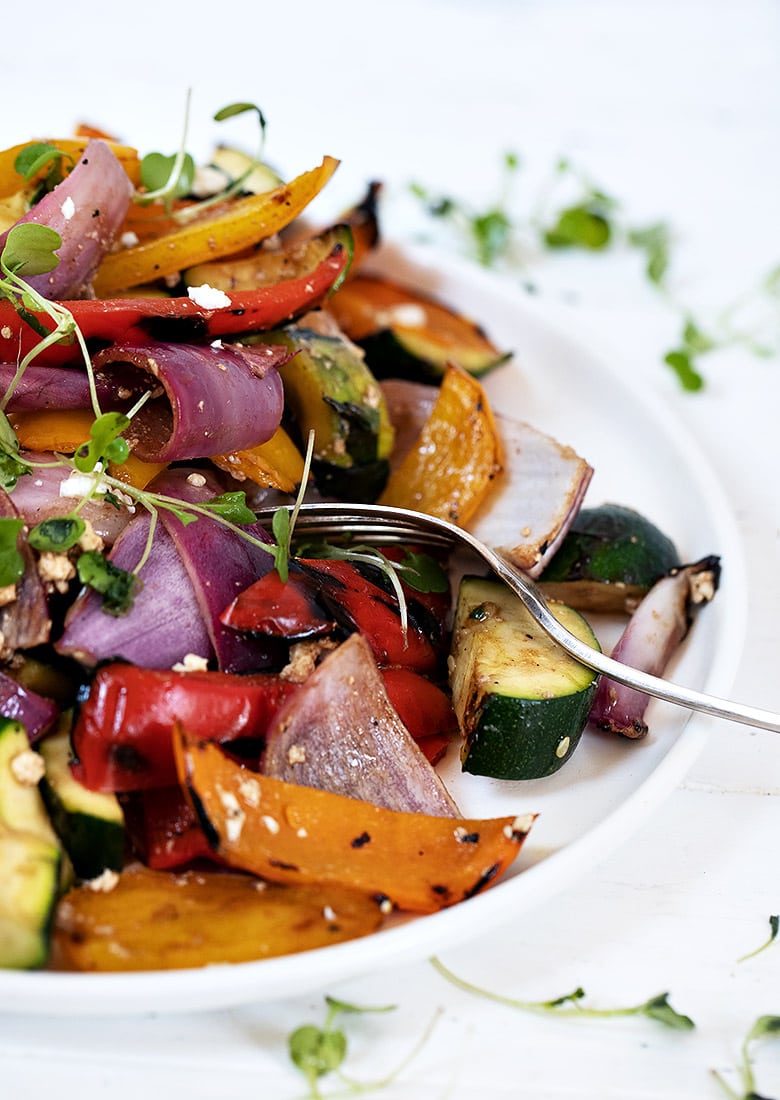 More ways to use your grilled vegetables
Grilled Vegetable Sandwich – Warm your vegetables a bit (if refrigerated), then toss with some crumbled goat cheese. Drizzle with a little balsamic vinegar and season with salt and pepper. Slice a ciabatta loaf in half and toast lightly, if you like. Fill sandwich with vegetable mixture. Cut into individual pieces and enjoy.
Grilled Vegetable Pasta – Sautè up some garlic and red pepper flakes in a skillet. Hand crush a can of whole tomatoes and add to the skillet. Season with salt, pepper and basil and let simmer. Add your grilled vegetables and continue cooking until warmed through. Serve over your favourite pasta (works best with short pasta, such as rigatoni or penne).
Grilled Vegetable Orzo Salad – Cook some orzo, rinse in cold water and drain. Toss with diced grilled vegetables, some crumbled feta and a simple dressing of 1 part balsamic vinegar, or red wine vinegar or lemon juice (whichever you prefer), mixed with 2 parts olive oil. You could throw some black olives into the mix, too, if you like. Season with salt and pepper and enjoy cold from the fridge.
Grilled Vegetable Risotto – Cook up a standard risotto, but replace the Parmesan at the end with a bit of goat cheese instead. Top with warm, grilled vegetables and a drizzle of balsamic glaze.
Grilled Vegetable Pizza – One of my favourites! Simply top your pizza with your pre-grilled vegetables and combine with some cheese. Finish with a drizzle of balsamic glaze and some fresh baby arugula. Grilled vegetables work beautifully on pizza as much of the moisture is already cooked off, so you don't end up with a soggy pizza.
Get the Recipe:

Grilled Vegetable Salad with Feta and Balsamic
An easy and delicious grilled vegetable salad, with feta and an easy balsamic vinaigrette.
Ingredients
3

Bell Peppers

,

red, yellow and orange ideally

3

Zucchini

,

Summer squash, green or yellow or a combination

1

Red Onion

,

preferably short and wide

1/2

cup

feta cheese

,

crumbled (or try goat cheese, too!)
For the dressing:
2

Tablespoons

balsamic vinegar

2

Tablespoons

extra virgin olive oil

Salt and freshly ground pepper
Instructions
Prepare the vegetables: Cut the sides off the bell peppers, into about 4 large slices. Carefully remove the white membrane/spine from the inside of the peppers and discard. Cut the zucchini in half lengthwise. Cut the root and top end off the red onion, then cut the onion in half from top to bottom if it is round-shaped or across the equator if it is a flatter red onion. Peel off the outside layer of the onion pieces. (Don't add anything to the vegetables at this point).

Heat the BBQ Grill (or see Notes below for alternative cooking methods): Heat a grill to medium. Just before adding the vegetables, spray or brush some oil onto the grill. Place the vegetables onto the grill, skin side down for the zucchini and bell peppers, and cut-side down for the red onion. Allow to grill until the soften and start to colour on the underside. Flip the vegetables and grill the other side. *The vegetables will cook at slightly varying rates, depending on size and position on the grill. Have a clean plate handy and remove pieces as they are ready, leaving others to cook a little longer, as needed.

Prepare the salad: Allow the vegetables to cool slightly, then chop into bite-sized pieces. Place into a bowl. Add the crumbled feta cheese. Prepare the dressing by whisking together the balsamic, olive oil, salt and pepper, then drizzling over the vegetables, as needed. Toss to combine well and serve warm or at room temperature.
Notes
If you don't have a BBQ, you can grill in a hot grill pan on the stove-top or a pre-heated grill pan in a 425F oven. Alternately, go for a roasted vegetable salad by simply place onto a baking sheet and roast in a 425F oven until tender, then pop under the broiler for a few minutes to add some colour to the vegetables.
Be sure to read the notes above the recipe card for more tips on making this recipe.
Serving:
1
serving
,
Calories:
182
kcal
,
Carbohydrates:
15
g
,
Protein:
6
g
,
Fat:
12
g
,
Saturated Fat:
4
g
,
Cholesterol:
17
mg
,
Sodium:
228
mg
,
Potassium:
633
mg
,
Fiber:
4
g
,
Sugar:
11
g
,
Vitamin A:
3168
IU
,
Vitamin C:
142
mg
,
Calcium:
129
mg
,
Iron:
1
mg
More Salad Recipes to Love!
Hi! I'm Jennifer, a home cook schooled by trial and error and almost 40 years of getting dinner on the table! I love to share my favourite recipes, both old and new, together with lots of tips and tricks to hopefully help make your home cooking enjoyable, stress free, rewarding and of course, delicious!