Perfect picnic sandwiches, these Pressed Sandwiches are great for Summer eating, whether a BBQ or a picnic. Easy to make ahead and they travel well!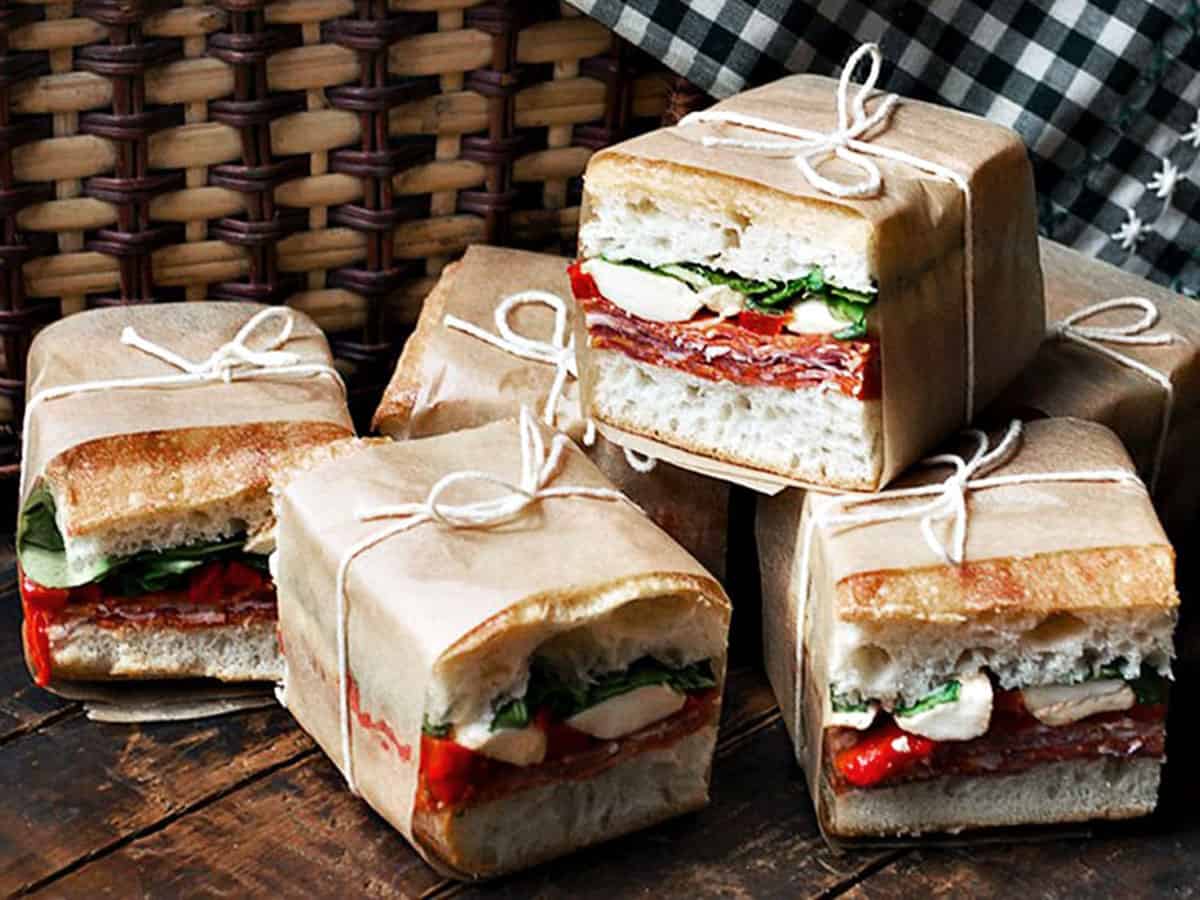 Why you'll love these pressed sandwiches
These lovely Pressed Italian Sandwiches are perfect for Summer picnics or packed lunches, as they are hearty and filling, can be made well ahead and travel well.
They are also great for Summer entertaining, as they are such pretty little packages that are easy to eat without plates. I love how all the flavours come together in this sandwich and notice how it's red, white and green – just like the Italian flag!
Video: How to Make Pressed Italian Sandwiches
Key Ingredients
While there are endless possibilities of fillings for sandwiches, my Italian version features homemade roasted red peppers, a variety of Italian deli meats, bocconcini (with a little balsamic drizzle) and arugula, all on a lovely ciabatta bun.
How to store these Italian Sandwiches
These picnic sandwich will also keep really well in the fridge for several days, either before they are trimmed and cut or after. That makes them great for Summer snacking or when planning entertaining.
Cook's Notes
Pressed sandwiches are endlessly customizable. You can swap out spinach for the arugula, or sun-dried tomato for the roasted red pepper. And so on. The possibilities are endless.
You can use any size ciabatta, from small buns to larger loaves. I like to start with a ciabatta baguette that I cut in half to make two 12-inch-ish loaves.
I like to trim the edges off the sandwiches to make them neat squares and to enjoy seeing all the layers. But don't throw away the trimmings! Chop them up and combine with some leafy greens and a drizzle of balsamic or Italian dressing for an absolutely fabulous salad.
When it comes to adding a weight to press the sandwiches in the fridge, I use my cast-iron grill pan and the cast-iron press that came with it, topped with some cans to even out the weight. Refrigerate with the weight at least 6 hours or ideally, overnight.
To keep the sandwich freshest, keep in the fridge, tightly wrapped in the plastic wrap and un-trimmed. When ready to serve or transport, simply trim the side and end crusts and if you like, wrap in a strip of parchment paper secured with some twine. You can then re-wrap in plastic wrap, if needed to keep them from drying out while they wait to be eaten.
While it's tempting to reach for a jar of roasted red peppers, I find that those packed in oil bring a little too much moisture to the pressed sandwich, making for the possibility of soggy bread. It only takes a few minutes to make your own, so I highly recommend that.
How to Serve
Once assembled, these are tightly wrapped and refrigerated with a weight on to to "press" them overnight. The next day, simply trim the sandwich loaf, cut in to small pieces and wrap with a little parchment and twine.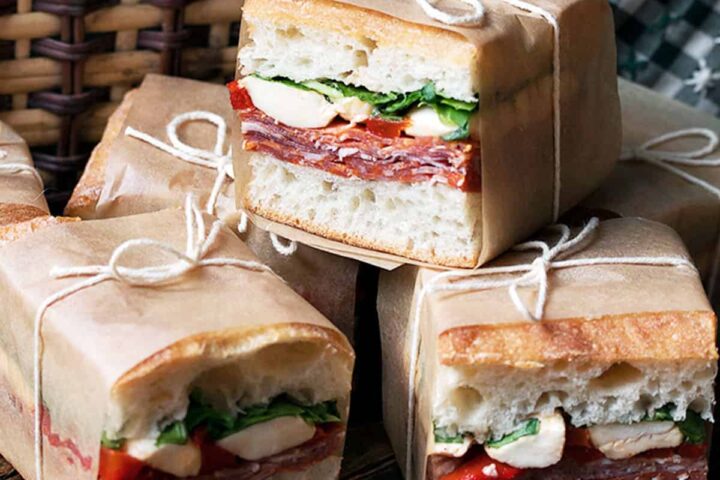 Get the Recipe:
Pressed Italian Picnic Sandwiches
These are pretty and tasty sandwiches, perfect for a summer picnic or to stock in the fridge to grab for lunch. They are endlessly customizable. Just use your imagination.
Ingredients
1

Ciabatta Baguette

,

cut in half to make approx. two 12-inch pieces

3

Tbsp

butter

3

medium

red peppers

3

cups

arugula

,

rinsed and patted dry

2

cups

bocconcini

,

sliced

10

oz

Assorted Italian deli meats

,

(I used Soppressata Salami, Capocollo and Napoli Salami)

Balsamic Vinegar

Olive Oil

Salt and Pepper, to taste
Instructions
To roast the red peppers: Set your oven to the Broil setting. Slice the sides off the red peppers and place skin side up on a baking sheet (*I like to trim the ends so they lie as flat as possible, as they will brown better than pieces that are sloped). Place under the broiler until very well charred (blacon top, about 10 minutes (watch closely after 5 minutes. You'll want them to be mostly blackened on top.) Remove from the oven and immediately place the peppers in a plastic ziploc bag. Pop in the refrigerator for 30-40 minutes. Remove peppers from bag and peel off the blackened skin with a knife. Discard the skin and slice the peppers in to strips. Place in a bowl and drizzle with a bit of olive oil and sprinkle with salt and pepper. Set aside.

To prepare the sandwiches: Cut your ciabatta in half and butter each piece (or you could brush with a bit of olive oil, if you prefer, but butter will help prevent moisture from getting into the bread. Place a generous layer of cold meats (4-5 over-lapping layers). Top with cooled roasted red pepper strips. Take your Bocconcini slices and place on a piece of paper towel. Top with another piece of paper towel and pat to dry a bit. Top the red peppers with a layer of the Bocconcini slices. Drizzle some balsamic vinegar over the Bocconcini slices and sprinkle with salt and pepper. Top with a generous layer of arugula. Top with top slice of ciabatta.

Wrap each sandwich tightly with plastic wrap and place on a platter or baking sheet. When all the sandwiches are prepared, place the platter in the refrigerator. Place a heavy skillet on top of sandwiches to apply weight (if you don't have a heavy skillet, top with another baking sheet and place some large cans on top for the weight).

Refrigerate at least 6 hours or ideally, overnight.

When ready to serve, remove from plastic wrap. If desired, you can trim the sides and ends of the sandwiches to make neat sides and to enjoy the wonderful colours of these sandwiches.
Notes
Be sure to read the "Cook's Notes" in the original post, for more tips, options, substitutions and variations for this recipe!
Calories:
288
kcal
,
Carbohydrates:
26
g
,
Protein:
17
g
,
Fat:
12
g
,
Saturated Fat:
5
g
,
Cholesterol:
37
mg
,
Sodium:
878
mg
,
Potassium:
268
mg
,
Fiber:
2
g
,
Sugar:
3
g
,
Vitamin A:
1980
IU
,
Vitamin C:
76
mg
,
Calcium:
161
mg
,
Iron:
2
mg
Hi! I'm Jennifer, a home cook schooled by trial and error and almost 40 years of getting dinner on the table! I love to share my favourite recipes, both old and new, together with lots of tips and tricks to hopefully help make your home cooking enjoyable, stress free, rewarding and of course, delicious!