Easy and delicious banana Dutch baby, with all the flavours of Bananas Foster baked in. Enjoy for breakfast, brunch or as a lovely, warm dessert.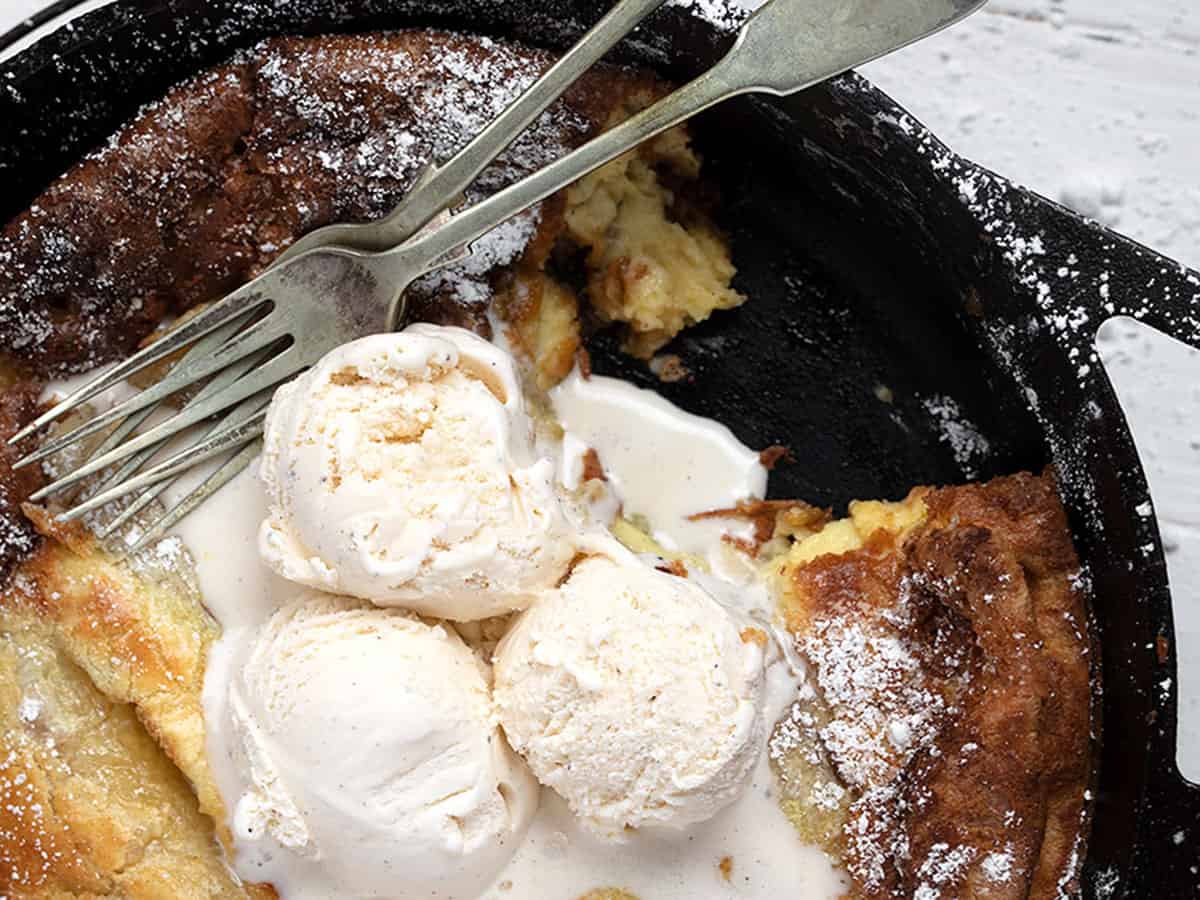 It's been awhile since I shared a Dutch Baby recipe, so I thought I was due. If you aren't firmly on the Dutch Baby wagon yet, maybe this delicious Bananas Foster Dutch Baby will win you over.
I have two basic Dutch baby batter recipes. This is the one I use for sweet Dutch babies. It's wonderfully custard-y (think shades of creme brulee or creme caramel) and pairs beautifully with fruit. Enjoy this easy and delicious Bananas Dutch baby for breakfast, brunch or as a warm dessert.
What I love about Dutch babies is that they are 1) super easy, 2) warm and delicious and 3) endlessly customizable. Dutch babies can take you from breakfast, to brunch to a quick and easy dessert idea. So much to love!
Jump to:
Ingredient Notes
Here are the ingredients you'll need ...
✓ Whole milk: This would be 3 - 3.5% butterfat milk (not 1 or 2%). You could probably use 2% in a pinch, but I wouldn't go any lower in butterfat than that. I haven't tested this recipe with nut milks.
✓ Eggs: You'll need 4 large eggs. Take them out of the fridge 15-20 minutes before mixing the batter, for best results.
✓ All-Purpose Flour: I haven't tested this recipe with gluten-free flour alternatives.
✓ White Sugar: There's just a touch of white sugar in the Dutch baby batter. If you want, you could omit in the batter, as we will be adding brown sugar to the mix later.
✓ Vanilla: Vanilla is added to the Dutch baby batter just as a flavouring. If you don't have vanilla on hand, you can omit.
✓ Bananas: Start with ripe, but still firm bananas.
✓ Dark Brown Sugar: The recipe specifies dark brown sugar, for it's rich flavour, but if you only have light brown sugar on hand, go ahead and use that instead.
✓ Butter: You'll need 2 Tbsp of melted butter for the Dutch baby batter. Allow it to cool slightly before using. For the bananas, you'll need an additional 2 Tbsp. Having that butter at room temperature simply allows it to melt more quickly. If you forget to take it out of the fridge early, just use it cold.
✓ (Optional, but recommended) Ice Cream, for topping: If serving this Dutch baby as a dessert, ice cream is the perfect topping. If you're enjoying for a late breakfast/brunch treat, you can easily skip it and still have an enjoyable treat.
Tips for perfect Dutch baby pancakes
Mix the batter first, then allow to rest before baking (20-30 minutes). Quickly re-blend before pouring into the hot skillet.
Start with room temperature milk and eggs for the batter, for best results.
Always pour batter into a hot pan. Either heat the pan in the oven while it is preheating or on a hot burner on the stove-top.
Don't open the oven while the Dutch baby is baking. It's totally fine to turn on the oven light and peek through the glass though :)
You can make the batter up to 24 hours in advance. Simply store in an air-tight container in the refrigerator to store. Remove from the fridge 30 minutes or so before baking, so it comes to room temperature before adding to a hot pan.
How to make a Dutch baby without a cast-iron skillet
Cast-iron skillets are a great for making Dutch babies, as they retain heat really well and go easily from stove-top to oven. That said, any oven-proof baking pan (metal or glass) of similar size will work just fine. Try a 9-inch round cake pan or a deep dish pie plate. If the particular recipe requires cooking on the stove-top first, opt for an oven-proof skillet, so you can go from stove-top to oven with one pan.
Cook's Notes
The brown sugar/butter sauce will be absorbed into the Dutch baby as it bakes, so you won't have a sauce at the bottom of the skillet (all the flavour will be in the pancake though!). If you happen to have caramel sauce around, or you want to make some, I wouldn't judge if you put some extra on top of the ice cream.
Dutch babies puff up as they cook, but will deflate soon after removing from the oven. This is normal and to be expected.
If you feel like boozing this one up, remove your skillet from the heat (before transferring to the oven) and add a splash of rum or brandy before pouring the batter in.
Top Tip! Adding the Dutch baby batter to a hot pan is the secret to a great rise, so don't be timid when heating the skillet on the stove-top.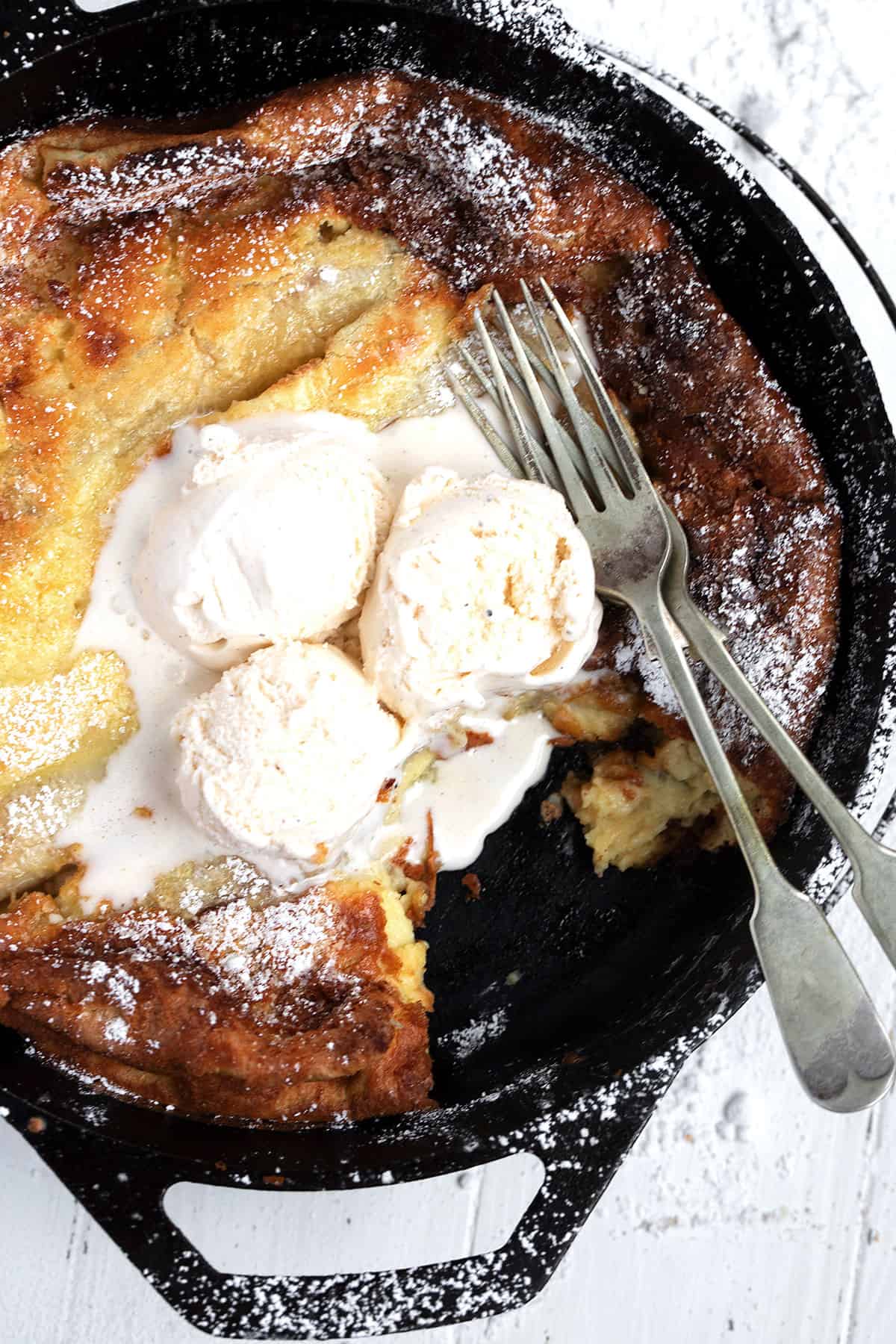 Recipe
More sweet Dutch Baby recipes you might like ...