Quick and easy! These blueberry turnovers use store-bought puff pastry dough, fresh or frozen blueberries and a delicious cream cheese filling.
I love store-bought puff pastry. Not just for it's taste but for the fact that it is so darned easy to use and bakes up so beautifully. People will always be impressed when you pull these Blueberry Vanilla Cream Cheese Turnovers out of the oven (and we never have to tell them how easy it was!)
I had some blueberries to use up and a package of puff pastry calling to me from the freezer, so these blueberry turnovers were born.
Hidden inside is a bit of vanilla flavoured cream cheese, that combines with the blueberries to make a taste a bit like a blueberry cheesecake, but all wrapped up in buttery puff pastry.
I love how easy these turnovers are. They make a great snack or serve warm with a scoop of ice cream for a nice dessert.
Jump to:
Ingredient Notes
Puff Pastry: Any brand of frozen puff pastry is fine here. I love the ease of the pre-rolled sheets. Be sure to allow time for the frozen pastry to thaw, either in the fridge overnight or on the counter for a couple of hours.
Blueberries: You can use fresh or frozen blueberries here. If frozen, let them stand at room temperature for 45-60 minutes to thaw them, before using.
Cream Cheese: I always use and recommend full-fat cream cheese. Low and no-fat cream cheese has additional moisture and other ingredients that cause it to melt in a very different way, which can result in a runny and unappealing filling. If you're trying to keep the fat low, simply add less of the cream cheese filling.
Cornstarch: Cornstarch acts as a thickener for the blueberry filling. If you don't have cornstarch, you can use arrowroot flour, tapioca flour in equal amounts or you could use flour, though you would want to use a tablespoon or two to achieve the same thickening results.
Cook's Notes
These turnovers are at their best within a few hours of baking. After that, they are still tasty but will not be as crispy.
If you'd like to make ahead, you can form the turnovers, then cover and refrigerate until needed, then quickly bake them off to enjoy the warm and fresh.
These turnovers are easily adaptable to different fruits. Raspberry, apple, strawberry or peach, would all be good choices. You can just adjust the amount of sugar that you add to the fruit, depending on the sweetness of the fruit you're using.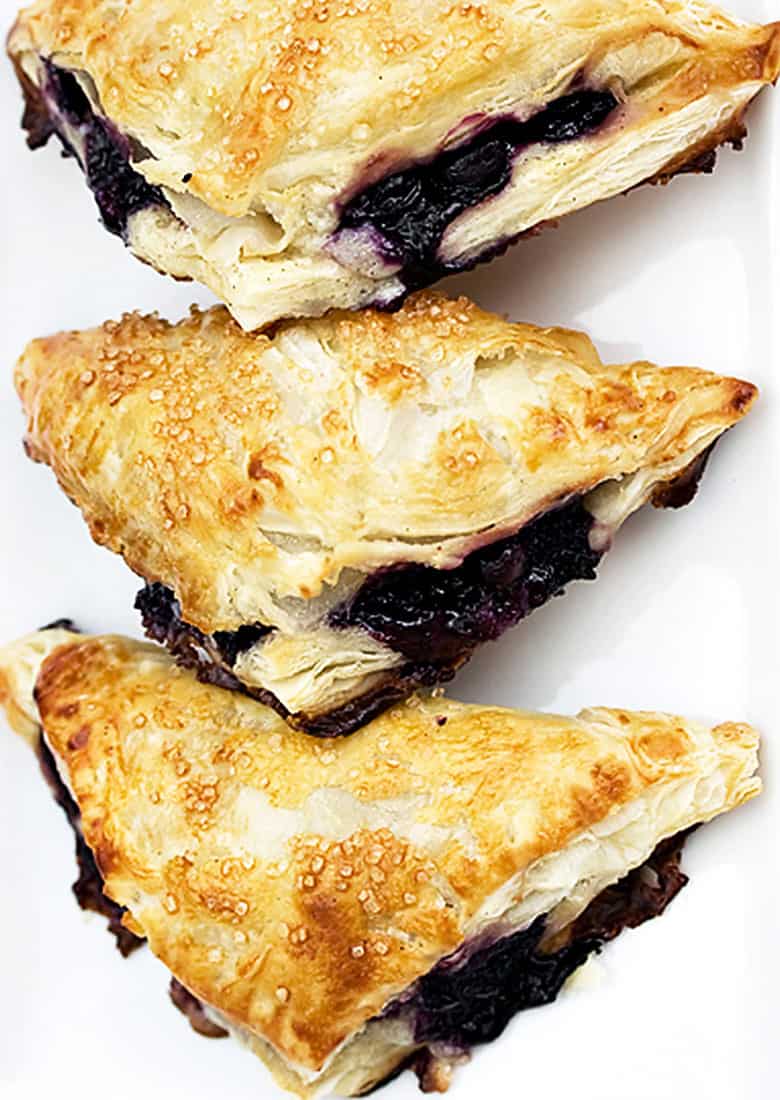 Recipe
More blueberry recipes you might like ...