A traditional, Bulgarian Christmas Eve Honey Bread, topped with honey are decorated to celebrate abundance in the coming year.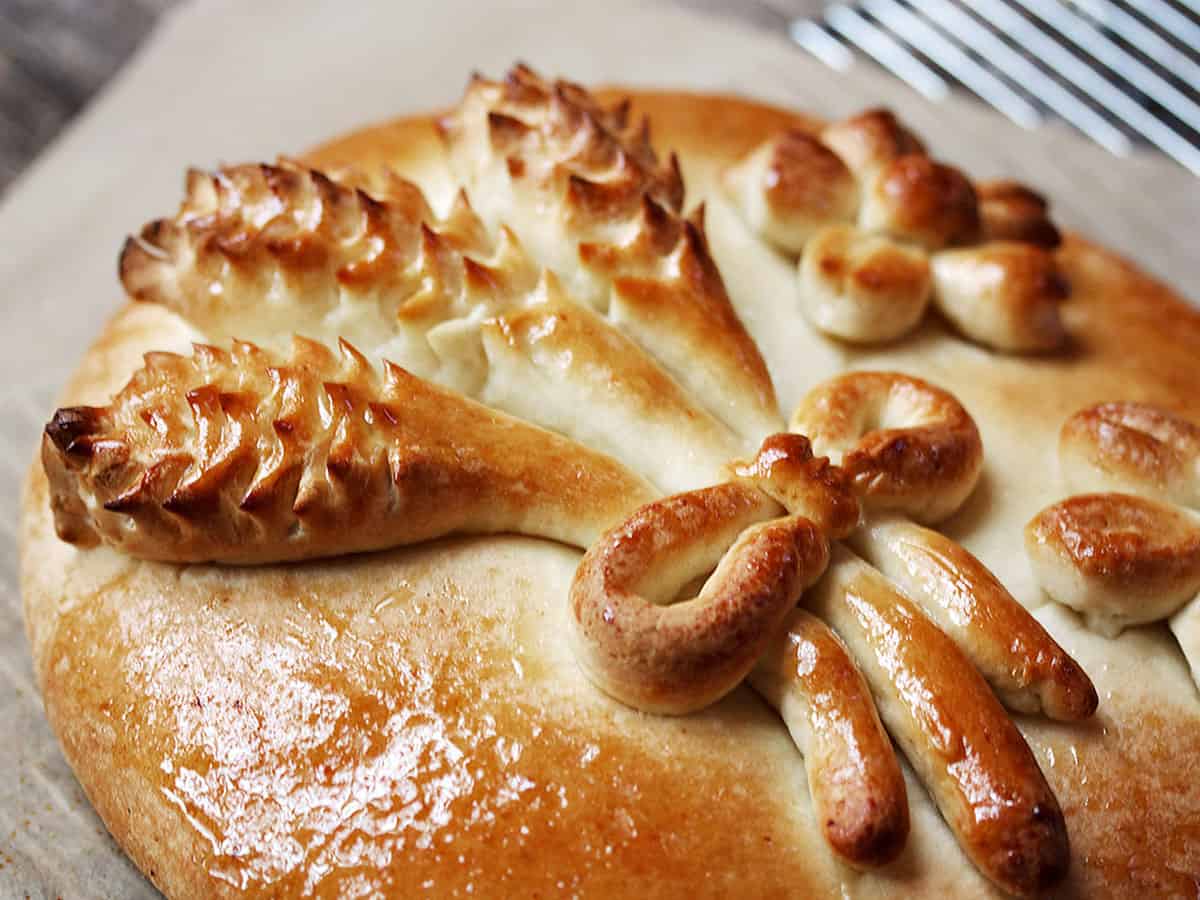 Sometimes I find myself on a site without any idea how I got there. That's what happened recently, when I stumbled on a blog post featuring a beautiful Christmas Eve Honey Bread – a Bulgarian traditional bread. I loved the story of the tradition …
Traditionally, the Bulgarian Christmas Eve table weighs down under the abundance of food the earth has presented us with – fruits and vegetables, nuts and beans, honey and wine. The center of the festive dinner is the ritual bread, decorated with pastry fruits, flowers and ears of wheat – symbol of fertility. Inside the bread is hidden a fortune coin – symbol of prosperity.
I'm not Bulgarian. Not even a little bit. But I thought the bread was so beautiful and since I love to make bread, I thought it would be a fun thing to bake up and share with my family on Christmas Eve.
Despite my lack of artistic talent, the process of shaping and attaching the pieces of dough was surprisingly easy. And fun. In fact, I wished I had waited until my daughter was home to make it with me. It was sort of like grown up playdough.
About that Fortune Coin: When I was young, my grandmother used to make a Money Cake for my birthday. Dimes, nickels and a single quarter were wrapped in waxed paper and baked into the cake. If you were lucky, you'd get the piece of cake with the quarter in it. That was a different time though, back when a quarter bought lots of candy, and we didn't sit in car seats or wear bike helmets, either.
Today, the thought of baking a coin into my bread had visions of Heimlich maneuvers dancing in my head. I looked around my kitchen for something edible I could use to represent the fortune coin. I ended up settling on a whole pecan (yeah, I didn't look around long). So I have a pecan, symbolizing a coin, symbolizing prosperity. Works for me.
I made my bread ahead and froze it. We'll eat it on Christmas Eve with our family dinner. The person who gets the piece with the Fortune coin pecan, will enjoy a particularly prosperous 2013. At least I think that's the idea (I'm making up my own tradition here :)
Whatever your traditions or how ever you celebrate, I wish you the most wonderful holiday season, with lots of special moments with family and friends and of course, lots of great food.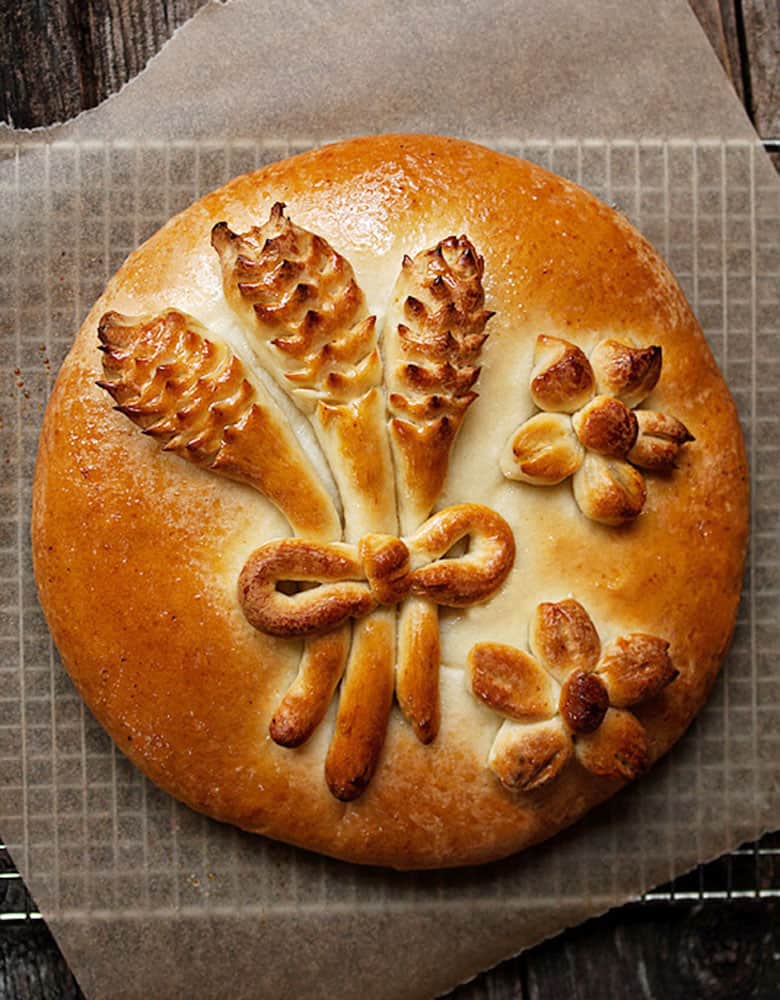 Get the Recipe:
Christmas Eve Honey Bread
This is a traditional Bulgarian Christmas Eve bread, but would also be a lovely bread to share for Thanksgiving. Traditionally, a coin is baked into the bread to symbolize prosperity for the year ahead. I used a whole pecan instead.
Ingredients
3/4

cup

(

187.5

ml

)

warm water

2

tsp.

(

9.86

g

)

instant or dry active yeast

4

cups

(

500

g

)

all-purpose flour

4

Tbsp.

(

59.15

ml

)

vegetable, canola or any neutral tasting oil

2

Tbsp.

(

29.57

g

)

honey

1/2

tsp.

(

2.46

g

)

salt
Glaze:
1

Tbsp

vegetable, canola or any neutral tasting oil

1

Tbsp

honey
Instructions
Add yeast to warm water, stir and allow to sit for a few minutes. In a large bowl, or the bowl of a stand mixer fitted with a dough hook, add the flour. Add the yeast/water mixture, the honey, oil and salt. Mix the dough until it comes together, adding a bit more water or flour, as necessary, then knead by hand or with your dough hook, into a soft, smooth dough.

Place the dough into a greased bowl, cover with plastic warp and let it rise in a warm place until it has doubled in size, about 30-60 minutes.

When the dough has doubled, place on a lightly floured surface and knead for a minute or so. Cut out and set aside a fist-sized piece of dough (to be used to make the top decorations). Knead the fortune coin (I used a whole pecan in place of a real coin) into the remaining dough and then roll into a flat round shape. Place onto a parchment lined baking sheet.

Using the reserved piece of dough, cut small pieces and shape into the various elements to decorate the top of the bread. Decorate the bread with ears of wheat, apples, grapes or flowers. To make the top of the wheat, use some clean kitchen scissors to snip v-shaped snips into the dough. Once all your shapes are placed on the bread round, press down lightly over the top of them to flatten slightly and ensure they stick. In a small bowl, prepare the glaze by combining the honey and oil and brush liberally over the entire top of the bread (you may not need to use it all).

Bake in a preheated oven at 400° until golden and cooked through, about 20 - 25 minutes. Check the bread regularly after 10 minutes and cover the top with a piece of aluminum foil if the top is browning too much.
Calories:
204
kcal
,
Carbohydrates:
34
g
,
Protein:
4
g
,
Fat:
5
g
,
Saturated Fat:
4
g
,
Sodium:
80
mg
,
Potassium:
52
mg
,
Fiber:
1
g
,
Sugar:
2
g
,
Calcium:
6
mg
,
Iron:
1.9
mg