Vanilla pound cake, combines with a cinnamon swirl and a crunchy brown sugar and cinnamon topping for an easy and delicious cinnamon loaf.
Prep Time: 15 minutes | Cook Time: 1 hour | Total Time: 1 hour, 15 minutes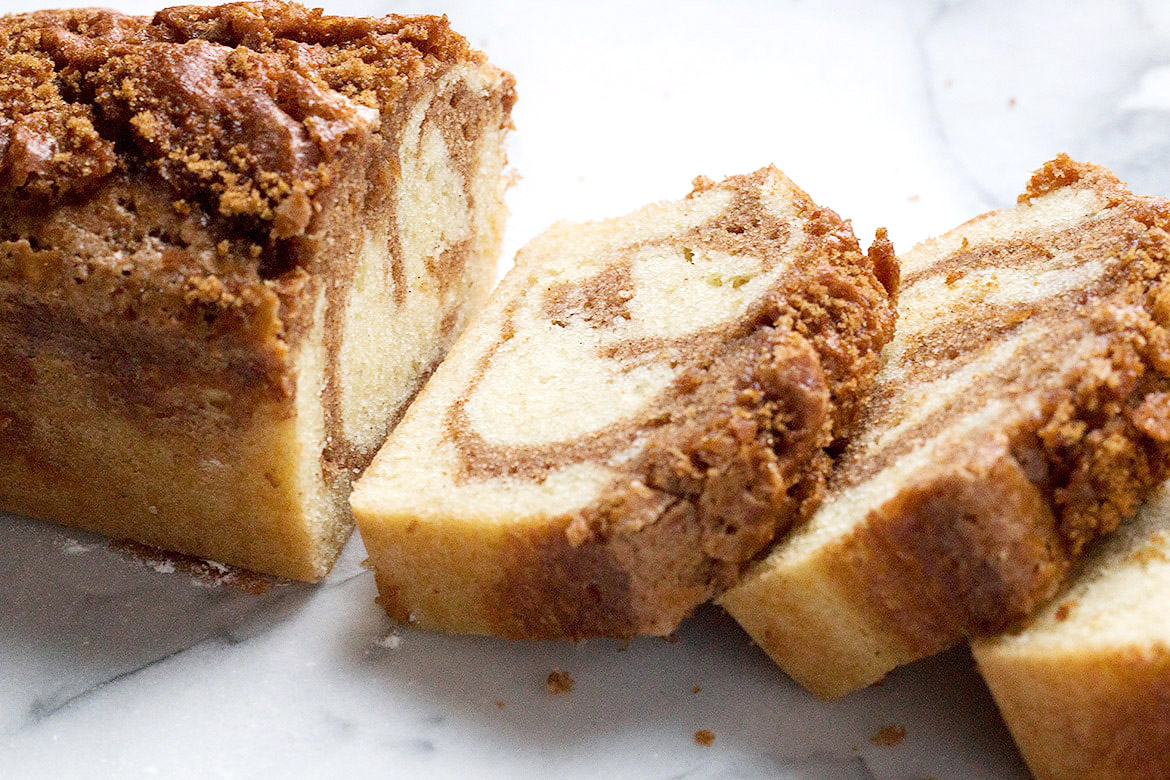 Cooler weather just cries out for cinnamon! This Cinnamon Swirl Pound Cake Loaf is sure to warm you up as the weather cools.
This loaf is a cinnamon lovers dream, that will fill you with all the warming Fall feelings. With it's lovely swirl of cinnamon cake, combined with the vanilla pound cake and a crunchy brown sugar and cinnamon topping, you'll never be tempted by the coffee shop version again!
Jump to:
Ingredient Notes
Sour Cream - full fat sour cream is recommended, for best results. Alternately, a full fat Greek-style yogurt would also work here.
Milk - again, whole milk (3.5% b.f.) will give you the best results, though 2% will also work, if that's all you have on hand. I wouldn't recommend a lower fat milk. I haven't tested this recipe with non-dairy milk.
Butter - Salted butter is fine here. If you only have unsalted, you can a touch more salt.
You will also need - white sugar, eggs, vanilla, all purpose flour, salt, baking soda, baking powder, brown sugar and cinnamon.
Baking Tips
I used my tea loaf pan for this loaf. It's pretty close in volume to a standard 8 x 4-inch loaf pan, but just slightly bigger, at 4 x 10 inches, so it produces a slightly narrower, longer loaf and shorter loaf. Of course, there is method to my madness with this choice of pan. The narrower, longer, shorter loaf means I can take a thicker slice, without actually eating any more than a thinner slice of a taller loaf (are you still with me here? :). And if you are a frequent loaf slice consumer, you know that the best part of those coffee shop loaves is the thick slices!
If you don't have a tea loaf pan, the standard 8x4-inch will work just fine. The 8x4 loaf may take an extra few minutes in the oven.
When it comes to pound cake baking, starting with room temperature butter, eggs and sour cream is important, for best results. Simply remove them all from the fridge for 45-60 minutes before you start baking.
Measuring the flour is another area that can make or break your pound cake. Stir your flour first, the scoop or spoon it into your dry measuring cups, then level off with the back of a knife. The "scoop and level" method of measuring flour. It can make a huge difference in the finished result of your baking!
Top Tip
For best results, try your best not to over-bake this one. Even a few minutes of over-baking can result in a drier loaf. Test often towards the end of baking and remove when as soon as a tester inserted into the centre of the loaf comes out clean.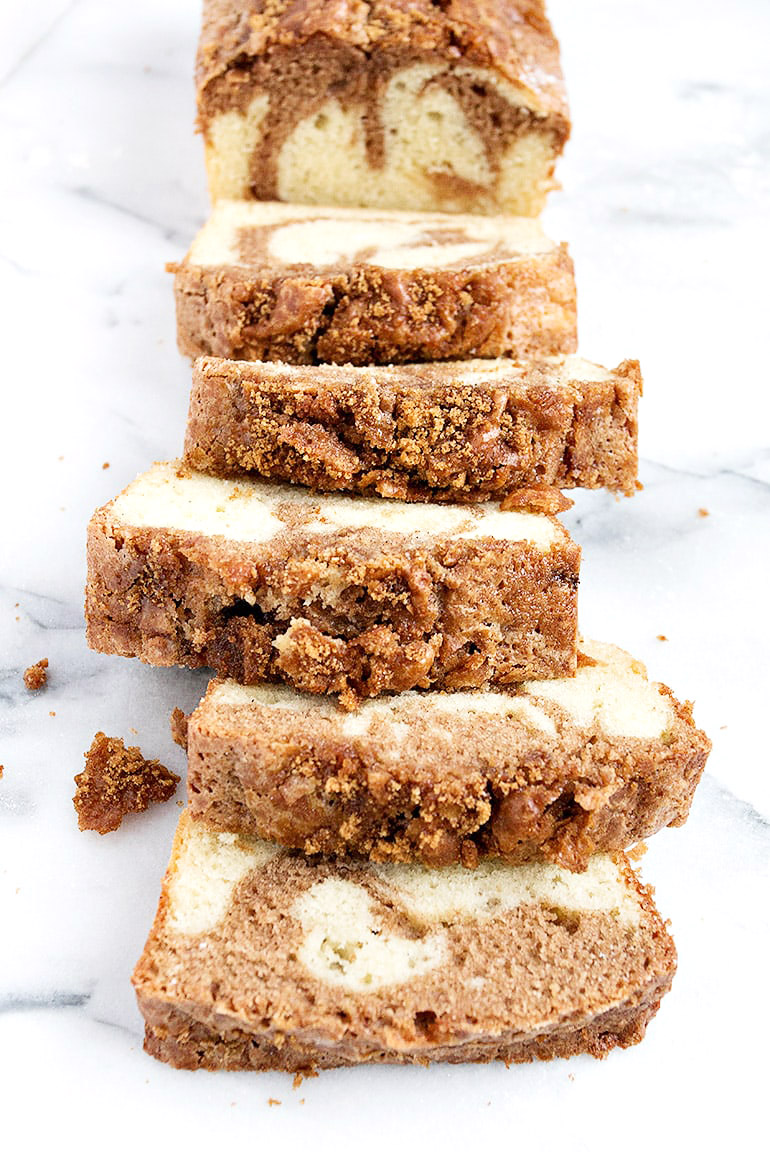 Recipe
More Pound Cake Loaves from the Seasons and Suppers Archives