Chicken cacciatore is classic Italian comfort food. This traditional version features wonderfully tender chicken, vegetables and a delicious, slow-cooked tomato sauce.
There are dozens of ways to make Chicken Cacciatore (hunter style chicken). This is mine. It's traditional Italian comfort food, cooked low and slow on the stovetop and is a hearty and delicious way to enjoy any bone-in chicken.
My classic chicken cacciatore recipe is probably not totally authentic, as I like to add mushrooms, but you can certainly leave them out, if you like. Sometimes I like to add a little bacon or pancetta, too. You can also add other things, to make it your own idea of perfect.
Ingredients and Substitutions
Chicken – for best results, go with a bone-in/skin on chicken, either thighs, breasts, legs or some of each. While you can make this with boneless/skinless chicken, you will miss the added flavour from the bones and skin.
Red or White Wine – I love to use a bit of wine in this dish, but if you don't have any or prefer not to use wine, you can substitute with an equal amount of chicken broth.
Herbs – I made this dish right at the time I was harvesting a bunch of herbs from my Summer herb garden, so I had fresh thyme, oregano and parsley at hand. I love the extra flavour from the fresh herbs and would recommend them, if you can. Otherwise, dried herbs will work just fine here, as well.
Mushrooms – as noted above, I don't think mushrooms are typically used in an authentic cacciatore, but I love the earthiness they bring to this dish. I use the button cremini mushrooms. I brown them off really well at the start of cooking, remove them, then add them into the dish later. No soggy mushrooms if you do it this way :) If you aren't a fan, you can simply omit.
Tomatoes – I like to use canned crushed tomatoes, as I love the consistency of the finished tomato sauce. You can also use canned whole tomatoes and hand-crush them. Alternately, in a pinch, a good passata would work here, as well.
Step-by-Step Photos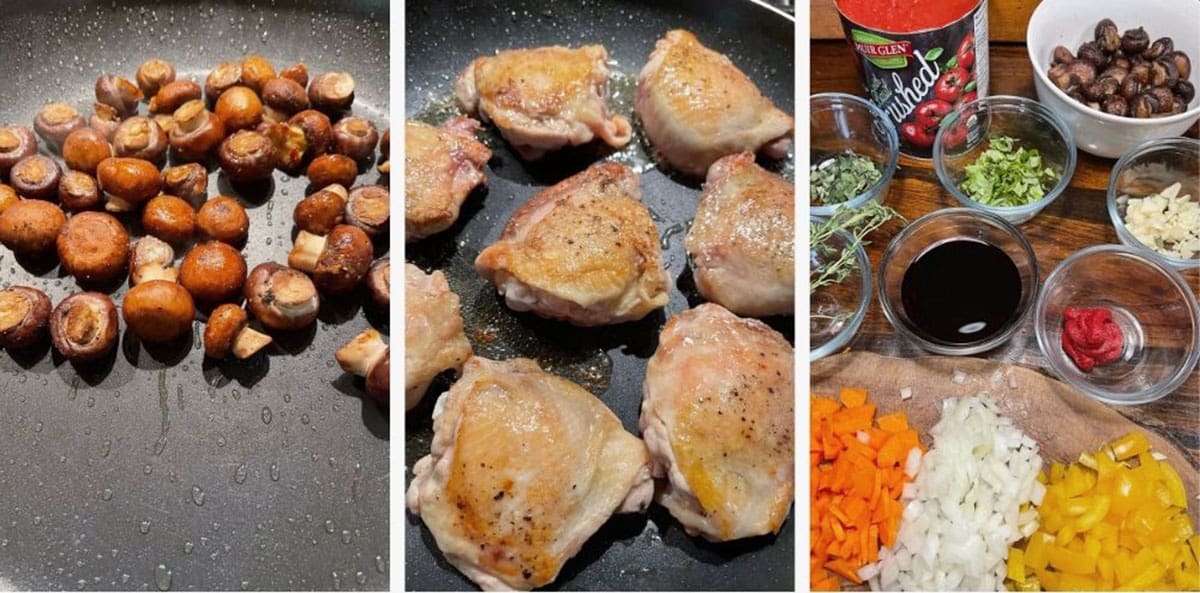 Step 1: To start, add the mushrooms to a skillet and cook until browned over medium-high heat. Remove to a bowl. In the same skillet, brown off the chicken pieces and remove to a plate. Finally, while the chicken and mushrooms are browning, gather and prepare the rest of the ingredients you'll need.
Step 2: Add the onion to a skillet with a lid or other stove-top friendly dish such as a Dutch oven and cook until softened. Add the garlic and red pepper flakes and cook another minute. Add the tomato paste and stir in. Cook about 1 minute more. Add the red wine and allow to cook for about 2 minutes, then add the carrots and bell pepper. Add the cooked mushrooms and crushed tomatoes.
Step 3: Add the herbs to the pan and stir all together well. Add the browned chicken to the pan and press it down into the sauce. Cover with a lid and simmer for about 35-40 minutes, or until the chicken is cooked through. Finally, finish the dish with some chopped parsley and a small pat of butter. Taste and season generously with salt and freshly ground pepper.
If you like, you can add black olives or capers at the end of cooking. Simply stir in and allow to warm before tasting and adjusting seasoning. Alternately, a bit of balsamic vinegar can be stirred in. All of these will add a lovely acidic note to the dish.
Cook's Notes
If you don't have a lid for your pan, you can use foil tightly wrapped on the top of the pan or even a large baking sheet that you place over the top of the pan (make sure it covers the entire top of the pan.
Be sure to test your chicken to be sure it is cooked through and check that the carrots are tender. Cook time will vary depending on the type and size of chicken you use. Simply cook a little longer, as needed.
To finish the dish, I like to stir in a bit of butter (which seems to do wonderful things to tomato sauce) a little more parsley and finally something a little acidic, either a bit of balsamic vinegar, olives or capers.
Salt! There are so many great ingredients in cacciatore, but sometimes, after all the cooking, you may find that the taste is a little … flat. If you have that experience, you need more salt! Unless you are using bacon or pancetta, there are no salty elements in this dish, so be generous with the salt, to really bring out all the great flavours.
Top Tip!
Cacciatore is one of those dishes where you need to build flavour, so take your time with each step, making sure to take the time to brown the mushrooms and chicken well. Cook the tomato paste in the pan until it darkens a bit. Let the wine cook off and reduce. Finally, add a little salt along the way – on the mushrooms and chicken, over the vegetables, after adding the tomatoes and herbs. Just a pinch as you go, then taste at the end and add more, as needed.
What to serve with chicken cacciatore
Chicken cacciatore is wonderful served with pasta (spaghetti is always a good option), egg noodles or polenta, or try it with rustic garlic mashed potatoes or even rice. Some shaved Parmesan cheese on top would be a nice addition, as well.
You can also go lighter on the carbohydrates and serve with cauliflower rice or zucchini noodles.
Finally, a fresh, crusty bread would be perfect to scoop up the luscious sauce!
Storage
Leftovers will keep in the fridge for a couple of days (and you'll probably find this tastes even better the next day!) You can also freeze the cooked dish for 2-3 months.
Variations
Things you can add: bacon, pancetta, capers, olives. For bacon or pancetta, dice and cook after the mushrooms and remove to a bowl to add back in later in the cooking process, with the mushrooms. For capers or olives, stir in at the end of cooking and just allow to warm through.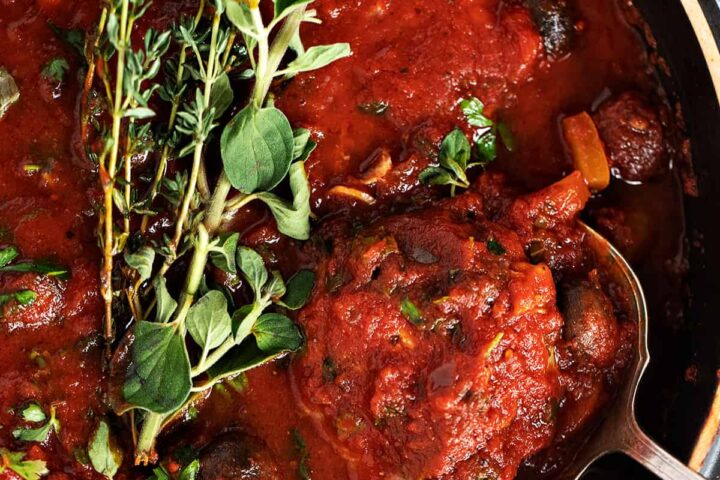 Get the Recipe:

Classic Chicken Cacciatore
Chicken cacciatore is a classic Italian recipe, with wonderfully tender chicken, vegetables and a delicious tomato sauce.
Ingredients
8

oz

button cremini mushrooms

4

chicken breasts or 6-8 chicken thighs

,

bone-in/skin on

2

tsp

olive oil

,

divided

1

cup

onion

,

diced

3

cloves

garlic

,

sliced

Pinch

red pepper flakes

2

Tbsp

tomato paste

1/2

cup

red or white wine

,

or you can substitute chicken broth

1

cup

red, orange or yellow bell pepper

,

diced

1

cup

carrot

,

thinly sliced or diced

28

oz

canned crushed tomatoes

,

or canned whole tomatoes hand-crushed

3

Tbsp

fresh parsley

,

chopped *see Note 1 for substituting dried herbs

2-3

Tbsp

fresh basil

,

chopped

1

Tbsp

fresh oregano leaves

,

chopped

1

fresh thyme sprig
To finish:
1/2

Tbsp

butter

Additional chopped fresh parsley

,

3-4 Tbsp

1-2

tsp

balsamic vinegar OR black olives OR capers

,

to taste
Instructions
Heat a large skillet with a lid or a Dutch oven on the stove-top over medium heat. Add a tsp of olive oil and add the mushrooms. Season with a bit of salt and pepper and cook, stirring regularly, until browned. Remove to a plate and set aside.

In the same pan add a bit more oil to heat. Season the chicken with a bit of salt and pepper. Add the chicken to the hot pan, skin side down. Cook until the skin is quite golden, then flip over and cook a couple of minutes more. Remove to a plate and set aside.

Spoon off and discard excess fat in the pan (but keep any browned bits!). Add the onion to the pan and cook, stirring, until softened, 4-5 minutes. Add the garlic and red pepper flakes and cook another minute or so. Add the tomato paste and stir in. Cook, stirring, about 1 minute, until it darkens slightly. Add the wine to the pot. Allow to boil 1 1/2-2 minutes, to cook off the alcohol and reduce by about 1/2.

Add the bell pepper, carrot, cooked mushrooms and crushed tomatoes to the pot. Add the herbs and a bit of salt and pepper and stir in well. Return the chicken to the pan, pressing the chicken down into the sauce a bit. COVER pot with a lid, reduce heat to medium-low and allow to gently simmer about 20 minutes. Remove cover, flip chicken over, return the cover and simmer another 15-20 minutes, or until the chicken is cooked through (Breasts will take longer than thighs to cook).

Remove lid and flip chicken over again, so the skin side is up. Gently stir in the butter and additional fresh parsley. If you like, you can add some black olives or capers at this point and well. Allow to cook another few minutes to warm, then taste the sauce and add additional salt, as needed. (If the sauce tastes flat, it needs salt!) Add a little freshly ground pepper, as well, if you like.
Notes
1. You can replace the fresh herbs with dried by using about 1/3 of the amount specified for fresh (so 1 Tbsp dried parsley,
Leftovers will keep in the fridge for about 2 days or you can freeze the cooked dish for 2-3 months.
Be sure to read the Ingredient and Cook's Notes above this Recipe Card, for more tips on making this recipe. You will also find Step-by-Step photos there, as well, that you might find helpful.
Calories:
522
kcal
,
Carbohydrates:
35
g
,
Protein:
45
g
,
Fat:
21
g
,
Saturated Fat:
6
g
,
Polyunsaturated Fat:
4
g
,
Monounsaturated Fat:
9
g
,
Trans Fat:
1
g
,
Cholesterol:
119
mg
,
Sodium:
484
mg
,
Potassium:
1612
mg
,
Fiber:
7
g
,
Sugar:
16
g
,
Vitamin A:
7561
IU
,
Vitamin C:
77
mg
,
Calcium:
137
mg
,
Iron:
5
mg
More Chicken Recipes to Love!
Hi! I'm Jennifer, a home cook schooled by trial and error and almost 40 years of getting dinner on the table! I love to share my favourite recipes, both old and new, together with lots of tips and tricks to hopefully help make your home cooking enjoyable, stress free, rewarding and of course, delicious!