Delicious easy homemade sausage rolls, using store-bought puff pastry and sausages. Enjoy the large size for lunch or dinner, or make them mini for appetizers. These freeze beautifully and re-heat easily.
Like most people, I have been known to indulge in one or 10 mini sized sausage rolls from the appetizer tray before. You really can't just eat one! So needless to say, I loved the idea of making them easily at home.
These easy homemade sausage rolls do double duty. They can be cut into small pieces for appetizers, or make them larger and enjoy them for a holiday lunch or dinner.
I first encountered the larger version of sausage rolls at a local meat shop, who regularly makes them up and has them on offer. It was a revelation for a sausage roll lover. I mean why eat 10 little ones when you can enjoy one large one for a meal :)
These sausage rolls are also perfect for making ahead and freezing. You can freeze either before baking or after. So make a big batch and you'll always have sausage rolls appetizers or a sausage roll for meal handy.
Jump to:
Ingredient Notes
Sausage - For the sausage, start with a store-bought pure pork sausage. You'll then just remove the sausage meat from the casing by slicing down the side and sliding it off. You can venture a bit into the flavour/seasoned area too, if you like. A store I shop at sells maple, cranberry etc. pork sausages, that would be nice. I've also use English Banger sausages.
Puff Pastry - These easy sausage rolls are made easy with store-bought puff pastry. I love the pre-rolled, all-butter puff pastry. One roll will make 4 large sausage rolls or 16-20 appetizer size sausage rolls. Since most packages of store-bought puff pastry comes with two rolls, why not make a large batch and freeze them.
Herbs - If you can, fresh herbs make a nice difference in the sausage filling vs. dried, though dried will always work, too.
Cook's Notes
If starting with a pure pork, unflavoured sausage, you may wish to increase the herb seasoning just slightly. I find that the flavoured or banger-type sausages tend to have more seasoning from the start, so don't need quite as much.
The bread crumb addition isn't intended as "filler", but rather to keep the fat from the sausage in the sausage roll and preventing it from running out. If you don't have dried bread crumbs, simply run a piece of bread through the food processor (stale bread or end crust piece works best for this).
If you have an instant read thermometer, it never hurts to check the internal temperature of the large rolls. You want it to be at least 165F. When I tested these after 35 minutes in the oven (starting from room temperature), they registered 205F. Keep in mind that starting from cold or frozen will affect the cooking time to done.
Top Tip! These sausage rolls freeze beautifully! I find they are really best if frozen before baking. You can bake them from frozen, so it's just so handy and the pastry will be at its best that way. Don't forget the egg wash before baking and do allow a few extra minutes of baking time. If you've baked them up, and you have left-overs, reheat in a 350F oven for about 10 minutes from the refrigerator. You can also freeze cooked sausage rolls, then thaw and re-heat this way.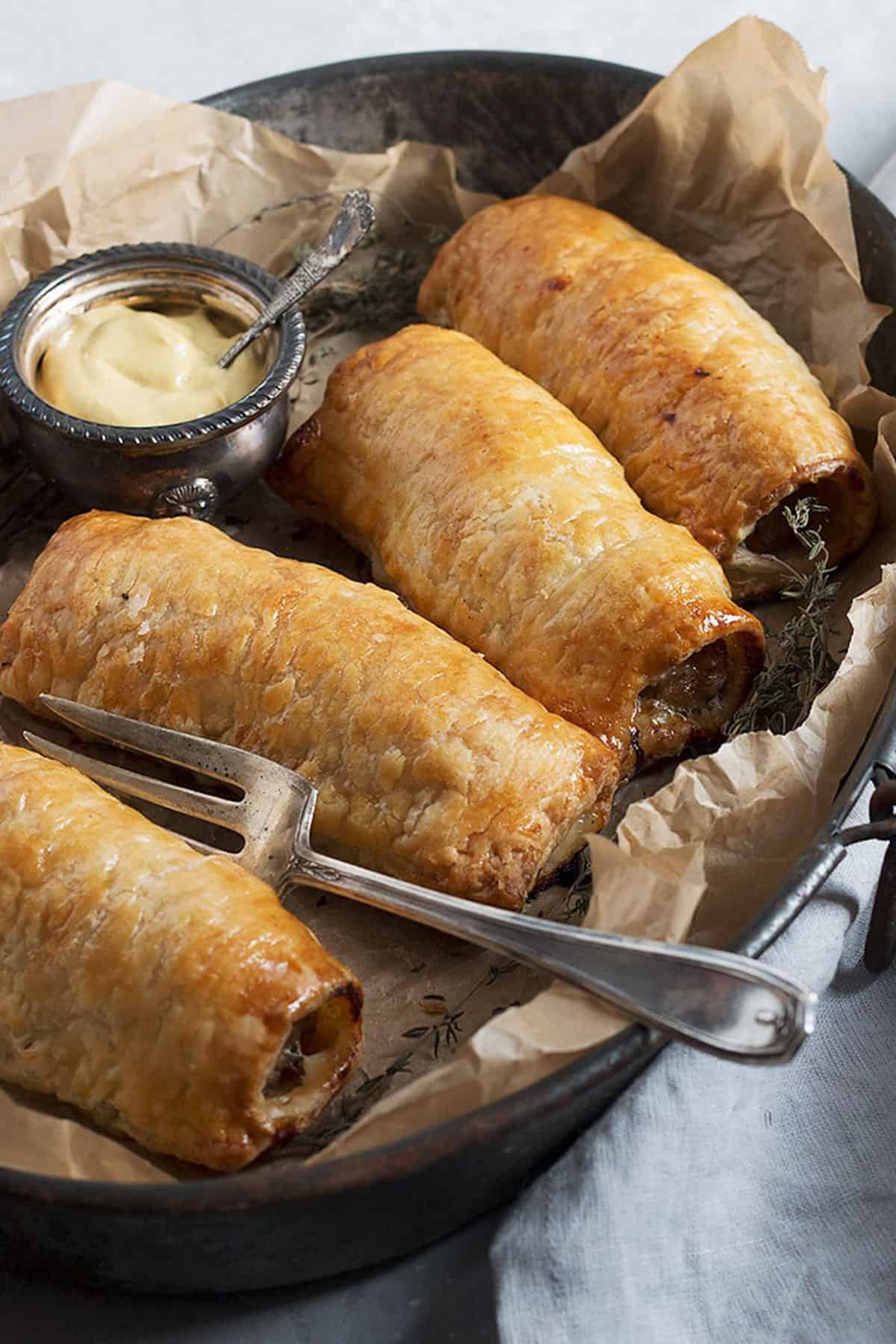 Recipe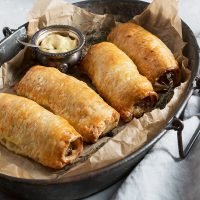 Easy Homemade Sausage Rolls
Easy and delicious, these start with store-bought puff pastry and store-bought pork sausage.
Ingredients
2

rolls

all-butter puff pastry

,

thawed
For sausage filling:
800

g

pure pork sausages

,

removed from casing, or loose sausage

1

tsp

fresh sage

,

diced

1 1/2

tsp

fresh thyme leaves

1

Tbsp

fresh parsley

,

finely chopped

1

Tbsp

dried bread crumbs

,

plain or seasoned

Freshly ground black pepper

1/3

cup

water
Instructions
Preheat oven to 400F and line a large baking sheet with parchment paper.

Remove casing from sausages (cut a slice down the side) and discard. Add loose sausage to a medium bowl. Add herbs and bread crumbs. Add water and using your hands, blend together until the water seems absorbed in the mixture. Roughly form into a round and score round into 8 wedges. Set aside.

Starting with one roll of thawed puff pastry (approx 10x10-inches), use a sharp knife or pizza cutter to cut into 4 pieces approximately 5x5-inches). Brush a 1-inch-ish strip3 of Dijon mustard down the centre of each square. Scoop out 1/8 of the sausage mixture and form into a log 5 inches long (you want the sausage log to extend right to the end of the pastry). Place log on top of Dijon mustard. Brush the left side of the square with egg wash, then gently fold the right side over the sausage to meet the egg brushed edge and press to seal (or use a fork). Place on prepared baking sheet, with the sealed edge facing in towards the pan (fat side on the outside). This helps the filled side brown all the way around.

Repeat with remaining 3 squares, then repeat it all with the second sheet of puff pastry, for a total of 8 sausage rolls.

*If making to freeze, place on baking sheet and place in freezer until solid, then transfer to a freezer bag.

Brush all over the pastry with egg wash. Bake in preheated oven for 30-35 minutes, or until centre registers at last 160F, when tested with a meat thermometer. *If tops seem to be well browned before that, loosely cover with a sheet of aluminum foil.

Serve warm with additional mustard.
Notes
For appetizer size sausage rolls, cut each large roll into 4 or 5 smaller slices.
If freezing unbaked sausage rolls, you can bake from frozen as above, simply extend the baking time as needed, since they are starting from frozen.
Be sure to read the "Cook's Notes" in the original post, for more tips, options, substitutions and variations for this recipe!
Nutrition
Calories:
557
kcal
Carbohydrates:
28
g
Protein:
20
g
Fat:
50
g
Saturated Fat:
14
g
Cholesterol:
92
mg
Sodium:
848
mg
Potassium:
298
mg
Fiber:
1
g
Vitamin A:
150
IU
Vitamin C:
1.6
mg
Calcium:
23
mg
Iron:
3
mg
Nutritional information provided for general guidance only and should not be relied upon to make personal health decisions.
Never miss a new recipe!
SIGN UP for email updates!
Save or Share This Recipe