Enjoy homemade orange marmalade anytime with this quick and easy recipe. Small-batch, no pectin needed, no canning and ready in 1 hour!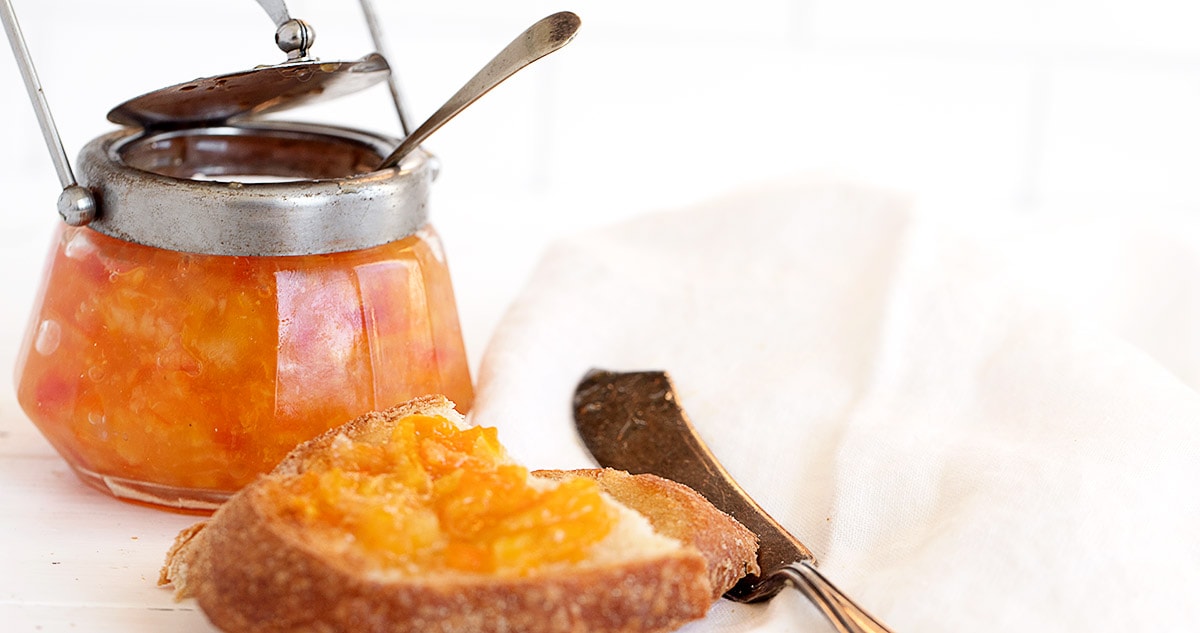 It's citrus season and if you find yourself with a big bowl of wonderful oranges, maybe left-over from the holidays, there is no better use for them than to turn them into some marmalade!
There is something incredibly satisfying about making a lovely jar of marmalade. I think it's even better when you can do it all with just 3 ingredients (oranges, lemon and sugar) and in less than an hour!
Ingredient Notes
Oranges – While you can technically make orange marmalade from any orange, I recommend mandarin oranges. They are thin-skinned, with little bitter pith (the white stuff) and wonderfully flavourful. As they are also a little sweeter, your marmalade will be a little on the sweeter side, which is great if you don't like a really sour marmalade. Since there are a wide variety of mandarin orange, if you don't have a scale, as a general guide, you will need about 2 Satsumas or Halos. You will need 3 clementines (or maybe 4 if they are especially small). Again, aim for 300g of orange to start your marmalade.
If using navel oranges, you will need to be very careful to remove just the outermost orange peel for slicing, then remove and discard the pith layer, before chopping the fruit, to avoid a bitter marmalade. A vegetable peeler or really sharp paring knife works well for this. You will probably need just one navel orange if they are a good size.
If you like a more bitter marmalade and you can find some Seville Oranges, they are fine, too. Just increase the amount of added sugar to equal the weight of your oranges, so your marmalade isn't too bitter.
Sugar – Regular white granulated sugar is all you need here. Don't be tempted to reduce the amount of sugar here, or your marmalade may not set. A certain amount of sugar is needed for this process and just remember, it's a condiment, so you won't be eating the whole jar in one sitting :) In this case, I am using a 3:2 ratio or orange to sugar, so starting with 300g of oranges means 200g of sugar (or 1 cup).
If you'd prefer to use honey, instead of white sugar, you can try replacing the 1 cup of white sugar with 3/4 cup of honey (I haven't tested this).
Lemon – I generally add in the flesh and peel of 1/2 a lemon, for a little extra natural pectin and a slight bit of tangy flavour. If you find yourself lemon-less or you prefer to use just oranges, you can omit the lemon completely and still have a nice marmalade.
Optional Add-ins – If you'd like to add a little something to your marmalade, you can stir in whatever you like right at the end of cooking. I've use some chopped red glacé cherries here, as I had some left-over after holiday baking. Red Maraschino cherries are nice, too. Chopped cranberries would work, as well. For something a little different, you can stir in a teaspoon of vanilla bean paste, for a nice twist.
Step-by-Step Photos
This is a visual summary of the steps to make this marmalade. Always refer to the complete instructions in the Recipe Card below.
Hopefully you have a scale in your kitchen, as it takes out the guesswork. These are Halo mandarin oranges and 2 average ones will total the 300g you need. If you need to guess, I've put one in my (small) hands, so you can see the approximate size.
Take your time cutting the peel into even-sized slices, as it makes all the different in the finished marmalade. You can cut them thin or thicker, depending on how chunky you like your marmalade.
Once you have sliced up the peel, you will simmer, covered, for 20 minutes to soften the peel.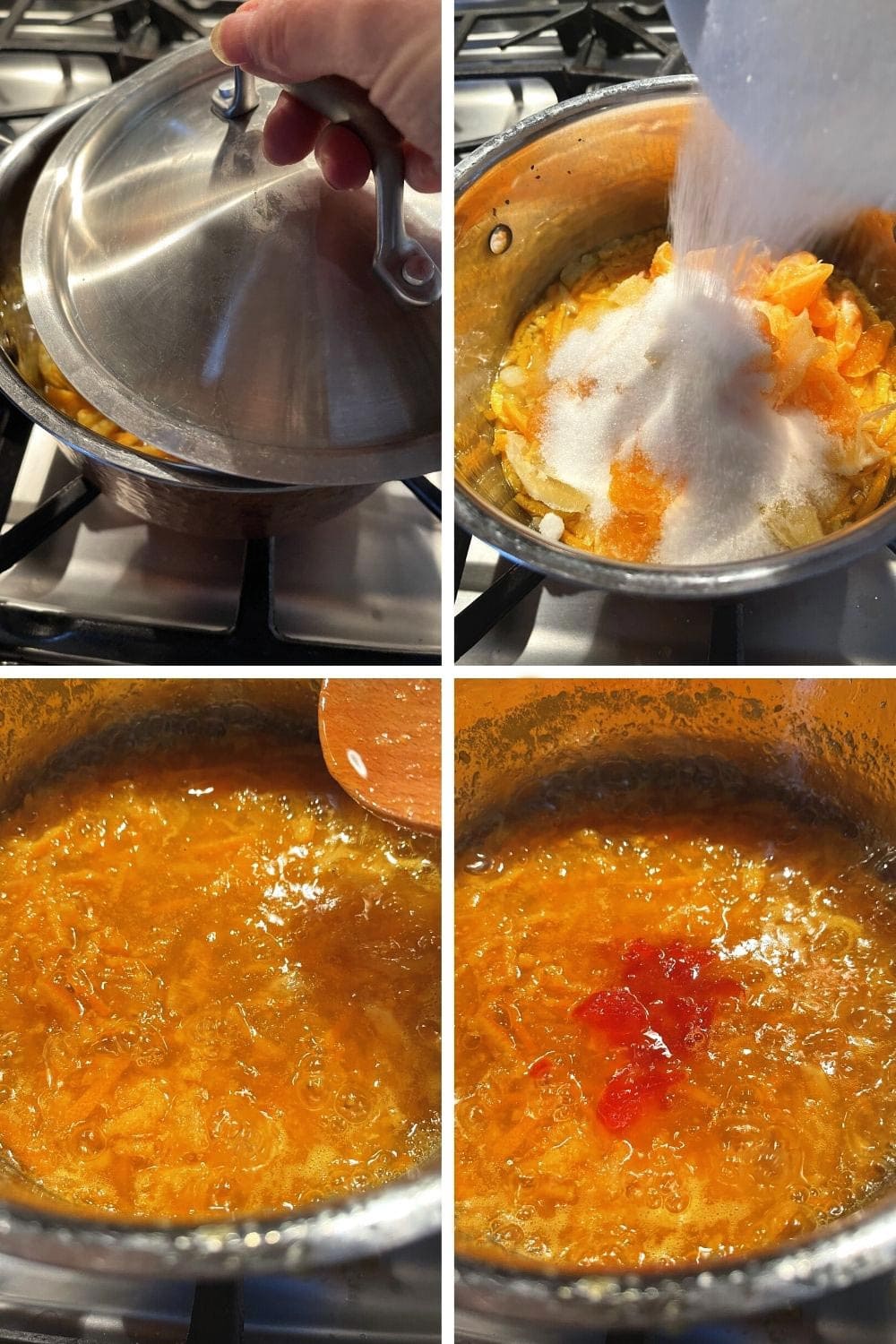 Once the peel has simmered, add the sugar and the chopped oranges and lemon. Stir and bring to a boil. Allow to boil for about 10-12 minutes, or until it tests ready (see the Recipe Card for details). If you like, stir in some cherries at the end.
Spoon into a jar and refrigerate. This recipe will make about 1 1/2 cups of marmalade.
FAQ
What type of pot should I use to make the marmalade? Use a large saucepan for a single batch of this marmalade. Be sure it is a non-reactive pan (not aluminum or cast iron). A good, heavy-bottomed stainless steel pan is perfect.
How can I make it more/less chunky? To make a chunkier marmalade (a thick-cut marmalade), simply cut your peel into wider slices. For a less chunky or smoother marmalade, simply blend with the immersion blender longer, to break up the peel a bit more.
How do I know when it's done? I prefer to use the "cold plate" test for this marmalade, which is detailed in the recipe card below. You may be wondering why I don't use a thermometer here. My experience is that if you try to get this mixture to 220F, you will have a dark, thick and sticky caramelized marmalade, rather than the bright flavours of orange. I have tested this mix with a thermometer and have found it is perfectly done when the thermometer registers just 212F.
You will find the while very hot, the mixture looks somewhat runny when done. If you've used the cold-plate test though, you will have proven that that mixture will "set" when it cools. And it will. Once your marmalade has cooled and spent some time in the refrigerator, you will find it has a perfect soft set from the natural pectin in the oranges (as opposed to a jello-like set that you might get with a marmalade that uses added pectin).
What if my marmalade didn't set? Even if your marmalade doesn't set perfectly and is too runny for toast, it will still be quite useful to use for cooking or other uses, such as stirring into yogurt etc.
How long will the marmalade keep in the fridge? It should keep well in the fridge for up to 3 months, but it likely won't last that long :)
Can I freeze the marmalade Yes! Just make sure your container isn't filled completely, to allow for expansion as it freezers. Marmalade will freeze well up to a year.
What can I do with my orange marmalade besides putting it on toast?salmon recipe uses orange marmalade and is one of my favourites!
Can I make a bigger batch? You can, though the beauty of this recipe is that it is so quick and easy, you can really just make marmalade "on demand", as you need it.
Can I can/preserve this marmalade for longer storage? You probably can, though I am not an expert on preserving, so I can't give advice on canning. I would refer you to a reputable source for proper canning requirements.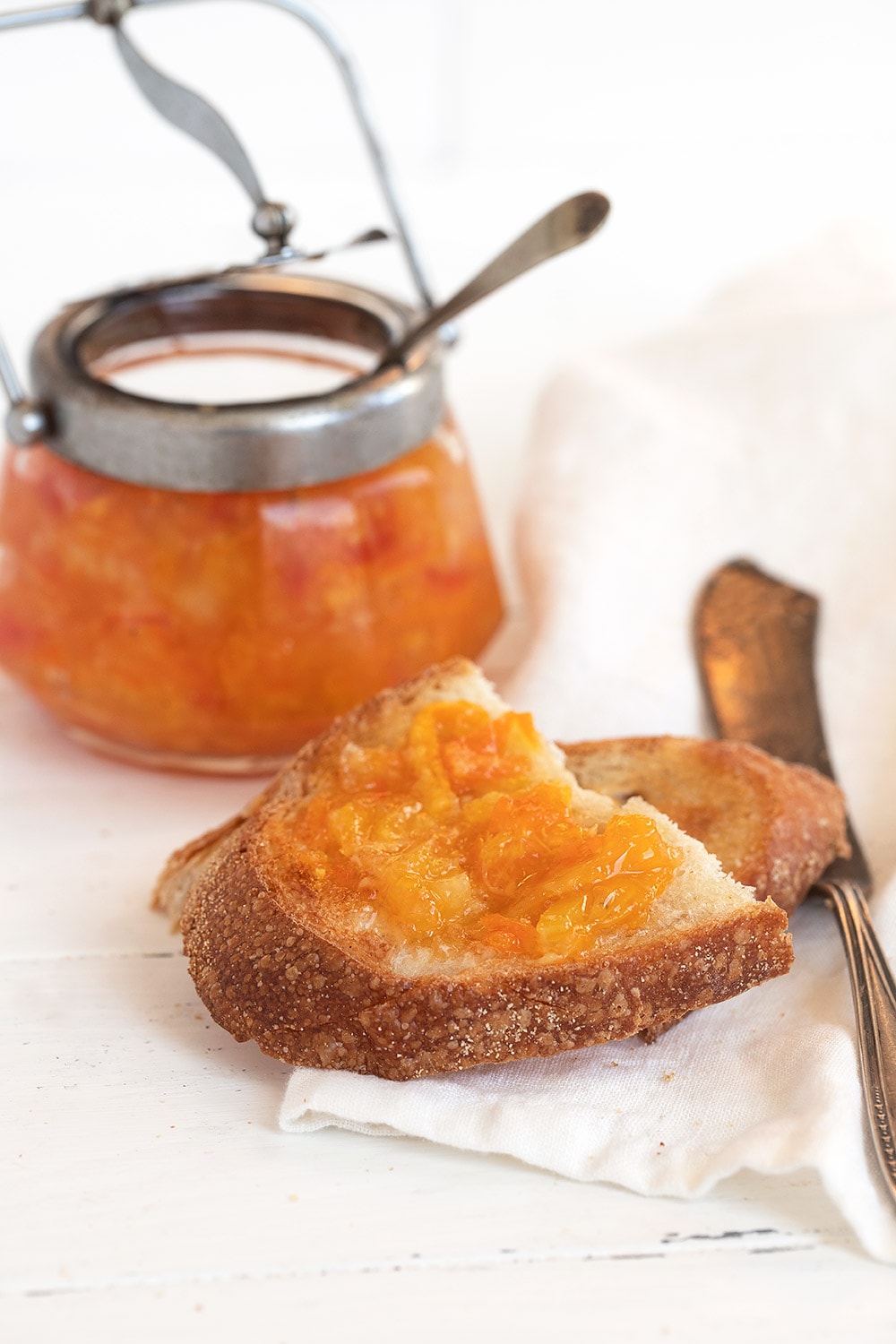 Get the Recipe:

Quick and Easy Small-Batch Orange Marmalade
A quick and easy orange marmalade, with no added pectin and no canning required. Makes a small batch of just 1 1/2 cups of marmalade.
Ingredients
10 1/2

oz

(

300

g

)

mandarin oranges

,

such as Halo or Satsuma, about 2 large *see Notes

1

cup

(

240

ml

)

water

1/2

medium lemon

,

*see Notes

7

oz

(

200

g

)

white sugar

,

about 1 cup

1/4

cup

chopped cherries or dried cranberries

,

optional
Instructions
Before you start, take a small plate and pop it in your freezer. We will use it later to test our marmalade.

Peel the orange and set the peel on a cutting board. Set the orange pieces aside for now. Get your sharpest knife and cut the peel into small slices. You can make them smaller, for a less chunky marmalade or larger for a chunky marmalade. Do try to make them all the same size, whichever way you go. I like a thin slice about 3/4-1-inch long.

Using a sharp vegetable peeler, remove the peel from 1/2 a lemon, trying your best to get just the yellow and little of the white. Slice the lemon peel thinly and add to your orange slices. Cut the lemon in half and set the peeled half lemon aside with the peeled oranges for now.

Add the sliced orange and lemon peel to a large saucepan (not aluminum or cast iron). Add the water and bring mixture to a boil over medium heat. Reduce heat to low, cover the pot with a lid and simmer for 20 minutes. **Check the pot after about 15 minutes to make sure there is still enough liquid in the pot. If not, add a bit more.

Meanwhile, chop the orange by cutting across the equator of the oranges and breaking into smaller pieces, checking for and discarding any pits you might find. Place the orange pieces into a bowl (to keep the juices contained). Chop the half lemon, removing and discarding any pits. Add to the bowl with the orange pieces.

Remove lid when peel has simmered. Add the white sugar and the chopped orange and lemon flesh to the pot. Increase heat to High and stir until mixture comes to a boil and sugar is dissolved. Allow mixture to boil, stirring only once or twice, for 8 minutes. At this point, use a few pulses with an immersion blender in the pot (or a potato masher), to break up the orange flesh a bit more, for a smoother marmalade. Just a couple of pulses are needed, as you don't want to break down the peel slices. Continue boiling for about 2-4 minutes more, then start testing the liquid on the cold plate from your freezer. *Total boiling time should be about 10-12 minutes in most cases.

To test the marmalade: Drop a bit of the liquid from the marmalade on the cold plate and run your pinky finger through it. If the liquid runs back together and fills in the line you just made with your finger, you need to cook longer. If the line remains and the edges of the line look "set" or a bit wrinkled, your marmalade is ready!

Remove pot from heat. Stir in any add-ins at this point. If you notice any chunks of the white pith from the lemon still visible, you can spoon out and discard. Let marmalade stand in the pot while you get your jar ready. Clean a 2-cup/16oz jar and dry. If you have a wide-mouth funnel, that would be handy here, too. Spoon marmalade into clean jar and let stand, uncovered, for 15 minutes, then place lid on jar (not too tight) and refrigerate.

Marmalade will keep well refrigerated for up to 3 months or can also be frozen for up to one year.
Notes
I love using mandarin orange for this recipe, as they have thin skin, little pith and wonderful orange flavour. As mandarin oranges vary in size, weighing is the best option. Start with about 10oz/300g of oranges, weighed before peeling.
That said, you can use any type of orange with this marmalade. Please refer to the Ingredient Notes above the Recipe Card for more details. Whatever type of orange you start with, you will want to use 300g of orange and 200g of white sugar. The 3:2 ratio of orange to sugar will ensure a nice set to the marmalade.
The lemon is added just for a little more citrus flavour and adds a bit more natural pectin to the mix. If you don't have or want to use lemon, you can just omit and use oranges only.
Serving:
1
Tbsp
,
Calories:
38
kcal
,
Carbohydrates:
10
g
,
Protein:
1
g
,
Fat:
1
g
,
Saturated Fat:
1
g
,
Sodium:
1
mg
,
Potassium:
17
mg
,
Fiber:
1
g
,
Sugar:
9
g
,
Vitamin A:
68
IU
,
Vitamin C:
3
mg
,
Calcium:
4
mg
,
Iron:
1
mg
Hi! I'm Jennifer, a home cook schooled by trial and error and almost 40 years of getting dinner on the table! I love to share my favourite recipes, both old and new, together with lots of tips and tricks to hopefully help make your home cooking enjoyable, stress free, rewarding and of course, delicious!