Delicious and full of vegetables, this chicken bibimbap is a feast for the eyes and the palette. And it's ready in the time it takes to cook the rice!
A classic Korean dish, Bibimbap literally means "mixed rice". It can take many forms, but always starts with hot rice on the bottom, with various fresh and cooked vegetables on top, meat (most often beef or pork, but sometimes chicken or tofu) and of course, a dollop of Korean Gochujang or Gochujang sauce. To eat, you simply mix the rice with the vegetables and spicy sauce. (It's not nearly so pretty after you mix it together, so I didn't photograph that part :)
I love Bibimbap because it's all at once easy, delicious, filling, spicy and vegetable-rich. Bibimbap can be made from any variety of vegetables, so it's a great fridge cleaner, too. Best of all, it's ready in the time it takes to cook rice!
My version features quickly stir fried red and orange pepper and bok choy. Alongside, is fresh green onion and shredded fresh carrot, marinated in a bit of sesame oil. As for the meat, I went with chicken, starting with always moist boneless, skinless chicken thighs, that are cut in to bite-sized pieces and quickly stir fried with sesame oil and soy sauce. Garnish with a generous sprinkling of sesame seeds and a dollop of spicy Gochujang, Doenjang (fermented soybean paste) or if you prefer, simple soy sauce.
Preparation is as simple as starting some rice cooking and heating a wok or frying pan. Prepare the fresh vegetables, then quickly saute the vegetables that will be cooked, one at a time, and remove to a plate. Finally, cook the chicken. When the rice is ready, fill a bowl with rice, arrange the vegetables in sections around the outside, then top with the warm chicken. Garnish and serve.
Gochujang: It's the new Sriracha!
If you aren't yet familiar with Gochujang, you might want to be. It's the new Sriracha! That is, it's likely to soon be the thing that you will reach for in your fridge to spice up all manner of dishes. It's spicy (chili pepper) hot, more intense than sriracha, so use less, but the flavour is more complex. It's great with eggs, to stir in to sauces that you want to spice-up, stir fries or as part of a marinade, cooking sauce for meat.
Gochujang itself is quite a thick paste, so unlike sriracha, it's not "squirtable on anything". You can make an easy Gochujang sauce though (think of it as Gochujang ketchup), that is thinned, sweetened and flavoured, that works really well as a condiment. I've included a quick and easy Gochujang sauce recipe in the bibimbap recipe below.
Many large grocery stores with well stocked International sections now carry Gochujang, but if you can't find it there, look in local Korean markets or online. A large container keeps a long time in the fridge and since you only use a bit at a time (a little goes a long way!), you won't need to replace it too often.
True Confession: I am not super heat tolerant when it comes to food, so while I love some heat and the flavours of Gochujang, I respect its potency and use it carefully. Rather than dollop pure Gochujang on my Bibimbap, I like to make a sauce, that's a bit more subdued (though still spicy). That said, you don't have to stir either the Gochujang or the Gochujang sauce in to your rice at all, if you prefer. You can serve it on the side and add a bit here and there after you have stirred your bowl together.
Cook's Notes
Some fresh vegetable options for your bibimbap:
(Salt and marinate in a bit of sesame oil)
julienned or sliced cucumber, carrots, green onion.
Some cooked vegetable options for your bibimbap:
(Quickly saute in hot wok or frying pan with oil until tender-crisp or a splash or water until wilted)
zucchini slices, mushrooms, sliced onions, spinach, soybean sprouts, bell peppers, any greens like kale etc.


Although not authentic, if you are so inclined, you could replace the rice with cauliflower rice or cooked grains.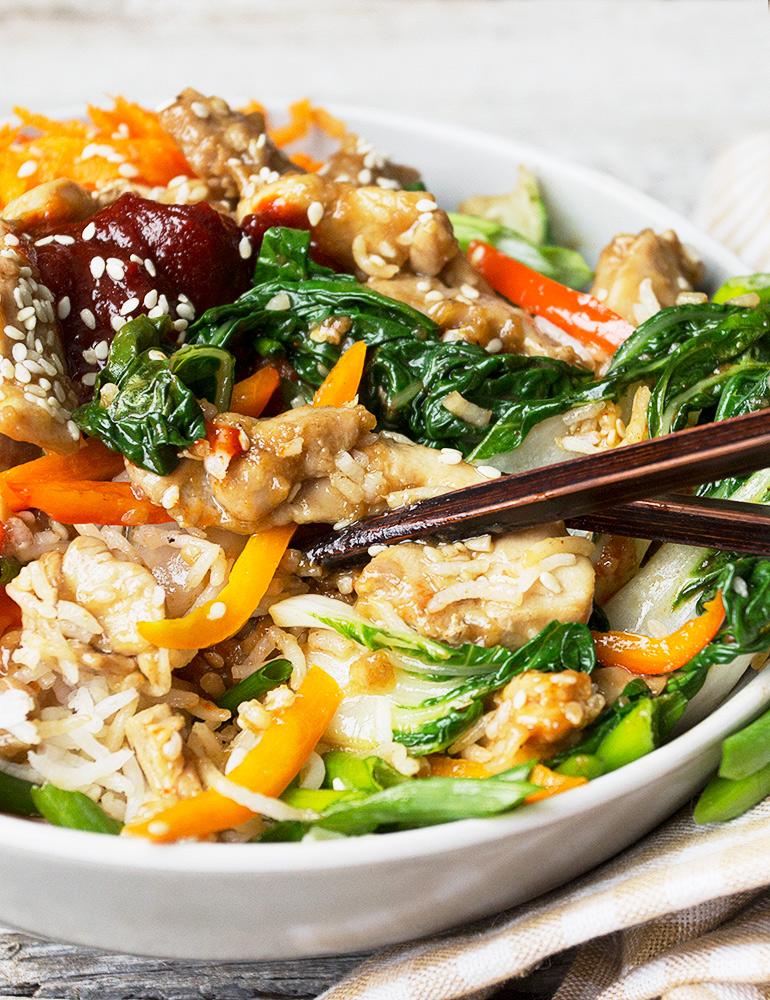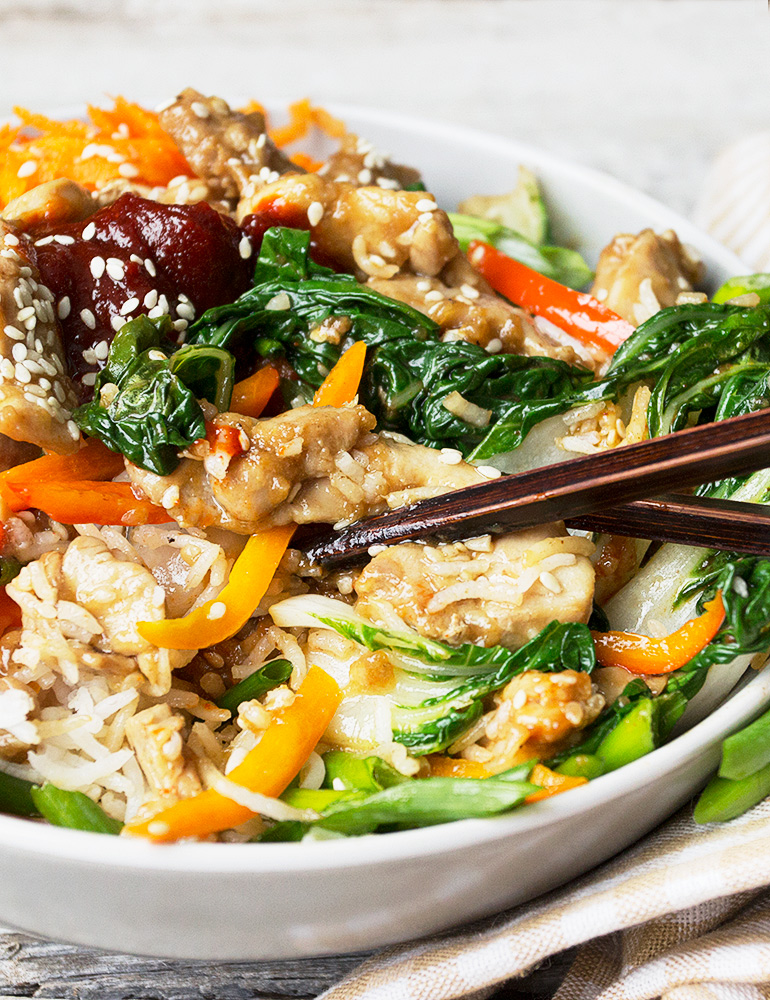 Get the Recipe:
Fast and Easy Sesame Chicken Bibimbap
Feel free to change up the vegetables as you like! Makes 2 bowls. Double as needed.
Ingredients
1

cup

uncooked rice

,

white, brown or basmati

1

Green onion

,

sliced diagonally into 3/4-inch diagonal slices

1

cup

carrot

,

grated

1

tsp

sesame oil

5-6

baby bok choy

,

root end trimmed and quartered

1

red bell pepper,

,

cut into 2-inch long, thin slices

4

skinless boneless chicken thighs

,

cut into bit sized pieces

1

Tbsp

cooking oil

2

Tbsp

soy sauce

1/2

tsp

sesame oil

Pinch sugar

1

tsp

cornstarch dissolved in 1 Tbsp. water

1-2

tsp

Gochujang for topping

,

or Gochujang sauce, below

1

tsp

Sesame seeds

,

plus more for garnish

Additional sesame oil and/or soy sauce, for drizzling
Gochujang sauce (optional substitute for plain Gochujang above):
2

Tbsp

Korean Gochujang

1 1/2

tsp

white sugar

1 1/2

tsp

sesame oil

1 - 1 1/2

Tbsp

water

,

for thinning sauce to desired consistency
Instructions
Start rice cooking, adding water as directed on package.

In a small bowl, stir together grated carrot and sesame oil. Prepare rest of the vegetables and keep in separate piles or bowls. Set aside. Cut chicken and set aside.

Heat oil in wok or frying pan over medium-high heat until very hot. Add bell pepper slices and cook, stirring, until tender-crisp. Remove to a separate pile on a large plate. Add a tablespoon of water to the hot wok. Add bok choy and allow to steam for 30 seconds or so, then stir until just wilted. Remove to a separate pile on the plate with the bell peppers.

Add a bit more cooking oil to the wok. Add the chicken and cook, stirring, until cooked through. Add soy sauce, sesame oil and a pinch of sugar. Cook, stirring, for another 45 seconds or so. Stir the cornstarch mixture, then add to the pan. Continue cooking, stirring, until sauce is glossy and thickened. Remove from heat, leaving chicken in wok.

When rice is cooked, divide between two deep bowls. Top with sections of bell pepper, green onion, shredded carrot and bok choy. Divide the warm chicken between the two bowls, piling it in the centre. Top with a dollop of Gochujang Sauce (or just a dollop of Gochujang). Garnish with sesame seeds. *Alternately, you can serve sauce or Gochujang on the side, or substitute with soy sauce or soybean paste.

To eat, mix the toppings with the rice.
Notes
Be sure to read the "Cook's Notes" in the original post, for more tips, options, substitutions and variations for this recipe!