An easy, refreshing and delicious frozen strawberry dessert, with a lovely fresh strawberry flavour and a cookie crumble topping.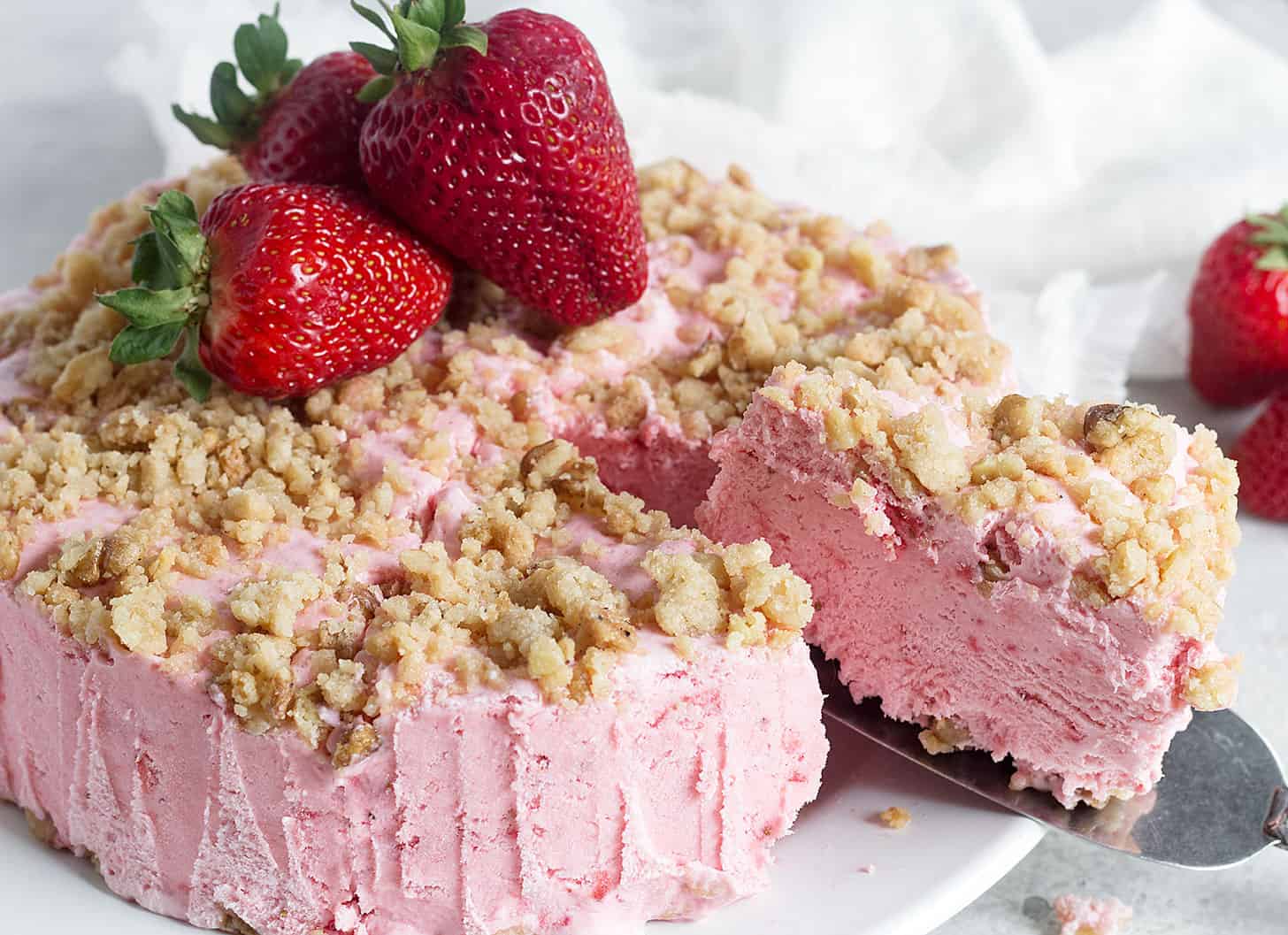 This frozen strawberry dessert is a vintage recipe and I suspect that many might have already enjoyed it over the years, but for those that haven't, it's a recipe that I think of every strawberry season.
It's a lovely light fresh strawberry dessert, that is easily made ahead and can sit in the freezer until ready to serve. And while it's especially lovely with local field strawberries and enjoyed in the heat of Summer, it is still nice with grocery-store strawberries throughout the year.
Ingredients and Substitutions
Walnuts: I love using walnuts here, as the slightly bitter nut is a great foil for the sweet. You could use pecans, if you prefer.
Strawberries: You will need fresh strawberries for this one. The nicer the strawberries, the nicer the dessert, but I've found that even grocery-store strawberries do quite well here.
Lemon Juice: The lemon juice addition here serves several purposes, so I strongly recommend using it. First, it preserves the brightness of the colour of the strawberries. Secondly, it helps to stabilize and firm up the egg whites as they beat. Finally, it's long been thought that the addition of acid to uncooked egg whites is wise, though I don't know if science actually bears that out. Given the first two reasons though, it's potentially a bonus.
Whipping Cream: This is heavy, whipping cream, typically 35% butterfat. As you need to whip the cream, you will not be able to substitute another cream, as lighter creams will not whip :)
Egg Whites – This dessert contains uncooked egg whites, which are generally considered quite safe for healthy people to consume. Always use pasteurized eggs that you separate yourself or use the pasteurized liquid egg whites sold in the carton at the grocery store. Out of an abundance of caution, the very old, the very young and anyone with a compromised immune systems should probably avoid consuming uncooked egg of any sort.
Cook's Notes
You can make this dessert either as a cake, as I have done here using an 8-inch springform pan, or make it as squares, using a 9×13-inch pan. The squares are handy for casual family eating, while the cake form is nice for entertaining or special occasions.
An 8-inch springform pan will make the highest cake. Using a 9 or 10-inch pan will make a larger, shorter cake. For the smallest cake (8-inch) you may find you don't need quite all of the crumble, as you don't want to cover the top completely with crumble.
When adding the whipped cream to the strawberry mixture, be sure to fold in gently, so you don't deflate the whipped cream. Use a spatula and make a slicing motion from about 12 o'clock to 6 o'clock position then scoop the bottom up and over the top. Rotate the bowl and repeat until the mixture is a uniform colour, with no streaks of white whipping cream.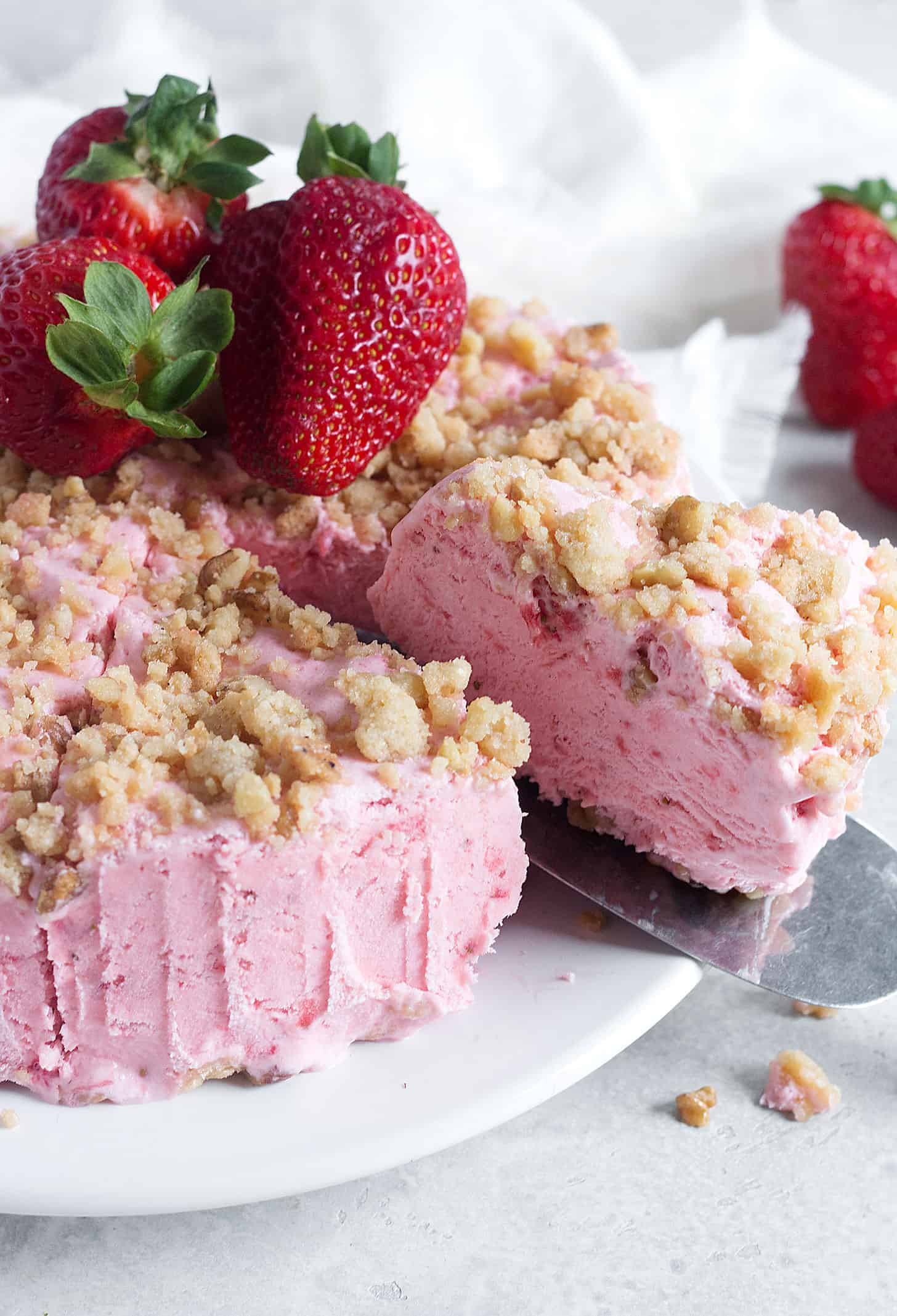 Making ahead, storing and freezing
This one can easily be made a day or two ahead and is at it's best for the first 7-10 days in the freezer. I find that after that, as it sits in the freezer, the crumble topping begins to taste a bit flat. In any event, be sure to wrap it well.
There is no need to take this out of the freezer early to serve. It is soft and ready to go right from the freezer. It also melts somewhat quickly, so eat up right away :)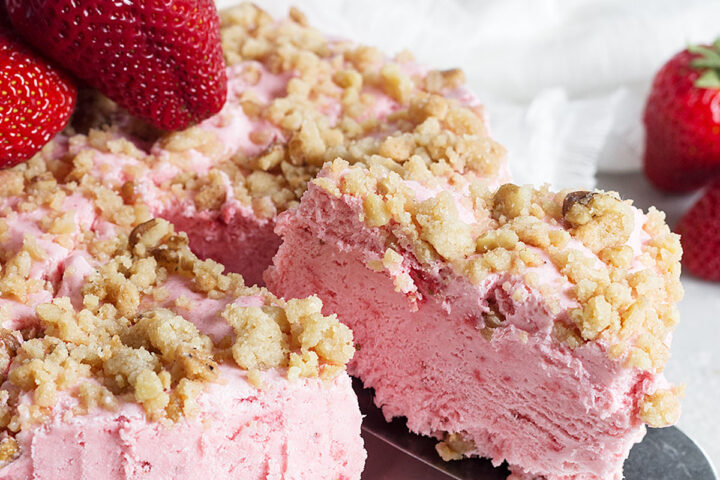 Get the Recipe:

Frozen Strawberry Dessert
A delicious and refreshing fresh strawberry frozen dessert, with a lovely cookie crumble topping. A great Spring or Summer dessert!
Ingredients
Crumble:
1

cup

all purpose flour

1/2

cup

light brown sugar

1/2

cup

walnuts

,

chopped

1/2

cup

melted butter

,

melted
Strawberry Mixture:
2

cups

strawberries

,

fresh, sliced

2

Tablespoons

lemon juice

2

large

egg whites

1

cup

white sugar

1

cup

whipping cream

,

35%, whipped to medium peaks
Instructions
Preheat oven to 350F.

Prepare the crumble: In a medium bowl, stir together the flour, brown sugar and chopped walnuts. Pour melted butter over-top and stir with a fork until crumbly. Scatter mixture onto a baking sheet and place into preheated oven for 10-12 minutes, stirring once or twice while cooking, or until set, but not starting to brown. Remove from oven and allow to cool completely.

Prepare the strawberry mixture: In a large bowl or the bowl of a stand mixer fitted with the paddle attachment, beat together the egg whites, white sugar, strawberries and lemon juice. Beat at high speed for 10 minutes. Set aside.

In a separate bowl, whip the whipping cream to medium peaks. Using a spatula, gently fold whipped cream into strawberry mixture.

Assemble: Scatter 1/2 of the crumble mixture into the bottom of a 8, 9 or 10-inch springform pan (for a cake) or into a 9x13-inch pan for squares. Pour strawberry mixture over-top. Top with remaining crumble mixture. Leave in pan. Cover top with plastic wrap and then a sheet of aluminum foil and freeze at least 6 hours before serving.

To serve: Dessert is ready to serve right from the freezer, so no need to take it out of the freezer early. Simply remove from the pan and you're good to go.
Notes
Be sure to read the notes above the recipe card, where I share more detailed tips, variations and substitution suggestions for this recipe!
Serving:
1
serving
,
Calories:
349
kcal
,
Carbohydrates:
44
g
,
Protein:
3
g
,
Fat:
22
g
,
Saturated Fat:
11
g
,
Cholesterol:
57
mg
,
Sodium:
104
mg
,
Potassium:
125
mg
,
Fiber:
1
g
,
Sugar:
32
g
,
Vitamin A:
635
IU
,
Vitamin C:
18.2
mg
,
Calcium:
40
mg
,
Iron:
1
mg
More Frozen Dessert Recipes to Love!
Hi! I'm Jennifer, a home cook schooled by trial and error and almost 40 years of getting dinner on the table! I love to share my favourite recipes, both old and new, together with lots of tips and tricks to hopefully help make your home cooking enjoyable, stress free, rewarding and of course, delicious!