My version of Ireland's favourite take-away, this Irish Spice Bag is a wonderful concoction of crispy fries, with spicy fried chicken bits and some fried onions and peppers thrown in. All tossed in a spicy, salty mixture.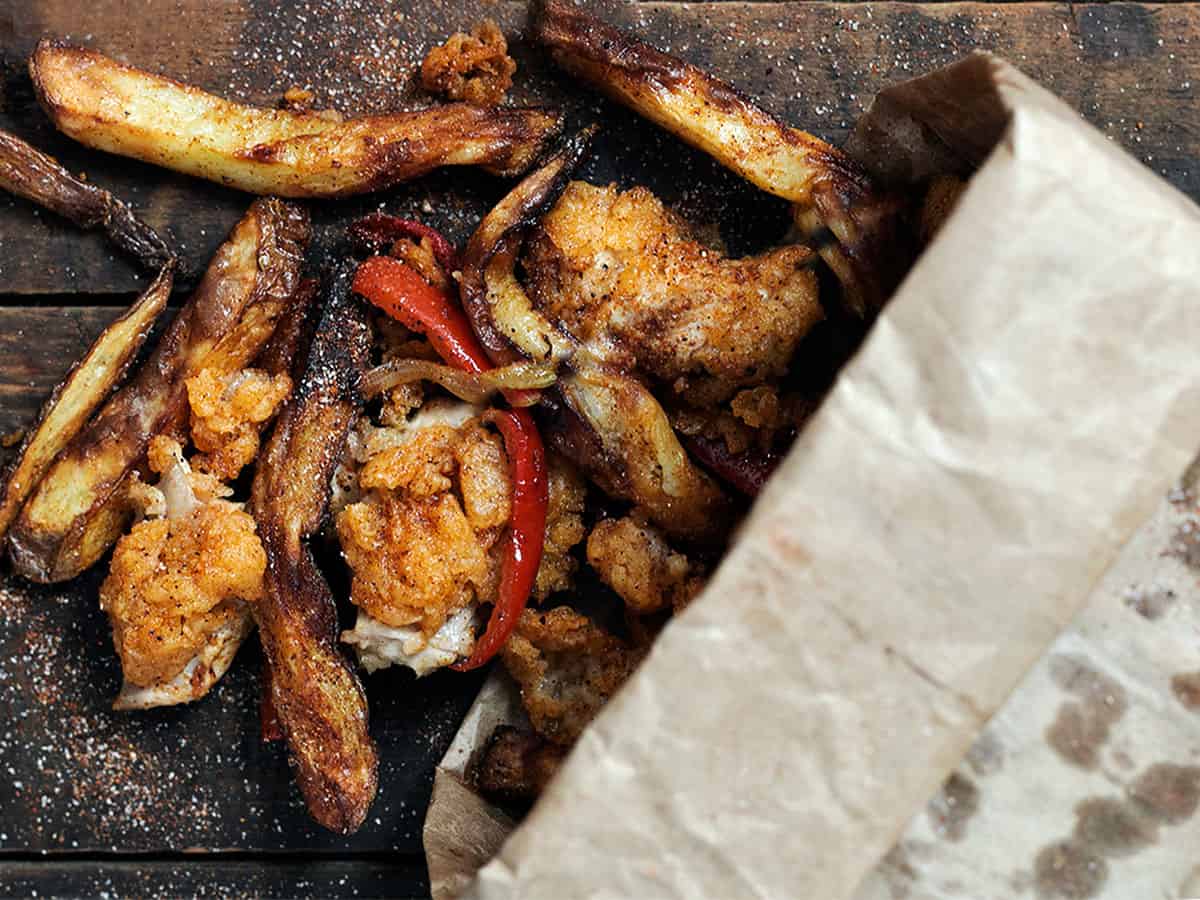 About the Irish Spice Bag
St. Patrick's Day is the day we all get to be Irish for a day! And if we were Irish for a day, in Ireland, chances are very good that we might pick up a spice bag on the way home after a pint or two at the pub. Yes, the Irish Spice Bag is a recent phenomenon, but well on it's way to become iconic Irish fare.
From what I've gleaned, the Irish Spice Bag had it's roots in Chinese restaurants, who mixed chicken balls, with vegetables and threw it all together with fries and served it as take-away in brown paper bags. Different restaurants offered different versions, but the basics of spicy fries in a bag were always the same. Yes, it's Ireland's answer for when only fried food, salt and spice will do :)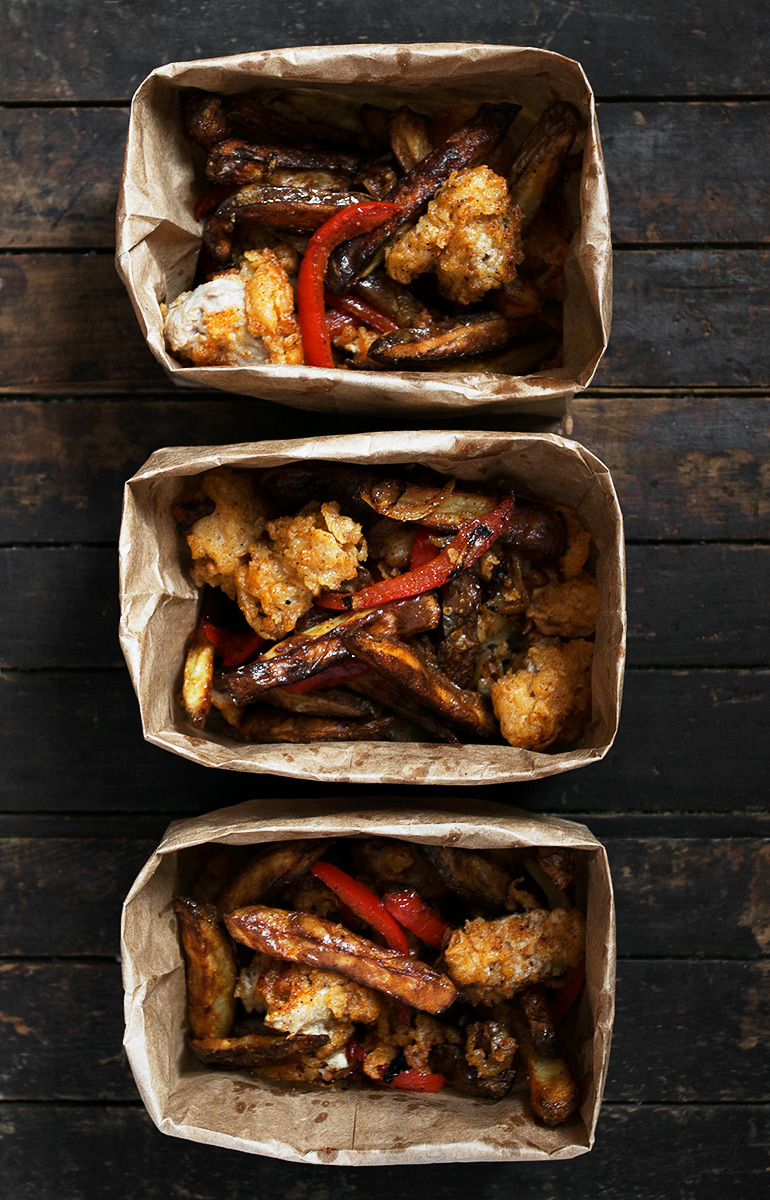 Cook's Notes
Now obviously, I'm Canadian, not Irish, so I'm not going to pretend I know how close my version is to the "real thing", but I did do my research and made every effort to try and re-create it as best I could from the descriptions available. I seek forgiveness from the Irish if I've really messed it up. Feel free to set me straight :)
You can make your fries any way you like – fry, bake or air fry, as I did (my favourite fry preparation tool!).
If you don't have or want to use buttermilk, you can substitute regular milk in the marinade. Maybe throw a 1/2 tsp of white vinegar in with it.
I used Frank's™ brand hot sauce for my spice bag.
In my research, I have seen "skinny" versions, that skip the breading of the chicken and use oven-baked fries. That's always an option, but speaking for myself, I'd really miss the crispy, spicy breading in this one, so I'd recommend going all in.


Get the Recipe:
Irish Spice Bag
Fries, spicy fried chicken bites and vegetables, all tossed in a spicy salt and served up in a paper bag.
Ingredients
6

boneless skinless chicken thighs
Buttermilk Marinade:
1/2

cup

buttermilk

2

Tbsp

hot sauce
Spice Mix
2

tsp

salt

1 1/2

tsp

paprika

1

tsp

garlic powder

1/2

tsp

onion powder

1 1/2

tsp

chilli powder

1/2

tsp

cayenne

Freshly ground pepper
Flour dip:
1 1/2

cups

all purpose flour

1 1/2

tsp

baking powder

1 1/2

Tbsp

Spice Mix
To prepare:
Cooking oil for cooking chicken

1

red pepper

,

thinly sliced

1

small

onion

,

thinly sliced

Warm, crispy french fries

,

cooked any way you like
Instructions
Cut chicken thighs in to small pieces, discarding any fatty bits. In a medium bowl, stir together the buttermilk and hot sauce. Add chicken to marinade and let stand at least 20 minutes, or cover and refrigerate to marinate longer.

While chicken is marinating, make spice mix by combining all ingredients in a small bowl. Stir to combine well. Set aside.

Start your fries cooking.

In a large, flat dish, prepare the flour dip by combining the ingredients and stirring well to combine. Take a few pieces of the chicken from the marinade and toss in the flour dip. Return to the buttermilk marinade briefly and dip in the flour dip again. Place on a metal cooling rack, while you proceed to bread all the chicken pieces. When all the chicken has been breaded, heat a 1/2-inch or so of oil in a skillet over medium high heat. Fry the chicken, until golden on the underside, then flip over and fry on the other side. Cook until golden and cooked through. Remove all chicken to a plate.

Discard most of the oil from the skillet, leaving just a tiny bit. Return the skillet to the stove-top over medium-high heat. Add the peppers and onion and saute quickly until lightly browned and softened. Add sauteed vegetables to a large bowl. Add the warm chicken and cooked fries. Sprinkle with a generous amount of Spice Mix, to taste and toss well to coat.

Spoon in to paper bags to serve :)
Calories:
569
kcal
,
Carbohydrates:
60
g
,
Protein:
52
g
,
Fat:
12
g
,
Saturated Fat:
3
g
,
Cholesterol:
219
mg
,
Sodium:
2053
mg
,
Potassium:
1181
mg
,
Fiber:
6
g
,
Sugar:
4
g
,
Vitamin A:
2580
IU
,
Vitamin C:
57.2
mg
,
Calcium:
306
mg
,
Iron:
8.3
mg
Save or share this recipe