These pretty lemon pistachio shortbread cookies are topped with a sweet glaze, for a delicious and easy sweet treat.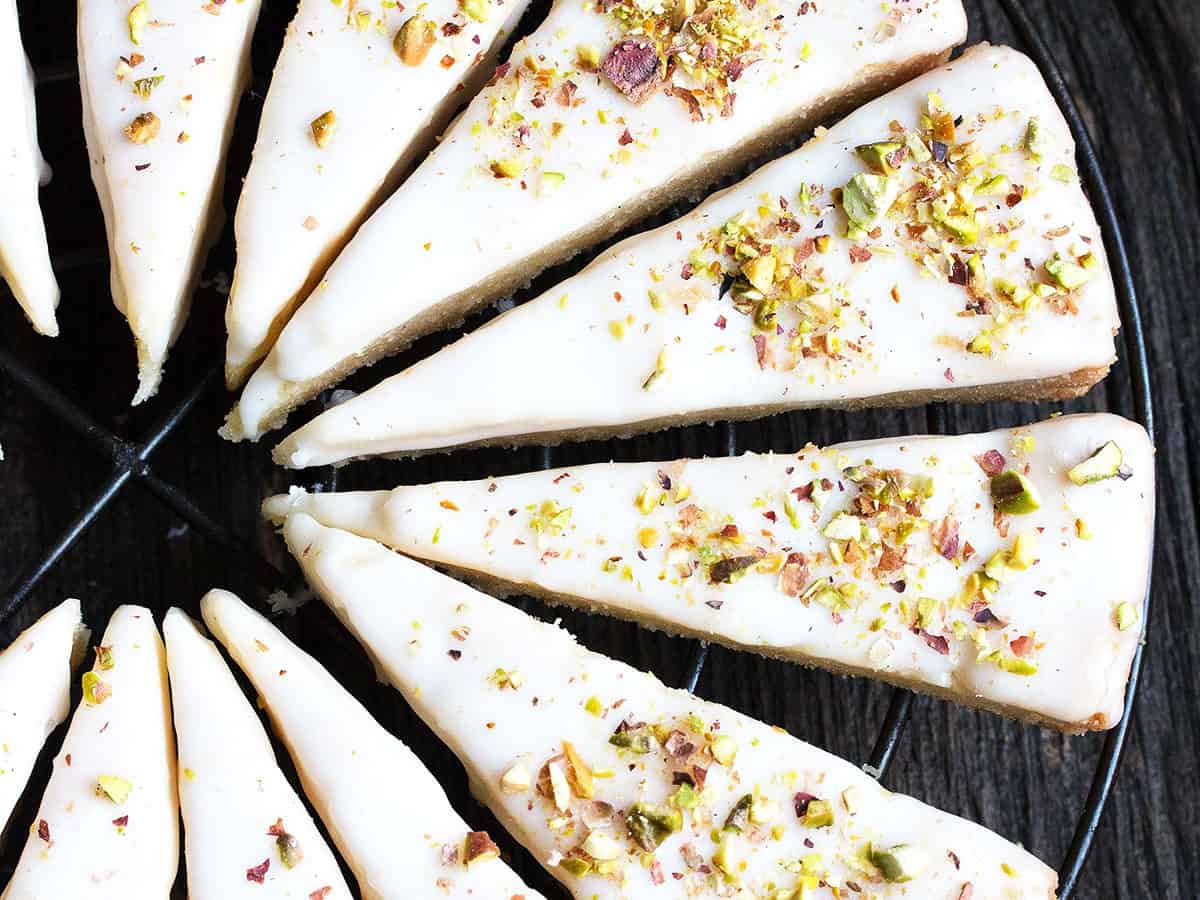 Shortbread cookies are always a favourite of mine, any time of year. They are especially nice for the holidays though, as they are both delicious and keep well. These Lemon Pistachio Shortbread Cookies add a little extra, topping buttery, flaky shortbread cookies with a tangy, lemon icing sugar glaze and a sprinkling of salted, roasted pistachios.
While these may look fancy, they are in fact, super easy to make. The cookies bake up in a round in a pan. Simply press in the dough! Once cut into wedges, they are just dipped into the glaze and sprinkled with pistachios. No need for piping bags here.
So I hope you will give these delicious cookies a try over the holidays. They keep really well and you can even freeze them. And of course, they would make a lovely gift cookie.
These Lemon Pistachio Shortbread cookies are the trifecta of cookies. Pretty, easy and delicious. Everything you want for holiday baking!
Ingredients and Substitutions
Pistachios – you can use roasted salted pistachios or raw pistachios. Roasted have more flavour, but raw are brighter in colour.
Lemon – you can use regular lemons or Meyer lemons.
Butter – bust out your best butter for these shortbread cookies. Unsalted butter is specified, as it is generally fresher. If using salted butter, adjust the added salt in the cookies accordingly.
Recipe Tips
If you have a 9-inch tart pan with a removable bottom, that would be ideal for these cookies. Not only will you be able to remove them from the pan easily, you will get a lovely scalloped edge around the outside of your cookies.
I didn't have a 9-inch tart pan though, so I used a 9-inch round cake pan lined with a round of parchment on the bottom. It bakes up just as well, but makes it a little trickier to remove the cookies after they've cooled. I find that lifting out the first cookie with a fork from the thick, outside edge is the easiest way to go. Once you have the first one out, it's a breeze after that. If it happens to break, consider it a "baker's sample" and eat it. You'll still be able to make a nice circle of cookies even if you're missing that one ;)
As you dip your cookies to glaze, you may start to get some small bits of cookie in your glaze. Simply use a spoon to move those bits to the edges, away from where you are dipping, so you don't get cookie bits in your glaze.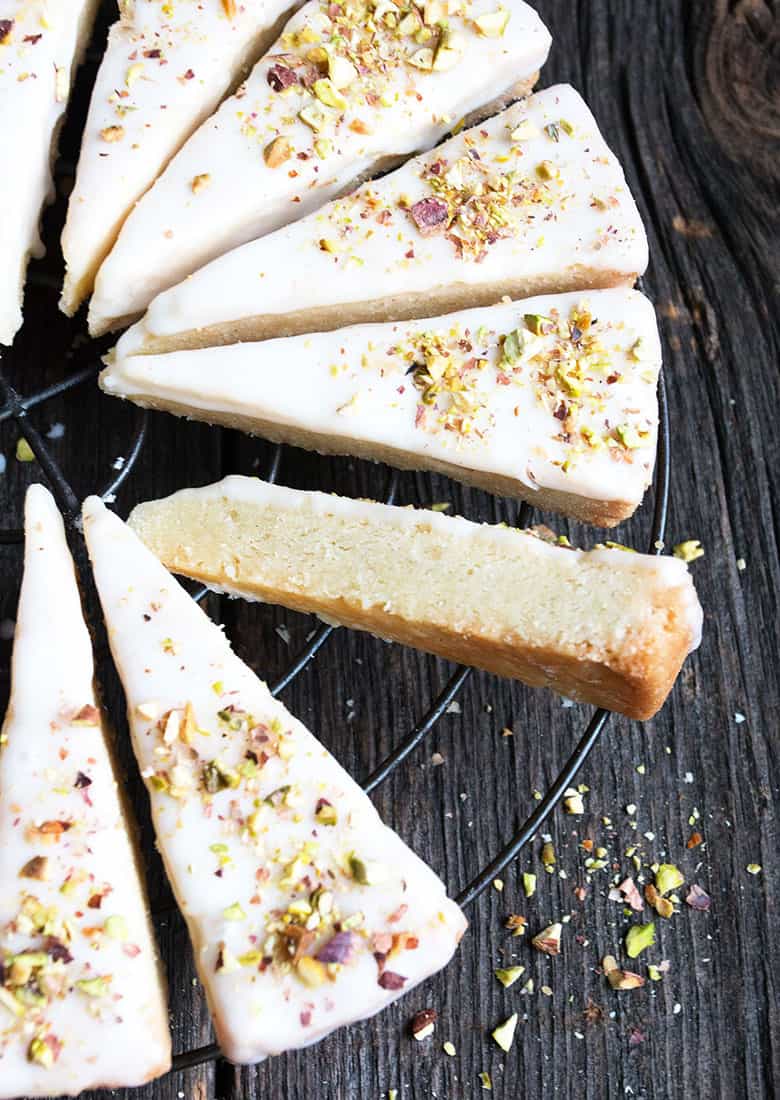 Top Tip!
I've increased the amount of glaze here, as I find that it's much easier to dip when you start with a good amount of glaze. You don't want to be scraping the bottom of the bowl. That's not going to make pretty cookies. Having more glaze to start just avoids all that, but it does mean that you will have more than you need to glaze all these cookies. I hate to waste, but it's only a bit of icing sugar and lemon juice. Or if you happen to have other baking that needs a dollop of something, you can use your extra that way.
Pretty, easy and delicious, these cookies have a buttery, flaky shortbread cookie, topped with a tangy lemon glaze and sprinkled with chopped pistachios. Keep well and can be frozen, too!
Ingredients
Cookies:
1

cup

unsalted butter

,

softened

3/4

cup

icing sugar

1/2

teaspoon

vanilla extract

,

or vanilla bean paste

1/4

teaspoon

salt

,

reduce to a pinch if using salted butter

2

cups

all-purpose flour

,

spooned and levelled
Topping:
1 1/2

cups

icing sugar

3

Tablespoons

freshly squeezed lemon juice

,

strained of seeds and pulp

1/4

cup

salted, roasted pistachios

,

finely chopped
Instructions
In a stand mixer with a paddle attachment or in a bowl with an electric mixer, beat together butter, icing sugar vanilla and salt until light and fluffy, about 2-3 minutes. Stir in flour just until combined.

Press dough into a 9-inch round tart pan with a removable bottom (or alternately, a 9-inch round cake pan, lining the bottom with a round of parchment paper.) Flatten dough with the palm of your hand to make a smooth surface. Using a sharp knife, score the surface of the dough in to 16 wedges. Prick each wedge with a fork twice. Refrigerate pan with dough until firm, about 30 minutes.

Meanwhile, preheat oven to 300F. (regular bake setting/not fan assisted)

Bake cookies in preheated oven until firm and pale golden, about 50-55 minutes. Remove from oven and let cool for 5 minutes, then, using a sharp knife, cut through the score lines you made before baking, wiping off the blade between each cut. Allow to cool completely in the pan.

Meanwhile, prepare glaze by whisking together the icing sugar and lemon juice until smooth. Tip: Be sure to use a bowl that will allow you to dip the cookies in flat from end to end, so it should be at least 5-inches wide. That said, don't use too big a bowl or your glaze will be too thin a layer and you may bottom-out when you dip).

Remove cookies from pan to a rack. Holding a cookie by the sides, dip the top of the cookie into the glaze to coat. Hold point side down and allow the excess to drip off. Gently remove any drip at the point end by running it along the edge of the bowl. Place on to rack. Once you've done 4 or 5, sprinkle those ones with some of the chopped pistachio. Repeat until you have glazed and sprinkled all the cookies. Allow to stand until the glaze is set, about 1 hour. Store in a flat even layer in an airtight container. These keep well stored at room temperature for about a week. These would also freeze well!
Notes
Be sure to read the notes above this Recipe Card, for more tips on making this recipe.
Serving:
1
serving
,
Calories:
236
kcal
,
Carbohydrates:
29
g
,
Protein:
2
g
,
Fat:
12
g
,
Saturated Fat:
7
g
,
Cholesterol:
30
mg
,
Sodium:
38
mg
,
Potassium:
42
mg
,
Sugar:
16
g
,
Vitamin A:
365
IU
,
Vitamin C:
1.2
mg
,
Calcium:
8
mg
,
Iron:
0.8
mg
Hi! I'm Jennifer, a home cook schooled by trial and error and almost 40 years of getting dinner on the table! I love to share my favourite recipes, both old and new, together with lots of tips and tricks to hopefully help make your home cooking enjoyable, stress free, rewarding and of course, delicious!