Easy and delicious, this cheese spread recipe has a touch of curry powder and is topped with mango chutney, dressed up with raisins, dried cranberries, nuts and green onion.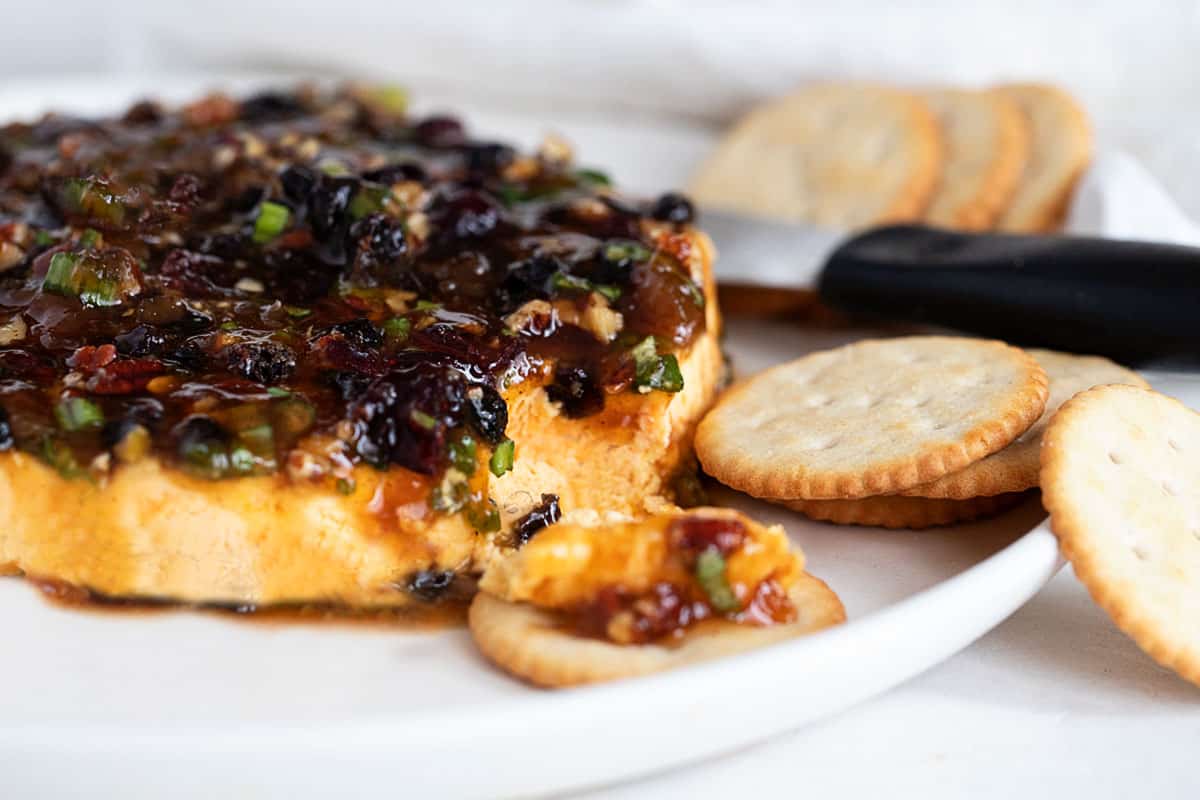 Why you'll love this cheese spread recipe!
If you're looking for something a little different for holiday enjoyment or entertaining, look no further than this Mango Curry Cheese Spread.
You'll love how easy to make this cheese spread is! Simply mix, chill and spoon the simple topping overtop when ready to serve.
The topping starts with store-bought mango chutney, that you can dress up with raisins and/or currants, nuts, dried cranberries and green onion.
This cheese spread is simply cream cheese and sharp cheddar cheese, flavoured with a bit of curry powder, which complements the fruit and nut topping beautifully.
Jump to:
Key Ingredients
Cream Cheese - you'll need one typical, 8oz/250g "block" of regular cream cheese (not whipped).
Sharp Cheddar Cheese - you have two choices here. If you're Canadian, you might want to consider using MacLaren's Imperial Cold-Packed Sharp Cheese Spread, in which case the 4oz needed works out to 1/2 of the little red carton. There may be similar cold-pack sharp cheese brands available in the US, such as Black River. Alternately, you can use 4oz of a good, sharp, orange cheddar. The best sharp cheese is a 1 or 2-year old cheddar.
Curry Powder - a mild curry powder is best for this recipe and you can certainly tweak the amount up or down, to taste. I like 1/2 tsp myself, but I have had it with 1 teaspoon and it is good, too (as long as you like curry flavour :)
If you don't have curry powder on hand, you can use a bit of any Indian curry paste you might have, such as Madras. For curry paste, you may have to use a bit more to get the same flavour.
Mango Chutney - there are a number of brands of Mango Chutney. You can use what you like or can find. Patak's makes a good one and the President's Choice branded one (Canada) is also nice. Alternately, you could use Major Grey Chutney, Peach Chutney or even Apricot Jam.
Other ingredients you could add to the topping - diced green onion, toasted pecans or walnuts, currants, raisins (sultanas, Thompson and/or golden raisins), dried cranberries, coconut. Add as many as you have or like, though I recommend you don't skip the green onion, as it provides a really nice fresh flavour note to this cheese spread.
Step-by-Step Photos
Step 1: Beat together the cream cheese and sharp cheddar. I'm using McLaren's Imperial Cheese here, but you can also use shredded sharp cheddar cheese. Spread into a 6-inch springform pan or shape into a 6-inch disc by hand. You can also just spread it into any dish or pie plate that allows the cheese layer to be about 1-inch thick. Cover and refrigerate at least 2 hour or up to 24 hours. The cheese mixture will firm up as it chills.
Step 2: Make the topping by combining the mango chutney with any or all of the suggested mix-ins. Here I've used pecans, currants, dried cranberries and green onion. You can use raisins, as well. Stir together. This can be done ahead and refrigerated separately until ready to serve.
Step 3: When ready to serve, spoon the mango chutney topping over-top of the cheese.
Cook's Notes
I love the curry with the cheese, and I do urge you to try it. That said, if you know you aren't a curry flavour fan, you can omit it and just make the whole thing without the curry powder. The mango chutney topping will still complement the cheese beautifully.
You have a lot of options with this cheese spread. You can form it into a round using a springform pan (I've used a 6" pan to form mine). Alternately, you can just free-form shape it into a round disc. Once refrigerated, the cheese spread will stiffen up nicely.
Alternately, simply spread into any dish or pie plate where the cheese spread will be about 1-inch thick. Make sure there is room in the dish to add the topping!
Instead of one large dish or round, why not make into 2 or 3 smaller dishes. Shallow ramekins or little tart dishes work well. Then you can have a fresh one every time.
If you're entertaining and you want a nice and neat presentation, when you spread the cheese mixture into a round, make a lip around the the top so that when you add the chutney, it will stay put on top and not run over the sides.
Top Tip
Not a fan of curry? No worries! Simply omit the curry powder in the cheese mixture. The cheese with the mango, fruit and nut topping will still be a delicious appetizer!
What to serve with this curried cheese spread
Crackers
Apple Slices
Naan Crisps or Chips
Storage, freezing and making ahead
Once made, the spread will keep in the fridge (covered with plastic wrap), for up to 1 week.
If making ahead, make the cheese base and refrigerate. You can also make the chutney topping ahead and refrigerate separately. Spoon the chutney over the cheese when ready to serve.
This cheese spread isn't the best candidate for freezing. While it can be frozen safely, the texture of the spread will change considerably after freezing and thawing and would probably be crumbly, rather than smooth and spreadable.
Recipe
More cheese dips or spreads you might also like ...
Save or share this recipe