These mini dutch pancakes are not only delicious, they are easier to make than regular pancakes! Serve with an optional warm blueberry sauce or the topping of your choice.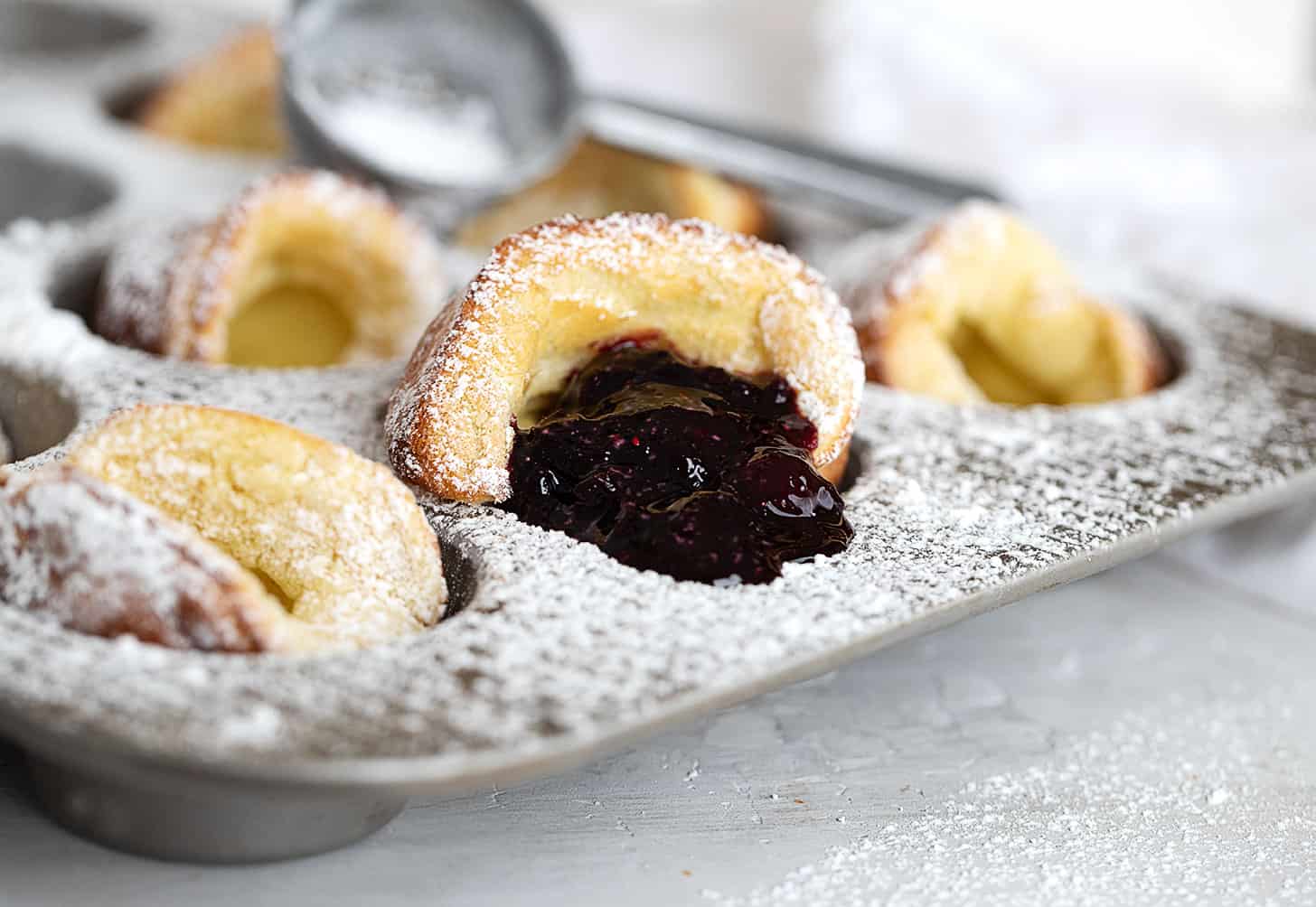 Why you'll love these mini Dutch baby pancakes!
These mini Dutch pancakes are perfectly puffy, warm and custardy, mini-sized breakfast, brunch or "breakfast for dinner" treats.

Enjoy these mini Dutch babies simply with butter and maple syrup or with the optional warm Blueberry sauce or the topping of your choice.
You'll love that these are so much easier to make than making batches of regular pancakes. Since they are all ready at the same time, everyone can eat at one time. And they take no more (or maybe less) time to make than regular pancakes (and that includes making the blueberry sauce!!).
And yes, they can be made ahead and frozen, too!
Ingredients and Substitutiond
Blueberries – you can start with either fresh or frozen blueberries for the blueberry sauce. You could also adapt this same recipe to make a strawberry or raspberry sauce, instead, if you prefer.
Lemon Juice – no worries if you don't have a lemon handy. Simply omit.
Milk – a fuller-fat milk, such as 2-3.5% b.f., will provide a richer tasting Dutch baby. I haven't tested these with non-dairy milks, though I suspect they would work.
All purpose flour – regular all purpose flour is all you need here. You don't want to use self-rising flour. I haven't tested these with gluten free flour, but I suspect a cup-for-cup GF flour may work here. In the UK, this is Plain flour, not self-raising flour.
You will also need – butter, white sugar, cornstarch, water, eggs (4), vanilla and salt.
Recipe Video
FAQ
What is a Dutch Baby pancake and is it really Dutch? A Dutch Baby is not quite a pancake and not quite a popover. It's somewhere in between, being richer than a popover and lighter than a pancake. And no, they aren't Dutch. Dutch Babies are just another name for German Pancakes. It's thought that the name may have come from the word "Deutsche" meaning German, that become "Dutch" somewhere along the way.
What kind of pan can I use to bake mini Dutch Baby pancakes?
As Dutch Baby pancakes need a hot pan to rise properly, any metal muffin tin (or cast-iron muffin tin) will work fine. Silicone muffin tins are not recommended. Don't use a popover pan, as they are too deep for these.
Can I made these gluten-free/dairy-free/vegan/sugar-free?
Readers have advised that they have had pretty good success using gluten-free flour, sugar substitutes, dairy-free milk and vegan butter, so definitely, give it a try.
Did I do something wrong? Why did my Dutch babies deflate?
No, you didn't do anything wrong. That's what Dutch baby pancakes do. They will deflate quite quickly once out of the oven and steam escapes. Dutch baby pancakes have a bit of a mind of their own and will bake up in all kinds of weird and wonderful shapes. It does make a nice little pocket to tuck sauces into though.
Mini Dutch Baby Topping Ideas
I've included a recipe for an optional warm blueberry sauce in the Recipe Card. I sometimes stir some maple syrup in with the warm blueberry sauce, too.
You could also make a strawberry or raspberry sauce instead, simply by substituting different fruit into that base recipe. You may want to reduce the sugar just a tad for the sweeter berries.
Spoon fresh fruit on them! Think fresh strawberries with a dollop of whipped cream (or maybe Nutella™)!
Try spooning a little lemon curd onto them, maybe with some fruit, too. This would be perfect option for a special Spring or Easter brunch!
For the Fall and Winter, try sauteeing some apple or banana with brown sugar and butter and spooning on top of warm pancakes.
And of course, these mini Dutch pancakes are also lovely enjoyed simply, with just butter and maple syrup!
Making ahead, storing and freezing
These mini Dutch babies can be made ahead and reheated. To reheat, place frozen or refrigerated dutch babies on a baking sheet and placed a piece of aluminum foil loosely over-top. Placed in a 350F. oven until warmed through, about 10-15 minutes.
Store left-overs in an airtight container or storage bag in the refrigerator for 2-3 days.
Freeze these Dutch babies in an airtight container or freezer bag up to 2 months.
You can re-heat the blueberry sauce in the microwave or a small saucepan.
Get the Recipe:

Mini Dutch Pancakes with Warm Blueberry Sauce
These mini Dutch pancakes are delicious and easier than making regular pancakes! Served with a warm blueberry sauce.
Ingredients
Warm Blueberry Sauce (optional):
3

Tablespoons

white sugar

1

teaspoon

cornstarch

3

Tablespoons

water

1

cup

fresh or frozen blueberries

1

teaspon

lemon juice

,

optional
Pancake Batter:
4

large

eggs

3/4

cup

milk

3/4

cup

all-purpose flour

1

Tablespoon

sugar

1

teaspoon

vanilla extract

1/4

teaspoon

kosher salt

,

or 1/8 tsp. fine salt

2

Tablespoons

butter

,

melted and cooled to just warm
For the pan:
2

Tablespoon

butter

,

melted
For garnish:
Icing/confectioner's sugar

,

for garnish
Instructions
Place a 12-cup or two 6-cup muffin pan in the oven and preheat oven to 425° (with muffin tins in oven).

Tip! You will need

4 Tbsp

of melted butter total –

2 Tbsp.

for the batter and

2 Tbsp

for the pan. Melt it all at the start, measure out the

2 Tbsp

for the batter and set to cool, then reserve the remainder to grease the pan. Just be careful you only put

2 Tbsp

of it into the batter!

Meanwhile, make the pancake batter. Melt the

2 Tbsp.

butter and set aside to cool to just warm. Add the eggs, milk, flour, sugar, vanilla and salt and blend to combine. Add the cooled butter and mix in until frothy. *Make sure your butter isn't hot when adding to the blender, or it will cook the eggs! Leave the batter in the blender while you start the blueberry sauce. *You can also use a food processor or an immersion blender in a large bowl here, if you don't have a blender.

In a small saucepan, combine the blueberry sauce ingredients. Place on stove-top over medium heat and bring to a boil, stirring regularly. Once boiling, reduce heat to low and simmer until sauce thickens, 3-5 minutes. Turn heat off and leave on stove.

When oven is pre-heated, melt the second

2 Tbsp.

butter. Remove hot tins from oven and quickly brush bottoms and sides of pan with melted butter. Turn blender on for a few seconds to re-mix batter, then quickly pour in to hot muffin cups, dividing equally between 12 cups, filling about 1/2-2/3 full.

Place in oven and bake for 15-18 minutes, or until puffy and deep golden brown colour. Meanwhile, turn the heat on under blueberry sauce to re-heat.

When cooked, remove the Dutch babies from the oven (pancakes will quickly deflate). Remove pancakes to serving plates right after taking from the oven and spoon warm blueberry sauce over. Garnish with powdered sugar. *Don' t let the Dutch babies sit in the muffin cups too long, as they can become soggy from the trapped steam. If not enjoying right away or you have more than you will eat right away, remove them to a wire rack to cool.

Store left-over Dutch babies in an airtight container in the refrigerator for 2-3 days. These mini dutch baby pancakes freeze well, as does the blueberry sauce. To re-heat, simply place frozen (or refrigerated) dutch babies on a baking sheet and loosely cover with a piece of aluminum foil. Place into pre-heated 350 oven until warmed through, 10-15 minutes. Sauce can be re-heated in microwave or a small saucepan.
Notes
Be sure to read the notes above this Recipe Card, for more tips on making this recipe, as well as substitution suggestions. I've also included a bunch of topping variations to try, as well!
Serving:
1
serving
,
Calories:
113
kcal
,
Carbohydrates:
12
g
,
Protein:
3
g
,
Fat:
5
g
,
Saturated Fat:
2
g
,
Cholesterol:
65
mg
,
Sodium:
110
mg
,
Potassium:
60
mg
,
Sugar:
6
g
,
Vitamin A:
235
IU
,
Vitamin C:
1.3
mg
,
Calcium:
28
mg
,
Iron:
0.6
mg
More Mini Dutch Pancake Recipes to Love!
Hi! I'm Jennifer, a home cook schooled by trial and error and almost 40 years of getting dinner on the table! I love to share my favourite recipes, both old and new, together with lots of tips and tricks to hopefully help make your home cooking enjoyable, stress free, rewarding and of course, delicious!