Homemade pear prosciutto pizza, topped with prosciutto, goat cheese and mozzarella and finished with Red Wine Balsamic Glaze and arugula.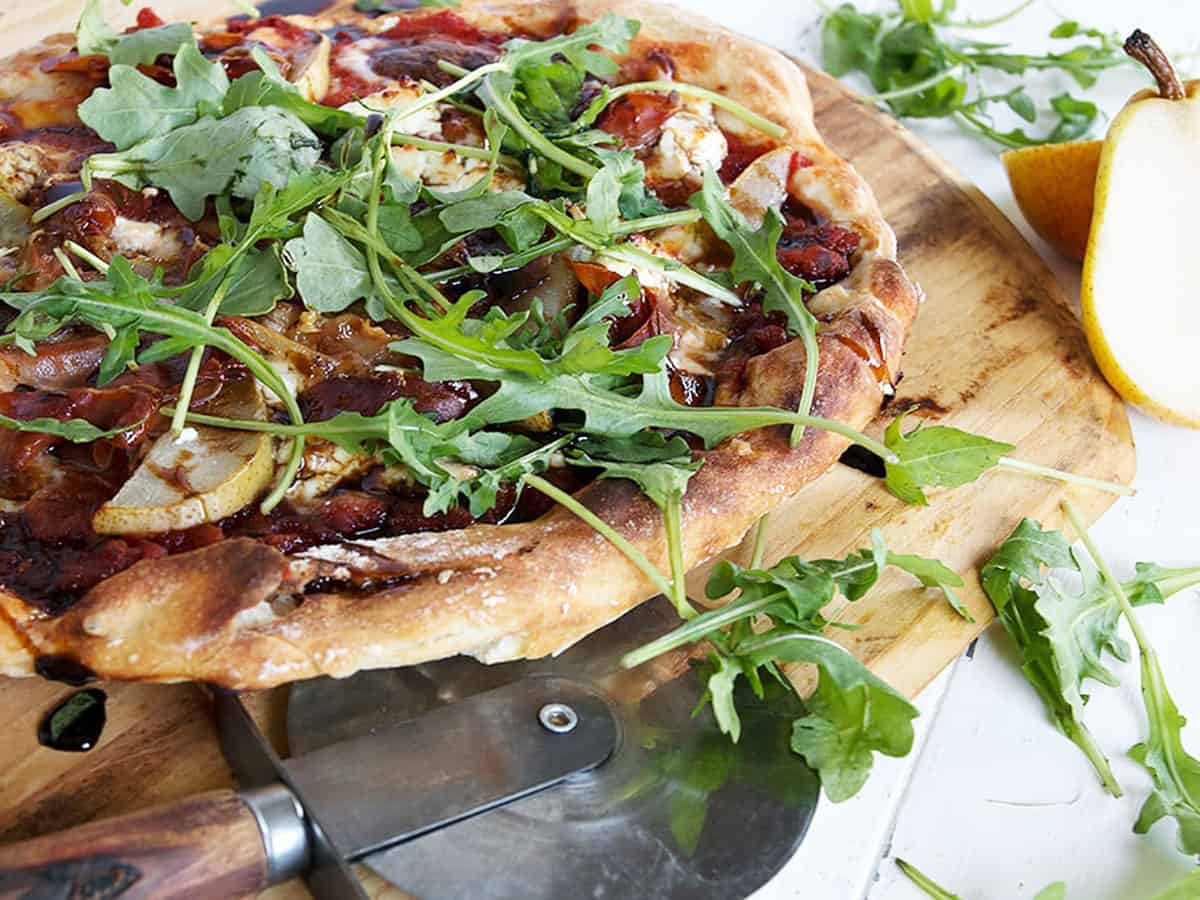 I've mentioned before that I am a serial recipe re-creator. I love to re-create dishes that I have enjoyed in restaurants, at home. And this Pear Prosciutto Pizza is my latest re-creation adventure.
I enjoyed this pizza in a restaurant in Buffalo, New York. The combination of sweet pears with salty prosciutto is definitely a winner and since it's prime pear season right now, I just had to enjoy it again.
Added to the pears and prosciutto are goat cheese and a smattering of mozzarella. After baking, this pizza is topped with a generous drizzle of red wine balsamic glaze and lots of fresh arugula.
I went all in for my pear pizza, making homemade pizza dough and pizza sauce. I did use store-bought red wine balsamic glaze here, since I happened to have picked some up recently. I've included recipes for all of it, including a quick and easy recipe for the glaze, if store-bought isn't available where you are. All that said, feel free to start your pizza with store-bought pizza dough and/or pizza sauce, if you like.
Ingredient Notes
Pizza Dough: I've included the recipe for Jim Lahey's No Knead Pizza Dough below, which is my favourite. It does need to be started the night before though, so keep that in mind. Feel free to use any pizza dough you like, including store-bought, if you prefer.
Pizza Sauce: Again, I've included a recipe for pizza sauce, but your favourite store-bought pizza sauce is fine, too.
Pears: I used Packham pears here. Any "firm, but ripe" pear will do. No need to peel the pears, as the skin is thin and helps to hold the shape of the pears in the finished pizza. I like to cut the pear in half from top to bottom, the cut each half in half again (into quarters). Use a sharp knife to cut out the core and the thick, spine from the top of the pear. Once cored, simply cut into slices (not too thin).
Goat Cheese: Goat cheese is a nice, tangy foil for the sweet and salty elements and a favourite of mine. If you want to get creative and you like blue cheese, it might be a fun alternative here.
Mozzarella Cheese: I like to add just a bit of shredded pizza mozzarella, for a bit of that cheesy goodness that we love about pizza. I only add a bit here and there, so as to not drown the great flavours of the other ingredients.
Red Wine Balsamic Glaze: I have to confess, red wine balsamic glaze has become a favourite lately. If you are a fan of balsamic glaze in general, you will love what a bit of red wine brings to it! It's great on pizza, as well as steak. It's a worthy addition to your pantry! Nonna Pia's brand is one to look for and can often be found with the other balsamic glazes in stores. I've included a quick and easy recipe in the recipe card, if store-bought isn't available.
Arugula: A scattering of fresh, baby arugula just adds a fresh note to pizza and is a must-have ingredient for me. You can certainly omit, if you prefer.
Recipe Tips
As well as starting the homemade pizza dough ahead, I would also make the glaze and pizza sauce ahead, if you are making your own. It just makes making the pizza later that much easier :)
When you shape your homemade pizza dough, be sure to just use your fingertips to press/stretch, so you don't deflate all the lovely bubbles in the dough.
Using Parchment Paper for Homemade Pizza
I always prepare my homemade pizzas on parchment paper, that I lightly dust with flour, before shaping the dough and topping. Once topped, I like to trim the parchment close to the prepared pizza, except for one little "tab" sticking out. Trimming prevents the parchment from scorching in the hot oven, and the tab is useful for grabbing in the next step.
I then slide the pizza peel under the parchment/prepared pizza and slide it into the oven and on top of the pizza stone or steel, parchment and all. Once the pizza crust has set (after about 5 minutes or so in the oven), I carefully use tongs to grab the "tab" to pull the parchment out from under the pizza. Then the pizza finishes cooking directly on the pizza stone or steel. This method prevents that dreaded experience where your pizza dough sticks to the pizza peel when trying to slide in the oven, but all the toppings manage to slide off easily into your hot oven! If you've "been there", parchment is the answer!
Lahey's No-Knead Pizza Dough Recipe
My go-to pizza dough recipe is this wonderful, no-knead version from Jim Lahey. It's easily the best pizza dough I've ever enjoyed at home, but it does require a bit of a head start. I make it the night before. It only takes a minute to mix up, then it sits covered on my counter until 1 hour before I'm ready to cook my pizza. At that point, the dough is divided up into balls and allows a one-hour bench rest. Then it's ready to shape and bake!
Here are the simple ingredients:
3 3/4 cups all-purpose flour (500g)
1/4 tsp yeast
2 tsp fine salt
1 1/2 cups water, at room temperature (350g)
Stir all the ingredients together in a large bowl. Cover with plastic wrap and allow to stand on the counter for 16-18 hours. One hour before you are ready to bake, turn the dough out onto a well-floured work surface. As the dough is quite moist at this point, Use more flour, as necessary, to bring the dough together and form into a ball. Divide ball into 2 pieces, then form each of those pieces into balls. Dust the top with flour, then cover with a clean tea-towel and allow to rest on the counter for one hour. *This is when you should start your oven with your pizza stone or steel pre-heating, too. I bake at 500F. Shape dough by using your fingertips to gently press the dough out into a circle or square. Top and bake.
Using a Baking Steel to Bake Homemade Pizza
I was gifted a Baking Steel this past Christmas, and have been using it to make all my homemade pizzas. I had always used a pizza stone, but I find the Baking Steel is even better! I follow the oven pre-heating recommendations of the Baking Steel folks, but found that I needed to bake the pizza a bit longer than they suggest. Just a heads up if you want to invest in a baking steel. Do note that it is heavy, if that might be an issue.
Get the Recipe:

Pear Prosciutto Pizza
Homemade pizza with fresh pear, prosciutto, goat cheese and mozzarella, then topped with red wine balsamic glaze and fresh baby arugula. Makes two 12-14 inch pizzas.
Ingredients
1

lb

Pizza dough

,

homemade* or store-bought, enough to make two 12-14 inch pizzas
Pizza Sauce (or use store-bought):
1

teaspoon

extra virgin olive oil

1

clove

garlic

,

chopped

28

oz

canned whole tomatoes

,

San Marzano recommended, hand crushed

1

teaspoon

dried oregano leaves

1

teaspoon

dried basil leaves

Salt and freshly ground pepper
Red Wine Balsamic Glaze (or use store-bought):
1/4

cup

red wine

,

Cabernet Merlot recommended

1/4

cup

balsamic vinegar

1

Tablespoon

brown sugar
Pizza Toppings:
1

large

pear

,

ripe but firm, unpeeled, cored and cut into slices

3

slices

prosciutto

1/2

cup

goat cheese

,

crumbled

1/2

cup

mozzarella cheese

,

shredded
For topping after baking:
Fresh baby arugula

Red Wine Balsamic Glaze

,

from above
Instructions
Make the Pizza Sauce (if using): Heat olive oil in a large saucepan over medium heat. Add the garlic and cook, stirring for about 45 seconds. Add the (hand-crushed tomatoes, the dried oregano and basil and a healthy sprinkling of salt and some freshly ground pepper. Bring to a boil, then reduce heat to medium-low and simmer until thickened, 30-45 minutes. Allow to cool completely before using. Cover and refrigerate if making ahead.

Make the Red Wine Balsamic Glaze (if making your own): Combine the balsamic vinegar and red wine with 1 Tbsp of brown sugar in a small saucepan. Bring to a boil over medium-high heat, then reduce heat and simmer until reduced and thickened. Remove to a small jar and set aside until needed. (Refrigerate leftover glaze.)

Place pizza stone or steel in cold oven, if using. Preheat oven to 500F for at least 30 minutes.

Prepare the pizza: Shape pizza dough into a round (I do this on parchment paper). Spoon pizza sauce evenly over-top, leaving the 3/4-inch of the outside edge uncovered. Scatter pear slices overtop. Tear prosciutto into large chunks and scatter overtop. Scatter goat cheese crumbles, then fill in spots with a bit of shredded mozzarella.

Transfer pizza (on parchment, if using, onto a pizza stone or steel. Bake in preheated oven for 10-12 minutes or until fully baked through (time will depend on the thickness of your pizza dough. Gently lift the pizza to check the bottom is cooked and golden).
Notes
*Recipe for my favourite homemade pizza dough, Jim Lahey's, is detailed above the recipe card in the post body.
Note that timing of recipe does not include homemade pizza dough, rather just the assembly/baking of pizza.
Be sure to read the notes above this Recipe Card, where I share more detailed

 

tips, variations and substitution suggestions for this recipe!
Serving:
1
serving
,
Calories:
179
kcal
,
Carbohydrates:
26
g
,
Protein:
7
g
,
Fat:
5
g
,
Saturated Fat:
3
g
,
Cholesterol:
9
mg
,
Sodium:
447
mg
,
Potassium:
166
mg
,
Fiber:
2
g
,
Sugar:
8
g
,
Vitamin A:
211
IU
,
Vitamin C:
7
mg
,
Calcium:
62
mg
,
Iron:
2
mg
More Pizza Recipes to Love!
Hi! I'm Jennifer, a home cook schooled by trial and error and almost 40 years of getting dinner on the table! I love to share my favourite recipes, both old and new, together with lots of tips and tricks to hopefully help make your home cooking enjoyable, stress free, rewarding and of course, delicious!