An easy, no-pectin red pepper jam recipe, that uses just a few ingredients and can be made in less than an hour! Great for sandwiches, to add to omelettes or as a glaze for chicken or other meat.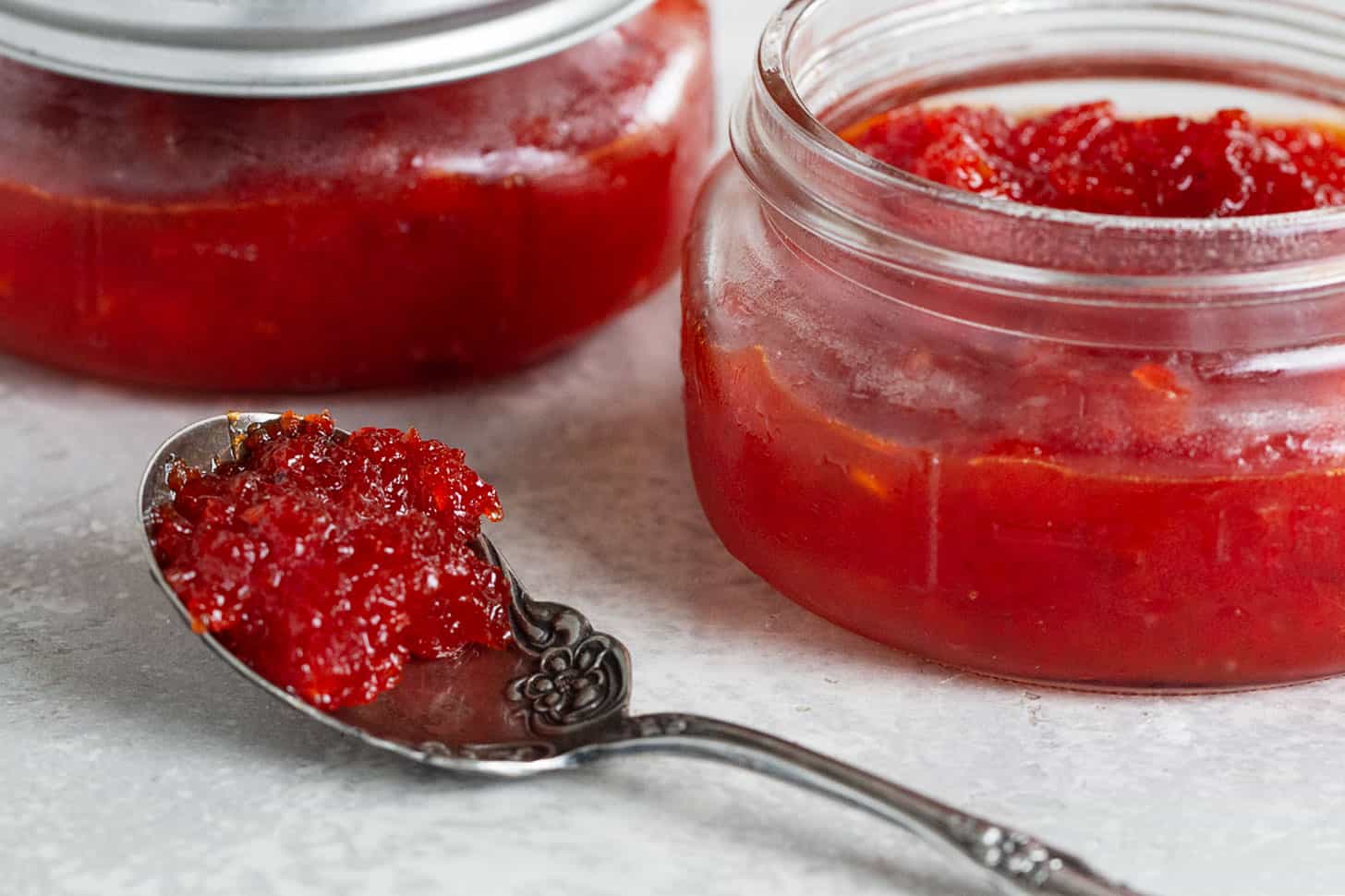 Why you'll love this red pepper jam recipe
It's harvest season and red peppers are at their lowest prices of the year, so now is a perfect time to make a small batch of Red Pepper Jam!
You are probably more familiar with red pepper jelly, but red pepper jam has all the same great flavour with less fuss, as this one needs no pectin and only needs a few common ingredients. As it is also a small-batch recipe (makes just 2 or 3 small jars), there is no need for canning with a hot water bath. Simply jar and refrigerate.
To make this easy jam, simply chop up the red peppers in a food processor. Soak for a few minutes, drain and then combine it with some sugar, vinegar, salt and red pepper flakes, if you'd like to add a little heat to your jam.
Ingredients and Substitutions
Red Peppers: You'll need to start with 3 lbs. of sweet red bell peppers. I like to make use of the handy, hanging scales at the market to weigh out 3 lbs. worth. The specified weight is for the whole pepper, before coring and seeding.
White Sugar: I realize it's always a bit shocking to see how much sugar goes into a jam, but remember that jam is a condiment, so we're not going to be eating a jar in one sitting :) Sugar performs a critical function in jam-making in terms of setting the jam and prolonging the shelf/refrigeration life of the finished jam. Reducing the sugar significantly will compromise both the flavour and the quality of your finished jam.
White Vinegar: I typically use common white distilled vinegar, though I've been meaning to try this with cider vinegar, just to see how it is.
Red Pepper Flakes: I have experimented with adding hot peppers to my jam, in addition to the sweet peppers, to add a little heat to my jam. I've found jalapeño work, though it's hard to control the heat and the green colour muddies the jam colour slightly. In the end, I've settled on using red pepper flakes, as it's easier to control. Adding 1/8 tsp will give you very mild heat. You can increase from there, depending on how hot or not you'd like your jam. You probably don't want to go much beyond about 1/2 tsp though.
Recipe Tips
Be sure to watch your cooking jam closely after about the first 20 minutes of cooking and stir regularly. As the mixture thickens, it has a tendency to settle to the bottom and subsequently will scorch if not stirred often.
This jam must be kept refrigerated after making. As it is not canned, it is not shelf-stable.
You can make a larger batch by doubling the recipe. If you'd like to can/hot water bath for longer storage, I suggest you seek out a smart-canning resource for guidance.
Making Easy Red Pepper Jam … in Pictures!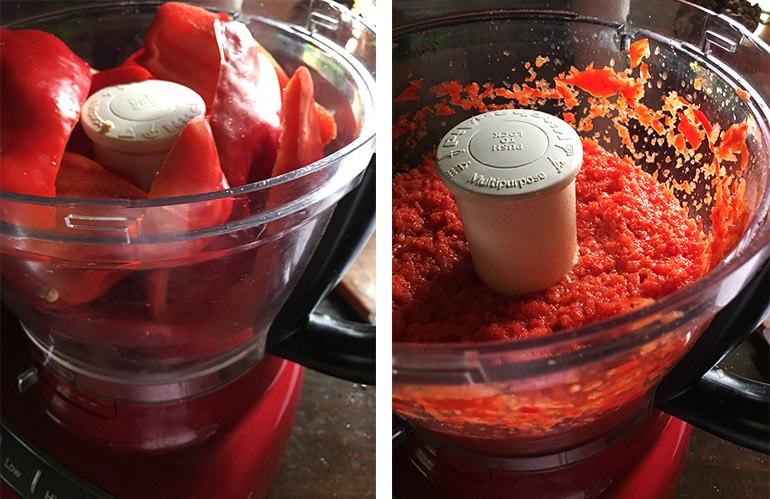 Core and seed your red peppers and place in a food processor. Pulse several times to finely chop the red peppers, until there are no large pieces in the mixture.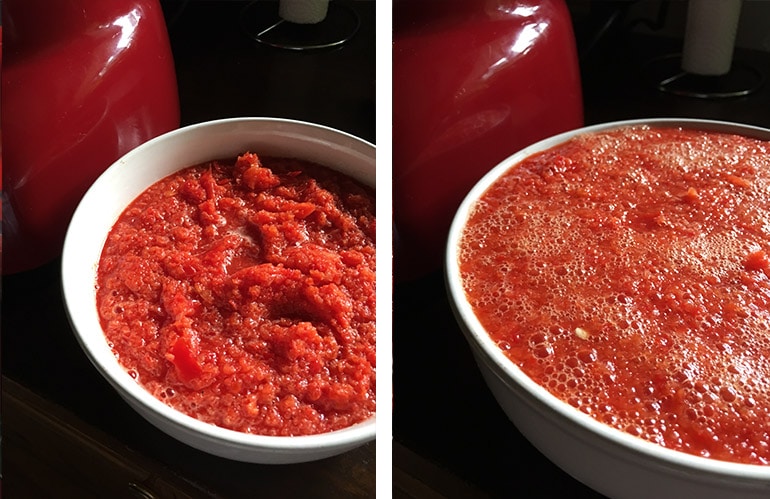 Place the chopped red pepper into a bowl and pour boiling water overtop. (You may want to use a larger bowl than I did ;). Let stand 15 minutes.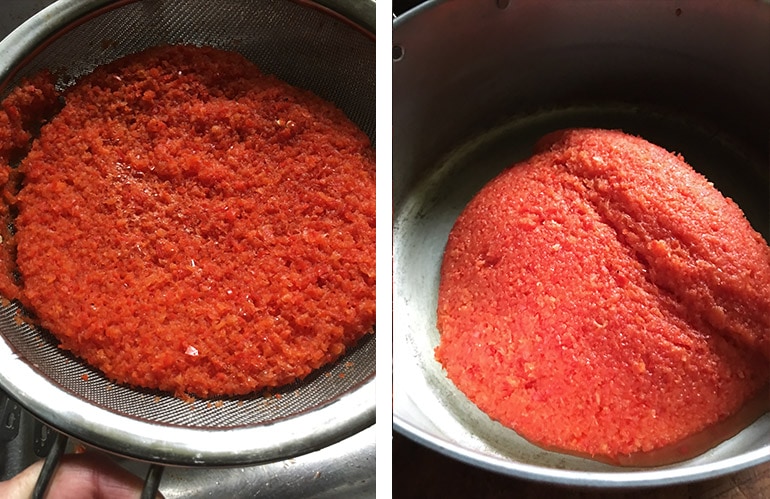 Drain the red pepper mixture well and add to a large saucepan.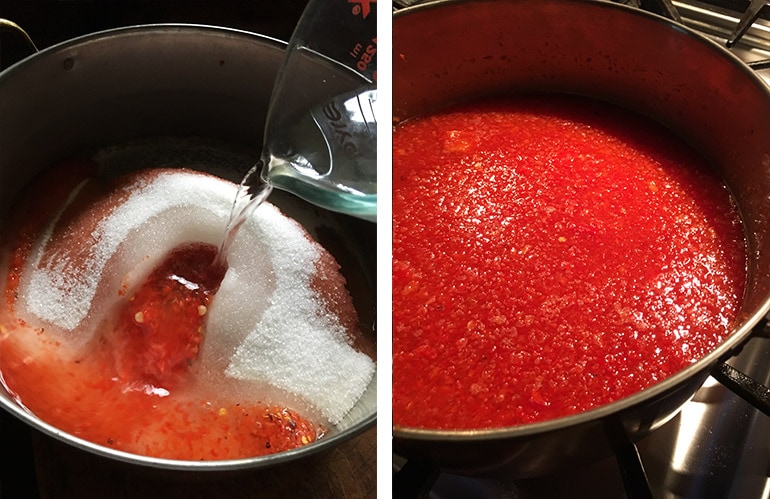 Add the remaining jam ingredients and stir to combine. Bring mixture to a boil over medium heat, then reduce heat to medium-low and simmer for 40-45 minutes, stirring regularly, until thickened.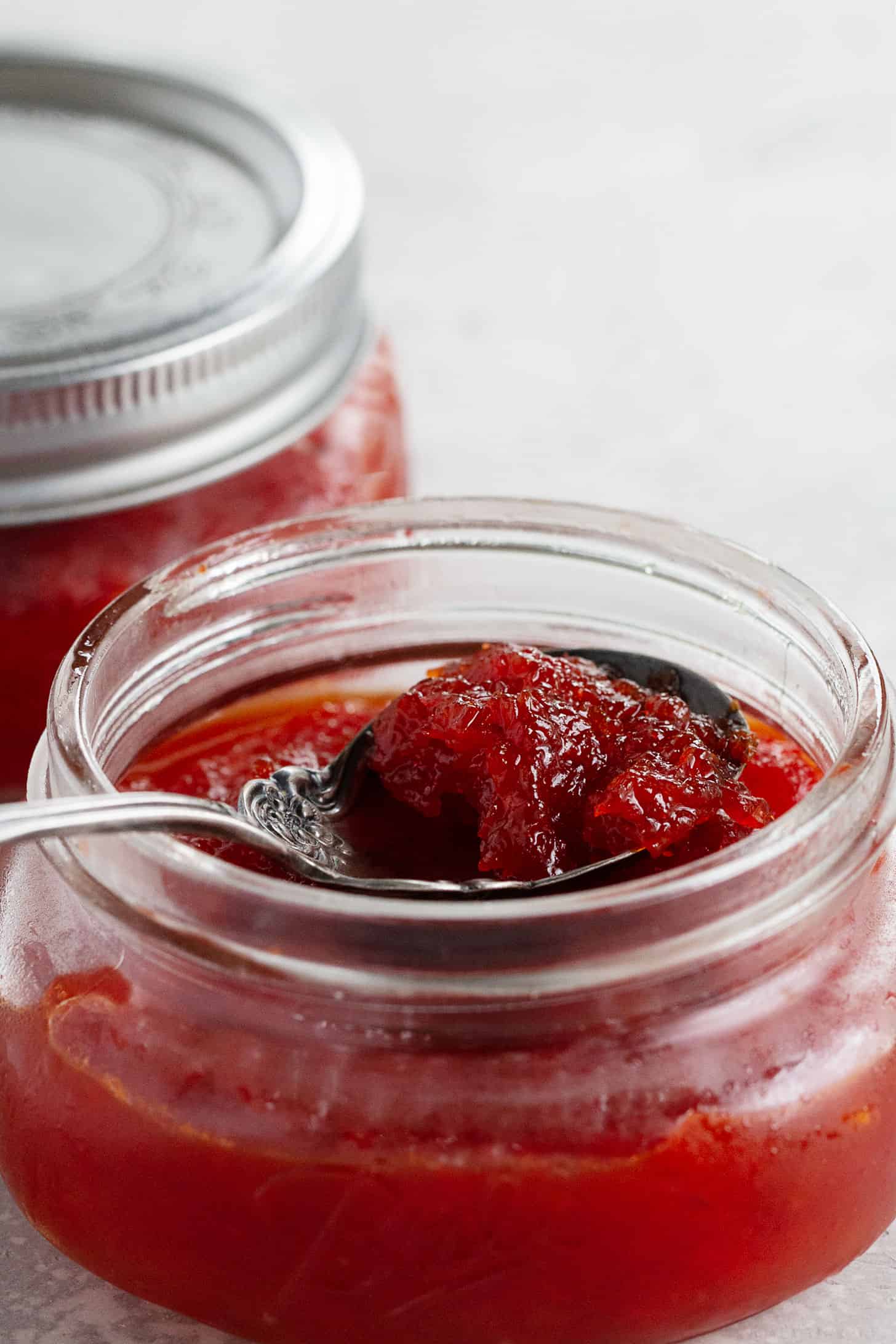 10 Ways to Use your Red Pepper Jam
Mix with cream cheese and use on crackers, bagels, wraps or sandwiches.
Add some as a condiment on your hamburgers.
Use it to top crackers and cheese.
Mix with sour cream and use as a dip.
Add a little along with the cheese in an omelette.
Spoon some on a log of goat cheese for a quick and easy appetizer.
Spread some on an fried egg sandwich, with spinach.
Use as a glaze for chicken wings, chicken breasts or other meat.
Add a dollop on cornbread or biscuits.
Add a spoonful to your stir fry!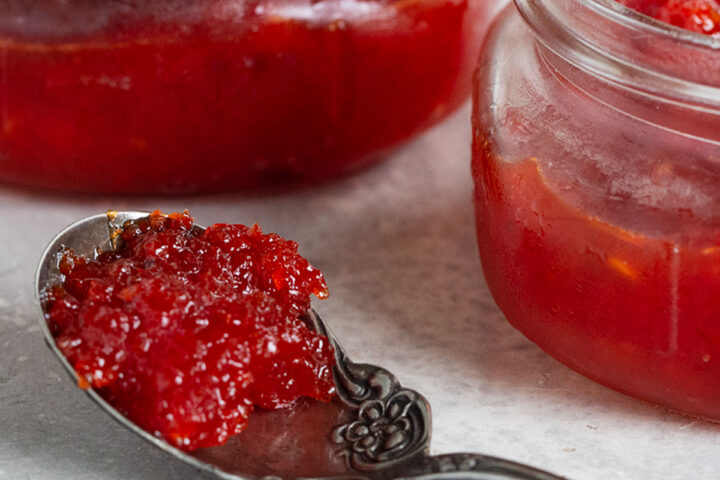 Get the Recipe:

Easy Red Pepper Jam
An easy and delicious small-batch, no-pectin red pepper jam recipe. Takes just one hour to make and needs no canning. Simply jar and refrigerate!
Ingredients
3

lbs.

sweet red bell peppers

,

about 6 peppers

3

cups

boiling water

1 1/2

cups

white sugar

1

cup

white vinegar

1 1/2

teaspoons

fine salt

1/8 – 1/4

teaspoon

red pepper flakes

,

optional
Instructions
Start 3 cups of water to boil.

Core and seed red peppers and cut into large chunks. Place in a food processor. Pulse until no large chunks remain. Remove to a large bowl and cover with boiling water. Let stand 15 minutes, then drain well.

Add drained red pepper puree to a large, heavy-bottomed saucepan. Add sugar, vinegar, salt and red pepper flakes, if using. Stir to combine. Heat over medium heat until mixture boils, then reduce heat to medium low and simmer, stirring regularly to start, then watching and stirring more regularly towards the end of cooking to avoid scorching on the bottom, until mixture is thickened, about 40-45 minutes. (Mixture will thicken further in the fridge).

Prepare three one-cup capacity jars by cleaning well.

When jam is ready, spoon into prepared jars and allow to cool 15 minutes uncovered. Place lids on jars, just finger tight and place in the refrigerate for 6-8 hours, before using.
Notes
This small-batch recipe is intended for short-term use and as it is not canned, it must be refrigerated after making. Can be doubled for a larger batch. For canning for longer term storage, please consult a safe-canning resource for guidance.
Nutritional information is for the entire batch of jam.
Be sure to read the  Notes (above the recipe card!), where I share more detailed tips, variations and substitution suggestions for this recipe!
Serving:
1
cup
,
Calories:
544
kcal
,
Carbohydrates:
127
g
,
Protein:
5
g
,
Fat:
1
g
,
Saturated Fat:
1
g
,
Sodium:
1188
mg
,
Potassium:
957
mg
,
Fiber:
10
g
,
Sugar:
119
g
,
Vitamin A:
14276
IU
,
Vitamin C:
579
mg
,
Calcium:
37
mg
,
Iron:
2
mg
More Jam Recipes to Love!
Hi! I'm Jennifer, a home cook schooled by trial and error and almost 40 years of getting dinner on the table! I love to share my favourite recipes, both old and new, together with lots of tips and tricks to hopefully help make your home cooking enjoyable, stress free, rewarding and of course, delicious!