A simple, white pizza, with an olive oil base, topped with shredded mozzarella and goat cheese, then finished with walnuts, honey and arugula.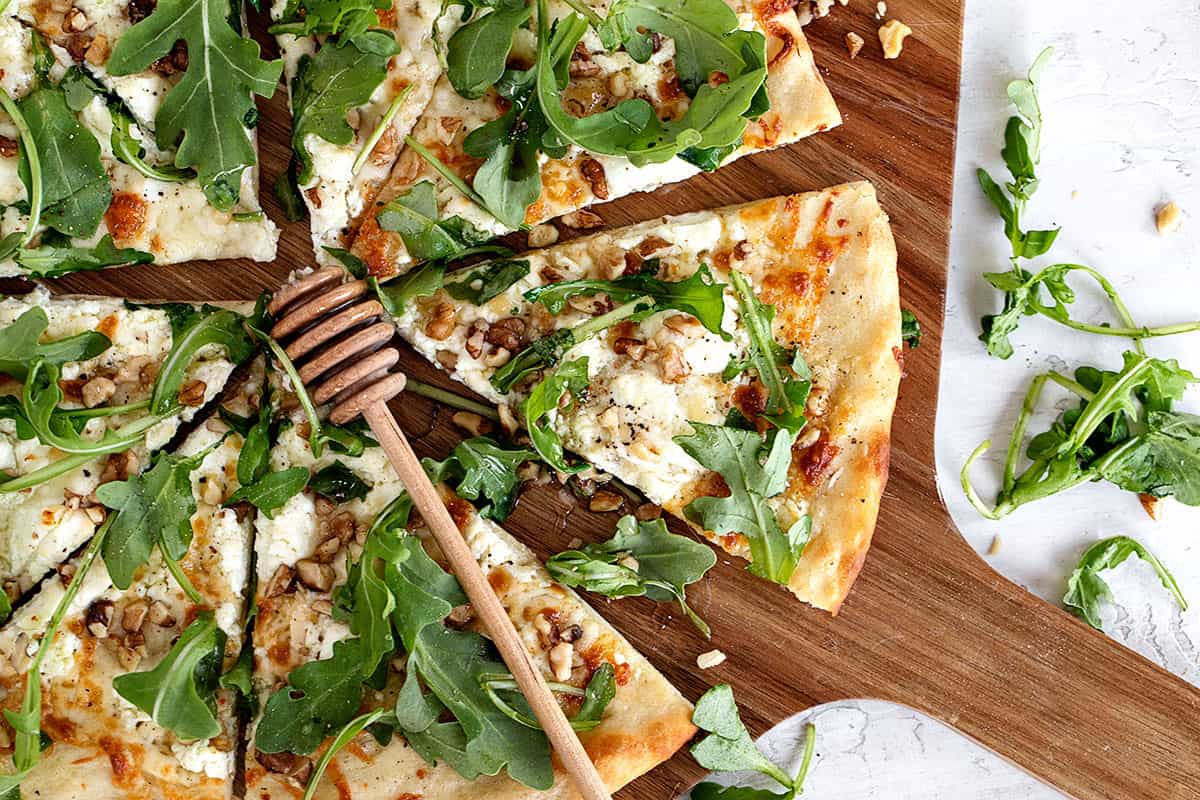 Jump to:
What is White Pizza
White pizza is any pizza that doesn't use tomato sauce as a base. White pizza is also referred to as Pizza Bianca. Instead of tomato sauce, white pizza can use just olive oil, or a creamy white sauce, such as Alfredo or simply a layer of ricotta cheese as the base.
Why you'll love this white pizza
If you're looking for a white pizza without ricotta cheese or without a rich, creamy sauce as the base, this one's for you! This white pizza uses a simple drizzle of olive oil as the base.
While this pizza has a bit of mozzarella cheese, the addition of tangy goat cheese keeps it from being too greasy or one-note.
The toppings are what really make this white pizza special! A drizzle of honey, a scattering of chopped walnuts and a handful of fresh baby arugula all combine into a fabulous combination of flavours.
Key Ingredients
Mozzarella - regular or pizza mozzarella are perfect for this pizza. You can use pre-shredded or shred it yourself.
Goat Cheese - plain goat cheese is all you need here, but you could sub a nice honey goat cheese here if you like.
Honey - a bit of sweet honey is another great flavour on this pizza. Use any honey you enjoy.
Walnuts - walnuts are the perfect pairing with the honey and goat cheese, though you can certainly omit, if you like.
Arugula - again, the slightly peppery arugula is a great finish for this pizza, but you can omit, if you don't have on hand.
Optional Ingredients - Goat feta is a great addition, as it adds a bit of a salty note. Finishing with a drizzle of balsamic glaze is also a nice addition.
What pizza dough is best for this white pizza?
You can use either your favourite homemade pizza dough or store-bought pizza dough. Whichever route you go, go for thin crust, to keep the crust to topping ratio in balance.
You'll need about 1/2 lb. of pizza dough for one roughly 12-inch pizza. You can double or triple, as needed.
For homemade pizza dough, I'm a big fan of Jim Lahey's No-Knead Pizza Dough, which is what I've used here. The recipe and instructions are easily found online, if needed. Just note that you'll need to start it the day before. If time is tight, try Tyler Florence's Pizza Dough recipe, also easily found online.
Step-by-Step Photos
Roll dough into a 12-14-inch circle.
Drizzle with olive oil, then brush to spread.
Sprinkle with shredded mozzarella cheese.
Scatter goat cheese crumbles on top, then bake!

After baking, scatter pizza with chopped walnuts.
Drizzle with honey.
Add baby arugula.
Slice and enjoy!
Top Tip!
For oven pizza baking, I like to roll and top my pizza on top of a piece of parchment paper. Before baking, I trim the parchment around the pizza a bit. I then use a pizza peel to transfer the pizza (on the parchment) to a hot pizza stone in the oven. After about 5 minutes in the oven, I use tongs to grab the parchment and slide it out from under the pizza, leaving the pizza to cook directly on the pizza stone until done. The pizza should slide out easily.
Parchment won't work in a wood or gas-fired outdoor pizza oven. It will catch fire! For outdoor ovens, flour the peel lightly, then generously coat with cornmeal before placing the rolled dough on it. Top the pizza quickly on the peel. Shake the pizza on the peel before launching. If it doesn't slide easily, it won't launch well, so add some more cornmeal underneath until it slides.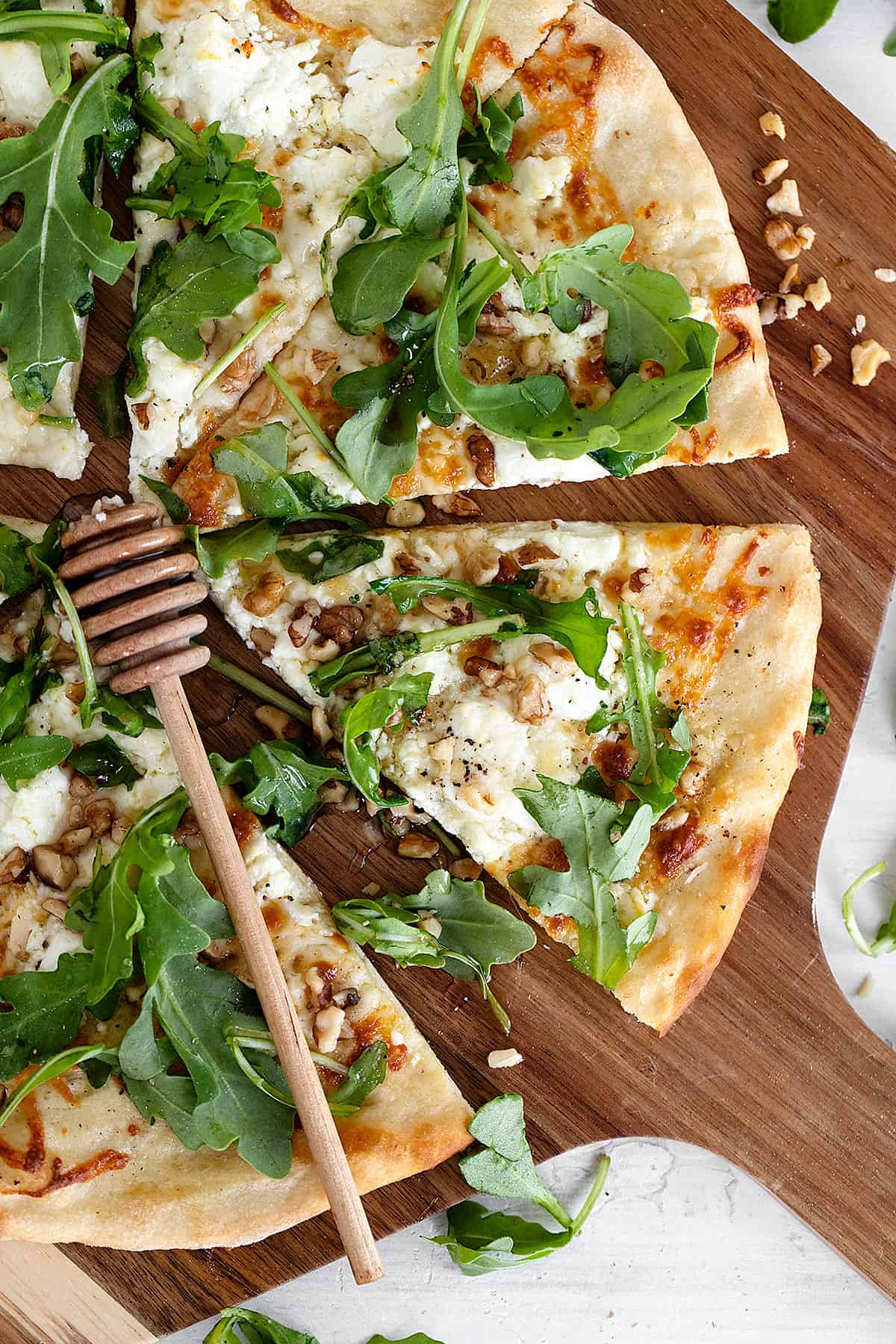 Recipe
More pizza recipes you might also like ...