This is the best pork loin recipe I have ever enjoyed and it will surely turn you in to a pork loin lover, too! Juicy pork combines with a white wine sauce, flavoured with fresh herbs and garlic, for a special and elegant pork dinner.
Why you'll love this pork loin recipe!
The herb and wine sauce is so good! (I could drink it!)
The unique stove-top cooking method produces the most fabulously moist pork loin.
This pork dinner is always a special meal. It's perfect for date night, special dinners and for company.
What is a pork loin?
Pork Loin is a solid and lean cut of pork. It has an even thickness throughout its length. Pork Loin can be boneless or bone-in and will often have a bit of fat cap attached to it. This recipe specifies boneless, centre cut pork loin, which is the finest cut from the middle, so it cooks evenly and slices beautifully.
Pork Loin is different from pork tenderloin. It is cut from a different part and is a thinner, longer and uneven thickness, tapering out through the length. As it is a quick-cooking cut, it doesn't make a great substitute for recipes like this one, as it will likely overcook.
Ingredients you'll need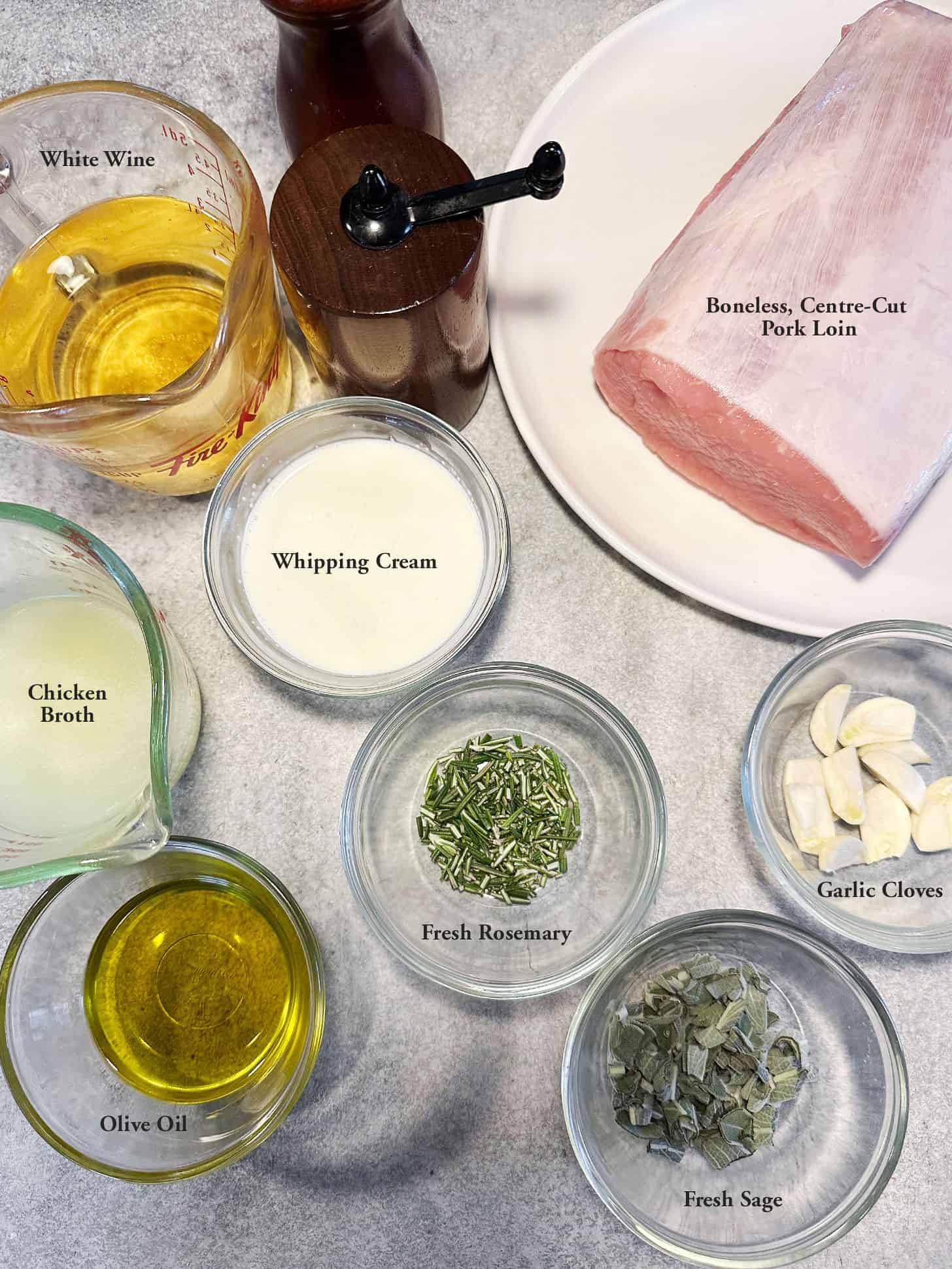 Boneless, Centre-Cut Pork Loin – the centre-cut is the best cut of pork loin, with lean pork that cooks and slices up perfectly. The timing of the recipe is for a 2 lb. pork loin, but if yours is a little less or more, you can simply adjust the cooking time accordingly.
White Wine – any wine you like to drink is fine here. Crack open a fresh bottle for this one (you can enjoy the remainder of the bottle with your dinner). If you are looking for recommendations, a Chardonnay is always a good choice. Sauvignon Blanc also works well.
Sage and Rosemary – fresh herbs are highly recommended, but in a pinch, you can use dried.
Cream – heavy, whipping cream is recommended, as it will produce the best flavour and texture in the sauce. If you only have a lighter cream, use the cornstarch slurry detailed in the Recipe card to thicken the gravy, as needed.
Chicken Broth, Garlic and Olive Oil
Step-by-Step Photos
Start by browning both sides the pork loin in olive oil. Remove to a plate.
Add the garlic and herbs to the pot and cook briefly before adding the wine.
Return the pork to the pot.
Reduce heat and partially cover the pot (don't cover completely!).
After 20 minutes, flip the meat and stir the bottom of the pot.
Check the temperature with each flip, to gauge cooking progress.
If pot gets dry at any point, add about 1/4 cup of water. Continue cooking, flipping and checking temperature, until pork loin reaches between 140-145F.
When pork is done, remove to a cutting board and tent loosely with foil.
To the drippings in the pan, add a splash of wine to loosen.
Add the chicken broth and stir up the browned bits on the bottom of the pan.
Add the cream and stir in. Simmer gently until reduced and thickened.
Slice pork thinly. Place on a serving platter and pour sauce over-top.
What to serve with pork loin with wine herb gravy
A creamy mashed potato (or garlic mashed) is nice with this gravy. Alternatively, buttered egg noodles or wild rice would also be nice. I've also thought about gnocchi, which I haven't tried yet, but feel it would be nice together.
On the side, broccolini is great (or broccoli) or green beans, would also be perfect.
Reader Review
"I absolutely agree with your very first comment on this recipe ….this truly is the best pork loin recipe I have ever made. I am cooking it for the second time tonight for dinner. I have an overwhelming desire to make tons of extra sauce and put it on everything. Thanks so much!" – Alex
Get the Recipe:

Pork Loin with Wine and Herb Gravy
This is the pork loin recipe that will turn you into a pork loin lover! The pork loin cooks together with wine, garlic and fresh herbs to juicy and never dry texture, and is served with a creamy pan sauce.
Ingredients
1/4

cup

olive or vegetable oil

5

cloves

garlic

,

peeled and sliced in half lengthwise

2

Tablespoons

fresh rosemary leaves

,

chopped

1/4

cup

fresh sage leaves

,

roughly chopped

2

lb.

boneless, centre-cut, pork loin roast

,

*see notes

1 1/4

cups

dry white wine

,

plus a bit more to deglaze pan

Salt and freshly ground black pepper

1/2

cup

chicken broth

1/2

cup

heavy whipping cream

,

35% b.f.
Instructions
Heat the oil in a large Dutch oven (or similar, heavy-bottomed pan) over medium-high heat. *Be sure to use a pot big enough to allow the pork loin to sit flat on the bottom of the pot. Season the pork with a little salt and pepper. Add the pork to the pot, fat side down. *Make sure the oil is hot enough to brown the pork well, as this makes for the best flavour. It may splatter a bit, but worth it! Brown the pork for about 4-5 minutes on each side, then remove it to a plate. In the same pan, lower the heat to medium heat and add the garlic, rosemary and sage. Cook, stirring constantly, for about 45-60 seconds. *Don't allow to burn.  Add the wine to the pan and use a wooden spoon to scrape the bottom of the pan. Cook the wine until the smell of the alcohol has disappeared, about 1 to 2 minutes.

Lower the heat under the pan to low-medium heat. Return the pork to the pan and season with a bit more salt and pepper. Partially cover with a lid (Do not cover completely!) and cook for 20 minutes. Flip pork and stir the bottom of the pan. Make sure there is still some liquid in the pan. Return the lid partially covered and cook for 15 minutes, then flip again. Stir bottom and if getting dry, add 1/4 cup of water. Check the temperature of the pork. Return the lid to partially covered and check again in 5-10 minute intervals, flipping, stirring and adding a bit of water, if needed, until the pork registers 140-145F. internal temperature. *For a 2 lb. pork loin, the total cooking time is usually 55-60 minutes.

When the pork is cooked to the recommended temperature, remove pork to a cutting board to rest and cover with loosely with a sheet of aluminum foil to help retain the heat while it rests. 

Meanwhile, increase the heat under the liquid in the pan to medium. If your pan has little liquid, deglaze with a splash of white wine. Stir well to loosen the browned bits on the bottom of the pan. Allow to cook until the alcohol smell disappears (about 1-2 minutes). Add the chicken stock and stir to combine. Heat over medium heat a few minutes, to allow the chicken stock to heat through a bit. Reduce heat to medium-low. Add the cream. Heat gently over medium-low heat, stirring the sauce regularly, until it thickens a bit and is warmed through. Avoid vigorously boiling. A gentle simmer is fine. (*The sauce doesn't need to be super thick, just reduced somewhat. If you'd like the sauce thicker, mix 2 Tbsp. cornstarch with 2 Tbsp. water and add a little bit at a time to your sauce until it thickens to your liking.) Taste sauce and add salt and freshly ground pepper, to taste. *If the sauce tastes acidic (wine-y), add more salt to balance the flavour.

When the sauce is ready, slice the pork very thinly and place on to a rimmed or shallow serving platter. Pour the warm gravy over-top to serve.
Notes
A pork loin roast is different than a pork tenderloin. Pork loin roast is thicker and evenly thick, very lean and usually has a bit of a fat-cap on it. Refer to the Ingredient Notes above for a picture of a pork loin. The timings in the recipe assume the larger pork loin and other cuts or bone-in pork may cook at a different rate and risk being under or overcooked using the timing outlined in the Recipe Card.
Be sure to read the information detailed above this Recipe Card, for more tips, step-by-step photos and more!
Serving:
1
serving
,
Calories:
303
kcal
,
Carbohydrates:
3
g
,
Protein:
26
g
,
Fat:
17
g
,
Saturated Fat:
5
g
,
Cholesterol:
92
mg
,
Sodium:
85
mg
,
Potassium:
495
mg
,
Vitamin A:
290
IU
,
Vitamin C:
0.9
mg
,
Calcium:
40
mg
,
Iron:
1.1
mg
Hi! I'm Jennifer, a home cook schooled by trial and error and almost 40 years of getting dinner on the table! I love to share my favourite recipes, both old and new, together with lots of tips and tricks to hopefully help make your home cooking enjoyable, stress free, rewarding and of course, delicious!