These quick pickled blueberries turn fresh blueberries in to a sweet and tangy treat - perfect with goat cheese as an appetizer or as a condiment with meat or fish.
This one may not be for everyone, but I made up a batch this past week and I really loved it. So I thought I'd share the recipe here, for anyone who might like to try something a little different.
I feared though, that there is something about the name "Pickled Blueberries" that is maybe just a little off-putting. And I certainly wouldn't want to off-put anyone, because this stuff is delicious! So we'll just call it Blueberries with a Bite, so that you can convince other people to try it too. Ok?
Yes, technically this is a quick, pickled blueberry compote. But there are spices. And sugar, too. It's all good, and if you put some on top of crostini with a slather of goat cheese, I'm sure you'll agree it's delicious, too.
This recipe makes about 1 1/2 cups of finished blueberries. It's a nice amount for keeping a jar for yourself and to have another to share with someone. You can easily halve the recipe though, if you'd like to make a smaller batch just to try it out. It can be canned/put up as well, following standard canning practices. I prefer just to make a small batch and use it over the short term. It will keep well in the fridge for a couple of weeks.
How to Use Your Quick Pickled Blueberries
Quick pickled blueberries are the perfect addition to your charcuterie board. They are perfect on crostini with goat cheese or aged cheddar.
If you're adventurous, try some on a grilled cheese with a great old cheddar. A spoonful on top of grilled salmon is sure to be lovely, too.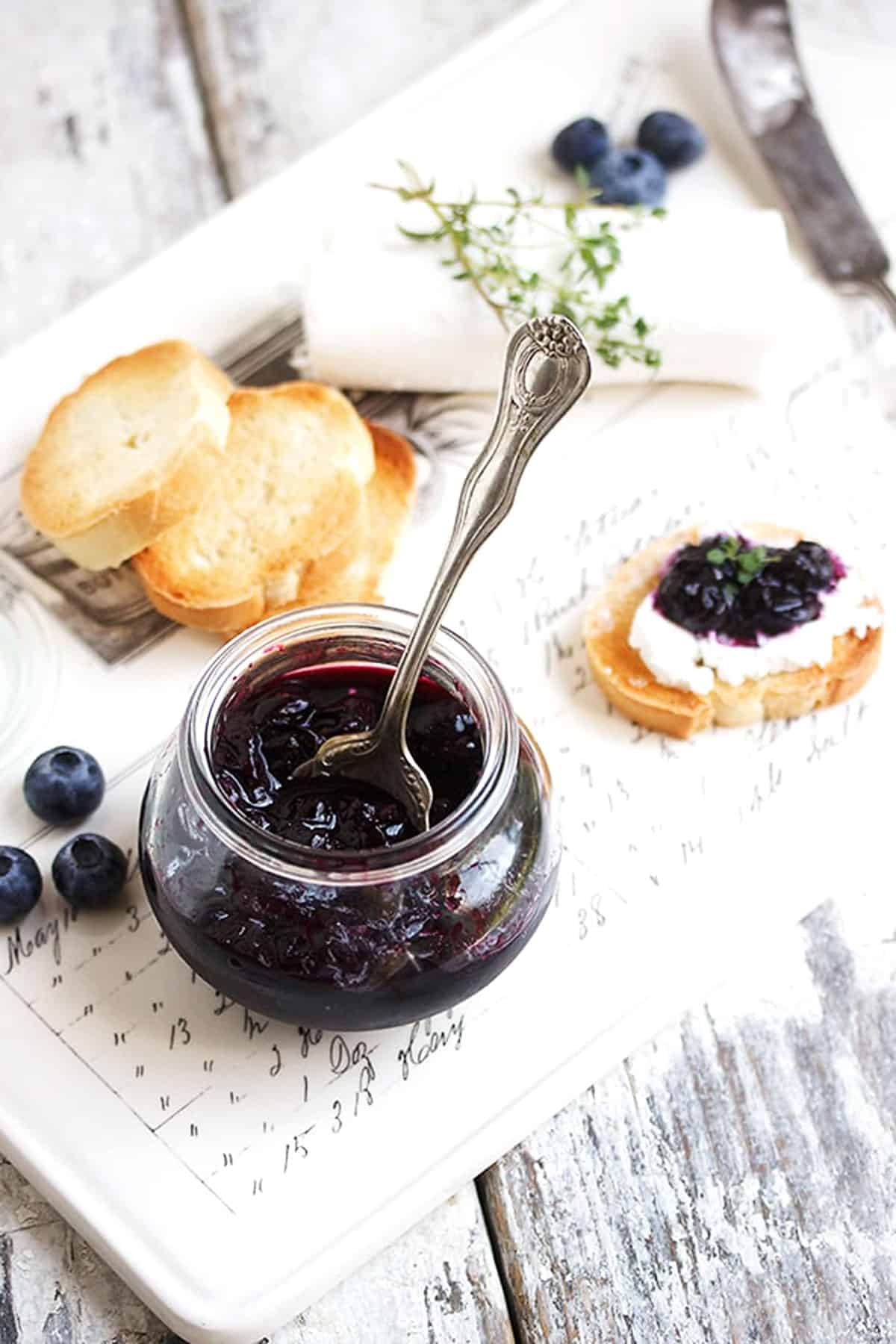 Quick Pickled Blueberries
This blueberry compote is sweet and tangy, with some lovely warm spices. Perfect for use on crostini with goat cheese as an appetizer. If you're adventurous, try this in a grilled cheese with aged cheddar.
Ingredients
1

5-inch long

cinnamon stick

6

whole

cloves

6

whole

allspice berries

3/4

cup

red or white wine vinegar

1 1/2

lb.

fresh blueberries

,

4 cups/1 qt.

1/2

cup

white sugar

1/2

cup

brown sugar
Instructions
In a large non-reactive/non-aluminum heavy-bottomed pot (Dutch Oven size, as the mixture will bubble up considerably later on!), add vinegar and the spiced. Bring to a simmer over medium heat and then continue to simmer for about 5 minutes. Remove pot from heat and let it sit for about 30 minutes, with the spices still in the vinegar.

Wash and pick over blueberries. Remove whole spices from the vinegar and discard. Stir blueberries and the white and brown sugars in to the vinegar. Return pot to stove and bring to a boil over medium-high heat. Avoid stirring to aggressively to avoid crushing the blueberries. Once it comes to a boil, allow to boil undisturbed for about 5 minutes until thickened (you can swirl the pan a bit if you like to mix, but avoid stirring). Remove from the heat and let cool slightly.

Using a slotted spoon (to allow the juice to drain off), spoon blueberries in to a jar. You should have brought a bit of liquid with each spoonful, but if not, you can add a bit of the left-over juice to the jar. Cover and refrigerate for 24 hours before using. Will keep refrigerated for a couple of weeks or you can can using standing canning practices.
Nutrition
Calories:
409
kcal
|
Carbohydrates:
105
g
|
Protein:
1
g
|
Fat:
1
g
|
Sodium:
19
mg
|
Potassium:
264
mg
|
Fiber:
6
g
|
Sugar:
91
g
|
Vitamin A:
120
IU
|
Vitamin C:
22.8
mg
|
Calcium:
70
mg
|
Iron:
1.3
mg
Nutritional information provided for general guidance only and should not be relied upon to make personal health decisions.
Never miss a new recipe!
SIGN UP for email updates!