Quick and easy bagels, flavoured with sun-dried tomato and Asiago cheese. Ready in about 2 hours thanks to quick rising yeast.
I love to make bagels at home, but my usual recipe (from Peter Reinhart) is a two-day process and sometimes, I'm just a little impatient :) So enter this quick and easy bagel recipe, which is done in just a couple of hours thanks to quick rising yeast.
I'm not going to tell you that they have all the complex flavour and texture of the two-day bagels, but I am going to tell you that they are still pretty darned good and a great treat when you are impatient, too :)
I have gone with a sun-dried tomato and Asiago cheese version here. It's one of my favourites, that's hard to beat toasted with butter. It's great for breakfast or lunch or as the base for a lovely bagel sandwich. That said, this bagel is easily adapted to whatever your favourite bagel flavour is. See the FAQ section below for some ideas.
Jump to:
Ingredients
Here are the simple ingredients you will need for these bagels ...
All-purpose flour
Sugar - or honey, if you prefer (use just 1 Tbsp for honey)
Salt
Rapid Rise or Quick Rising Yeast - see FAQ below for alternate yeast options
Water
Sun-dried tomatoes - packed in oil or re-hydrated dried
Asiago cheese
Step-by-Step Photos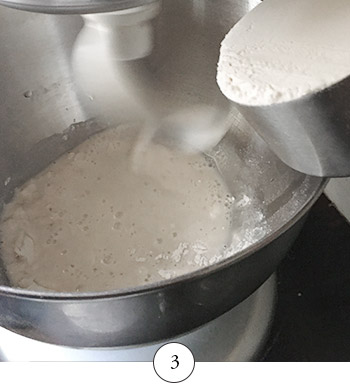 FAQ
Can I use active dry or regular instant yeast? Yes, although you will need to do a standard 1st rise (until dough doubles) and an extended second rise. So instead of 20 minutes each, it will probably be 60-75 minutes for the first and 30-45 minutes for the second rise.
Can I do an overnight rise and bake in the morning? You can. Simply cover and refrigerate after shaping. In the morning, let sit at room temperature for about 20-30 minutes, then boil and bake.
Can I add some whole wheat flour to these bagels? You can. I would suggest replacing about 1/2 cup of the all-purpose flour with whole wheat. Any more than that and your bagels will be quite dense.
Can I double the recipe? Yes! As these are super quick to make, I make them in a small batch and enjoy them fresh, but you can certainly double the recipe to make a dozen.
Can I freeze the bagels? Yes! Bagels freeze beautifully and keep well for a couple of months in the freezer.
What are some other flavouring or topping ideas? Cheddar and chive, cheddar and jalapeno, cinnamon and raisins or leave plain and just top with sesame seeds, poppy seeds or "everything" seed mix.
Recipe
More bagel recipes you might like ...