Yes! You can be enjoying this Spicy Udon Stir Fry in just 15 minutes! Endlessly customizable. Add any vegetables or protein you like. Proving that delicious doesn't need to be time consuming!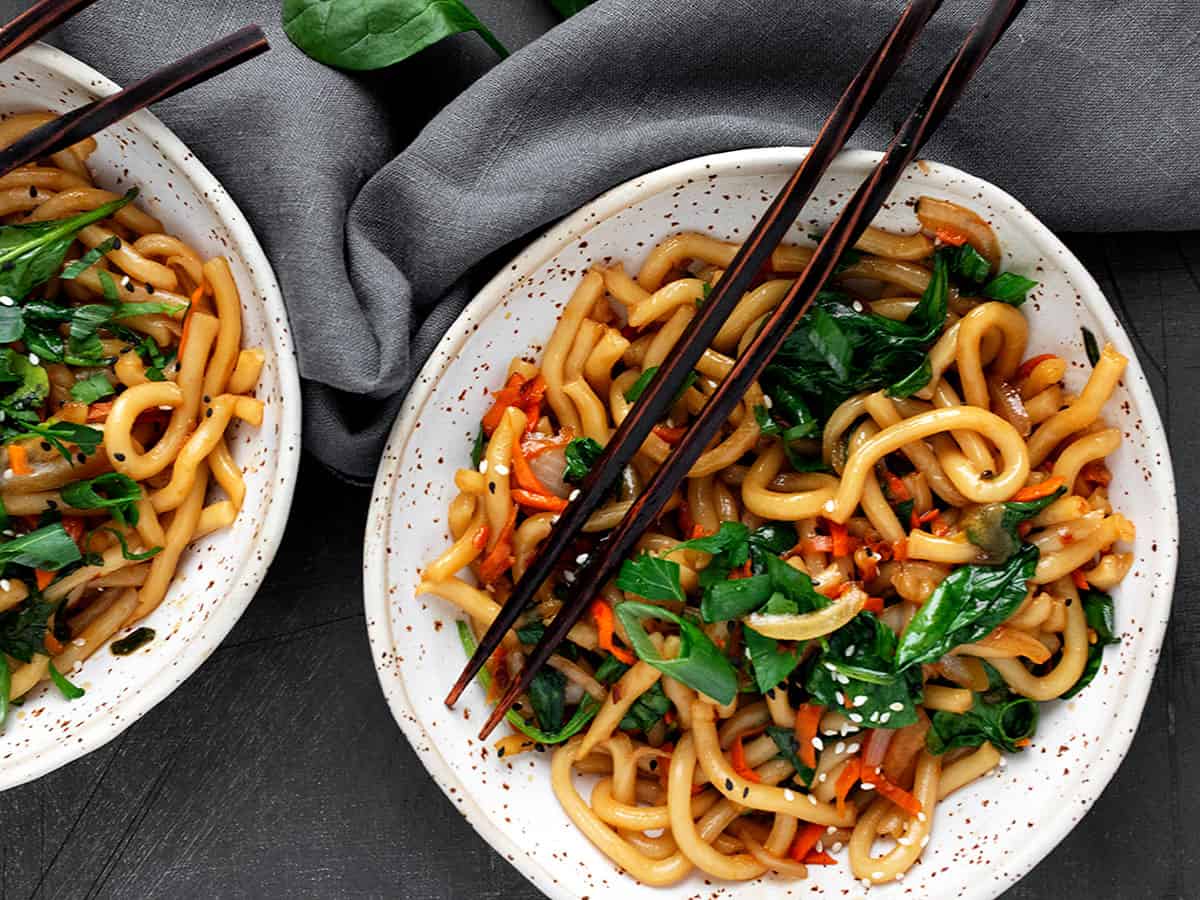 Why you'll love this quick and easy udon noodles recipe!
If you have udon noodles in your pantry or freezer, you will always have a quick and easy dinner at the ready with this versatile recipe. And this udon stir fry is ready in just about 15 minutes from start to finish.
This stir fry is a great base recipe, that can be easily changed up depending on what you have around or to use up odds and ends in the fridge. Feel free to add in a protein like chicken, shrimp or pork, if you'd like a meatier meal. Extra vegetables, such as mushrooms, bell peppers, bean sprouts, shredded cabbage or just about anything else you have around would also be a great addition.
Different Types of Udon Noodles
Frozen Udon Noodles (My Favourite) – frozen udon noodles are always my first choice for udon. They are always ready to go and I find they have better flavour and texture than the shelf-stable version. Ideally, they should be cooked in a large pot of boiling water for about 1 minute, but I rising under cold water first, then soaking in very hot water for 10 minutes or so works just as well, without the need to boil water and dirty another pot.
Shelf-Stable Udon Noodles – these are the udon noodles usually sold in smaller, vacuum-packed packages and found on the shelf, usually in the Asian section of the grocery story. They are wonderfully convenient. I like to soak these in hot water to loosen them up a bit, before adding to the stir fry, though it's not absolutely necessary, as they can go right from the package to the pot.
Semi-dried udon noodles – should be cooked in a large pot of boiling water for about 8 minutes.
Dried udon noodles – need to cook in a large pot of boiling water for about 10 minutes. Test for doneness by removing noodle from pot, running it under cold water, then biting. Udon shouldn't be hard in the middle.
How to Make this Spicy Udon Stir Fry: Step-by-Step
Step 1: Gather your ingredients and mix up your sauce.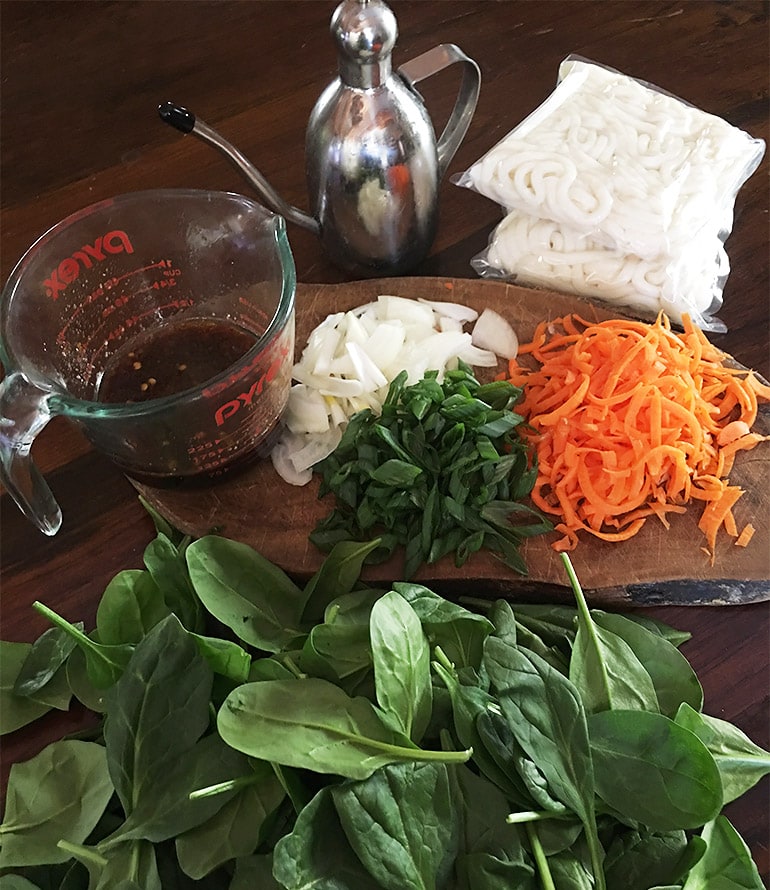 Step 2: Heat oil in your wok over medium-high heat and set your noodles to soak, if you like. Then add the carrots and onions and stir in the hot wok until softened.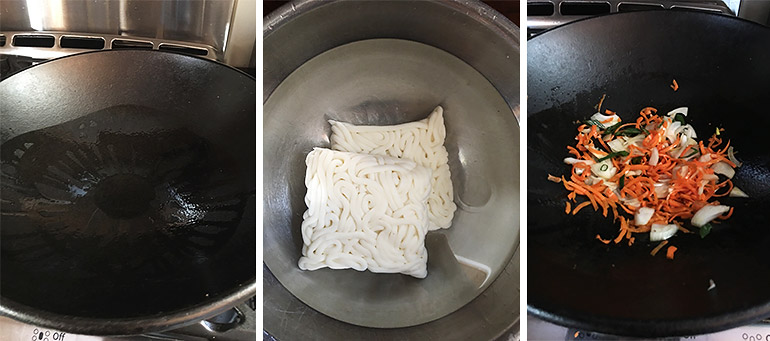 Step 3: Add the noodles and stir fry a bit to remove any water on them. Add the sauce and toss to coat. Finally, add the spinach and stir fry until the spinach is wilted. Spoon into bowls, garnish and serve!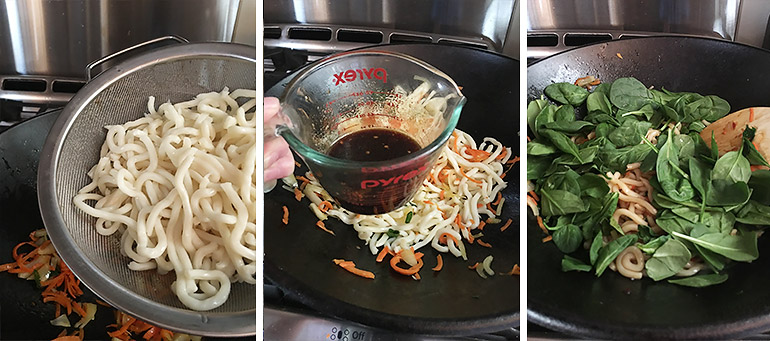 Recipe Video
Love stir fries?
Check out my
40 Basic Stir Fry Sauce Recipes
. This ultimate stir fry sauce recipe cheatsheet is a perfect starting point for dozens of creative stir fries.
Ingredient and Cook's Notes
For the sauce, the Sambal Oelek is responsible for the spicy part of this stir-fry. If you're not familiar with it, look for it in the Asian sauce section of your grocery. It's fairly easy to find these days. Any spicy Asian-style sauce (Asian Chili Garlic Sauce/Sriracha etc.) will work though. If you're not wanting it too spicy, start with 1 tsp. of the Sambal Oelek and work your way up, as needed. Sambal Oelek packs a punch, so a little goes a long way.
I like to soak shelf-stable or frozen udon in water a bit ahead, so I can separate them before adding them to the wok. It's not necessary, but it does make it easier to stir fry them without breaking them. Alternately, you can add shelf-stable udon noodles directly from the package to the wok.
If you want to try this using dried udon, you'll obviously need to cook them before adding to the wok. You may also need to increase the sauce ingredients, as I suspect dried noodles might soak up a bit more that the fresh ones. Truth be told though, I am not a fan of dried udon and don't think they're nearly worth the extra work of having to boil them.
For the carrots, I suggest spiralized carrots, as they cook up quickly in a stir fry. You can either use store-bought spiralized carrots or spiralize your own at home (I have one of these simple handheld spiralizers (affiliate link) that works great!). Simply chop the spiralized carrots into bite-sized pieces to prepare. Store-bought, spiralized carrots tend to be a little thicker, so allow a bit more cooking time at the start to get them tender, before adding the onions. Alternately, I would suggest just grating some carrot on a box grater to add to the stir fry. Match-sticking them is an option, but it's time consuming. Bottom line, just keep the carrots small and thin or they won't cook up well in a quick stir fry.
This recipe will serve 2 as a main dish or 4 as a side dish. To serve more, simply double the recipe!
Variations
Change up the vegetables! Pretty much any vegetable or green will work in the stir fry. The only consideration is how long it will take to cook in the pan. Be sure whatever you add is tender-crisp in the pan before you proceed with adding the noodles and sauce.
Add a protein! Chicken is a great addition to this dish, either cooked chicken or cook a bit of chicken in the wok before starting the stir fry (remove to a plate, then add back in towards the end, to warm).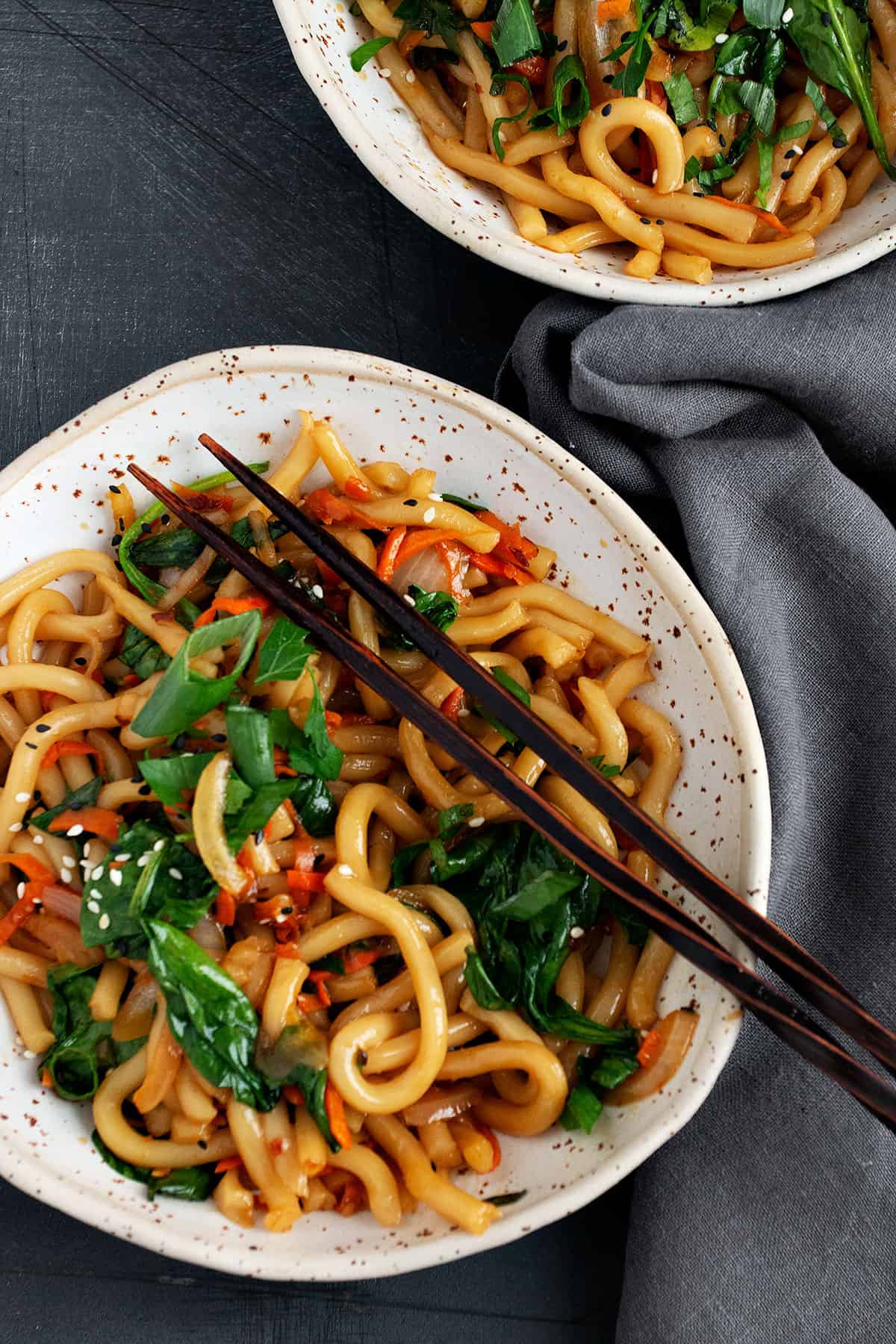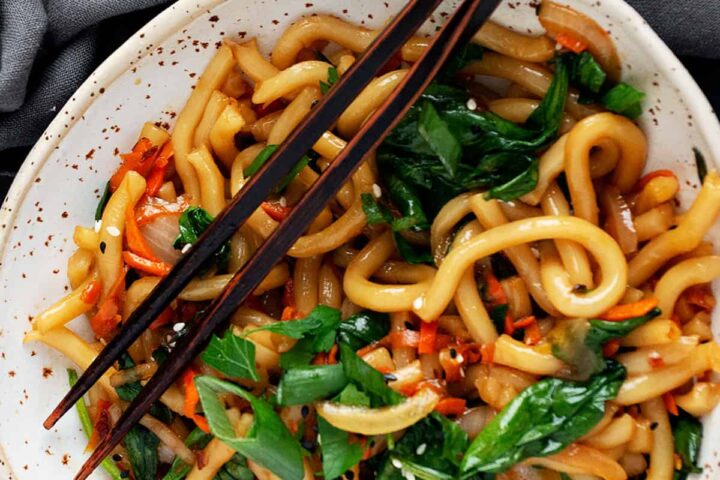 Get the Recipe:

15 Minute Spicy Udon Stir Fry
You can be enjoying this Spicy Udon Stir Fry in just 15 minutes! Endlessly customizable. Add any vegetables or protein you like. Proving that delicious doesn't need to be time consuming!
Ingredients
Stir Fry:
1

Tbsp

vegetable oil

,

or other neutral cooking oil

1/2

medium

onion

,

sliced or diced

1

medium

carrot

,

spiralized and chopped or grated

1

cup

green onion

,

sliced diagonally (green part only)

3

cups

baby spinach

14

oz

soft vacuum-packed udon noodles

,

or see Notes for other types of udon you can use(400g)
Sauce:
1-2

tsp

Sambal Oelek

,

or Asian Chili Garlic Sauce/Sriracha, to taste

1/4

cup

soy sauce

2

tsp

rice wine vinegar

1

tsp

sesame oil

2

Tbsp

brown sugar

2

cloves

garlic

,

minced

1

Tbsp

fresh ginger

,

minced
For garnish:
Sesame seeds

Additional sliced green onion

1/4

cup

chopped parsley or cilantro
Instructions
Prepare your vegetables and set aside. Mix up the sauce by combining all the ingredients in a small bowl. Set aside. If you like, you can fill a large bowl with hot tap water and add udon noodles to the bowl to soak, so they can be separated before adding to the wok This isn't necessary though, as you can add fresh udon noodles directly from the package to the wok. I just find it easier to stir fry them having them separate before the go in to the wok.

In a large frying pan or wok, heat oil over medium-high heat until very hot. Add carrots and cook, stirring for a minute or so. Add onions and cook, stirring, until onions are soft and carrots are tender. Add green onion and cook, stirring, for 30 seconds or so.

If soaking udon noodles, gently stir to loosen udon noodles and separate, then drain. Add drained noodles (or unsoaked noodles)to the wok and cook, stirring, for 30 seconds or so. (Stir fry a little longer is soaked, to cook off any extra water before adding the sauce). Add sauce and cook for another 30 second, stirring to combine well. Scatter baby spinach over top and cook, stirring constantly, until spinach is wilted.

Remove stir fry to a bowl or plate and garnish with sesame seeds, additional sliced green onion and parsley/cilantro.
Notes
Be sure to read the "Cook's Notes" above the Recipe Card, for more tips, options, substitutions and variations for this recipe! You will also find step-by-step photos there, as well.
You can also use frozen udon or dried udon noodles. Simply prepare per the package instructions before using. Dried udon will need to be boiled, but frozen udon can usually be used after a quick soak in hot water.
Calories:
480
kcal
,
Carbohydrates:
80
g
,
Protein:
18
g
,
Fat:
11
g
,
Saturated Fat:
5
g
,
Sodium:
2729
mg
,
Potassium:
588
mg
,
Fiber:
8
g
,
Sugar:
23
g
,
Vitamin A:
9815
IU
,
Vitamin C:
28.6
mg
,
Calcium:
118
mg
,
Iron:
2.7
mg
More udon recipes you might also like …
20 Minute Spicy Pork Udon Stir Fry
This 20 Minutes Spicy Pork Udon Stir Fry is full of flavour and weeknight easy! Using wok-ready udon noodles means no boiling is required, so dinner is ready in just 20 minutes!
www.seasonsandsuppers.ca
Hi! I'm Jennifer, a home cook schooled by trial and error and almost 40 years of getting dinner on the table! I love to share my favourite recipes, both old and new, together with lots of tips and tricks to hopefully help make your home cooking enjoyable, stress free, rewarding and of course, delicious!