These classic, yeast-raised apple fritters are just like the ones from your favourite bakery or doughnut shop. Make them at home to enjoy anytime (and they freeze beautifully!).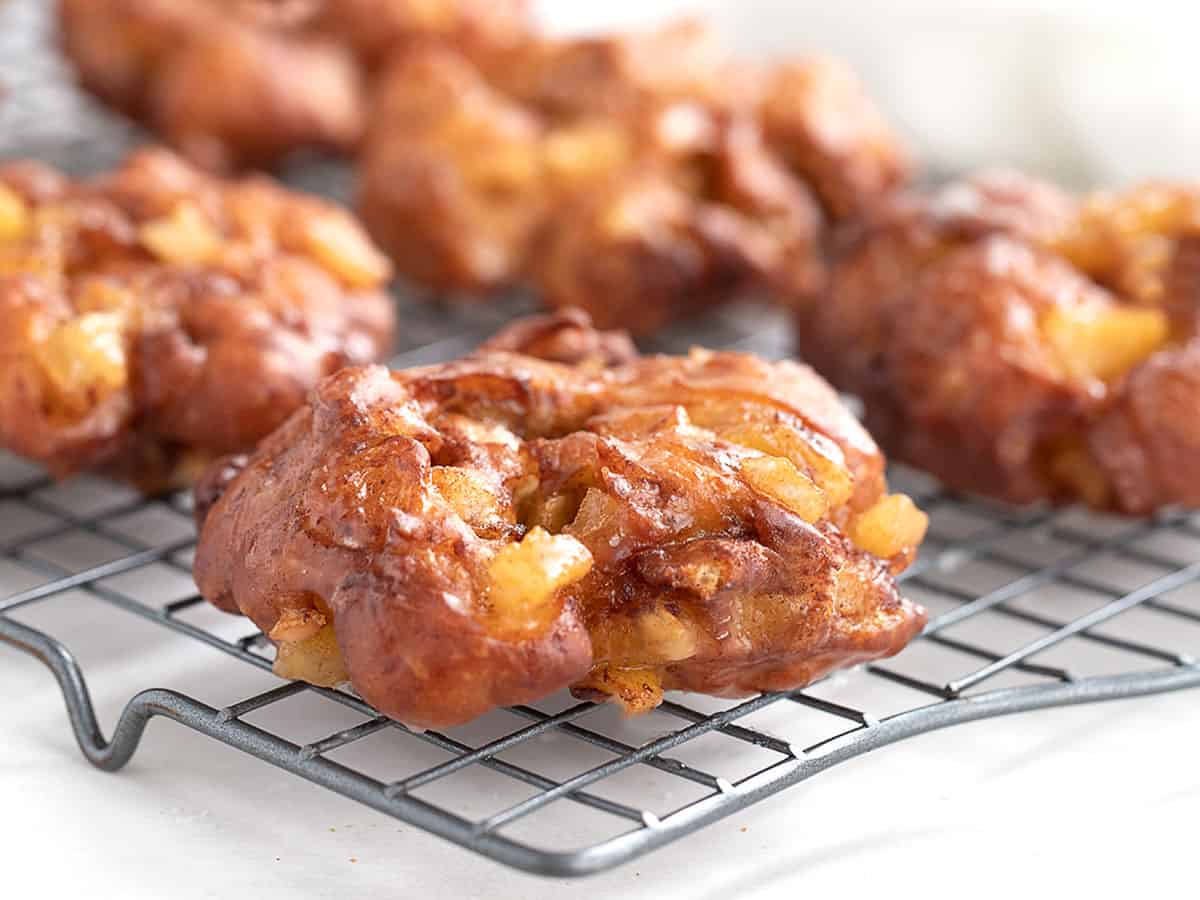 Let me just say first off - these are the real deal apple fritters. They are made with a great yeast-raised dough, which is chopped together with cooked apple chunks and perfectly speckled with cinnamon. Once they are cooked up, they are lovely and browned on the outside and light and fluffy on the inside. The glaze adds a thin layer of sweetness and makes these beautiful donuts sparkle.
I don't do a lot of deep frying, but in my world, it just isn't really a doughnut if it isn't fried, so it has to be! (with all due respect to anyone who bakes doughnuts out there :). That said, if you're careful to keep your oil at the right temperature, you'll find that these donuts will absorb very little oil and won't be at all greasy.
Jump to:
Ingredient Notes
Apples - a medium-sized, tart apple is recommended, so you could go with the super-tart Granny Smith, but I prefer a red-skinned tart apple. I've used Pink Lady here. Other tart apples would be Empire or Cortland, Northern Spy, Braeburn or any apple you might use for an apple pie.
Yeast - you'll need to start with either Active Dry yeast or regular Instant Yeast (such as SAF Brand). Quick or rapid-rise yeast is not recommended for these fritters.
Bread Flour - yeast doughnuts such as these apple fritters, benefit from higher-protein bread flour, which gives the dough a bit more elasticity, so it can trap more air pockets and create a lighter texture to the doughnut. For best results, start with bread flour. If you really can't wait to stock up on bread flour, you can use all purpose flour, though the texture of the finished fritters might not be quite a light. (You may also find you need to use a bit more flour in the dough to get the moist, smooth dough when using all purpose flour).
Shortening or Lard - solid shortening (such as Crisco™) or Lard (such as TenderFlake™) is recommended for the best and lightest texture of your finished fritters. If you really can't wait to pick up some shortening, you can use vegetable oil in the same amount, though the texture of your finished fritters will be slightly heavier.
Vegetable Oil, for frying - I like to use vegetable oil, but other neutral-tasting and high smoke point oils such as Canola also work well.
Step-by-Step Photos
Step 1: Make the Dough - Start by proofing the yeast in warm water and a bit of sugar. Meanwhile, whisk together the flour, white sugar, baking powder, mace and salt and et aside for a moment.
Add the egg, shortening and vanilla to the yeast mixture and mix together using the paddle attachment, to break down the shortening a bit. Mix in about 2/3 of the flour mixture with the paddle attachment, then switch to the kneading hook and mix in the remaining flour mixture, a bit at a time, until you have a smooth, moist (but not sticky) dough, that cleans the bowl.
You may not need every bit of the flour mixture OR you may need to add a few more tablespoons of bread flour over and above the original mixture to get your dough to that point. Remove dough to the counter and knead a bit. It shouldn't need any extra flour at this point, but if it's sticky, add a bit as needed. Form into a ball, place into a greased bowl, cover with plastic wrap and let rise until doubled.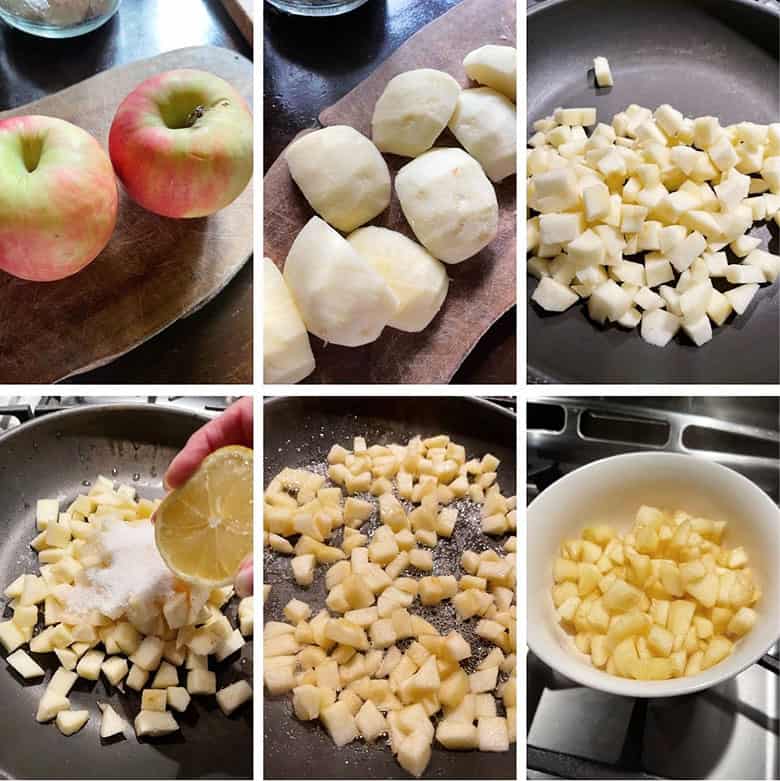 Step 2: Cook the apples - start with two medium sized tart apples. I'm using Pink Lady here. Peel, core and quarters, then diced into 1/2-inch pieces. Place into a skillet with some white sugar and lemon juice. Stir to combine, then heat over medium heat until apples are softened and most of the moisture disappears, about 5 minutes. Remove the apples to a bowl, to cool for a bit.
Step 3: Shaping the Fritters - I know some people like to see a process, rather than reading it. The process of shaping the apple fritters, from risen dough, to filling, to cutting and finally to shaping the fritters and setting them out for the 2nd rise, is illustrated below. From start to finish :)
Step 4: Set to rise and make the glaze - place your shaped fritters onto a parchment-lined baking sheet and cover with plastic wrap or a clean tea towel to rise until doubled (30-45 minutes). Just before the fritters are ready, mix up the glaze, cover and set aside until needed.
Step 5: Fry and glaze - heat the oil and fry the fritters in oil heated to about 370F. Avoid over-crowding the fryer and too many at one time will lower the oil temperature. Tweak the oil temperature up or down if the fritters are browning too quickly or too slowly. Aim for 1 1/2 - 2 minutes per side.
Make sure they are fried to deep golden colour, to ensure the fritters are cooked through. The fritters should be in the oil 3-4 minutes. Remove to a cooling/draining rack. Scoop out any loose pieces of apple from the frying oil and remove between batches. Once the fried fritters are cool enough to handle, give the glaze and stir and dip the fritters into the glaze to coat completely. Return to the cooling rack to cool completely.
Repeat with remaining fritters until they are all fried and dipped in the glaze.
Cook's Notes
I really recommend a deep fryer, for best results. I have a small one, which I love, because it doesn't take gallons of oil to fill it. It also keeps the oil at the perfect temperature throughout the frying process, so there's no fiddling around. One less thing to worry about. Alternately, you can use a heavy, deep pot with a thermometer to monitor oil temperature.
Always take great care when deep-frying, as the oil is hot. Keep children well away (out of the room!) during the frying process. If using oil in a large pot and not a deep fryer, always have the pot lid handy while frying. In the very unlikely even of flames, simply plate the lid on the pot to quickly extinguish. NEVER attempt to transfer hot oil to a sink. Allow to cool completely after frying before draining. You can refrigerate used oil for a short time to re-use.
Be sure not to over-crowd your deep fryer, as it will lower the temperature of the oil and cook inefficiently. In my small fryer, I cook only two at a time (though I could probably fit 3 in).
Cook your fritters until they are a darkish golden colour. They'll look lovely and you'll ensure that the dough is well cooked, as well.
I chopstick makes a perfect tool for flipping your fritters in the oil and a spider strainer makes a perfect tool for scooping the cooked fritters out of the oil.
Be sure to scoop any loose apple pieces out of the frying oil between batches, so they don't burn in the oil and introduce a bitter flavour to the oil and fritters.
Top Tip
Apple fritters traditionally have large chunks of apple visible from the outside of the fritters. That's why they are made this way, rather than trying to somehow encase the apples inside the fritters. As such, some amount of apple "attrition" (apples coming loose from the fritter while frying) is to be expected and is built-in. (That's why we start with lots of apple). Don't sweat it. It's how it is and you didn't do anything wrong. There will still be plenty of apple left in the fritters when you're done :)
Storing your Apple Fritters
Allow the fritters to cool completely, then either enjoy, or store in an air-tight container. These are best on the day they are cooked, but if you can't eat them all on the first day, they freeze beautifully, so don't hesitate to pop any extras into the freezer to enjoy later.
Recipe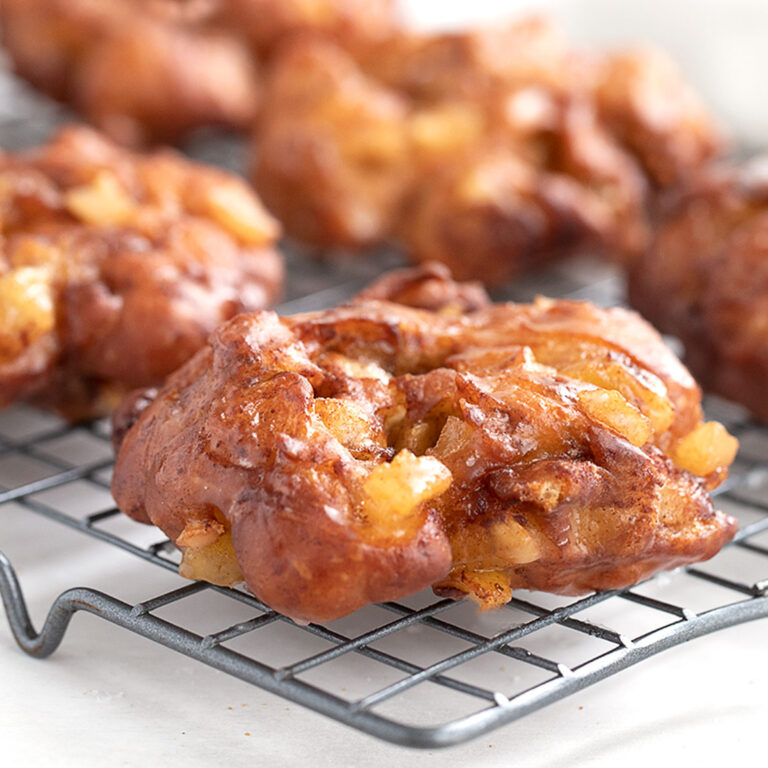 Classic Apple Fritters Doughnuts
These are best on the day they are made, but they freeze beautifully if you can't eat them all up right away. A deep fryer is recommended or alternately, at least, a thermometer so you can monitor oil temperature to ensure good results.
Ingredients
Dough:
1 1/2

Tbsp

active dry or instant yeast

1/2

cup

warm water

2

tsp

white sugar

2

cups

bread flour

,

plus more, as needed (can use all purpose flour. See Note 1)

1/4

cup

white sugar

1/4

tsp

baking powder

1/4

tsp

mace

,

(can substitute nutmeg)

1

tsp

salt

2

Tbsp

shortening or lard

,

(can use vegetable oil. See Note 2)

1

large

egg

1/4

tsp

vanilla
For the apples:
2

medium

tart apples

,

peeled, cored and chopped into 1/2-inch pieces *see Note 3

1/4

cup

white sugar

2

tsp

freshly squeezed lemon juice
For assembling:
4

tsp

cinnamon

1

Tbsp

bread flour
Glaze:
2

cups

confectioners/icing sugar

1 1/2

tsp

light corn

,

or golden syrup

1/4

tsp

salt

1/4

tsp

vanilla

1

Tbsp

white sugar

1/3

cup

water
For frying:
vegetable oil

,

for frying (or similar, neutral-tasting oil)
Instructions
For the dough: In a large bowl or the bowl of a stand mixer fitted with the paddle attachment, add the yeast to the warm water. Add the sugar, stir and let stand 5 minutes.

1 1/2 Tbsp active dry or instant yeast,

2 tsp white sugar,

1/2 cup warm water

Meanwhile, in a large bowl, whisk together the flour, sugar, baking powder, mace and salt. Set aside.

When yeast is ready, add the shortening, egg and vanilla and mix with the PADDLE attachment on low speed for 1 minute (to break up the shortening). Add about 1/3 of the flour mixture and mix until combined. Add a second third of the flour mixture and again, mix until combined. Switch to the dough hook and add the remaining flour mixture. Knead with the hook until all that flour is incorporated. If dough is sticky, start adding flour in 1 Tbsp. increments, until the dough comes together, clears the bottom of the bowl and is becoming smooth. Knead on medium for about 2 minutes more. The dough should be smooth and but still a bit moist (but not sticky).

Place the dough in an oiled bowl, cover with plastic wrap and set-aside to rise until doubled in size (about 1 hour).

Meanwhile, make the apple filling. Place the diced apples, sugar and lemon juice into a skillet over medium heat. Cook, stirring often, until all the liquid has evaporated and the apples are softened, about 5 minutes. Remove to a bowl to cool completely before using.

*See the video above this Recipe Card for a complete demonstration of the following shaping and cutting process.

When bread has finished it's first rise, remove to a lightly floured surface and roll into a 10-inch x 10-inch square. Sprinkle the apples over one half of the dough. Sprinkle all the cinnamon evenly over the apples and then sprinkle with the 1 Tbsp. flour. Fold the empty side of the dough over the side with the apples. Using a sharp knife or a bench scraper, cut the dough into 1/2-inch wide strips from top to bottom. Repeat cutting 1/2-inch strips from side to side, so you end up with small chunks of dough. Gather up the dough bits and cut some more, from different directions, until it is in small chunks and evenly mixed with cinnamon/apples/dough etc.

Using floured hands, roughly shape into a 12-inch long x 3-inch wide log. Cut the log into 1 inch slices. With each slice, roughly pat into a disc, about the size of your palm (use some additional flour, as needed, if your dough is sticky). Place the dough discs onto a parchment lined or floured baking sheet, leaving a couple of inches of room around each. Repeat with all 12 dough pieces. Cover with plastic wrap or a clean tea towel and set-aside to rise until doubled again, about 30-45 minutes (approximately. Will vary depending on room temperature. The fritters should double in size and look puffy).

When the fritters are almost risen, prepare the glaze. Add the icing sugar, corn syrup, salt and vanilla in a large bowl. Set aside.

In a small saucepan, bring the water and white granulated sugar to a boil over high heat then reduce heat to medium and simmer for 1 minute. Add this mixture to the bowl with the icing sugar and whisk until all the sugar and has been incorporated and the mixture is smooth. (You don't want any lumps :) Cover with plastic wrap and set aside until needed.

When dough is about ready to cook, heat oil in a deep fryer to 370° (alternately, use a heavy deep pot and a thermometer to monitor temperature). Fry each donut until deep golden on the underside (1 1/2 - 2 minutes), flip over and fry the other side. (*time and temperature may need to vary. Watch closely the first few to determine timing. If they seem to be browning too quickly, lower temperature slightly or likewise, if they seem to be taking too long to brown, raise the temperature slightly). Remove to a cooling rack placed over a baking sheet. If there are any loose apples in the frying oil, scoop out between batches so you don't have any apple pieces burning in the oil and causing bitter flavours.

While the fritters are still quite warm (as soon as they are cool enough to handle), dip into prepared glaze and return to cooling rack to cool completely. *Stir the glaze mixture regularly during the process, to keep it nice and smooth.
Notes
Bread flour is recommended for best texture, but if you don't have bread flour, you can use all purpose flour. You will probably find you need to use a bit more all-purpose flour to get that smooth, moist dough.
Solid shortening or lard is recommended for best texture, but if you don't have any on hand, you can use an equal amount of vegetable oil.
Tart apples include Granny Smith, Pink Lady, Braeburn, Empire, Courtland or any other apple that you might use for an apple pie.
Nutritional information is for the fritter ingredients only and does not include the value of any cooking oil that may be absorbed by the fritters during the frying process. Obviously that adds something in terms of fat and calorie values beyond what is stated, but it is impossible to quantify here.
Be sure to read the Ingredient and Cook's Notes above this Recipe Card, for more tips on making these fritters. You'll also find step-by-step photos, along with a short video that shows how to shape the fritters.
Nutrition
Serving:
1
fritter
|
Sodium:
251
mg
|
Calcium:
19
mg
|
Vitamin C:
2
mg
|
Vitamin A:
42
IU
|
Sugar:
34
g
|
Fiber:
2
g
|
Potassium:
78
mg
|
Cholesterol:
16
mg
|
Calories:
242
kcal
|
Trans Fat:
1
g
|
Monounsaturated Fat:
1
g
|
Polyunsaturated Fat:
1
g
|
Saturated Fat:
1
g
|
Fat:
3
g
|
Protein:
3
g
|
Carbohydrates:
52
g
|
Iron:
1
mg
Nutritional information provided for general guidance only and should not be relied upon to make personal health decisions.
Never miss a new recipe!
SIGN UP for email updates!
Apple Fritter Pull-Apart Bread
This delicious yeast-based, pull-apart bread has all the flavours of apple fritters, with roasted apples and a generous cinnamon-sugar filling.
www.seasonsandsuppers.ca
Save or share this recipe