Learn how to make real poutine at home with my Authentic Canadian Poutine Recipe. I will show you how to make it, as well as explaining exactly what exactly poutine is, for the uninitiated.
What kind of a Canadian food blogger would I be if I didn't have a recipe for Canadian Poutine on this blog? Poutine is a wonderful and delicious concoction of fries, gravy and cheese curds and is one of the most quintessential Canadian dishes! So if you already know how great this dish is and are just looking for a great, authentic poutine recipe to make at home, skip on down to the recipe. I've got you covered! If you'd like to learn more about Poutine, read on!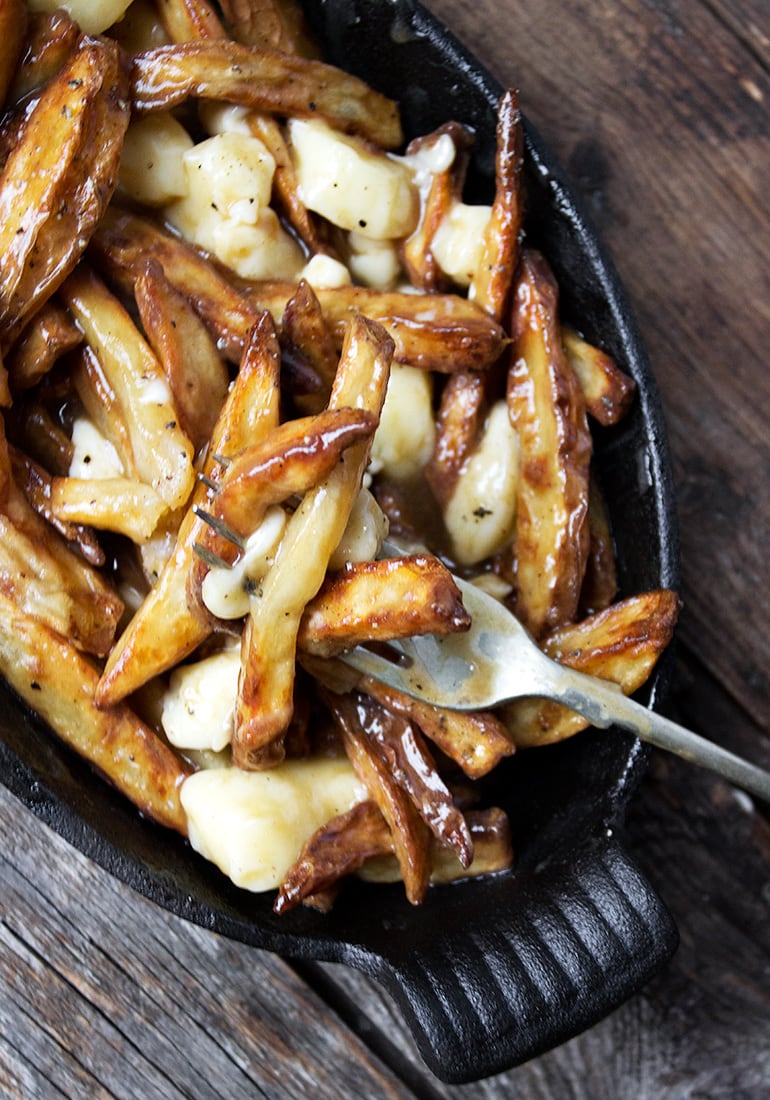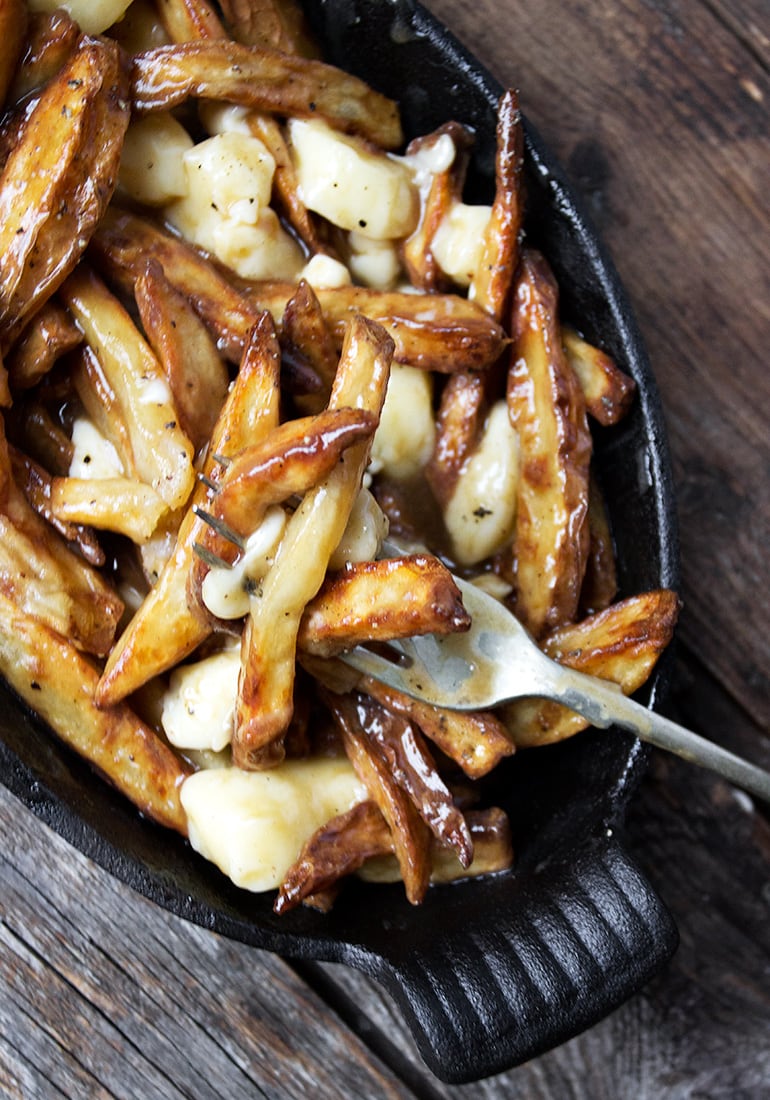 What cheese to use for poutine?
When it comes to poutine, it's really all about the cheese curds. Real cheese curds are what makes a poutine "authentic". Cheese curds are simply solid pieces of curdled milk, that can be either eaten alone as a snack or, in Canada, added to fries and gravy to make poutine :) Cheese curds can be found in white or yellow colour. White cheese curds are the ones you want for poutine.
Substitute for Cheese Curds in Poutine:
If you can't get cheese curds, the closest possible substitution if you want the poutine experience, would be torn chunks (not shredded!) of a full-fat block mozzarella cheese (NOT fresh mozzarella – use the kind you'd shred to put on top of pizza). You want it in chunks so it doesn't melt completely. Don't be skimpy. Some cheese curds are the size of my baby finger. That's part of the poutine experience – the chunks of warm, softened cheese and shredded just won't cut it because it melts completely and mixes in with the gravy. (Cheddar is not the best substitute. Even though cheese curds are technically cheddar they don't taste like it. The taste is much more mozzarella-like – soft, pliable, subtle taste, squeaky :)
How do you make poutine gravy?
I've included a perfect poutine gravy recipe below for you! If you've eaten a lot of poutine, you've probably experienced a wide range of gravy tastes. Some are clearly chicken, some are dark and beefy. I think the perfect one is somewhere in between. I looked to French-Canadian chef Ricardo for a reliable and authentic recipe. Let's face it, the French-Canadians know poutine! His gravy is 2/3 beef stock and 1/3 chicken stock, for a lightened up beef gravy. I think it's perfect.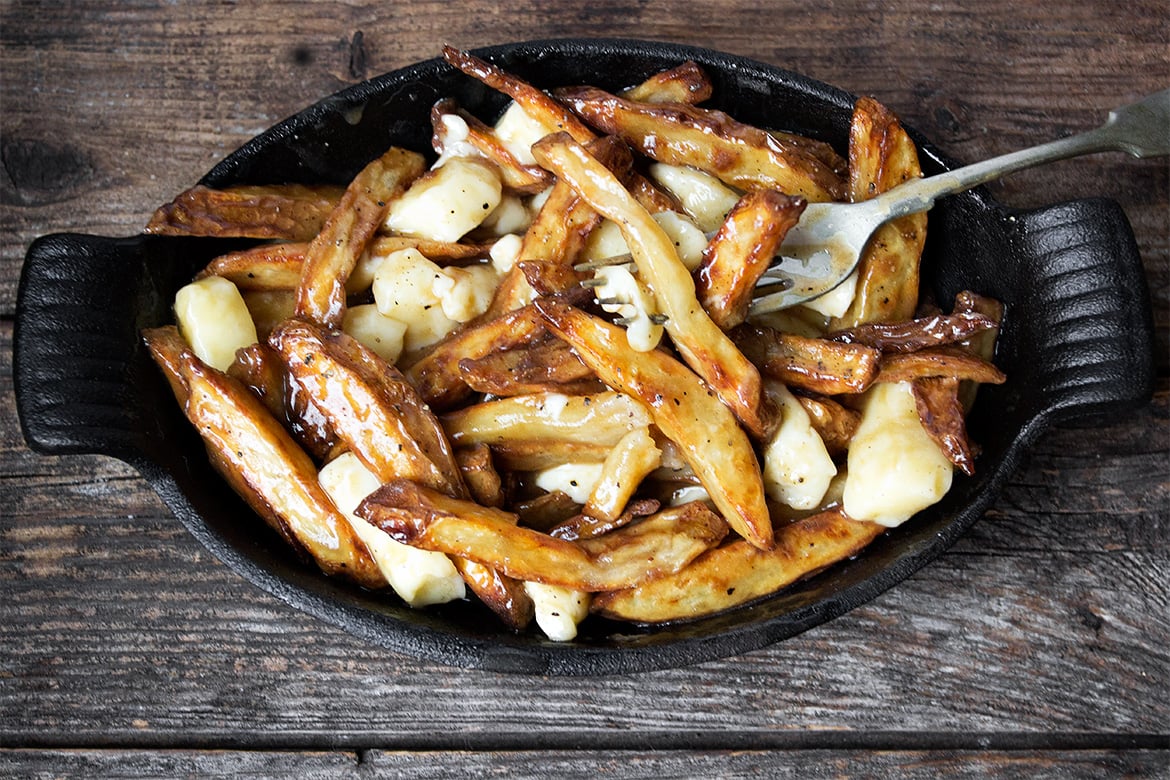 How to pronounce Poutine:
If you are an English speaking Canadian, you'll almost certainly pronounce it "poo-teen" (emphasis on the last syllable). French Canadians might suggest that it should be pronounced as "poo-tin" (again, with the emphasis on the last syllable). I say, if you find yourself in Quebec, you could try the latter – pretty much anywhere else in Canada and elsewhere, the former will serve you well.
How to eat poutine
Even if you are strictly a person who eats fries with your hands, when it comes to poutine, a fork is the only way to go! The combination of lots of gravy and melted cheese is a mess to eat any other way.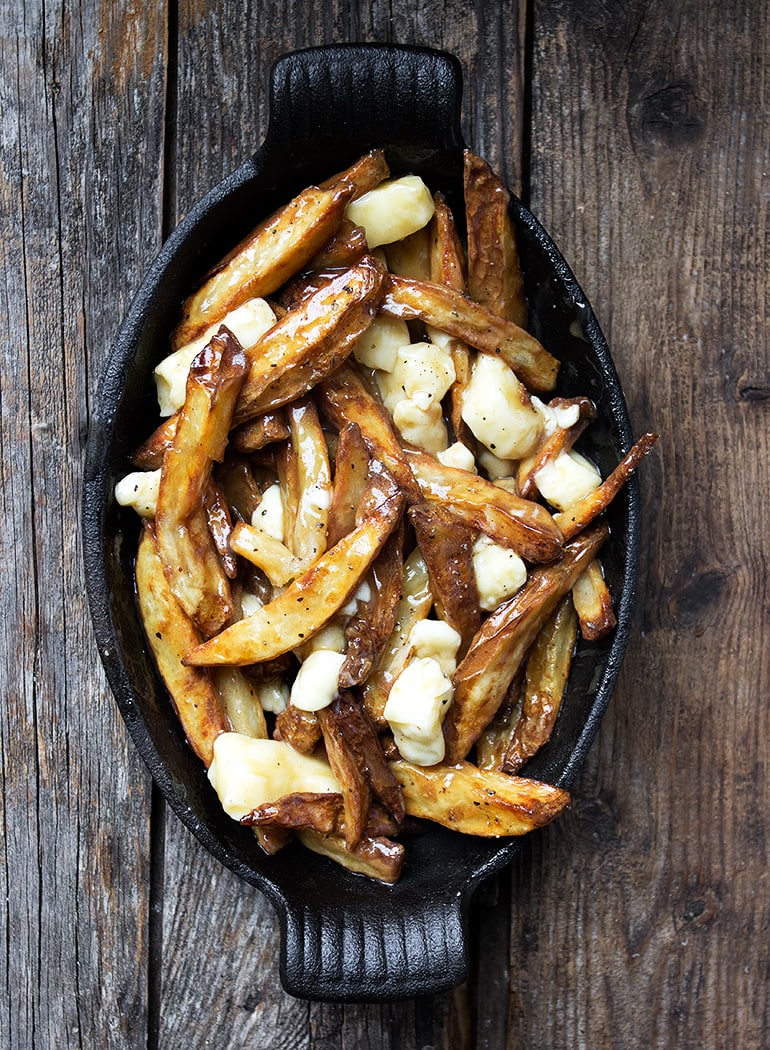 Cook's Notes for Authentic Canadian Poutine
French-Canadians would probably recommend starting your poutine gravy with canned broth (vs. the boxed variety). I personally find it a little too salty for my taste, but that might be just the brand I use.
If you use canned, definitely taste before adding additional salt to your gravy. Don't skimp on the freshly ground pepper in the gravy, though :)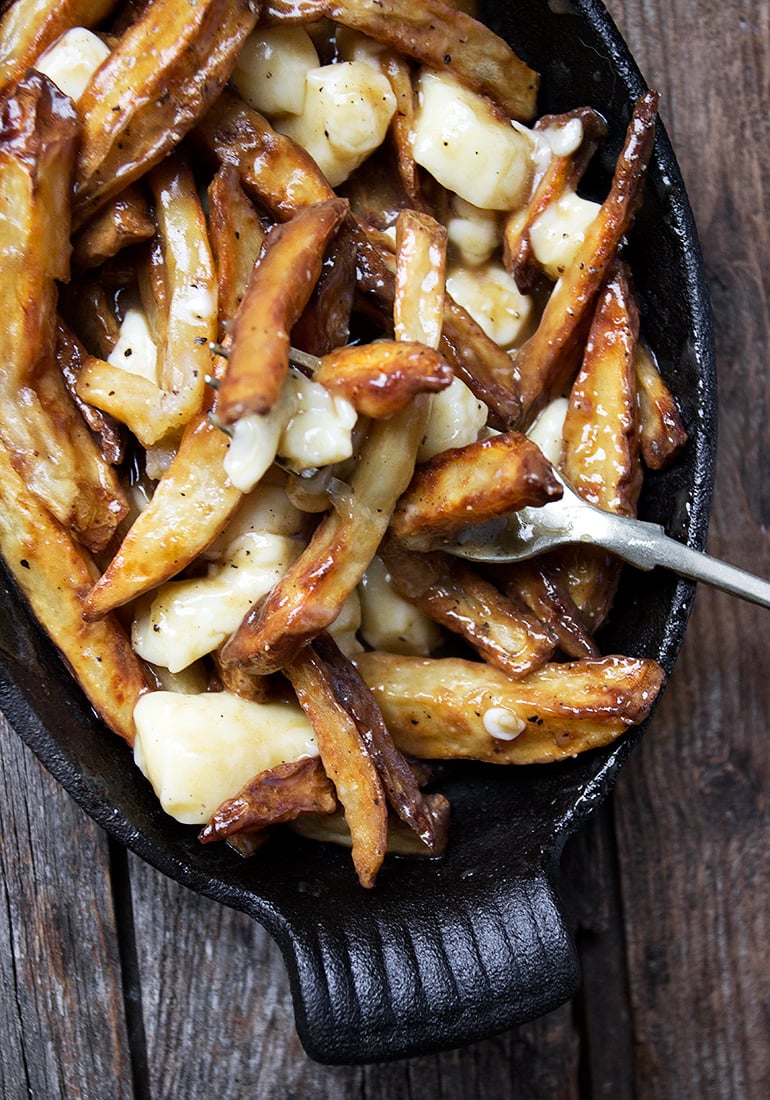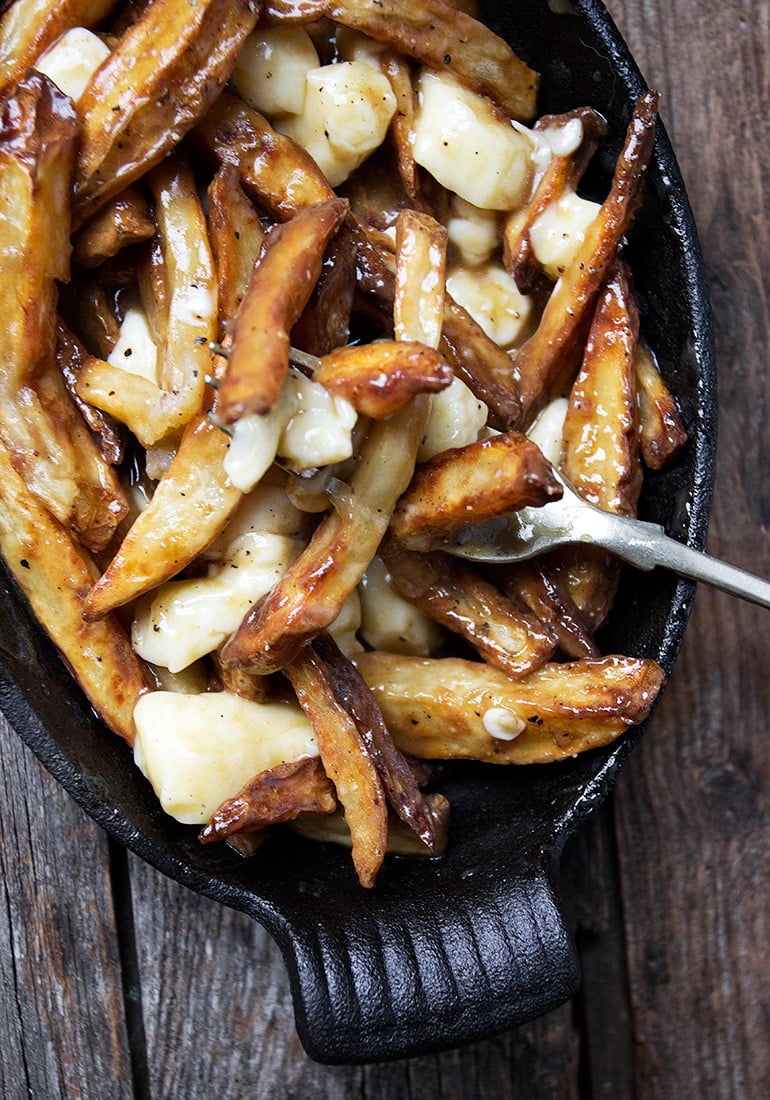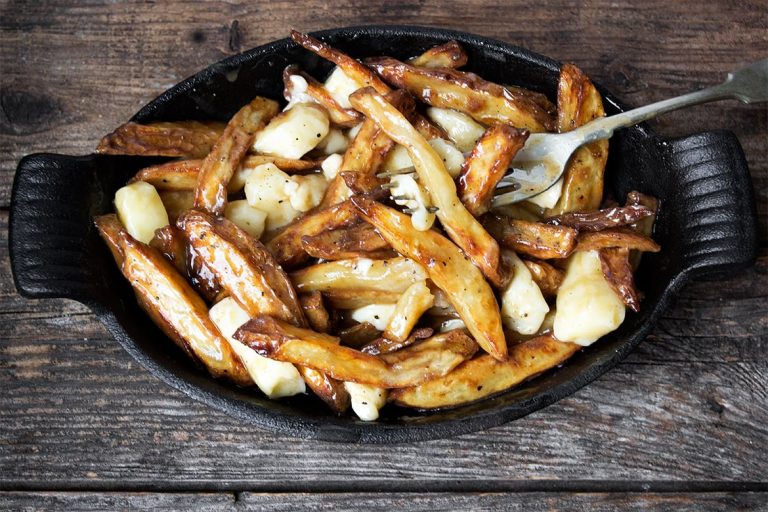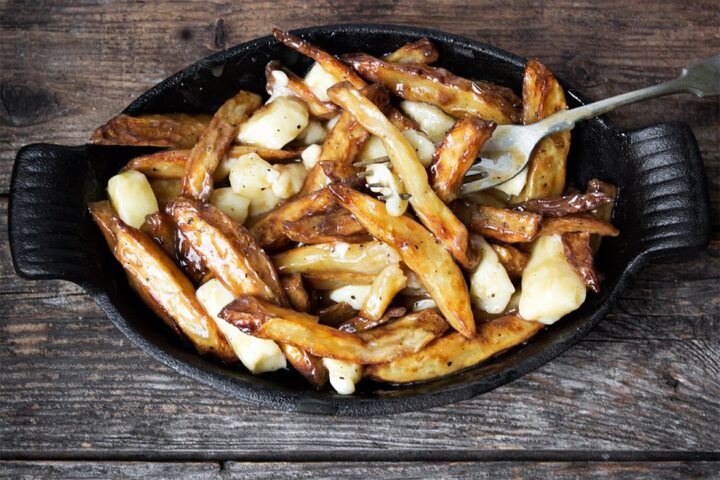 Get the Recipe:
Authentic Canadian Poutine
Authentic Canadian Poutine featuring deep-fried fries, poutine gravy and white cheddar cheese curds all tossed together. Do be careful with deep frying. A proper deep fryer is recommended.
Ingredients
Poutine Gravy:
3

Tbsp

cornstarch

2

Tbsp

water

6

Tbsp

unsalted butter

1/4

cup

unbleached all purpose flour

20

oz

beef broth

10

oz

chicken broth

Pepper, to taste
For Deep Fried Fries:
2

lbs

Russet potatoes

,

(3-4 medium potatoes)

Peanut or other frying oil
Toppings:
1 - 1 1/2

cups

white cheddar cheese curds

,

(Or torn chunks of mozzarella cheese would be the closest substitution)
Instructions
Prepare the gravy: In a small bowl, dissolve the cornstarch in the water and set aside.

In a large saucepan, melt the butter. Add the flour and cook, stirring regularly, for about 5 minutes, until the mixture turns golden brown.

Add the beef and chicken broth and bring to a boil, stirring with a whisk. Stir in about HALF the cornstarch mixture and simmer for a minute or so. If you'd like your gravy thicker, add a more of the cornstarch mixture, in small increments, as needed, to thicken. Season with pepper. Taste and add additional salt, if necessary, to taste. Make ahead and re-warm or keep warm until your fries are ready.

For Deep-Fried Fries: Prepare your potatoes and cut into 1/2-inch thick sticks. Place into a large bowl and cover completely with cold water. Allow to stand at least one hour or several hours. When ready to cook, heat your oil in your deep fryer or large, wide, heavy cooking pot to 300° F.

Remove the potatoes from the water and place onto a sheet of paper towel. Blot to remove as much excess moisture as possible.

Add your fries to the 300°F oil and cook for 5-8 minutes, just until potatoes are starting to cook but are not yet browned. Remove potatoes from oil and scatter on a wire rack. Increase oil temperature to 375°F Once oil is heated to that temperature, return the potatoes to the fryer and cook until potatoes are golden brown. Remove to a paper towel-lined bowl.

To Prepare Poutine: Add your fried or baked fries to a large, clean bowl. Season lightly with salt while still warm. Add a ladle of hot poutine gravy to the bowl and using tongs, toss the fries in the gravy. Add more gravy, as needed to mostly coat the fries.

Add the cheese curds and toss with the hot fries and gravy. Serve with freshly ground pepper. Serve immediately.
Notes
Be sure to read the "Cook's Notes" in the original post, for more tips, options, substitutions and variations for this recipe!
Calories:
528
kcal
,
Carbohydrates:
70
g
,
Protein:
10
g
,
Fat:
24
g
,
Saturated Fat:
14
g
,
Cholesterol:
61
mg
,
Sodium:
1068
mg
,
Potassium:
1438
mg
,
Fiber:
4
g
,
Sugar:
1
g
,
Vitamin A:
710
IU
,
Vitamin C:
23.8
mg
,
Calcium:
63
mg
,
Iron:
3.6
mg
Hi! I'm Jennifer, a home cook schooled by trial and error and almost 40 years of getting dinner on the table! I love to share my favourite recipes, both old and new, together with lots of tips and tricks to hopefully help make your home cooking enjoyable, stress free, rewarding and of course, delicious!