Proving that baked fries can be delicious, these Oven Baked Cheese and Gravy Fries are topped with gravy, cheese and fresh herbs.
This one's a follow-up on yesterday's Poutine recipe – an alternate take on the classic. I'm not usually one to go for a lightened-up version of anything. I'm more inclined to eat the real thing less often or in smaller servings. That said, there are a number of reasons to recommend this adaptation of classic poutine.
First, even though I have a deep fryer, let's be honest – deep frying is messy and smelly, despite the nice results. Sometimes, I'm just not up for it. Having a good, oven-baked option for fries is always good. Secondly, I know cheese curds aren't always readily available for everyone. This combination of Aged Cheddar and Parmesan is lovely and the sharp flavours means you don't need a lot of it. Then there's the fresh herbs, a combination of fresh, flat-leafed parsley with a bit of cilantro. It really rounds out this dish.
And last, but not least, this dish is really delicious. Sure, it's not classic and it's not fried, but I have to tell you, it's very satisfying and I definitely recommend it for some comforting food with a little less guilt.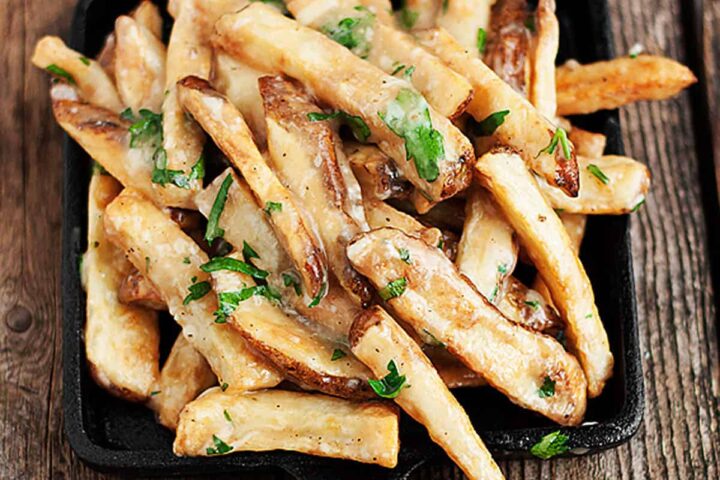 Get the Recipe:
Oven-baked Fries with Gravy, Aged Cheddar, Parmesan and Fresh Herbs
omfort food lightened up a bit. These oven baked fries are delicious and easy. Combined with a bit of gravy, cheese and fresh herbs, it's sure to satisfy.
Ingredients
Gravy:
2

Tbsp

cornstarch

2

Tbsp

water

6

Tbsp

unsalted butter

1/4

cup

unbleached all-purpose flour

20

oz

beef broth

10

oz

chicken broth

Pepper,

,

to taste
Oven-baked fries:
2

lbs

Russet potatoes

,

(3-4 medium)

1/4

cup

white vinegar

2-3

Tbsp

olive oil
Toppings:
1/2

cup

old white cheddar cheese

,

grated

1/4

cup

Parmesan

,

grated

1/4

cup

fresh flat-leafed parsley

,

chopped

2

Tbsp

fresh cilantro

,

chopped
Instructions
Prepare the gravy: In a small bowl, dissolve the cornstarch in the water and set aside.

In a large saucepan, melt the butter. Add the flour and cook, stirring regularly, for about 5 minutes, until the mixture turns golden brown. Add the garlic and cook for a further 30 seconds.

Add the beef and chicken broth and bring to a boil, stirring with a whisk. Stir in the cornstarch and simmer for 3 to 5 minutes or until the sauce thickens. Season with pepper. Taste and add additional salt, if necessary, to taste. Make ahead and re-warm or keep warm until your fries are ready.

For the oven-baked fries: Wash the potatoes well and cut into uniform sticks about 1/2-inch thick. (*I like to remove the skin only from the sides and the ends. That way I end up with a rough rectangle with a bit of skin here and there. The rectangle is easier to cut into slices, and then to cut each slice into sticks.)

Put the cut potatoes in a large pot and add enough cold water to cover by 2 inches . Add the vinegar. Bring the pot to the boil and cook for 5 minutes. Drain, then spread the potatoes out on some paper towel to absorb moisture. Move them to a wire rack, in a single layer, and allow them to dry completely, about 30 minutes. Make sure your potatoes are thoroughly dry before baking.

Preheat oven to 435 ° F. with the racks in the upper and lower third of the oven. Place dried potatoes in a large bowl and drizzle with olive oil. Toss to coat thoroughly. Spread potatoes evenly onto two baking sheets. Leave some space between, if possible and be sure they are in a single layer.

Bake 15 minutes then, turn the fries over and rotate the baking sheets top to bottom. Bake an additional 20 – 30 minutes, rotating pans top to bottom once more, until uniformly golden brown.

To serve: In a large bowl, toss fries with hot gravy to coat. Sprinkle with cheeses and fresh herbs. Toss to combine. Season with freshly ground pepper and a bit of salt. Serve immediately.
Calories:
478
kcal
,
Carbohydrates:
51
g
,
Protein:
10
g
,
Fat:
26
g
,
Saturated Fat:
13
g
,
Cholesterol:
50
mg
,
Sodium:
901
mg
,
Potassium:
1078
mg
,
Fiber:
3
g
,
Sugar:
1
g
,
Vitamin A:
595
IU
,
Vitamin C:
17.9
mg
,
Calcium:
121
mg
,
Iron:
2.8
mg