Thiseasy and delicious banana snack cake is light in texture, but always moist, with just the right amount of banana flavour. Makes 8x8 or 9x13 pan, with optional cream cheese frosting.
Jump to:
Why you'll love this banana snack cake recipe
You'll love that this is a small banana snack cake, for those of us who just have a couple of people snacking :) I call it a snack cake, since it's more casual than a layer cake, so it's easy to enjoy anytime, without the fuss.
Make this in an 8x8 pan or a 9-inch round cake pan for a small banana cake. You can even make it smaller, by making a half recipe and baking in an 8x4-inch loaf pan! For those times when you want more cake, simply double the recipe and make a 9x13-inch banana snack cake.
This banana cake has the perfect texture! Moist, but light and never dense or wet. It also has just the right amount of banana flavour. It actually stands really well on its own, but if you're feeling a frosting, it offers a lot of options. I love to pipe a little dollop of cream cheese frosting on top, but you can also just enjoy plain or frost the top completely. (scroll down to explore some classic banana cake frosting options!).
Finally, this banana snack cake keeps really well on the counter, in the fridge (recommended if using cream cheese frosting) or it freezes beautifully, too.
Key Ingredients
Bananas - you'll need about 2 medium ripe bananas for the 1 cup of mashed banana that the basic recipe calls for. The more ripe the bananas, the more banana flavour you will get in your banana cake, so don't be afraid to leave them until they are quite dark.
I usually use fresh bananas, but if you have frozen bananas, you can thaw, drain for a bit in a colander (to get rid of any excess moisture) and use in this recipe. It's best if they are at room temperature when used, like the other cake ingredients.
Process Photos
I baked my cake in a 9-inch round springform pan. I lined the bottom of the pan with a round of parchment paper, so I could easily remove the cake from the base. After the cake was cooled, I lightly scored the top of the cake with a knife, dividing the round into 8 even slices.
I used a cream cheese frosting (recipe below), that I put into a piping bag. I used a Wilton 1M piping tip (any star tip will work) and added a little pat of frosting to each slice.
Baking pan options
You can use any of the following baking pans. You can use the scale recipe buttons on the Recipe Card below to increase or decrease the recipe ...
For the base recipe (1X):
8x8-inch square cake pan
9-inch round cake pan or springform pan
For a double recipe (2X):
9x13-inch cake pan
For a mini cake (1/2X):
8x4-inch loaf pan
Frosting Options
All recipes for a small 8x8 or 9-inch round cake. Double for a 9x13 cake.
Cream Cheese Frosting:
4 oz cream cheese, at room temperature
2 Tbsp butter, at room temperature
1 tsp vanilla
1 1/2 cups icing/confectioners' sugar
Cream together cream cheese and butter. Mix in vanilla. Add confectioners sugar and beat until smooth.
Brown Butter Frosting:
1/4 cup butter
2 cups icing/confectioners' sugar
1 1/2 Tablespoons milk
1 teaspoon vanilla extract
Melt butter in a medium saucepan over medium heat until bubbling and golden brown, about 3 to 5 minutes. Remove from heat. Whisk in confectioners' sugar, milk and vanilla until a smooth.
Brown Sugar Frosting:
1/4 cup light brown sugar, packed
2 Tablespoons butter, at room temperature
3 Tablespoons milk
1 1/4 - 1 1/2 cups icing/confectioners' sugar
In a medium saucepan, bring brown sugar, butter and milk to a boil over medium heat. Boil, stirring, for 2 minutes. Remove from the heat and allow to cool to lukewarm. Gradually beat in confectioners' sugar until frosting reaches spreading consistency.
You can also sprinkle the frosting with chopped walnuts or pecans.
Cake Baking Tips
Cakes are more than just mixing up a bunch of ingredients. There are common techniques in cake making that contributes to the quality of the finished cake. If you're a new baker, here are the things to pay attention to, to enjoy the best possible cake ...
Room temperature butter, eggs and milk - it's always best to have all ingredients at the same temperature, so when you take the butter out of the fridge to soften, grab the eggs and milk, too and let them come to room temperature as well.
Creaming the butter - Creaming butter is a very common baking technique, but how it's done is important to the end result of your cake. Creaming should be done at medium speed (not high). You should cream the mixture for the time indicated in the recipe. Set a timer, as it's very easy to think you've done it long enough when you haven't really.
Scraping the bowl - scrape the bowl as needed, but especially after adding the eggs and vanilla and before adding the dry ingredients. Unincorporated butter mixture can often be hiding under the paddle if using a stand mixer, so be sure to scrape the bottom, as well. Give the mixture a quick beat after scraping down the bowl.
Measuring the flour - it is best practice to spoon and level when measuring flour. That means using a spoon to over-fill a dry measuring cup, then using the back of a knife to scrape evenly across the top of the measuring cup to level it off.
Preparing the baking pan - I swear by baking spray myself, but spray oil works well, too. If you don't have either of those, you can brush lightly with vegetable oil. If you want to remove the cake from the pan in one piece easily, line the bottom of the pan with a square or round of parchment paper.
How the colour of your baking pan affects baking time - very dark or black metal baking pans will cook more quickly than lighter coloured pans. Sometimes it's advisable to lower the oven temperature by 25 degrees F. to compensate and/or you can just be sure to check your cakes earlier. I didn't reduce the baking temperature here and I used a dark grey springform pan. You can see that the edges of my cake are a darker golden colour (which I don't mind really, as I kind of like the more crisp texture) and my cake may have baked more quickly than your cake will in a lighter pan. So just keep that in mind. If you prefer/want a lighter coloured cake, reduce the oven temperature with your darker pans.
Making ahead, storing and freezing
This banana cake keeps well stored on the counter for several days if not frosted. If you frost with cream cheese frosting, it is advisable to store in the fridge. You can also freeze it, well wrapped, for up to 2 months.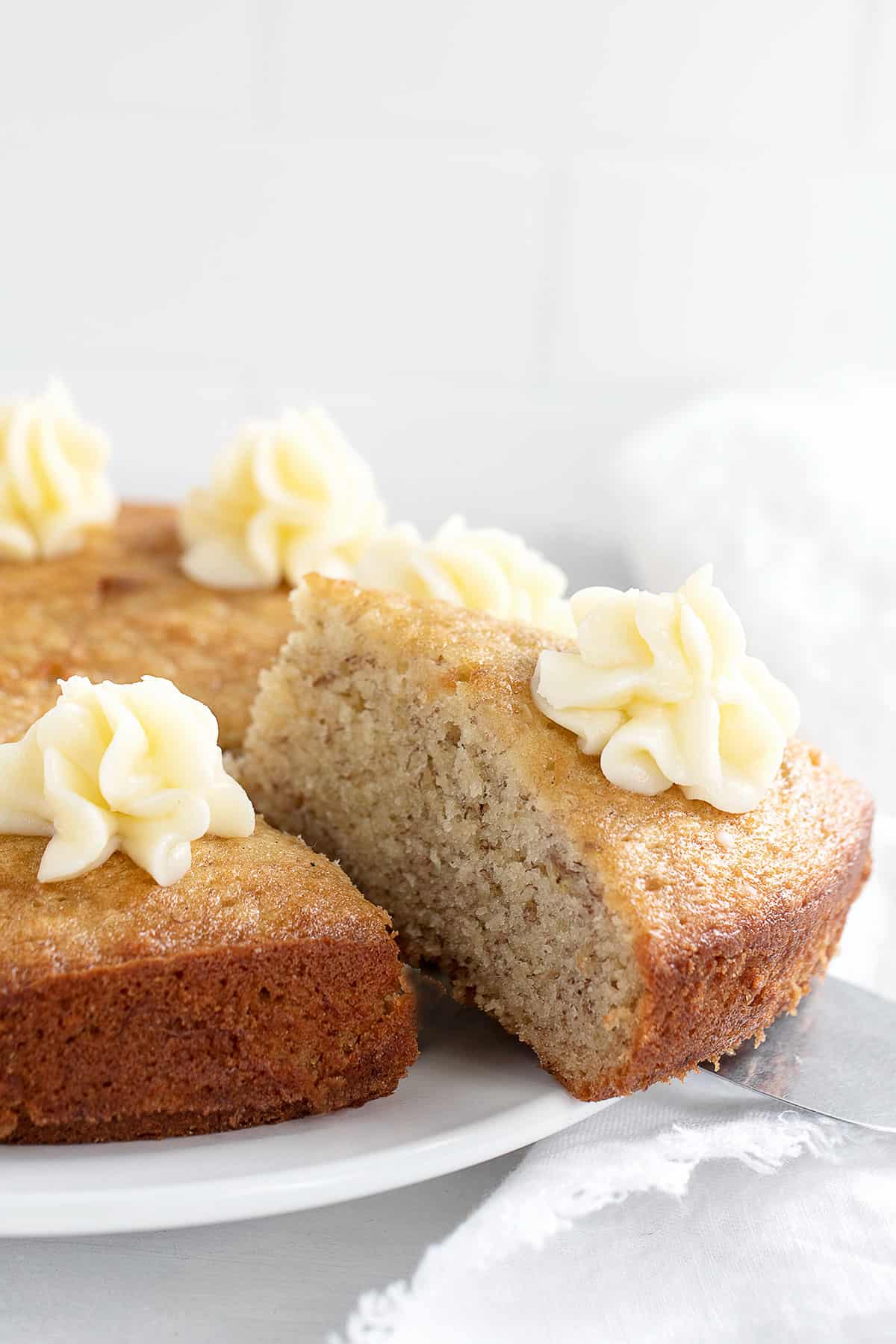 Recipe
More banana recipes you might also like ...
Save or share this recipe