This barley risotto features fabulously nutty pearl barley, cooked up risotto style with mushrooms, garlic and Parmesan. A great meatless main or a hearty side.
I am a huge fan of barley for comfort food and it's a bonus that it's a particularly healthy choice, full of fibre and great fuel for all the shovelling in my future. Whether it's in a soup or a salad, or cooked up risotto style, barley is always a great choice.
This dish cooks up the barley risotto-style, with rich beef broth, garlic and mushrooms and a touch of Parmesan. It's full of flavour and nutty, chewy deliciousness.
Ingredients and Substitutions
Barley – If you've shopped for barley, you no doubt found two kinds on the shelf – pot barley and pearl barley. Not sure what the difference is? Scroll down for more information.
Mushrooms – you can use any mushrooms here. Button mushrooms or cremini mushrooms are typical. I love to use a mix of mushrooms, even if it's just combining button mushrooms and cremini mushrooms. The variety is nice.
Beef Broth – I have made this dish several ways, working with what I've had on hand, so I can tell you definitively that it's worth picking up beef broth, rather than using chicken broth. The depth and flavour of beef broth perfectly complements the nutty barley and the mushrooms in a way that chicken broth can't compete with. I prefer to start with a low or no sodium beef broth and add salt to the dish myself as I cook it. I find it much easier to control the saltiness of the finished dish that way.
If you would like to make this one vegetarian, simply substitute a nice vegetable broth and maybe consider adding a splash of balsamic vinegar for some flavour depth.
White Wine – use any white wine you enjoy drinking. If you don't have wine or prefer not to use it, simply omit and use a bit more broth. A splash bit of balsamic vinegar or white wine vinegar would bring a bit of the acidity to this dish.
What's the difference between pot barley and pearl barley?
All barley is husked after harvest, by running through a husking machine. Pot barley (or sometimes called hulled barley) is lightly husked, removing only the inedible outer layer and leaving the bran and germ layer in intact. As such, pot barley is the whole grain version, with the most possible nutrients. Due to the outer layer though, pot barley requires more time to cook. Pot barley is best suited for soups or stews, that will cook for a longer time.
Pearl barley is left for a longer time in the husking machine, to remove the outer bran and germ layers, revealing the inner white or "pearl" coloured barley. Despite the removal of the outer layers, pearl barley is still a nutritious option and a great, high-fibre choice. Without the outer layer, pearl barley takes less time to cook, so it's perfect for dishes that will cook for a shorter time.
Recipe Tips
It is possible to make this dish with pot barley, it won't cook in the specified time or with the specified amount of broth. You will need to cook longer and keep adding broth until tender, probably another 15 minutes and several cups more of broth.
While this one is cooked risotto-style, you don't have to hover over it as you would with a rice risotto. Just keep an eye on it, stir a bit and add more broth when the pan gets dry. Otherwise, it will just simmer away on the stove-top.
Store left-overs in the refrigerator for about 2 days. Unfortunately, risotto doesn't freeze well, so freezing isn't suggested.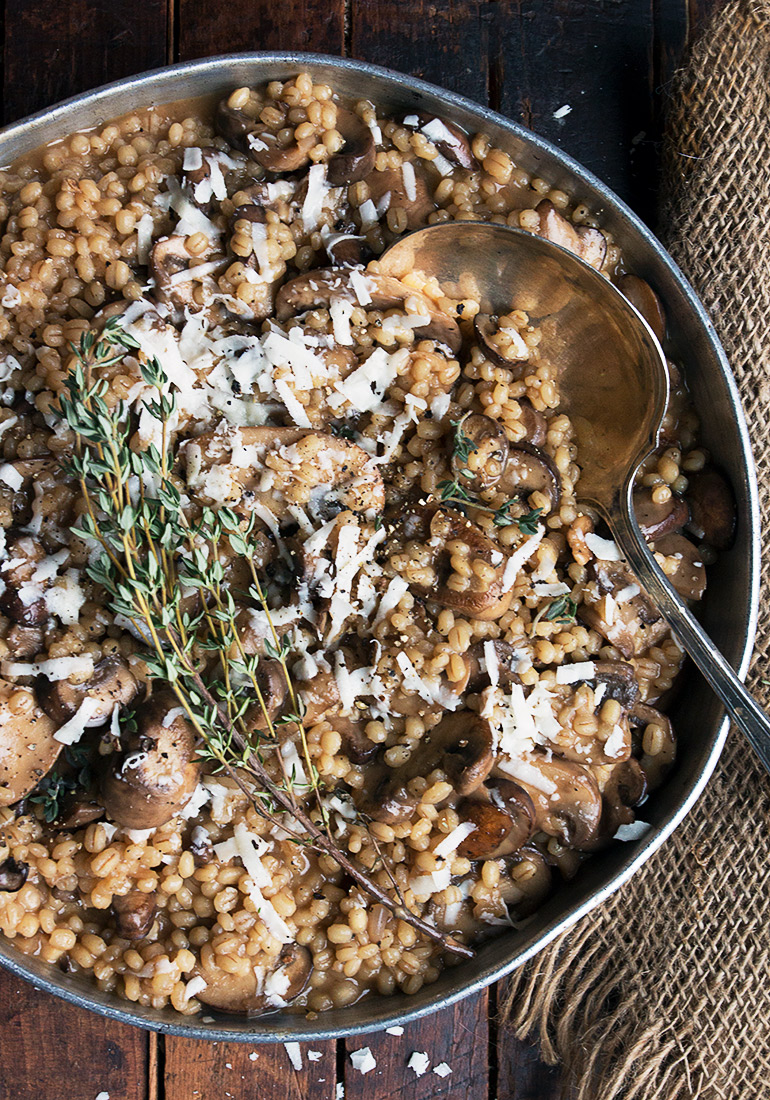 How to Enjoy this Barley Risotto
Enjoy this as a meatless main, or cook up a batch and enjoy as a side dish with a simple protein. It's hearty, nutty and delicious, with the goodness of whole grains. As a meatless main, I love to add some steamed broccoli or broccolini to it as well, to round out the meal.
Get the Recipe:

Mushroom Barley Risotto
Delicious and filling, this is barley cooked risotto style, with lots of mushrooms and Parmesan cheese. A great meatless main or a delicious side dish.
Ingredients
3

Tablespoons

butter

,

DIVIDED

1

shallot

,

minced

2

cloves

garlic

,

thinly sliced

1/2

lb

fresh mushrooms

,

about 1 standard tray

1/4

teaspoon

fresh thyme leaves

,

plus more for garnish or a pinch of dried thyme leaves

Salt and freshly ground pepper

1

cup

pearl barley

1/2

cup

dry white wine

4

cups

beef broth

,

hot (low sodium recommended)

1/4

cup

Parmesan cheese

,

grated
For garnish:
Additional fresh thyme leaves

Freshly grated Parmesan cheese
Instructions
Heat the beef broth in a saucepan and keep warm.

In a large, deep skillet, heat 2 Tbsp of the butter over medium heat. Add the shallots and garlic and cook, stirring, until starting to soften. Add the mushrooms and thyme leaves and season with salt and pepper. Cook, stirring regularly until mushrooms are tender and lightly golden, about 5-6 minutes. Add the barley and the remaining 1 Tbsp butter. Cook, stirring, for about 1 minute. Add the wine and cook until the wine is absorbed, about 3-4 minutes.

Add one ladle of the hot beef broth and stir to combine. Cook over medium heat, stirring once or twice, until nearly all of the broth has been absorbed. *You don't want to boil the mixture too vigorously, but you do want a consistent simmer. Adjust heat to that point. Continue adding broth, one ladle at a time, allowing the it to cook until the liquid is absorbed before adding another ladle. Cook until all the broth is added. Test the barley. You want it to be al dente. If it is not quite there, add another ladle of hot water (or broth, if you have more available) and cook a bit longer. When barley is cooked, stir in grated Parmesan cheese and stir to combine.

Season dish with salt and freshly ground pepper, to taste. Serve with additional grated Parmesan and garnish with fresh thyme sprigs or fresh thyme leaves.
Notes
Be sure to read the notes above the Recipe Card, for more tips on making this recipe.
Serving:
1
serving
,
Calories:
226
kcal
,
Carbohydrates:
28
g
,
Protein:
8
g
,
Fat:
7
g
,
Saturated Fat:
4
g
,
Cholesterol:
18
mg
,
Sodium:
716
mg
,
Potassium:
328
mg
,
Fiber:
5
g
,
Sugar:
1
g
,
Vitamin A:
215
IU
,
Vitamin C:
1.4
mg
,
Calcium:
71
mg
,
Iron:
1.4
mg
More Risotto Recipes to Love!
Hi! I'm Jennifer, a home cook schooled by trial and error and almost 40 years of getting dinner on the table! I love to share my favourite recipes, both old and new, together with lots of tips and tricks to hopefully help make your home cooking enjoyable, stress free, rewarding and of course, delicious!