Delicious, slow-cooked baked past with slow-cooked brisket ragu is the ultimate in baked pasta goodness.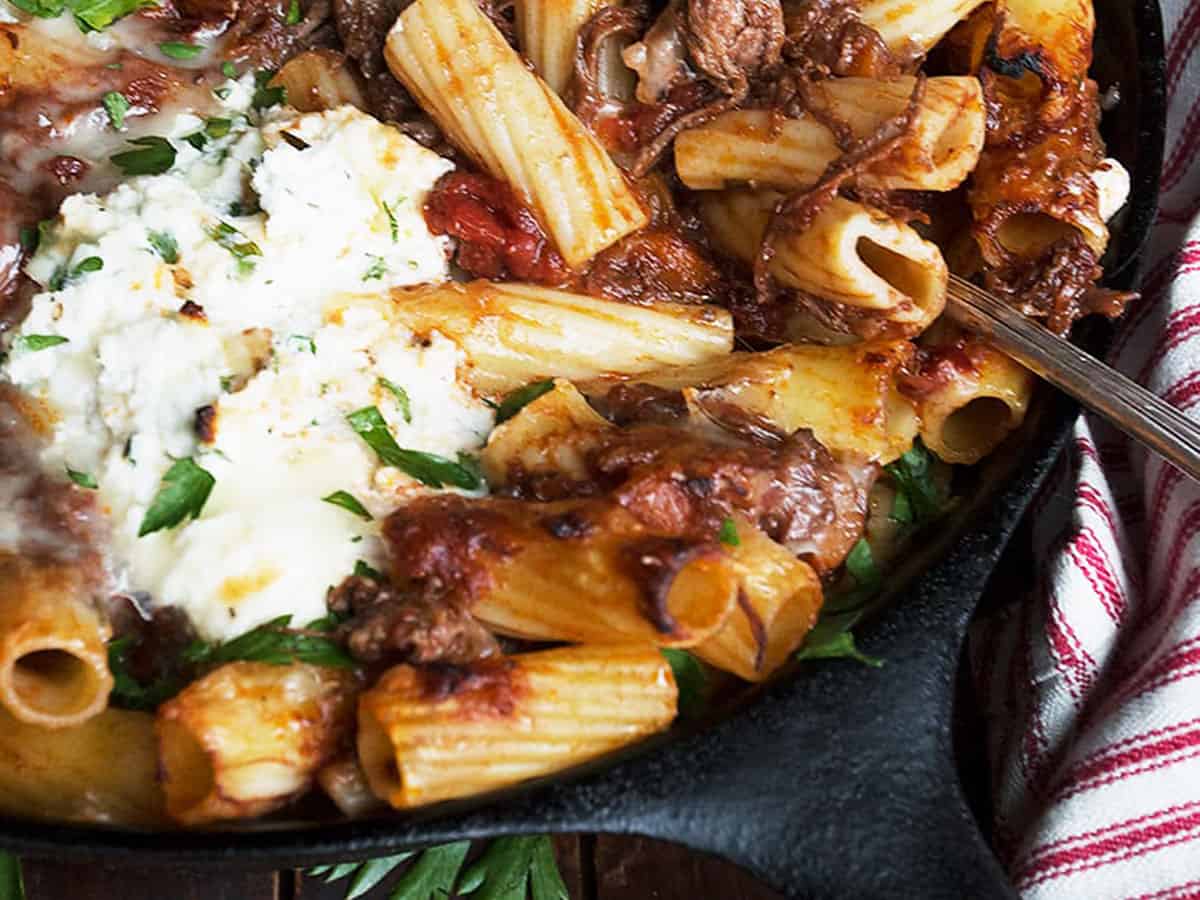 I'm not sure there is anything nicer that a low and slow cooked ragu and when combined with great pasta and baked up with cheese, it's a perfect meal for this cooler weather.
Along with the pasta is a low and slow-cooked ragu, which started with a lovely piece of beef brisket. The brisket is combined with San Marzano tomatoes, onions and carrots, red wine and beef broth. It cooks slowly in the oven until the brisket is fork tender. It then gets shredded and added back to the sauce, to simmer some more on the stove-top until it is super rich and flavourful. The final touch is to bake it up with dollops of ricotta cheese.
Beyond the obvious deliciousness, I love that this dish brings together a variety of quality ingredients, from the beautiful brisket, to the creamy ricotta, to the carrots and tomatoes that cook up beautifully in the sauce. Served with a side salad, it's a perfect family meal.
Cook's Notes
My piece of brisket had a generous fat cap, extending over an inch in some places. I trimmed off some of it, but left 1/2-inch or so on to flavour the ragu and keep the brisket lovely and moist.
Surprisingly, despite over 4 hours of cooking, the carrots in the ragu will still be holding their shape, so don't count on them breaking down and disappearing. Be sure to cut them to the size you would like them to be in the finished ragu.
When it comes to the red wine, any nice dry red works. Pick something that you would enjoy drinking out of a glass and you'll be sure to love how it flavours the ragu as well.
The Beef Brisket ragu recipe will make much more than you need for one 10-inch skillet dinner. It just seems to me if you're going to invest 4 hours of slow-cooking, you might as well make a big batch! The extra ragu can be refrigerated for several days or frozen for several months, to use for another meal later!
OR, if you're feeding a crowd, double the remainder of the recipe and use all the ragu in a 9x13 casserole dish instead.
Baked Rigatoni with Brisket Ragu and Ricotta
Rigatoni pasta, tossed with low and slow cooked beef brisket ragu and baked up with ricotta cheese.
Ingredients
For the Beef Brisket Ragu:*
2 1/2 - 3

lb

beef brisket

,

kept whole, trimmed of a bit of excess fat if necessary

Salt and freshly ground black pepper

2-3

Tbsp

olive oil

1

medium

onion

,

finely chopped

4

cloves

garlic

,

finely chopped

2

medium

carrots

,

peeled finely chopped

2

celery stalks

,

diced

1

Tbsp

all purpose flour

2

Tbsp

tomato paste

1/4

cup

balsamic vinegar

2

cups

red wine

28

oz

can whole San Marzano tomatoes

,

hand-crushed

2

cups

beef stock

1

sprig fresh Rosemary

1

sprig fresh oregano

2

sprigs fresh thyme

Pinch

red pepper flakes

Salt and freshly ground pepper
For the Ricotta Mixture:
1

cup

ricotta cheese

1/2

cup

mozzarella cheese

,

grated

2-3

Tbsp

finely chopped fresh parsley

Salt and pepper

,

to taste
To Prepare the 10-inch Skillet:
3

cups

dried rigatoni pasta

,

cooked to al dente according to instructions and drained

3

cups

beef brisket ragu

,

from above

All the above ricotta mixture

1/2

cup

mozzarella cheese

,

grated
To serve:
Chopped fresh parsley

,

for garnish

Freshly shaved Parmesan cheese
Instructions
Preheat oven to 325 F.

Trim the beef brisket of any excess of fat, leaving about 1/2 inch or so on the meat. If your brisket is too large to fit flat in to your Dutch oven, cut in to two pieces so it will fit. Otherwise, leave as one piece. Season the beef with salt and pepper.

Heat the olive oil in a large oven-proof Dutch oven pot (with a lid) over medium high heat. When the oil is hot, brown the meat on both sides, about 5 minutes per side. Remove the brisket to a plate and set aside.

Reduce heat to medium under to your pot. Add the onion, garlic and carrots to the same pot and cook, stirring, until fragrant and beginning to brown, about 3-4 minutes. Add the flour and the tomato paste to the pot and cook, stirring for 1 minute. Add the balsamic vinegar and cook, stirring and scrapping the bits off the bottom of the pot, until the balsamic is almost completely evaporated, about 3 minutes. Add the red wine and increase heat to medium-high. Bring the mixture to a boil, then reduce the heat to medium and simmer until it's reduced by half, about 5 minutes.

When the wine has reduced, add the hand crushed tomatoes and the beef stock and stir to combine. Add the beef brisket back to the pot. Add the fresh herbs and red pepper flakes and gently stir in to the sauce. Season with a bit of salt and pepper. Bring the sauce to a simmer over medium high heat, then cover the dutch oven and transfer to the preheated 325 F. oven. Cook covered for 3 hours or until the beef is very tender.

Remove pot from oven and place on the stove-top over medium-high heat. Carefully remove the brisket to a cutting board. Allow to cool a few minutes, then use two forks to shred the meat, discarding any bits of fat. Add the shredded beef back to the pot with the sauce. Bring the sauce to a boil, then reduce heat to medium-low and allow to simmer uncovered until reduced and thickened, about 30-45 minutes. Taste sauce and add additional salt and pepper, as needed.

Preheat oven to 425 F.

While sauce is simmering, cook the pasta, according to package instructions, until al dente. Drain the pasta and place in to a large bowl. When sauce is ready, add the amount of cooked ragu specified in the recipe to the cooked pasta and toss to combine. (Refrigerate or freeze additional ragu right away). Spoon in to a greased 10-inch skillet or similar sized baking dish. Prepare the ricotta mixture by combining all the ingredients. Spoon dollops of the ricotta mixture over-top, then sprinkle with grated mozzarella.

Bake in 425 F. oven for 20-25 minutes, or until bubbling and golden. Serve sprinkled with the chopped parsley and topped with shaved Parmesan cheese.
Notes
Notes: The Beef Brisket ragu recipe will make much more than you need for one 10-inch skillet dinner. The rest can be frozen for another meal later! OR, if you're feeding a crowd, double the remainder of the recipe, use all the ragu and cook up in a 9x13 casserole dish instead.
Nutrition
Calories:
618
kcal
Carbohydrates:
72
g
Protein:
23
g
Fat:
18
g
Saturated Fat:
8
g
Cholesterol:
42
mg
Sodium:
699
mg
Potassium:
1058
mg
Fiber:
5
g
Sugar:
12
g
Vitamin A:
4810
IU
Vitamin C:
20.3
mg
Calcium:
321
mg
Iron:
3.9
mg
Nutritional information provided for general guidance only and should not be relied upon to make personal health decisions.
Never miss a new recipe!
SIGN UP for email updates!