Lovely, moist and full of blueberries, this sour cream cake is lightly sweet, so it's perfect to enjoy any time of day.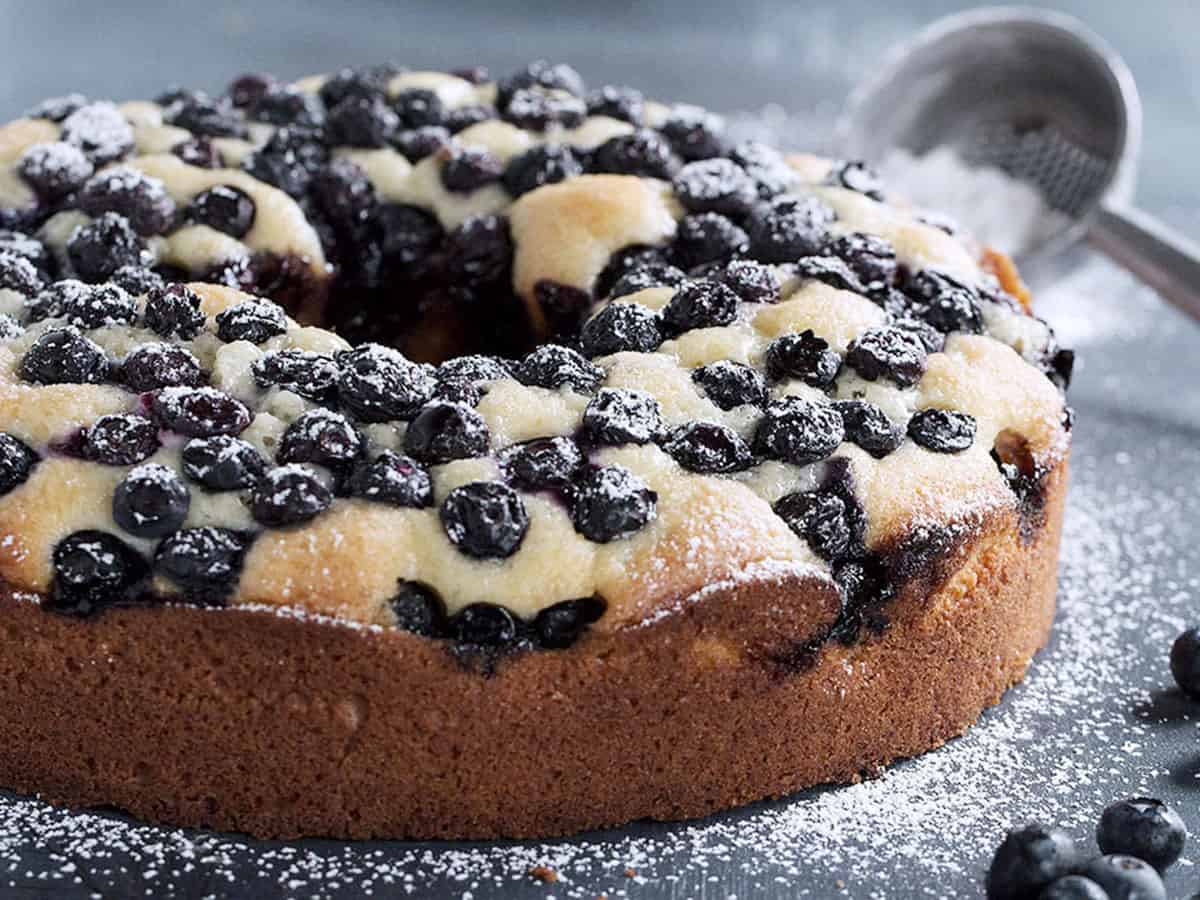 Full of flavour and blueberries, this Blueberry Sour Cream Cake is the perfect snacking cake to have on your counter. Not only does it keep well for several days, it also freezes well.
This cake bakes in a tube pan (see below, if you're not sure what that is). The benefit of baking in a tube pan is that it bakes right side up, as opposed to a bundt pan, which bakes upside down. Baking this cake right side up, means you'll get to enjoy a pretty, blueberry topped cake, that is sure to entice.
Jump to:
Ingredient Notes
Sour Cream: This is a sour cream cake, so sour cream would be the recommended ingredient here :)
For best results, use a full-fat sour cream. A lower-fat sour cream will work, but recognize that you are reducing the fat in this cake accordingly, which will affect the texture and moistness of the cake to some degree. If you're in a pinch, you could substitute a thick, plain yogurt, such as Greek yogurt though again, it will not be the same as using full-fat sour cream in this cake.
Oil: Any neutral-tasting oil is fine here, such as vegetable, canola, sunflower etc. I don't recommend olive oil.
Blueberries: I prefer fresh blueberries for this cake, as they hold their shape a little better, but frozen blueberries will work here, as well.
What is a Tube Pan?
A Tube Pan is not a bundt pan. A Tube pan is usually in two pieces, with a centre tube, attached to a round base. This center tube part then sits inside of an outer piece that makes the sides and has a lip at the bottom to hold the centre tube. Tube pans sometimes come in one piece, as well. They are essentially the same, though I find the two-piece easier to remove the cake from.
A tube pan will bake a cake right side up, as opposed to a bundt pan, which is baked upside down and then flipped over.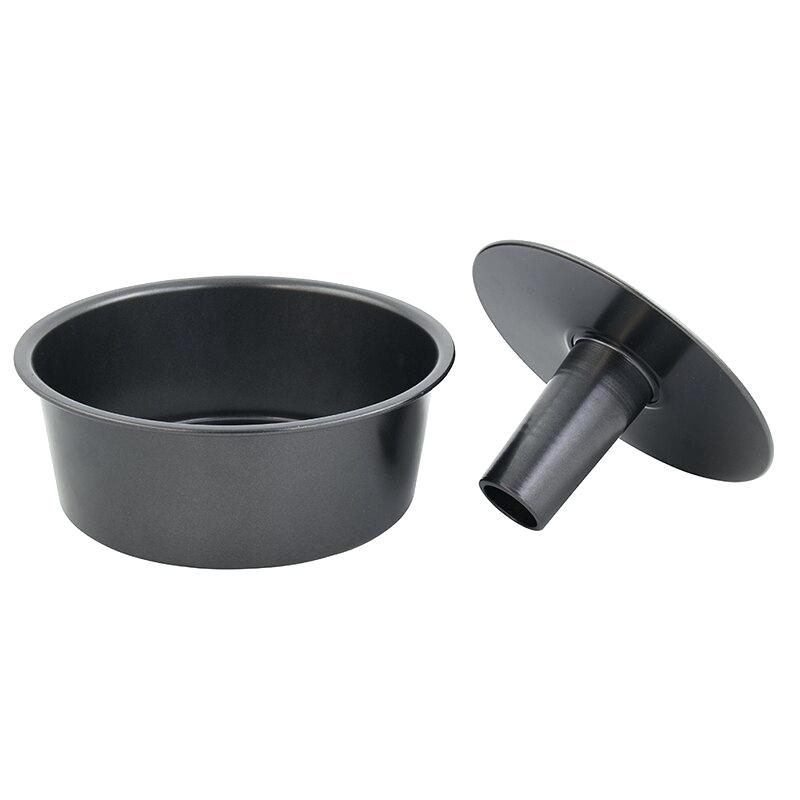 While both bundt pans and tube pans have a centre cone, tube pans are used either for more delicate cakes that might stick to a bundt pan or in cases where you want to bake a cake right side up, instead of the inverted style of a bundt pan.
In the case of this Blueberry Sour Cream Cake, we are using a tube pan to be able to load the top up with fresh blueberries, for a pretty cake. If we were to use a bundt pan here, the bottom of the bundt pan would end up as the top, so we'd have to scatter all the blueberries in the bottom of the pan and then add the batter. While this method would "work", you will end up with blueberry jam on the top of your cake :)
As noted above, a two-piece tube pan makes it easier to remove the cake, but if you only have a one-piece tube pan, it will work here as well. Grease well, line the bottom with parchment (with a hole cut in the centre) and allow to cool in the pan slightly longer before removing from the pan.
Cook's Notes
If you'd like to add a touch of lemon to this cake, add a teaspoon of lemon zest to the batter.
Don't skimp on the blueberries. Put as many on top as you can. Some will sink into the cake as it bakes.
This cake keeps well for several days stored wrapped or covered on the counter. This cake will also freeze well.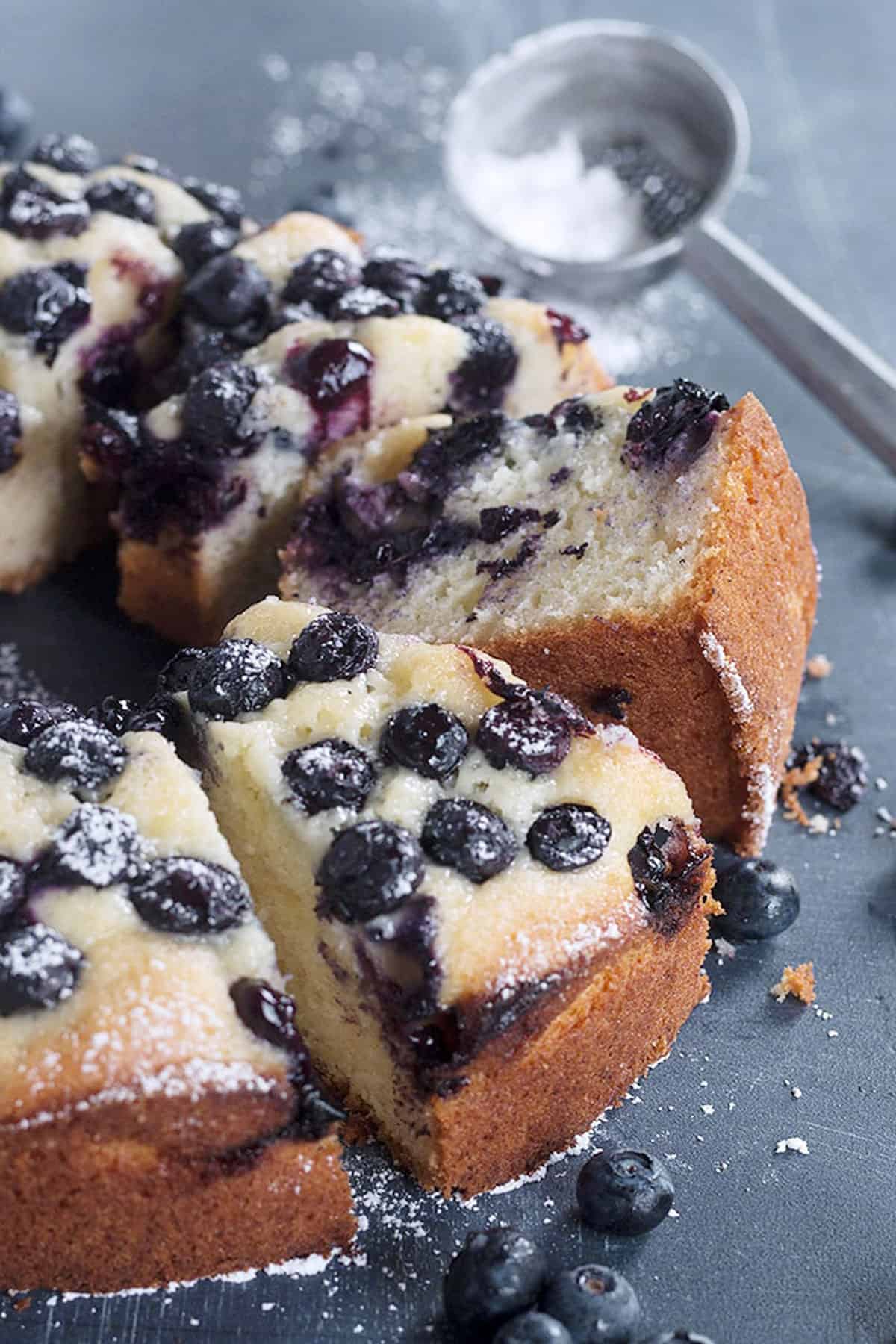 Recipe
More blueberry recipes you might also like ...