Delicious Butter Chicken, made with chicken thighs and lots of sauce. One-pan easy and cooked only on the stove-top.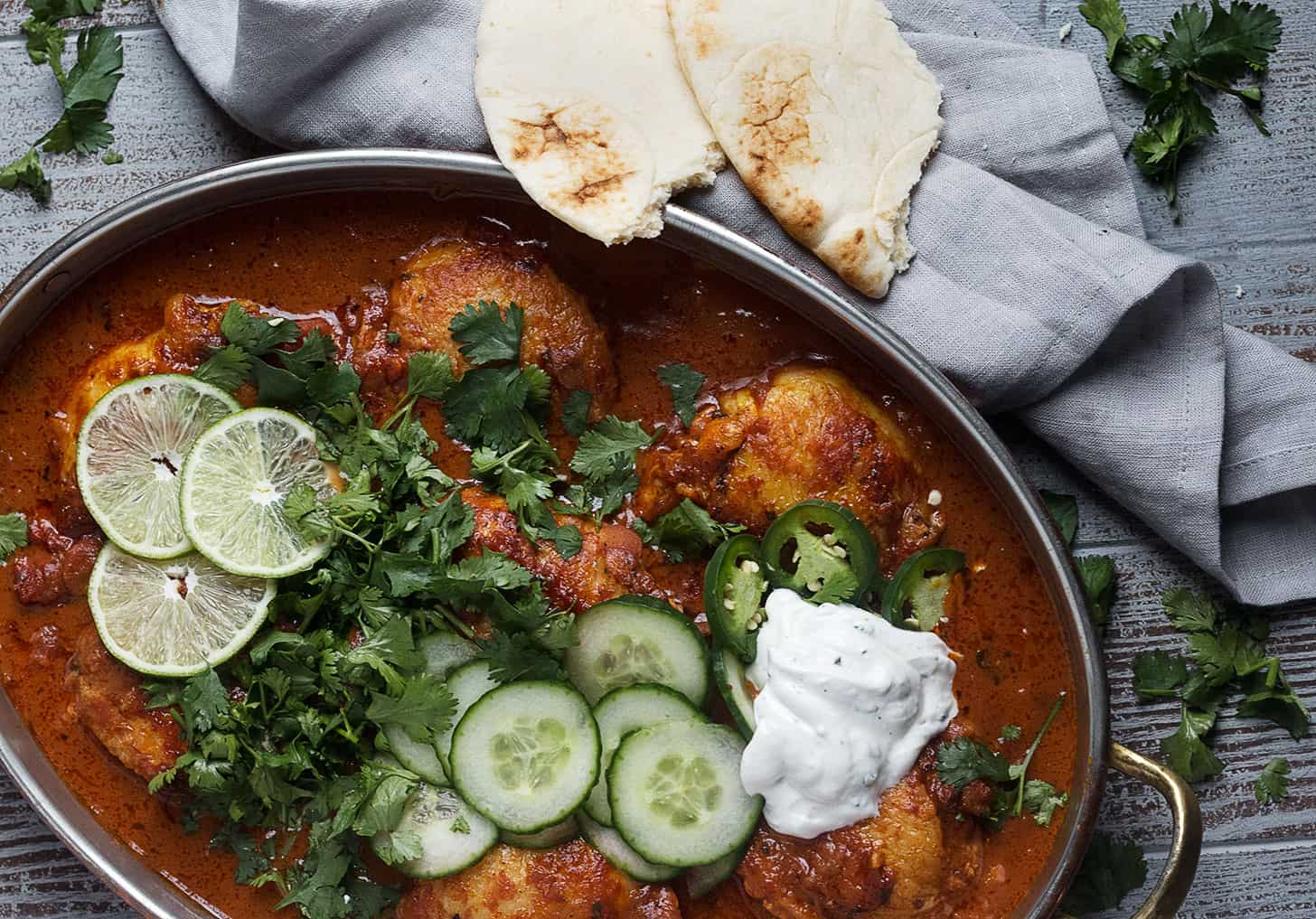 Why you'll love these butter chicken thighs
I know you don't often think of chicken thighs when it comes to Butter Chicken, but let me make a case for this delicious version.
These Butter Chicken Thighs start with skin-on/bone-in chicken thighs, that are pan seared until golden, then combined with a delicious butter chicken sauce, where they just simmer away in an open skillet for about an hour.
The long simmering creates both a lovely, reduced and flavourful butter chicken sauce, but also fork tender, dark meat chicken, that is a nice change from the usual. The sauce infuses the chicken and the chicken infuses the sauce. And it's a good thing!
This dish is also weeknight easy. While it does need to simmer for an hour, it requires no babysitting. The hands on time here is only about 15 minutes. And don't be put off by the long list of ingredients. Most are common pantry items and those that aren't are optional. In fact there are lots of options here, as detailed in the Ingredient Notes below.
While I typically enjoy some rice with Butter Chicken, I find this one doesn't need rice. Go big on the garnishes and cucumber and serve with plenty of Naan, as there's lots of delicious sauce for dipping.
Ingredients and Substitutions
Chicken Thighs – I've used skin-on and bone-in chicken thighs here. I find they make an extra flavourful dish. That said, you can use boneless chicken thighs, bone-in/skin-on chicken breasts, or even boneless chicken breasts. Only the cook time will change with the choice. If you want to go with skinless/boneless chicken thighs or boneless chicken breast, simply cut into large pieces and make as per the recipe.
Canned Tomatoes – I use canned crushed tomatoes here, but you could substitute canned diced tomatoes or passata, if that's all you have on hand.
Tandoori Curry Paste – Look for Tandoori Curry Paste in with the Indian foods at your grocers or you can find it easily online. If you can't find, you can substitute Tandoori Masala dried spice, to taste (use less than paste).
Spice Mix – The spice mix includes a lot of spices, but most are fairly common if you have a well stocked spice rack. If you are missing one, it's not a deal breaker. You can omit. If you are a fan of Indian flavours though, the one your missing might be a good addition to your spice rack :)
Ginger Paste – I've mentioned before my love of ginger paste, the one you see in tubes in the fresh produce section of the grocery. Keep it in the fridge and use wherever freshly grated ginger is specified (use a touch more paste than freshly grated).
Tomato Paste – Another real time saver and waste preventer is tubed tomato paste. It's perfect for recipes like this that specify a small about of tomato paste. Look for the tubes of tomato paste in with the canned tomato paste. It's often packed in a toothpaste-sized box.
Coconut Cream or Coconut Milk – Note that you'll only need 1/2 cup of coconut cream for this recipe. I spoon off and measure the solid cream from the top of a can of coconut milk, myself. If you prefer, for a bit lighter dish, stir the coconut milk and measure out 1/2 cup. You can also substitute 1/2 cup of heavy cream here instead.
Dried Fenugreek Leaves – these are a really nice addition to Indian dishes, so if you are a fan of cooking Indian at home, consider adding some to your pantry. You can buy a big bag of dried leaves many places online, including Amazon, if you don't have an Indian grocery near you.
Recipe Tips
Use a skillet size that allows the tops of the chicken thighs to sit above the level of the sauce, to avoid soggy chicken skin. I use a 10 1/2-inch skillet with 2 1/2-inch high sides that's about the perfect size for 8 thighs.
Even though there is a lot of spice in this dish, don't forget the salt. Taste the sauce at the end and add a bit of salt as needed, to really bring the flavours together.
The Yogurt Dip is optional, but does add a nice fresh addition to this dish!
Get the Recipe:

Butter Chicken Thighs
One-pan easy and delicious, these Butter Chicken thighs are made with bone-in/skin-on chicken thighs (but you can use any chicken cut you like!).
Ingredients
Butter Chicken Spice Mix:
1

teaspoon

cumin

1

teaspoon

ground ginger

1

teaspoon

paprika

1

teaspoon

ground coriander

1

teaspoon

turmeric

1/2

teaspoon

cinnamon
For the Chicken:
1

Tablespoon

olive oil

8

chicken thighs

,

skin on/bone-in (or chicken cut of your choice)
For the Butter Chicken Sauce:
3 1/2

Tablespoons

butter

All of the Spice Mix from above

1

small

onion

,

very finely chopped

2

cloves

garlic

,

finely chopped

3/4

teaspoons

fresh ginger

,

finely grated or 1 tsp ginger paste

1

Tablespoon

Tandoori Curry Paste

,

or 1-2 tsp Tandoori Masala dried spice

2

Tablespoon

tomato paste

1

Tablespoon

brown sugar

2

cups

chicken broth

1 2/3

cups

canned crushed tomatoes

,

or passata

1/2

cup

coconut cream

,

or coconut milk, stirred or heavy whipping cream

1

Tablespoon

dried fenugreek leaves

,

optional

Salt and freshly ground pepper
Yogurt Garnish:
1

cup

Greek yogurt

Zest of 1/2 lime

2

Tablespoons

freshly squeezed lime juice

1

clove

garlic

,

minced

1

Tablespoon

cilantro

,

finely chopped

Salt and freshly ground pepper
Garnishes:
1/2

English cucumber

,

sliced into thin rounds

1

jalapeno pepper

,

thinly sliced

Fresh cilantro leaves

,

chopped

Lime wedges or slices

Naan Bread

,

warmed
Instructions
In a 10 to 11-inch skillet, heat olive oil over medium-high heat. Add chicken thighs, skin side down and allow to cook until golden, about 5 minutes. Flip and cook on the other side for about 3 minutes more. Remove chicken to a plate.

Remove and discard all the fat in the pan from the chicken thighs. Reduce the heat under the pan to medium-low. Add the butter to the pan and melt. Add the Spice Mix, onion, garlic and ginger to the pan and cook, stirring, until onion is softened, about 3 minutes. Add the Tandoori curry paste and tomato paste to the skillet and cook, stirring, another 1 minute. Add the brown sugar, chicken broth and crushed tomatoes to the skillet and stir to combine. Return the chicken thighs to the pan (ideally, the top of the chicken thighs should not be covered by sauce). Bring sauce to a boil over medium-high heat, then reduce heat to medium-low and allow to simmer, uncovered, for about 1 hour or until sauce has reduced by half. *boneless chicken will require less cooking time.

Gently stir in coconut cream or milk and fenugreek leaves, if using (If helpful, you can remove a couple of the chicken thighs from the skillet temporarily to have more room to stir). Taste sauce and season with salt and freshly ground pepper, as needed.

For yogurt sauce, if using: Combine all ingredients in a small bowl. Use immediately or cover and refrigerate if making ahead.

Serve topped with sliced cucumber, chopped cilantro and jalapeno and garnish with lime slices or wedges. Add a dollop of yogurt sauce, if using and serve with warm Naan bread.
Serving:
1
serving
,
Calories:
631
kcal
,
Carbohydrates:
23
g
,
Protein:
46
g
,
Fat:
62
g
,
Saturated Fat:
26
g
,
Cholesterol:
250
mg
,
Sodium:
913
mg
,
Potassium:
1233
mg
,
Fiber:
4
g
,
Sugar:
12
g
,
Vitamin A:
1185
IU
,
Vitamin C:
31.1
mg
,
Calcium:
146
mg
,
Iron:
5
mg
More Indian Inspired Recipes to Love!
Hi! I'm Jennifer, a home cook schooled by trial and error and almost 40 years of getting dinner on the table! I love to share my favourite recipes, both old and new, together with lots of tips and tricks to hopefully help make your home cooking enjoyable, stress free, rewarding and of course, delicious!