These Spicy Pork Tenderloin Tacos are quick, easy and full of flavour, all starting with just one, always tender pork tenderloin.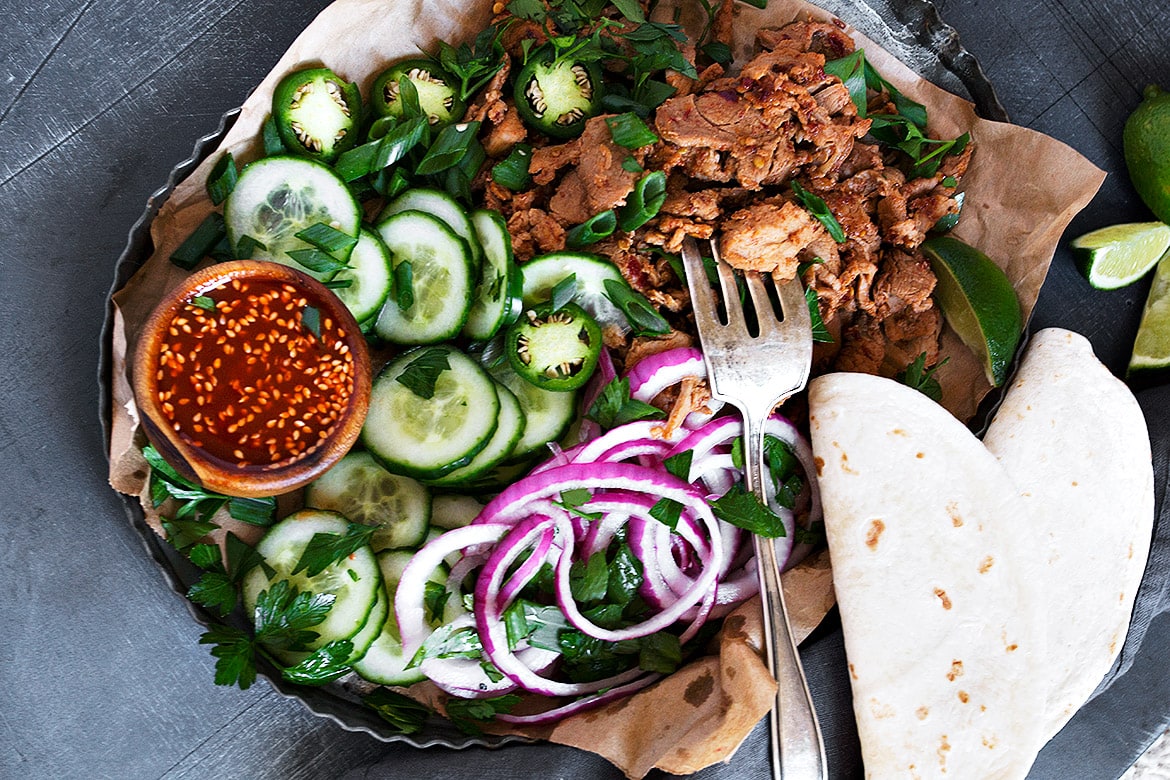 These Spicy Pork Tacos are ready in a flash and are just the thing for a quick, but flavourful meal. They're a fusion of Asian flavours and toppings that are a little different from the usual, all served up in with warm, soft flour tortillas.
And it all starts with just one pork tenderloin. No need to marinate for hours (though you can if you want). Simply slice, set in the spicy sauce for a few minutes while you prepare your toppings, then quickly saute in a skillet over high heat.
I love to make a spicy sauce to go along with these tacos. I've included a nice and spicy gochujang based sweet and spicy sauce here, but any spicy sauce works here, such as Sriracha, Sambal Oelek or Asian Chili Garlic Sauce.
Cook's Notes
Gochujang is a Korean red pepper paste that hasn't quite broken into the mainstream grocery stores yet (at least not here :). Look for it in Asian grocers or you can find it easily online. It keeps a long time in the fridge and is indispensable if you like to make Korean food at home.
Feel free to get creative with your toppings and use whatever is in your fridge. I used quick pickled onions, cucumbers, sliced jalapenos, green onion and cilantro here. Some spiralized carrots or other veg would also be nice.
If you want to make this dish super fast, skip the pickling of the onions and just use thinly sliced red onion instead. You can also skip making the gochujang sauce and grab the Sriracha or Asian Chili Garlic Sauce/Samal Oelek to spoon on the tacos.
Use your largest skillet to cook the pork, so that the meat has a little room to cook and so the liquid can evaporate quickly so the meat can brown. If necessary or if doubling the recipe, cook the pork in two batches.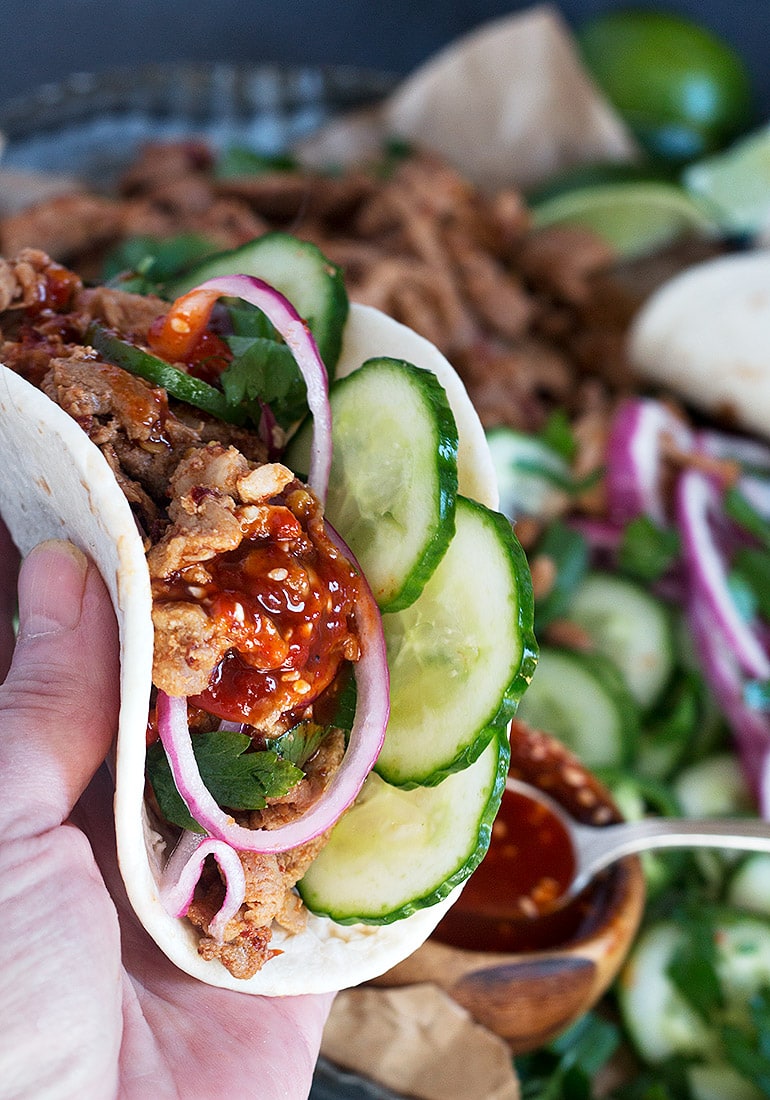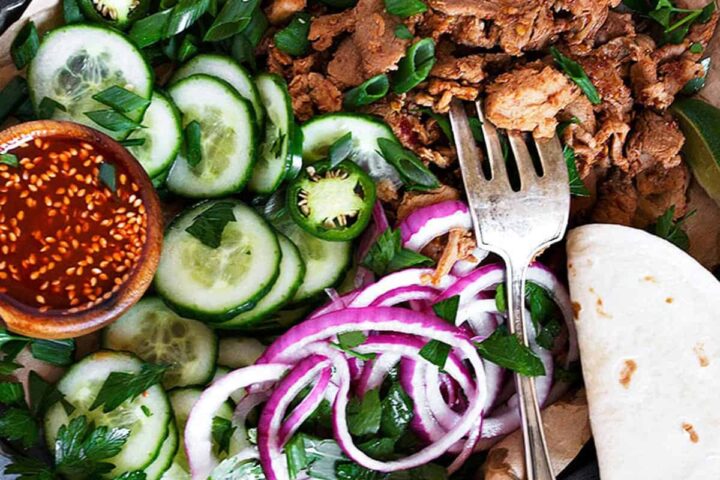 Get the Recipe:

Spicy Pork Tenderloin Tacos
Always tender pork tenderloin, cut into thin slices and quickly cooked on the stove-top with a spicy Asian sauce. Serve with lots of toppings and a sweet and spicy Gochujang sauce on flour tortillas.
Ingredients
1 1/2

lb.

pork tenderloin

,

fat and silverskin removed

8

small flour tortillas
Quick Pickled Red Onions (Optional, or just use thinly sliced red onion):
1/2

large

red onion

,

cut in 1/8-in. rounds then separated into rings

1/3

cup

white vinegar

1/4

tsp

granulated sugar

1/4

tsp

salt

1

clove

garlic

,

halved
Spicy Pork Marinade:
3

Tbsp

sambal oelek

,

or Asian Chili Garlic Sauce

2

Tbsp

brown sugar

1

tsp

fresh ginger

,

minced, or ginger paste

1

clove

garlic

,

minced

2

Tbsp

soy sauce

2

tsp

sesame oil
Gochujang Sauce (optional, or just use Sriracha, Asian Chili Garlic Sauce or Sambal Oelek):
2

Tbsp

gochujang

2

Tbsp

brown sugar

1/2

tsp

garlic

,

minced

2

Tbsp

white vinegar

1

tsp

sesame seeds
Toppings:
Thinly sliced cucumbers

Thinly sliced jalapeno pepper

Chopped fresh cilantro

Diced green onions

Lime wedges

,

for drizzling
Instructions
Make the Quick Pickled Red Onions: In a medium saucepan on the stovetop, boiL the vinegar with the sugar, salt and garlic until sugar dissolves. Remove from heat and add onion rings. Push onion down into liquid so it is mostly covered and let stand for at least 30 min. To store longer, cover and refrigerate. Can be refrigerated up to 1 week.

Prepare the pork: Thinly slice the pork tenderloin and place into a medium bowl.

Prepare the Spicy Pork Marinade: In a small bowl, whisk together the sauce ingredients. Pour over the sliced pork and toss to combine. Let stand on the counter while you prepare the toppings and sauce, if using, or if making ahead, cover and refrigerate.

Preheat oven to 350F, to warm the tortillas.

Prepare the toppings: Slice and chop the topping ingredients and set aside.

Prepare the Gochujang Sauce: Combine all the Gochujang sauce ingredients in a small bowl and stir to combine. Set aside.

Wrap the tortillas in aluminum foil and pop into the oven to warm for 7-8 minutes, while you cook the pork.

Heat a large skillet over medium-high heat. Add the marinated pork (with marinade) and spread into a thin layer. Let cook, undisturbed, until pork starts to brown, then stir and continue cooking, stirring, until pork is cooked through. Remove pork to a serving platter. Arrange the toppings in sections on the platter and place the small bowl of the gochujang sauce on the platter as well. Serve with warmed tortillas.
Calories:
446
kcal
,
Carbohydrates:
39
g
,
Protein:
41
g
,
Fat:
12
g
,
Saturated Fat:
3
g
,
Cholesterol:
110
mg
,
Sodium:
1409
mg
,
Potassium:
813
mg
,
Fiber:
1
g
,
Sugar:
9
g
,
Vitamin A:
15
IU
,
Vitamin C:
8.7
mg
,
Calcium:
82
mg
,
Iron:
4
mg
More Pork Taco Recipes from the Seasons and Suppers Archives
Easy Tacos Al Pastor
These Easy Tacos Al Pastor feature flavoured pork tenderloin, grilled with pineapple and onion and served with a fresh pineapple salsa. I am a huge fan of Tacos Al Pastor, but the traditional method of spit-grilling for hours or days is beyond my reach. I also have a lack of access to the variety of…
www.seasonsandsuppers.ca
Carnitas Tacos and Carnitas Flautas
Easy and delicious, these Carnitas Tacos and Carnitas Flautas are full of flavour and great for game day. Or any day!
www.seasonsandsuppers.ca
Asian Pork Tacos with Sriracha Mayo
Quick, easy and delicious, these Asian inspired pork tacos are made with a single pork tenderloin, grilled green onions, tomatoes, cucumbers and topped Sriracha Mayonnaise. Can be made in the oven or on the BBQ.
www.seasonsandsuppers.ca