These easy and delicious candied tomatoes, start with Roma tomatoes, slow roasted in the oven with a filling of olive oil, garlic, balsamic and thyme. The result is naturally sweetened tomatoes, bursting with flavour. Perfect to use in salads, pasta, on pizza or sandwiches.
I'm not sure I love the name "candied" tomatoes. It suggests there is some added sugar thing happening here and that's not the case at all. I want to call them Tomato Flavour Bombs, because that seems far more appropriate. These tomatoes are all about using slow roasting effect (and some other great flavours), to bring out the natural sweetness of the tomatoes and to heighten the tomato flavour to an unbelievably delicious level.
These tomatoes are super easy to make. Simply halve the tomatoes, scoop out the insides, then blend that bit all up with some garlic, balsamic, olive oil, tomato sauce (or juice) and a bit of salt and pepper. This mixture is then spooned in to the hollowed tomatoes, sprinkled with a bit of thyme and slow-roasted.
Cook's Notes
So what can you do with your candied tomatoes? Chop them up and add them to salads or pasta. Or pasta salad. Eat them on a plate, together with some basil, fresh mozzarella and balsamic. Enjoy them for breakfast with your eggs. Or put them in an omelette. Use them as a pizza topping. Or one of my favourite uses – put them on a sandwich!
Some of mine went in to a delicious panini. To make it, start with ciabatta buns. Cut in half and spread some basil pesto on the bottom. Add some candied tomatoes, then a layer of sliced fresh mozzarella. Drizzle with some balsamic glaze or balsamic vinegar. Cook in panini press, or in a grill pan with a weight.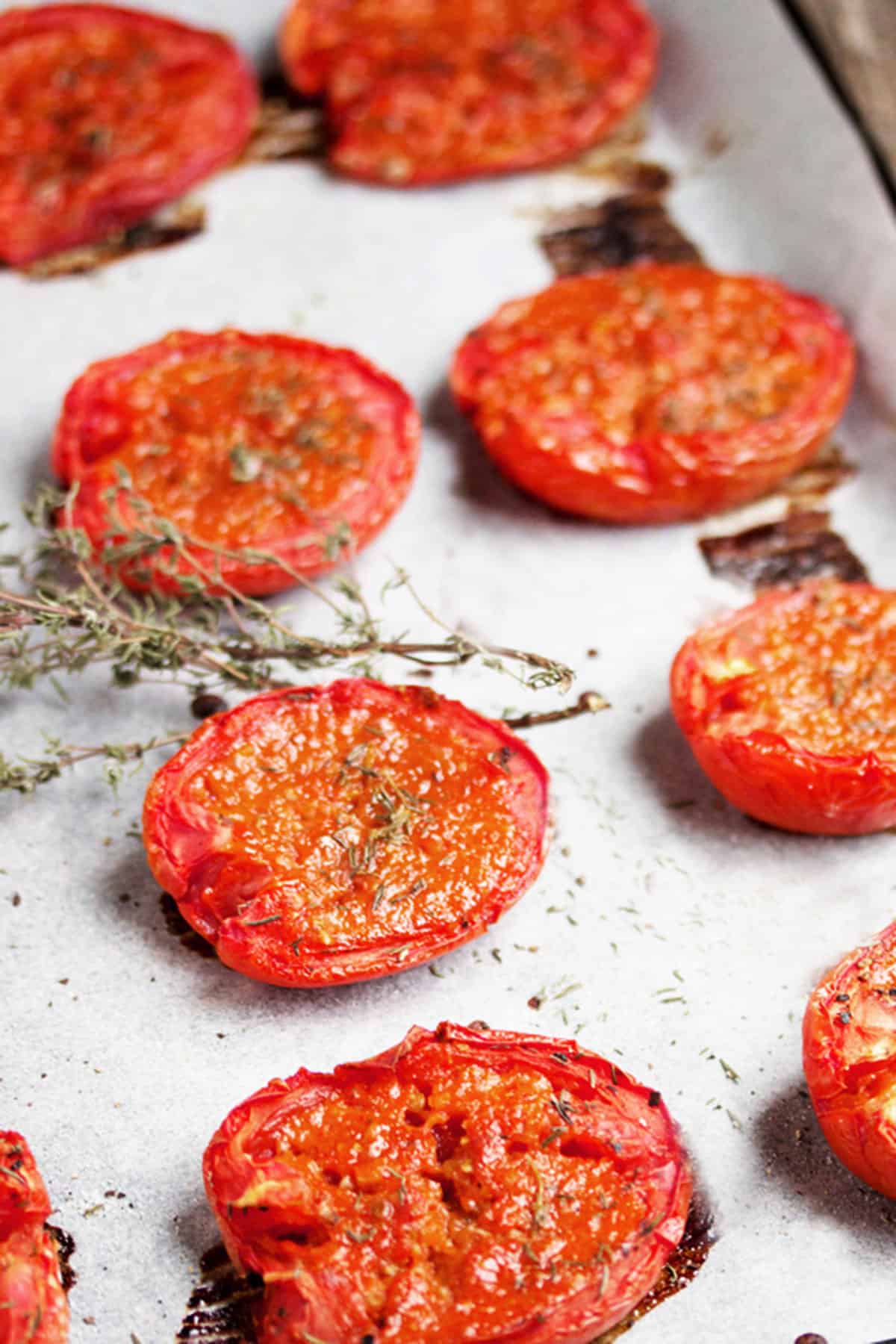 Get the Recipe:
Candied Roma Tomatoes
Lovely slow-roasted tomatoes, bursting with tomato flavour. Use them in salads or pasta, as a pizza topping, in omelettes or in sandwiches.
Ingredients
6

medium

(

6

)

Roma plum tomatoes

3

cloves

(

3

cloves

)

garlic

,

peeled

2

Tbsp.

(

29.57

ml

)

extra virgin olive oil

1

tsp.

(

4.93

ml

)

balsamic vinegar

1/4

cup

(

61.25

ml

)

tomato sauce

,

or tomato juice

Salt and pepper to taste

Fresh or dried thyme leaves
Instructions
Cut tomatoes in half and remove the stem end. Scoop out the inside of the tomatoes in to the bowl of a food processor (seeds and pulp). Arrange tomatoes on a parchment lined baking sheet, cut side up. Pre-heat oven to 275° F.

To the food processor with the tomato insides, add the garlic, olive oil, balsamic, tomato sauce (or juice) and a bit of salt and pepper. Spoon this mixture into the hollowed out tomato halves, filling them about 2/3 full. (You may not use it all). Sprinkle the tops with a few fresh or dried thyme leaves.

Bake in the preheated oven for 1 1/2-2 hours, or until the liquid in the middle has reduced and is just tacky to the touch (mine took 2 hours).

Can be stored in the fridge for 7-10 days or freeze them.
Calories:
30
kcal
,
Carbohydrates:
2
g
,
Protein:
1
g
,
Fat:
3
g
,
Saturated Fat:
1
g
,
Polyunsaturated Fat:
1
g
,
Monounsaturated Fat:
2
g
,
Sodium:
29
mg
,
Potassium:
94
mg
,
Fiber:
1
g
,
Sugar:
1
g
,
Vitamin A:
280
IU
,
Vitamin C:
5
mg
,
Calcium:
5
mg
,
Iron:
1
mg