There are many ways and reasons to enjoy food, but for me, one of the most exciting is the opportunity to explore other cultures through their foods. I love discovering new flavours, using different ingredients and seeing common ingredients put together in new and unique ways.
A traditional, easy churros recipe, served with a delicious warm chocolate sauce.
This is the premise behind a new TV show on Gusto TV, called One World Kitchen, which shines a spotlight on five global cuisines – Indian, Thai, Italian, South American and Japanese. The series features five passionate and captivating Canadian cooks, each with a unique background and culinary expertise to share and while the series celebrates each of these distinct heritages. It's clear that food and cooking share the same family and community values the world over.
When Gusto TV asked if I'd like to cook along with this new show, it was an easy "yes!". And you can, too! One World Kitchen debuts today (June 1, 2015) with new episodes at 8:00 pm and 8:30 pm (ET) on weekday evenings. In the first episode, we have the opportunity to explore the flavours of Argentina. The host Natalia Machado was born and raised in Argentina and her love of food and the flavours of her native country is obvious and infectious. If you can watch this show and not want to grab a taste of everything she cooks, you're a stronger person than I :)
In this episode, Natalia cooks up a classic Argentinean appetizer, entree and a dessert, each of which introduced me to a new view on their cultural flavours. I would happily make any of them and mark my words that the pork tenderloin dish she cooks up will be made in my house soon!
You can visit the Gusto TV website to learn more about One World Kitchen, find the viewing schedule in your area and see all the recipes from the show. I hope you'll tune in tonight and cook along, too!
Airs weeknights at 8:00 and 8:30 pm ET/ 5:00 and 5:30 pm PT, with additional airings 5:00 and 5:30 pm ET/ 2:00/2:30 pm PT.
While it was a tough choice, it was the churros that I decided to try my hand at first.
I was familiar with Churros and they may be one of the most widely recognized dishes of Argentina, but I have never eaten one, let alone made them. They've been on my cooking "bucket list" for ages though, so it was long past time to strike that one off.
For some reason, I always assumed that churros were made with a special "churro extruder" type tool. I'm guessing such a thing exists, but all you need is a pastry bag and a medium or large star tip to make the classic churro shape.
The dough mixes up quickly and easily and once the pastry bag is filled, you simply squeeze and then cut the dough so it drops in to the hot oil to cook. Once cooked, the warm churros are sprinkled with cinnamon sugar. I couldn't wait to try one, and I have to say, warm, fresh churros with their sugar coating are absolutely delicious. I could happily eat them plain, but I admit, a dip in the simple chocolate sauce was quite a satisfying bite :)
I absolutely loved the results and am so glad I finally had the chance to try Churros!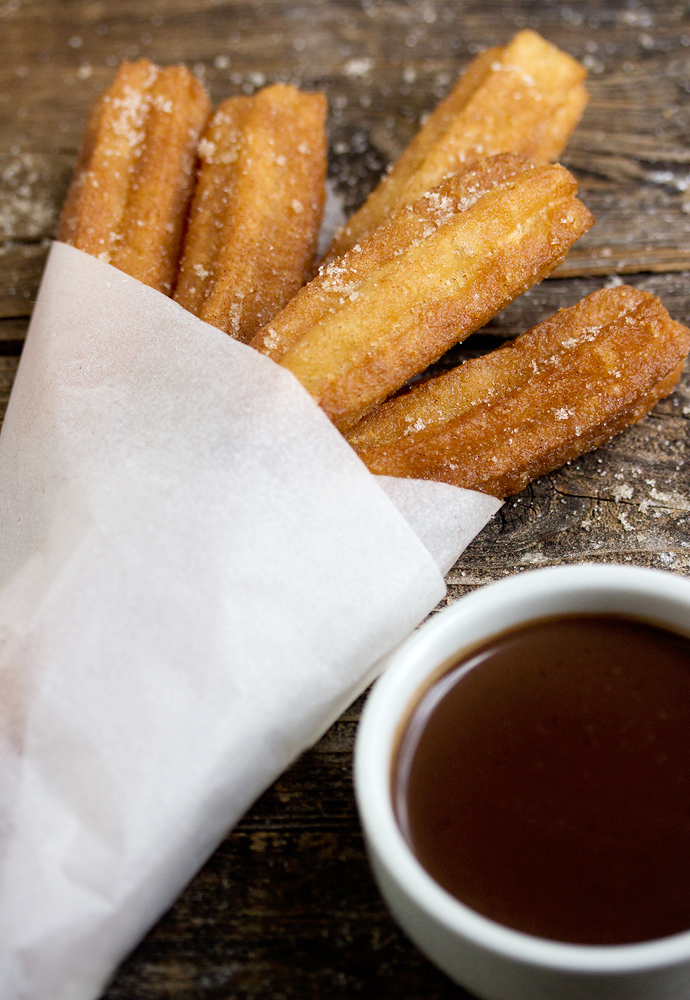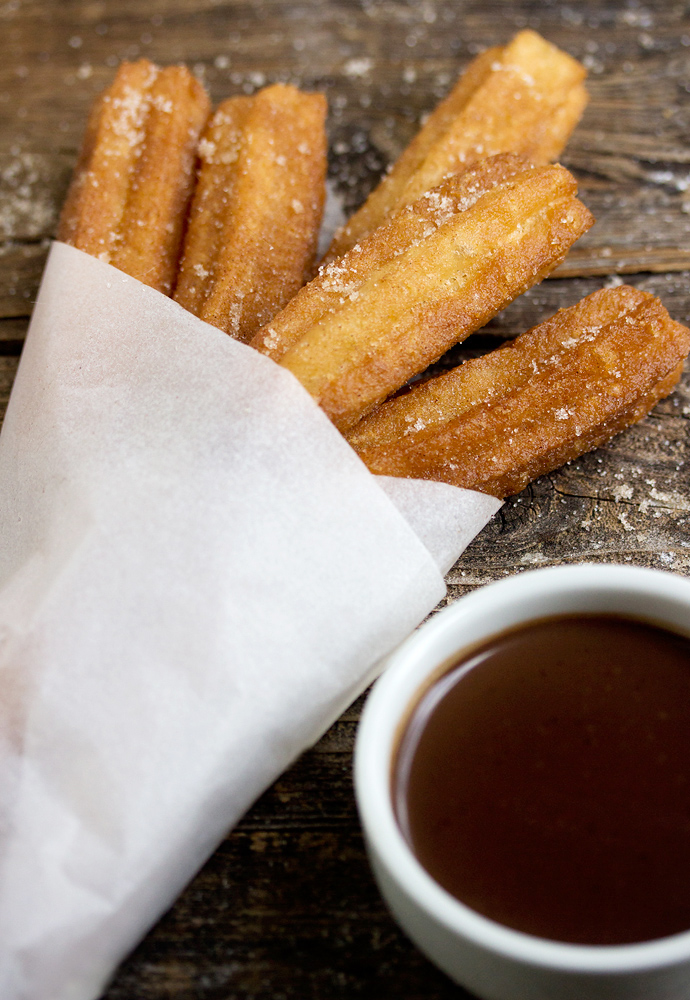 Churros Con Chocolate from One World Kitchen
Author: Natalia Machado - "One World Kitchen" on Gusto TV
Recipe type: Dessert
Serves: 14
Yummly
Ingredients
For the cinnamon sugar:
1 teaspoon (5 mL) ground cinnamon
2 tablespoons (30 mL) granulated sugar


For the chocolate sauce:
1 1/4 cups (310 mL) heavy cream
1 cup (250 mL) finely chopped semisweet 70% chocolate


For the churros dough:
1 cup (250 mL) water
2 1/2 tablespoons (37.5 mL) granulated sugar
1/2 teaspoon (2.5 mL) kosher salt
2 tablespoons (30 mL) vegetable oil
1 cup (250 mL) all-purpose flour
Vegetable oil for deep-frying, about 4 cups (1 L)


Piping bag with a medium star-shaped tip
Kitchen scissors
Instructions
Cinammon Sugar: In a small bowl, mix the sugar and cinnamon just to combine. Set aside.
For the chocolate sauce: In a medium saucepan over medium heat, add the cream. Let it come to a gentle simmer, making sure it doesn't boil. Place the chocolate in a heatproof bowl, then pour the hot cream over the chocolate and cover the bowl with plastic wrap. Allow to sit for 4 minutes, or until the chocolate is melted. Remove the plastic wrap, and whisk or stir to combine. Set aside.
Churros Dough: In a small saucepan over medium heat, combine the water, sugar, salt, and vegetable oil. Bring to a boil, then remove the pan from the heat. Using a wooden spoon, beat in the flour until thick paste forms. Return the pan to the heat, and cook for another minute.
Heat the oil in a heavy-bottomed pot or wok over medium-high heat to 375°F (191°C). Line a baking sheet with paper towels.
Place the dough into the piping bag. Pipe dough about 2 1/2 inches (6 cm) in length into the oil, use scissors to cut the dough. Do 3 or 4 at a time so as not to overcrowd the pot. Deep-fry until golden brown and crispy, about 4 minutes. Remove using a slotted spoon or spider and let drain on the paper towel–lined baking sheet. Immediately toss with the cinnamon sugar to ensure the coating will stick. Repeat with the remaining batter.
Serve warm or at room temperature with the chocolate sauce.
Source: Natalia Machado's recipe from the One World Kitchen series, brought to you by Gusto TV