Chicken Pot Pie is perfect comfort food and these are made easy with a store-bought puff pastry topping. Great with leftover turkey, too!
These delicious and easy chicken pot pies with puff pastry, are super tasty and I love the balance of chicken to vegetables. This is no bland pie (and I've had a few!) but you do need to be sure to season well with salt and pepper, depending on the saltiness of your chicken stock. Good seasoning will bring all the flavours together.
The creamy filling combines cooked chicken with carrots, potatoes and mushrooms and it cooks up easily and quickly on the stovetop. It's a great use for leftover cooked chicken or turkey. Even if you don't have leftovers, a few chicken breasts can be easily cooked up and chopped, or start with a rotisserie chicken.
To finish these off, simple and easy store-bought frozen puff pastry is cut into squares to cover the top, for a lovely presentation and a crispy, tasty topping.
Ingredients and Substitutions
Chicken – these chicken pies are a great use for left-over cooked chicken. A store-bought rotisserie chicken would also work well. Alternately, simply cook off some chicken breasts to use. These chicken pot pies are just as nice with turkey, especially leftover Thanksgiving turkey!
Puff Pastry – I love the pre-rolled sheets of puff pastry, as it eliminates the rolling step and ensures even cooking, as they are evenly thick.
Recipe Tips
Of course, leftover chicken, poached or baked chicken breast meat and/or store-bought broth is just fine here. If you can though, I strongly suggest fresh carrots and thyme (frozen carrots are just never the same and fresh thyme leaves are such a nice touch in dishes like this!). Frozen peas are just fine, though.
Be sure to cut your carrots into small pieces, to ensure they will be tender. I taste test them before spooning into the individual bowls, to ensure they are tender, as they won't cook much more in the oven. Cook a little longer on the stove-top if necessary.
If you'd prefer one big chicken pot pie instead of individual ones, bake this recipe in a 9×13-inch pan instead.
I can't stress enough that salt is critical for this dish. Taste the filling before baking. You should taste the salt. If it tastes bland or without flavour, add more salt. A nice grinding of fresh pepper is also good here.
Speaking of the puff pastry crust, I don't cut any slits or holes into these, as the steam can easily escape out the narrow sides. It also prevents the centre of the crust from collapsing down. Puffing up is nicer :)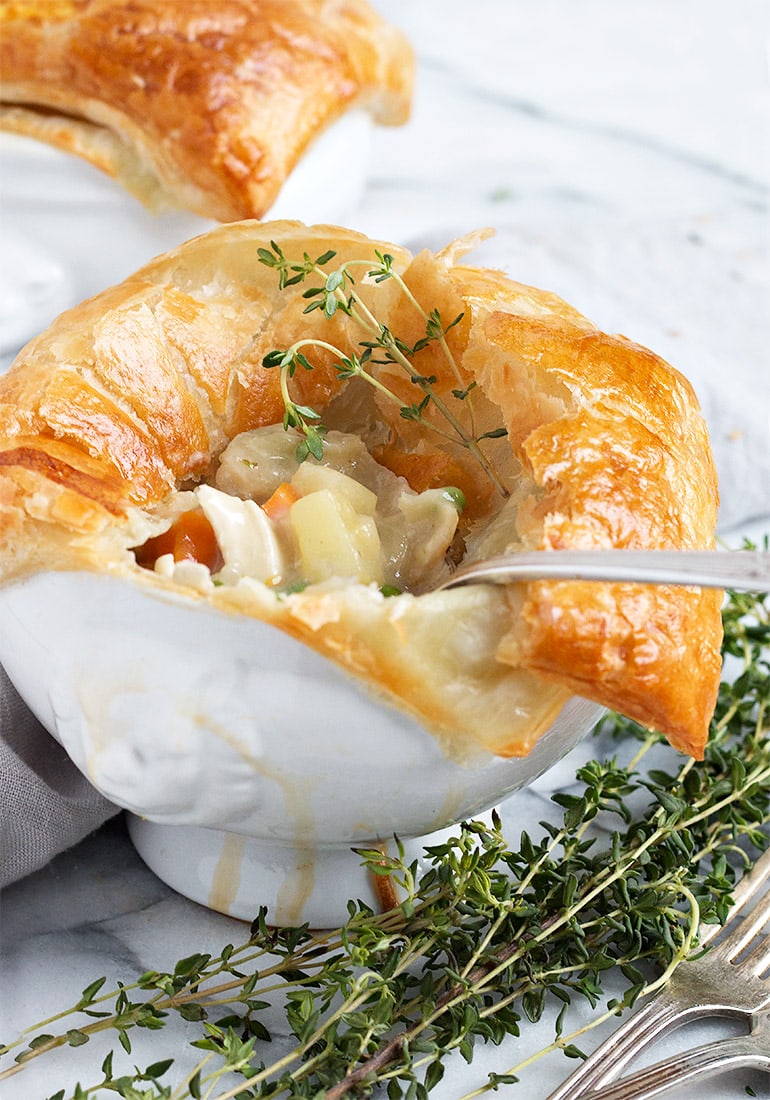 Top Tip!
Top Tip! Avoid soggy bottomed puff pastry by allowing both brushing the bottom of the pastry with egg wash and allowing a small space between the pastry and the filling as it bakes.
Get the Recipe:

Individual Chicken Pot Pie with Puff Pastry Topping
A hearty chicken pot pie made easy with store-bought puff pastry for the topping. Great use for leftover turkey, too!
Ingredients
2

rolls

frozen puff pastry

,

thawed

5

Tablespoons

all-purpose flour

,

plus more for dusting

5

Tablespoons

unsalted butter

1

large

onion

,

chopped

3

medium

potatoes

,

peeled and cut into 3/4" pieces

3

medium

carrots

,

peeled and cut into 1/2" pieces

12

oz

button mushrooms

,

stems removed

2

cups

chicken broth

,

homemade or store bought

1

cup

milk

5

cups

cooked chicken

,

or turkey, chopped into bite-sized pieces

1

cup

green peas

,

fresh or frozen

2

Tablespoons

chopped fresh flat-leaf parsley

2

Tablespoons

fresh thyme leaves

,

or 1/2 - 3/4 tsp dried thyme, or to taste

3

teaspoons

coarse Kosher salt

,

or 1 1/2-2 tsp fine salt

1

teaspoons

freshly ground pepper

1

large

egg

1

teaspoons

water
Instructions
Do ahead: Thaw puff pastry and the roll out on a lightly floured surface into a 1/4-inch thick square or rectangular larger than the dimensions of your baking dish (or disheby about 3 inches on each side. Transfer to a baking sheet, cover tightly with plastic wrap and refrigerate for at least 1 hour.

Remove chilled dough from refrigerator, and place on a cutting board. Place your intended baking dish directly onto the dough, with the opening side down. With a sharp knife, cut around the dish so that you have an even 3 inches around the dish on all edges. Return the dough to the baking sheet, wrap tightly with plastic, and chill for an additional hour.

Prepare vegetables and chicken and have ready.

In a large heavy pot, melt 5 tablespoons butter over medium-high heat. Add the onion, potatoes, and carrots. Cook, stirring regularly, until the potatoes and carrots are tender, about 10 minutes. Add the mushrooms, cooking until mushrooms are heated through. Add flour, and cook, stirring, for 1 minute. Pour in chicken stock and milk. Stir well. Bring to a simmer and cook until thick and bubbly, stirring constantly, 2 to 3 minutes. Stir in chicken, peas, parsley, and thyme. Taste and season well with additional salt and pepper, if necessary. Transfer filling to your baking dishes, filling not quite to the top, so there will be a bit of space between the filling and the topping. Let stand to allow to cool 10 -15 minutes before topping. Meanwhile, place oven rack in lower third of the oven and preheat oven to 425° F.

Prepare your egg wash by combining 1 egg and 1 tsp. water. Remove dough from refrigerator and brush surface evenly with egg wash. Measure how bit a piece your will need to cover the top of your baking dishes and cut pieces of puff pastry to that size. Invert dough (with egg brushed side down) and place directly over the casserole, pressing lightly to seal overhanging crust to the side of the dish. Brush top surface of dough with egg wash.

Transfer dishes to a baking sheet lined with foil or parchment (to catch any boil-over!). Bake for 10 - 15 minutes (or until crust is nice and golden), then cover loosely with aluminum foil to prevent crust from burning, and continue baking for about 25 minutes more, or until filling is bubbling and crust is golden. Serve hot.
Notes
Be sure to read the notes above this Recipe Card, for more tips, options, substitutions and variations for this recipe!
Serving:
1
serving
,
Calories:
341
kcal
,
Carbohydrates:
18
g
,
Protein:
33
g
,
Fat:
14
g
,
Saturated Fat:
7
g
,
Cholesterol:
138
mg
,
Sodium:
1652
mg
,
Potassium:
989
mg
,
Fiber:
3
g
,
Sugar:
7
g
,
Vitamin A:
5845
IU
,
Vitamin C:
25.2
mg
,
Calcium:
101
mg
,
Iron:
2.3
mg
More Chicken Recipes to Love!
Hi! I'm Jennifer, a home cook schooled by trial and error and almost 40 years of getting dinner on the table! I love to share my favourite recipes, both old and new, together with lots of tips and tricks to hopefully help make your home cooking enjoyable, stress free, rewarding and of course, delicious!