Cruffins are a delicious marriage of croissants and muffins. My easy version is filled with a cinnamon and sugar mixture, with just a hint of orange.
I do a lot of baking and I'm pretty good about keeping some self-control around it all. But if you want to know what one baked good I have absolutely no self control around, it's these cruffins :) Wonderfully buttery and flaky buns with a cinnamon sugar filling, these are my idea of baked bliss.
Cruffins are a delicious marriage of croissants and muffins. They are often made with homemade puff pastry, but my version takes an easier approach to flaky layers. And inside the flaky layers you'll find a perfect sugar and cinnamon filling, with just a hint of orange zest.
These cinnamon sugar cruffins are a not difficult to make, though the process of rolling and filling a rolling is a bit of extra work. It is totally worth it though, once you enjoy one of these delicious rolls. These are a special treat, perfect for treating yourself or a special someone.
Step-by-Step Photos
This is a simple visual summary of the steps to make this recipe. Always use the detailed Instructions in the Recipe Card below when making the recipe.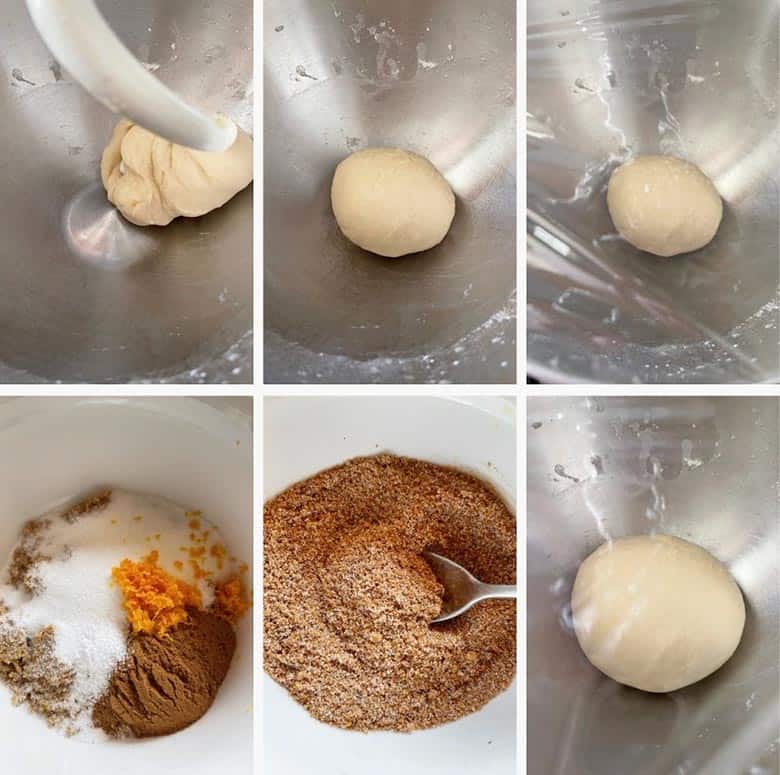 Our cruffins will start by making the dough, then leaving it to rise until doubled. While the dough is rising, mix up the filling and set aside.
Once the dough has risen, divide into 3 portions. I like to weigh the entire dough ball first, and then figure out and weigh the individual pieces, so they are all the same size. Form the pieces into balls, then let rest for 10-15 minutes. This rest makes them easier to roll out.
Take a ball of dough and roll as thin as you can, until it is transparent (notice how you can see the red markings from the rolling mat through the dough.) It takes some time and patience to roll it this thin. Don't give up. Thin is the key to producing all those wonderfully flaky layers. (The length will vary, anywhere from 18-22 inches long. As long as it's transparent, it's fine). Once rolled thin, spread butter over the entire surface. This is easiest to do with your fingers, but make sure the butter is super soft, to avoid tearing the thin dough.
Finally, take 1/3 of the filling mixture and spread evenly over the buttered surface. Roll up tightly, starting from the thin end. Using a sharp knife, slice down the roll from the thin end, cutting the roll into two pieces. Rotate one of the pieces slightly, so the cut side is up and coil it up. Tuck the tail underneath the coil and place into a muffin cup to rise for about 2 hours, before baking.
Recipe Tips
Make sure your butter for the filling is super soft! Since the dough is rolled very thin, if the butter isn't perfectly soft, it would be easy to tear the dough. Take it out to soften early, even before you start the dough.
Once filled, coiled up and placed in the muffin cups, these cruffins are very slow risers. In fact, they won't ever really double, but only become a little puffier. (These are not fluffy rolls like cinnamon rolls, but rather more of a yeasted pastry). Time is the best measure here for the second rise. 2 hours is about right, or if they are cold from the refrigerator, allow 2 1/2 hours before baking.
I'm usually good with just making 6 cruffins at a time (I can't be trusted with more around ;), but if you want or need more, you can double or triple this recipe, as needed.
Yes! You can make these the day before and refrigerate overnight before baking in the morning. See the Recipe Card Instructions for how to do that.
Possibly you can freeze these after shaping/before baking and thaw in the fridge overnight, then rise in the morning. I haven't tested this myself, but feel like it would work.
These cruffins don't freeze AFTER baking particularly well. While they are certainly edible, once frozen and thawed, they are a little dried out, so not nearly as nice as freshly baked.
Top Tip!
When shaping your cruffins, coil them up, as demonstrated in the photos above, then take the tail and tuck it under the coil, pushing up slightly to raise the centre of the coil. Then place in the muffin cup. This will both keep the tail secure under the cruffin, but will also produce a higher cruffin.
Get the Recipe:

Cinnamon Sugar Cruffins
Cruffins are a delicious marriage of croissants and muffins. My easy version is filled with a cinnamon and sugar mixture, with just a hint of orange.
Ingredients
For the dough:
1/3

cup

lukewarm water

1 1/8

teaspoons

Active dry or Instant Yeast

,

not rapid or quick-rising

2

Tablespoons

white granulated sugar

2

Tablespoons

(

25

g

)

butter

,

melted and slightly cooled

1/4

teaspoons

salt

1 1/4

cups

(

150

g

)

all-purpose flour

,

plus more as needed
Cinnamon Sugar:
1/4

cup

(

50

g

)

dark brown sugar

1/4

cup

(

50

g

)

white granulated sugar

1

Tablespoon

cinnamon

1

teaspoon

orange zest

,

or adjust, to taste

1/8

teaspoon

Kosher salt

,

or a pinch of fine salt
For filling:
1/3

cup

(

75

g

)

butter

,

at room temperature, cut into 3 pieces
For serving:
Icing/confectioners' sugar

,

for serving
Equipment
You will need a 6-cup muffin tin and a baking sheet.
Instructions
You will need a 6-cup (or larger) muffin tin and a baking sheet for this recipe.

Prepare the dough: In a large bowl or the bowl of a stand mixer fitted with the kneading hook, add the lukewarm water, yeast and sugar. Stir to combine. Add the melted butter, salt and flour. Knead 4-5 minutes, adding a bit more flour, only if necessary, until you have a smooth dough that cleans the bowl. Form dough into a ball, place into a greased bowl and allow to rise until doubled, about 90 minutes.

Meanwhile, prepare the filling by stirring together the brown sugar, white sugar, cinnamon, orange zest and salt. Set aside.

Remove dough to a floured surface and gently deflate. Divide into 3 equal portions (I like to weigh the dough ball first, then divide by 3 and weigh out equal sized portions. For this bake, my individual balls were 99g. Yours may be slightly different.) Form the dough into 3 balls and cover with a clean tea towel. Leave to rest 10-15 minutes.

Take one ball of dough and place on a lightly floured surface. Begin rolling into a long oval shape, rolling until it is roughly 18-22 inches and is very thin (you should be able to see through it). Spread the entire surface with soft butter, then sprinkle evenly with about 2 1/2 Tbsp of the cinnamon sugar mixture. Starting from the far short end, roll up tightly (see Step-by-Step photos above this Recipe Card). Using a sharp knife, cut down the centre of the log, cutting it into two pieces. Place one piece with the cut side up and coil it up, tucking the tail end underneath and pushing up slightly from underneath, to pop the top up a bit. Place into a muffin cup. Repeat with remaining dough until you have 6 cruffins. Cover with plastic wrap and allow to rise about two hours.

*You can refrigerate at this point overnight, if you want to bake them in the morning. Next day, remove from the refrigerator and allow to stand at room temperature about 2 1/2 hours before baking.

Preheat oven to 390F (not convection bake). Place muffin tin on top of a baking sheet to catch any butter that may bubble out while it cooks. Bake 22-25 minutes, or until golden. Remove from oven and allow to cool in the muffin tin for about 5 minutes. Run a knife around the outside and gently lift onto a cooling rack to cool further or completely. Serve dusted with confectioners' sugar.
Notes
Be sure to have a look at the Step-by-Step photos above this Recipe Card, for a visual summary of making these cruffins that you may find helpful to see the process of shaping them. You will also find some additional Recipe Tips there, as well.
Serving:
1
serving
,
Calories:
312
kcal
,
Carbohydrates:
43
g
,
Protein:
4
g
,
Fat:
14
g
,
Saturated Fat:
9
g
,
Trans Fat:
1
g
,
Cholesterol:
37
mg
,
Sodium:
274
mg
,
Potassium:
73
mg
,
Fiber:
2
g
,
Sugar:
21
g
,
Vitamin A:
438
IU
,
Vitamin C:
1
mg
,
Calcium:
31
mg
,
Iron:
1
mg
More Cinnamon Treats to Love!
Hi! I'm Jennifer, a home cook schooled by trial and error and almost 40 years of getting dinner on the table! I love to share my favourite recipes, both old and new, together with lots of tips and tricks to hopefully help make your home cooking enjoyable, stress free, rewarding and of course, delicious!