Classic Meatloaf is the ultimate comfort food. My family recipe is the best one I've ever enjoyed. It has a rich tomato paste (or tomato sauce) topping, flavoured with brown sugar, mustard and a bit of vinegar, for a perfect bit of tang.
In all my years of sharing recipes, I have yet to share my "family" meatloaf recipe. It doesn't seem very glamorous or exciting, but it's solid comfort food and definitely still comes around on the menu here when the mood strikes.
My version of classic meatloaf features a rich tomato sauce topping that is also added to the meatloaf itself, for an extra bit of flavour. It's the best meatloaf, made without ketchup and without milk, too. It's sure to become a regular in your house, too.
Ingredients and Substitutions
Ground Beef: There are basically three choices for ground beef here in Canada. Extra lean ground beef has a maximum of 10% fat, Lean ground beef has a maximum of 17% fat and Medium Ground Beef has a maximum of 23% fat. My preference is to use Lean Ground Beef for meatloaf, as it seems to have just enough fat for moistness and flavour, without having so much that the meatloaf is swimming in it :)
Tomato Paste or Tomato Sauce: You'll just need one small can of tomato paste or tomato sauce for this one. I prefer tomato paste, but my daughter has always liked the tomato sauce one better. Try both and pick your favourite. You could also do half and half (and freeze the remainder of each can for another meatloaf another time).
Vinegar: You can use either Cider Vinegar or White Distilled Vinegar here. It's really just a matter of personal taste. Try both and see which you prefer. The Cider Vinegar brings a little tangier/stronger vinegar taste to the sauce, while the white vinegar makes it more ketchup-like. I enjoy both, but probably prefer the white vinegar if forced to choose.
Soda Crackers: Aka "Saltines". The crackers here are used as a bit of a binder to help hold the meatloaf together. I love that there isn't a lot of binder in this meatloaf. I've never been a fan of super stiff, binder-heavy meatloaf. Less binder does make it a little softer, but there is definitely enough to make it sliceable. If for some reason, you want a stiffer meatloaf, increase the crackers a bit.
For a gluten-free version, substitute gluten-free rolled oats for the crackers. Simply process them lightly to break them up a bit and use in the same 1/4 cup quantity as for the crushed crackers.
If you don't have soda crackers, you can add a couple of tablespoons of dried bread crumbs or even a slice of bread crumbled up.
Step-by-Step Photos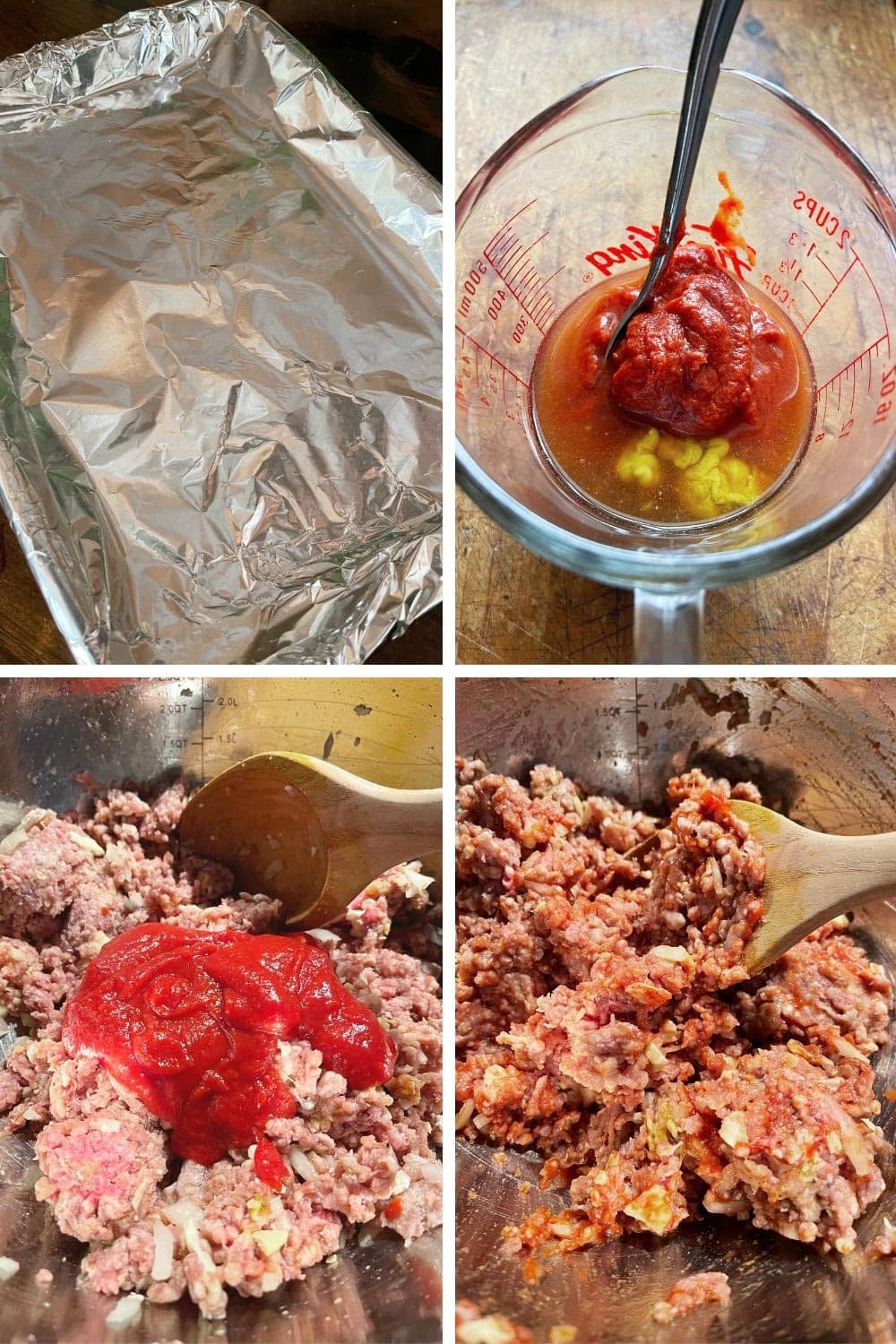 Start by lining a small baking sheet with aluminum foil. It makes clean-up super easy! Next, mix up the simply sauce, which is just tomato paste, prepared mustard, brown sugar and vinegar.
Mix together the ground beef, diced onion, egg and soda crackers. Season with a little salt and pepper. Then, add not quite half of the sauce to the ground beef mixture and stir it all together to combine.
Pour the ground beef mixture out onto your prepared baking sheet, then using your hands, shape into a free-form loaf shape. Try to keep the top flat, so the nice sauce will stay put there as it cooks. Spoon the rest of the sauce over-top of the loaf and use a spoon to "frost" it, keeping most of it on the top and maybe just a quick spread along the sides. Pop in a 350F oven for 1 hour and enjoy!
Cook's Notes
One thing to note is that the salt on the crackers will add a bit of saltiness to the meatloaf and there is also salt in the tomato sauce. The amount will vary by brand, so it's hard to judge exactly how much extra salt you need to add to the meat. I've settled on 1 tsp, which should be close. If you find that the finished meatloaf is a touch under-salted, you can always salt the finished meatloaf a bit. Easier to add than take away :)
Meatloaf done at 160F internal temperature, when tested with an instant read thermometer. Remember that you've added some tomato sauce to the meat, so if you notice it "pink" looking, that may be the reason and not that it is not cooked. If you don't have a thermometer, err on the side of leaving it in the oven longer, as you can't really hurt it.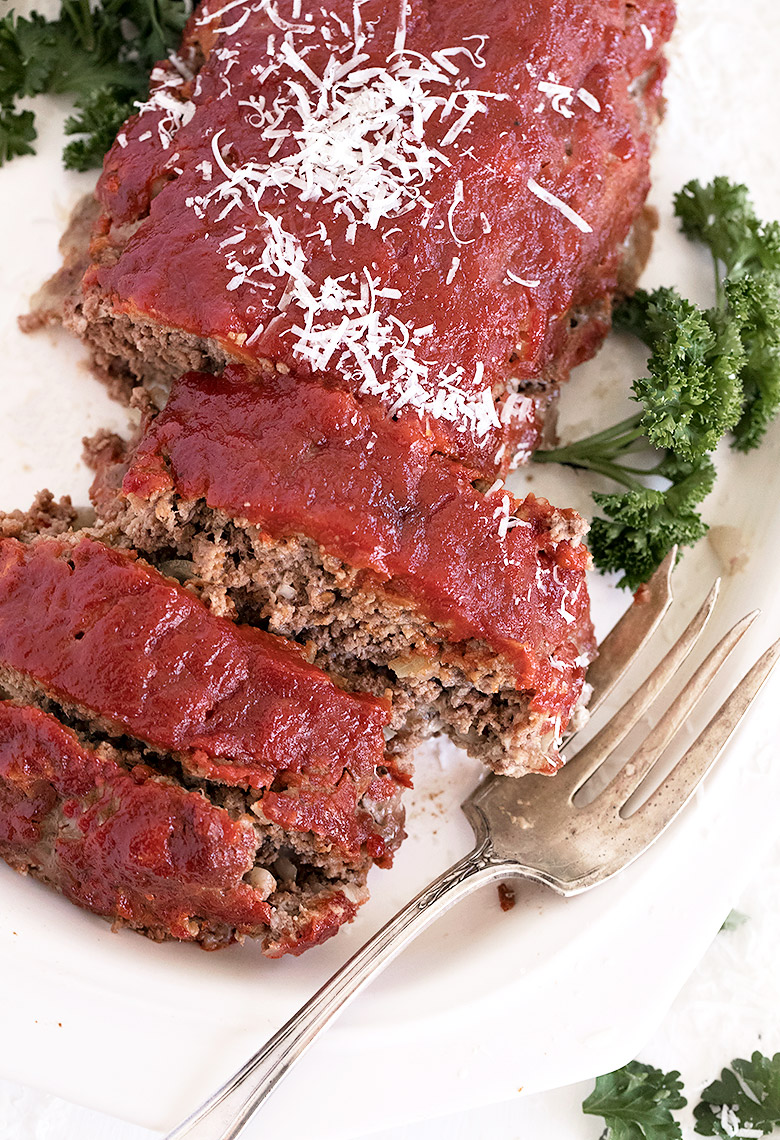 What to Serve with Classic Meatloaf
I'm not sure there's a side dish more suited to meatloaf than creamy mashed potatoes. Add a vegetable and you're good to go.
Top Tip! Line your baking sheet completely with heavy-duty aluminum foil (or two layers of regular aluminum foil), for super easy clean-up.
Get the Recipe:

Easy Classic Meatloaf
An easy, classic Meatloaf with a rich tomato paste topping. A long-time favourite family recipe!
Ingredients
2

lb

lean ground beef

1

large

egg

1

tsp

fine salt

1/4

tsp

pepper

1/4

cup

soda crackers

,

crushed (Saltines)

1/2

cup

onion

,

finely diced
Sauce:
5.5

oz

can tomato paste

,

(156 ml) or 13 oz/398ml tomato sauce *see Note 1 below

1/4

cup

brown sugar

,

packed

1/4

cup

cider or white vinegar

,

I generally use white, but try both and see which one you prefer

1

tsp

prepared yellow mustard
Instructions
Preheat oven to 350F. (not fan assisted) Cover a baking sheet with heavy-duty aluminum foil (or two layers of regular aluminum foil). Set aside.

In a medium bowl, make the sauce by stirring together the sauce ingredients until smooth. Set aside.

In a large bowl, add the ground beef, egg, salt, pepper, crushed crackers and diced onion. Using a large spoon, stir to combine well. Add a little less than 1/2 of the prepared sauce to the beef mixture. Stir to combine well.

Drop big spoonfuls of the ground beef mixture into a rough log shape in the centre of the prepared baking pan. Using your hands, shape into a loaf shape about 2-3 inches high x 3 inches wide x 10-12 inches long. Try to keep the top of the loaf flat, so the sauce will stay on the top as it cooks. Spoon the remaining sauce over the top, along the length of the meatloaf. Use a spoon to spread over the top, trying to keep most of it on top. Spread a bit along the sides.

Bake in preheated oven for 1 hour, or until the meat registers 160F when tested with an instant read thermometer. Allow to rest several minutes before cutting. Serve garnished with parsley or Parmesan, if desired. Great served with mashed potatoes and a green vegetable.
Notes
Note 1: I have always preferred this meatloaf with a tomato paste, but it is also very good made with tomato sauce. You could also use half tomato paste and half tomato sauce (and freeze the remainder of each can for a future meatloaf). Try them all the ways and pick your family's favourite.
Be sure to read the Ingredient and Cook's Notes above the Recipe Card, where I share more detailed

 

tips, variations and substitution suggestions for this recipe! You'll also find Step-by-Step photos there, if you'd like to see my meatloaf being made.
Serving:
1
serving
,
Calories:
295
kcal
,
Carbohydrates:
17
g
,
Protein:
35
g
,
Fat:
9
g
,
Saturated Fat:
4
g
,
Trans Fat:
1
g
,
Cholesterol:
125
mg
,
Sodium:
747
mg
,
Potassium:
837
mg
,
Fiber:
1
g
,
Sugar:
13
g
,
Vitamin A:
443
IU
,
Vitamin C:
7
mg
,
Calcium:
41
mg
,
Iron:
5
mg
Hi! I'm Jennifer, a home cook schooled by trial and error and almost 40 years of getting dinner on the table! I love to share my favourite recipes, both old and new, together with lots of tips and tricks to hopefully help make your home cooking enjoyable, stress free, rewarding and of course, delicious!