This classic apple torte dessert has a shortbread base, a thin raspberry jam layer, a cream cheese layer and an apple and almond topping.
If you are a Canadian of a certain age, you may remember this apple torte. It was one of the most popular recipes from the 1980's cookbook "Fare for Friends" and undoubtedly made the rounds in a big way back then.
My sister reminded me of this one recently and sent along the recipe. And since I am (still) overflowing with apples, I just had to bake it up.
There are a lot of apple torte recipes around, but what sets this one apart from most, is the layer of raspberry jam that sits underneath the cream cheese layer. It just brightens the flavours of this wonderful apple dessert in such a delicious way!
One of the nicest apple desserts, this apple torte is one that everyone will love!
This apple dessert is a classic and classics definitely stand the test of time. It's perfect for anytime enjoyment or for entertaining, too.
Jump to:
Ingredient Notes
Cream Cheese: Full fat cream cheese is needed here, as low-fat versions contain additional ingredients and moisture that will not bake up in the same way.
Apples: Any apple that's good for baking will work here. I used Pink Lady apples here.
Raspberry Jam: I love the touch of jam in this dessert and especially raspberry jam. There are few jams that can add just a bright flavour with just a 1/4 cup. If you're not a fan of the seeds, look for a seedless raspberry jam. All that said, you can 1) skip the jam if you like or 2) experiment with other jam flavours, if you like.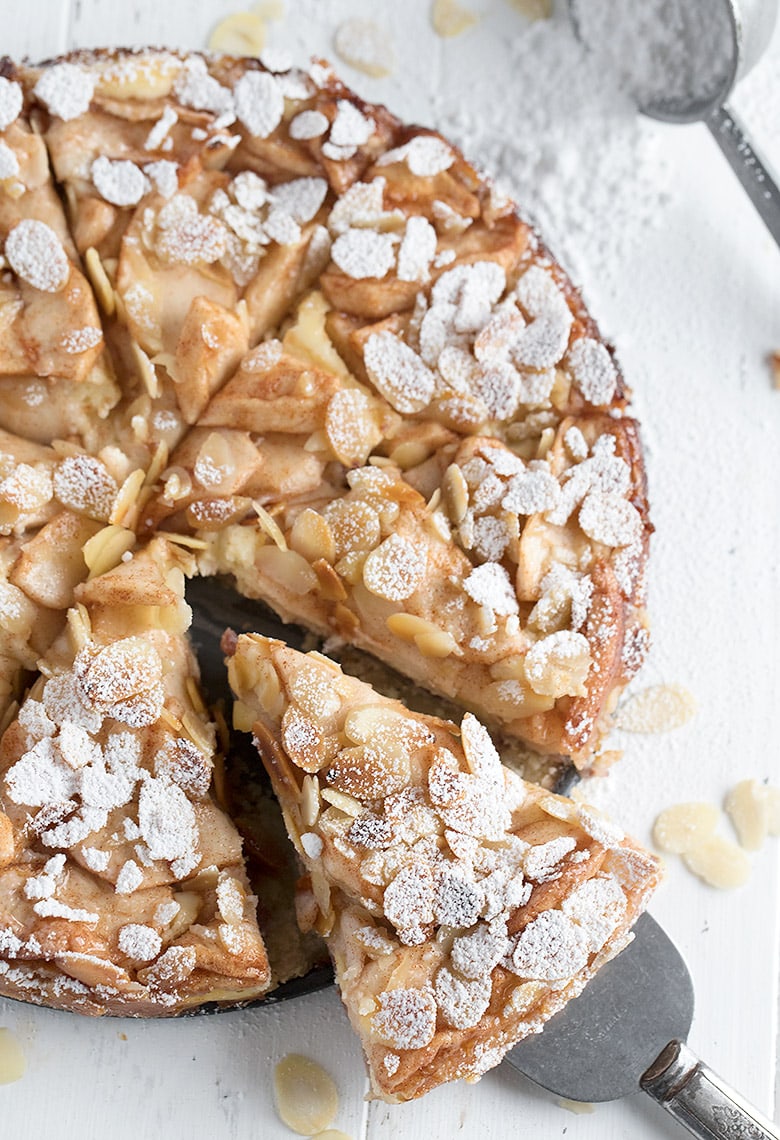 Cook's Notes
If you don't have a 9-inch springform pan, I would go with an 8-inch as my second choice, as there may not be enough of the base part to cover a 10-inch pan. I do think a springform pan is necessary here, as I'm not sure it would come out gracefully from a regular cake-type pan.
Don't stress over getting the base just perfect. Any small gaps will melt together as it cooks. Simply press into the pan in a reasonably level and even way and you'll be good.
Be sure to take your cream cheese out of the fridge well ahead. It takes a surprisingly long time for cream cheese to come to room temperature (longer than butter). Having the cream cheese at room temperature will just make it much easier to beat up with no lumps.
Once baked and cooled, you'll want to refrigerate this dessert. It's quite tasty chilled, though the shortbread base is a little more difficult to cut. That's why I recommend taking it out of the fridge for 10-15 minutes before eating, as it will still retain a touch of chill, but the base will soften up. Of course, you can also enjoy this one at room temperature, as well.
Top Tip! Keep an eye on the almonds during the last part of baking. If they are sufficiently golden before the baking time is up, place a sheet of aluminum foil overtop of the pan to prevent further browning or scorching.
Recipe
More Apple Desserts You Might Like ...