Easy and delicious homemade waffles, that are one bowl and a spoon easy to make and are made with simple pantry staples. These waffles are crispy on the outside and fluffy and flavourful on the inside. My idea of perfect!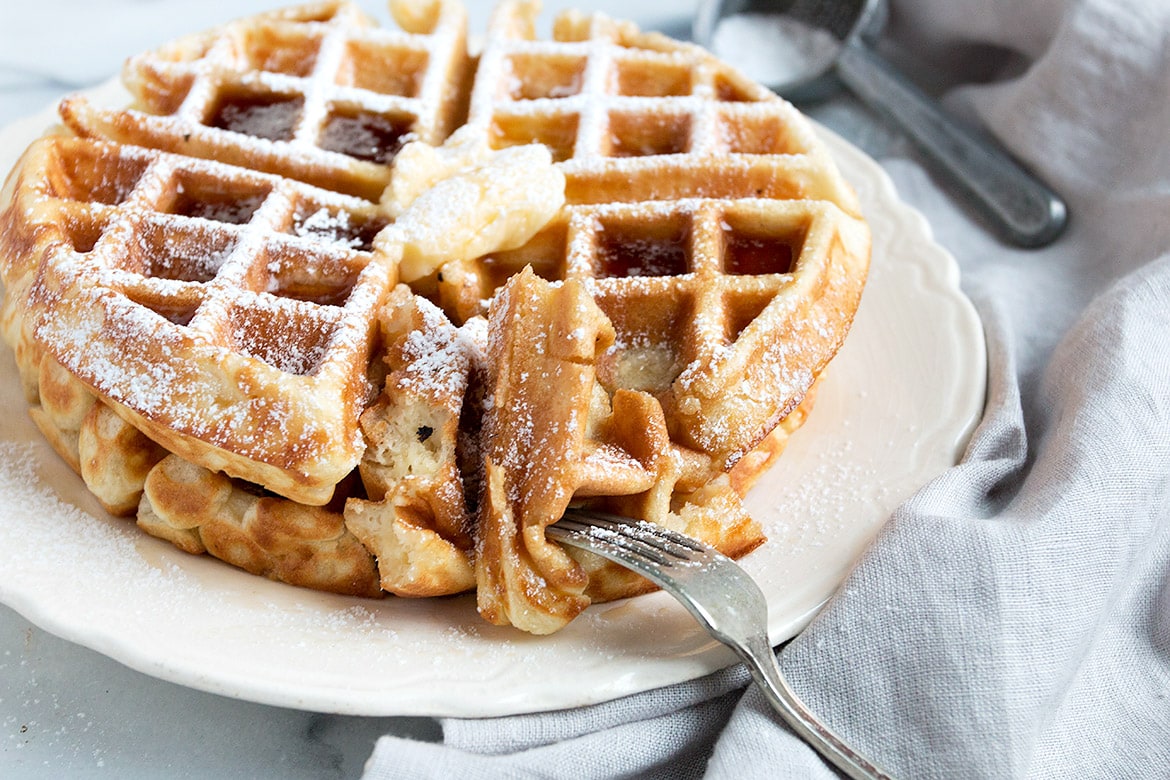 Why you'll love this simply perfect waffle recipe
I've tried a lot of waffle recipes over the years, but these are the best waffles, in my opinion. These delicious waffles have a perfect fluffy interior and are lovely and crisp on the outside!
And they have flavour, as well as great texture (and I discovered that not all waffles do).
The other reason I love these waffles? They're easy! One bowl and a spoon is all you need. And you don't even have to worry about lumps in the batter. I'm all about the easy. I don't want to be separating eggs or busting out my mixer to whip up egg whites (followed by the requisite, ever so careful folding in thing). Nope. I've never had a waffle that is so good it justifies all that effort :)
Key Ingredients
These easy waffles need only 7 ingredients …
All Purpose Flour – regular or unbleached all purpose flour will work here. All purpose flour is also known as "plain flour" in some places. Do not use self-rising flour here.
Eggs – you'll need 3 large eggs for these waffles. I haven't tested this recipe with any type of egg substitute.
Vegetable Oil – I prefer vegetable or canola oil, though any neutral-tasting cooking oil will work here.
Milk or Buttermilk – you can use either milk or buttermilk, of any variety. A non-dairy, milk substitute might also work here, though I haven't tested it myself.
You will also need – baking powder, salt and a bit of white sugar.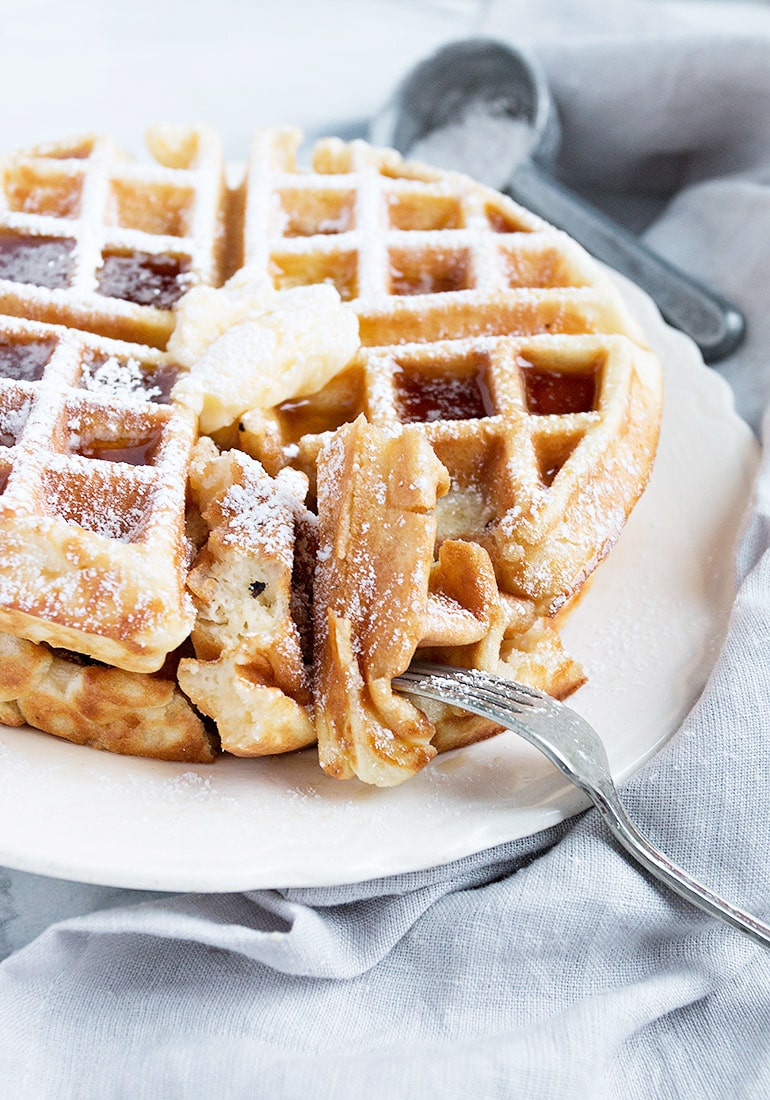 Video: How to make homemade waffles
Cook's Notes
Don't be tempted to reduce the added oil to the batter. The oil is what ensures a crispy outside, so reducing the amount will result in softer waffles.
With my round, Belgian style waffle maker, I get about four 7-inch diameter/1-inch thick waffles from this recipe. Of course, you can double as needed.
Depending on your waffle maker, you may need to spray with a little non-stick cooking spray before adding the batter, just to ensure that there is no sticking issues at all.
Be sure to preheat your waffle iron well, setting it on medium-high-ish (or equivalent for your waffle iron). Cook these waffles until golden brown, to make sure the inside is cooked and the outside is crispy. While my waffle maker has a light that comes on when they are ready, I always watch for escaping steam from the sides. When the escaping steam is minimal, they are about done.
Blueberry Waffle Variation
If you'd like to add blueberries to these waffles, simply scatter some (fresh or frozen) over the batter after spooning your batter into your waffle maker.
Making ahead, storing and freezing
These waffles actually keep quite well in the fridge, if you have leftovers or want to make ahead. Re-heat on a baking sheet in a 350F oven until warm (about 10 minutes) or the toaster may also work, but watch carefully to avoid over-heating and scorching.
Cooked waffles will also freeze well up to 2 months.
I wait until my waffle iron is preheated before I mix the wet ingredients into the dry ingredients, so my batter doesn't sit mixed very long.
Get the Recipe:

Simply Perfect Homemade Waffles
Fluffy and flavourful on the inside and crispy on the outside. Simply perfect. And one bowl easy!
Ingredients
1 3/4

cup

(

210

g

)

all purpose flour

2

teaspoon

(

8

g

)

baking powder

1/2

teaspoon

(

2.5

g

)

salt

1

Tablespoon

(

15

g

)

white sugar

3

large

(

3

)

eggs

,

*See Note 1 below

7

Tablespoons

(

105

ml

)

vegetable oil

,

or other neutral tasting liquid oil

1 1/2

cups

(

340

ml

)

milk

,

or buttermilk
Instructions
Preheat your waffle iron before starting to mix your batter.

In a large bowl, whisk together the flour, baking powder, salt and sugar. Make a well in the middle. Break the eggs into the well and beat lightly with a fork. Add the oil and milk and stir until moistened (Some lumps are ok. Doesn't need to be smooth. Just moistened.)

I like to spray my waffle iron with cooking spray right before adding the batter. Your waffle maker may or may not need that step.

Spoon batter into hot waffle iron and cook until golden and crispy.

Serve warm, with butter and maple syrup.
Notes
If you are new to making homemade waffles and/or perhaps used to store-bought waffles, you may initially notice the taste of the eggs (since that is lacking in the store-bought ones). Stick with it and I'm certain you will come to love it as much as I do. If you really don't, try reducing the eggs from 3 to 2 and see if that is more to your taste. The reduction may affect the finished texture though.

**Makes four 7-inch diameter round/1-inch thick waffles using about 1/2 cup batter per waffle. Nutritional information based on 1 serving = 1/2 of the 7-inch waffle.
For blueberry waffles, scatter fresh or frozen blueberries over the batter in the waffle maker, before closing the lid.
Be sure to read the "Cook's Notes" in the original post, for more tips, options, substitutions and variations for this recipe!
Calories:
254
kcal
,
Carbohydrates:
25
g
,
Protein:
6
g
,
Fat:
15
g
,
Saturated Fat:
11
g
,
Cholesterol:
64
mg
,
Sodium:
190
mg
,
Potassium:
219
mg
,
Fiber:
1
g
,
Sugar:
4
g
,
Vitamin A:
176
IU
,
Calcium:
112
mg
,
Iron:
2
mg