Inspired by the Trader Joe's original, this is my copycat version of their Corn and Chile Salsa. Great with tortillas, tacos, quesadillas or as a condiment.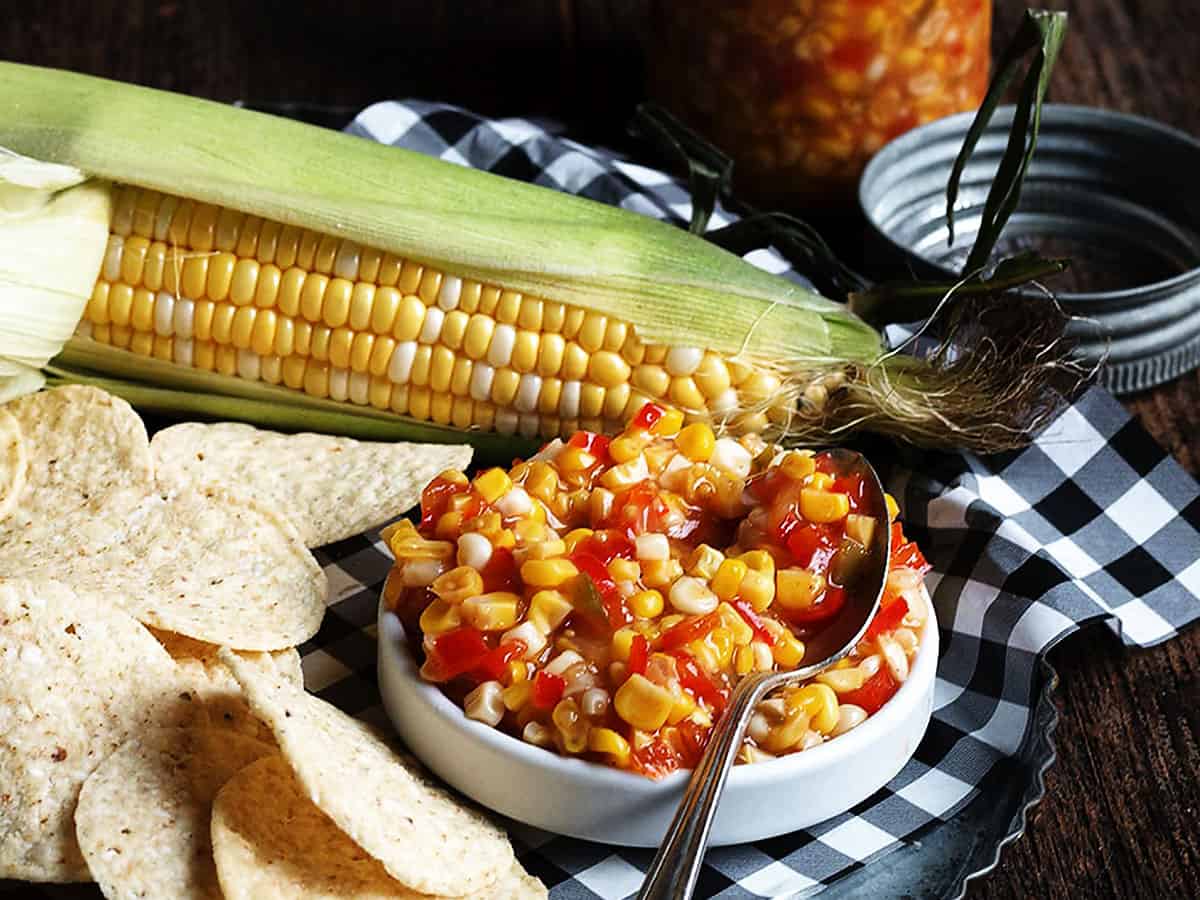 If you're a reader of my newsletter, you know that I just returned from a trip to New York City. A great time was had and much delicious food was consumed. That's what holidays are for, right?
Like all good Canadians, I had to make a stop at Trader Joe's before returning to Canada. I picked up all my favourites, including their Corn and Chile Salsa. It's always popular here, so we polished off the little jar we brought back far too quickly.
Since it is corn season though, I decided a little at-home recipe re-creation was in order. I had to make 4 batches of corn salsa before I got it just right, so it's safe to say I have a lot of corn salsa now :)
If you aren't familiar with Trader Joe's Corn and Chile Salsa, it is all about the fresh corn taste, light on vinegar and more of a sweet with a touch of heat salsa. The fresh corn flavour is front and centre.
You can enjoy this corn salsa with tortilla chips, or on tacos or quesadillas. It's also great on hot dogs, sausages or burgers or alongside grilled pork of chicken.
Cook's Notes
If it isn't fresh corn season, canned corn is the best alternative. Frozen and thawed corn doesn't stand up as well in texture or flavour.
I like to do all the prep work up front and have everything ready to go before I start the salsa cooking. It makes the whole process go more smoothly.
If you like a little more heat, you can increase the amount of crushed chilis to 1/2 tsp.
This recipe will make a quart of salsa. I just keep it in the fridge to eat up in the short term. If you want to keep it for longer, you would need to "can" using the hot water bath method.
Get the Recipe:
Corn and Chile Salsa (Trader Joe's Copycat)
Corn, red pepper, jalapeno and onion, in a slightly acidic and lightly spicy sauce. Perfect with tortillas, tacos, quesadillas or as a condiment with hamburgers or hot dogs.
Ingredients
Vegetables:
4

cups

fresh corn kernels

,

see notes for alternative*

1 1/2

cups

finely chopped red bell pepper

3

Tbsp

finely chopped jalapeno pepper

1/4

cup

finely chopped red onion
Brine:
1/4

cup

distilled white vinegar

3/4

cup

sugar

3/4

cup

water

1 1/2

tsp

mustard seeds

1/2

tsp

ground coriander

1/4

tsp

crushed red pepper

1/4

tsp

salt

1/4

tsp

freshly ground black pepper
To thicken:
2

Tbsp

cornstarch

2

Tbsp

water
Instructions
Combine mustard seed, coriander, crushed red pepper, salt and pepper in a small bowl. Set aside.

Remove corn kernels from cobs of corn until it measures 4 cups (about 4 large cobs). Set aside. Finely chop the red pepper, jalapeno and red onion and set aside.

Mix the cornstarch and water together in a small bowl and set aside.

In a medium saucepan, bring vinegar, white sugar and water to a boil. Add spice mix, red pepper, jalapeno pepper and red onion. Add 1/2 of the fresh corn kernels (about 2 cups). Stir well to combine. Return mixture to a boil, the reduce heat to medium-low and simmer for 10 minutes.

Using an immersion blender, pulse the mixture about 10 times, or just until broken down slightly, but still chunky enough that you can recognize the pieces. (Alternately, if you don't have an immersion blender, remove about 1/3 of the mixture and process lightly in a food processor or blender. Again, don't process so much that you can't recognize the various vegetables).

Add the remaining fresh corn kernels and simmer for 3 minutes. Add 2 Tbsp of the cornstarch//water mixture and simmer about 2 minutes more. If necessary add another 1-2 Tbsp of the cornstarch until the liquid thickens nicely and the corn you just added no longer tastes raw (should taste "fresh", but not raw).

Using a ladle, spoon into jars, ensuring that each jar has a good amount of brine. Allow to cool in the uncovered jar for 10-15 minutes, then cover with a lid and refrigerate for at least 24 hours before eating.
Notes
Makes 1 quart (4 cups).
If fresh corn isn't available, canned corn would be the preferred alternative. Frozen corn doesn't work as well.
Calories are for 1 Tbsp serving.
Calories:
20
kcal
,
Carbohydrates:
4
g
,
Sodium:
11
mg
,
Potassium:
36
mg
,
Sugar:
3
g
,
Vitamin A:
135
IU
,
Vitamin C:
6
mg
,
Iron:
0.1
mg